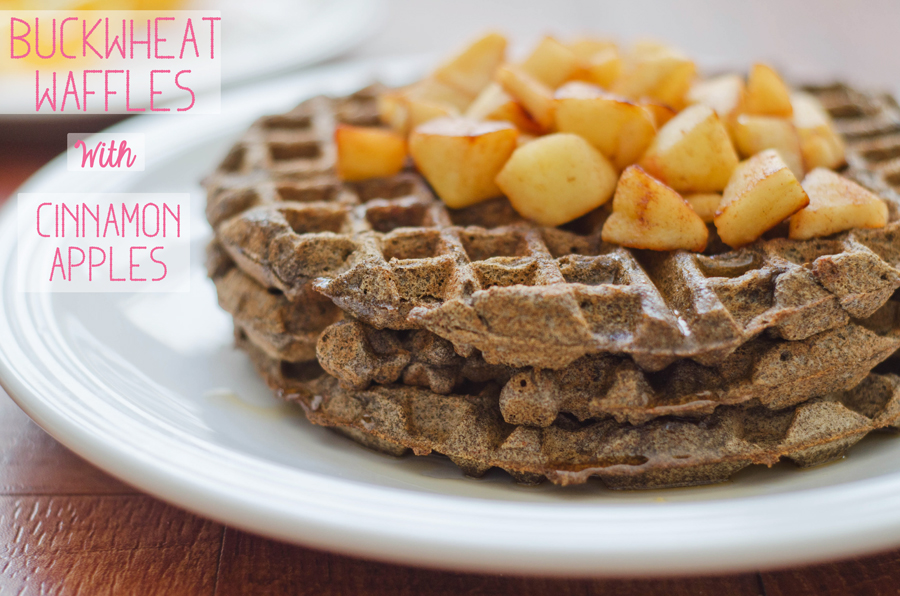 Tomorrow is one of my favorite holidays.
It's Steak and Lobster Day!
That's right. Some people might refer to it as "Valentines Day," but in this house we refer to it solely as Steak and Lobster Day. After a few years of going out to over-priced fixed menu dinners and suffering through people coming over to our tables and loudly serenading us with accordions or trying to sell us roses, we decided that we needed to go another route. One can only be serenaded by an accordion while eating overpriced lamb so many times. We started to notice that really good quality steak and lobsters were on sale at our local market during the Valentines madness. Jackpot. Thus was born Steak and Lobster day.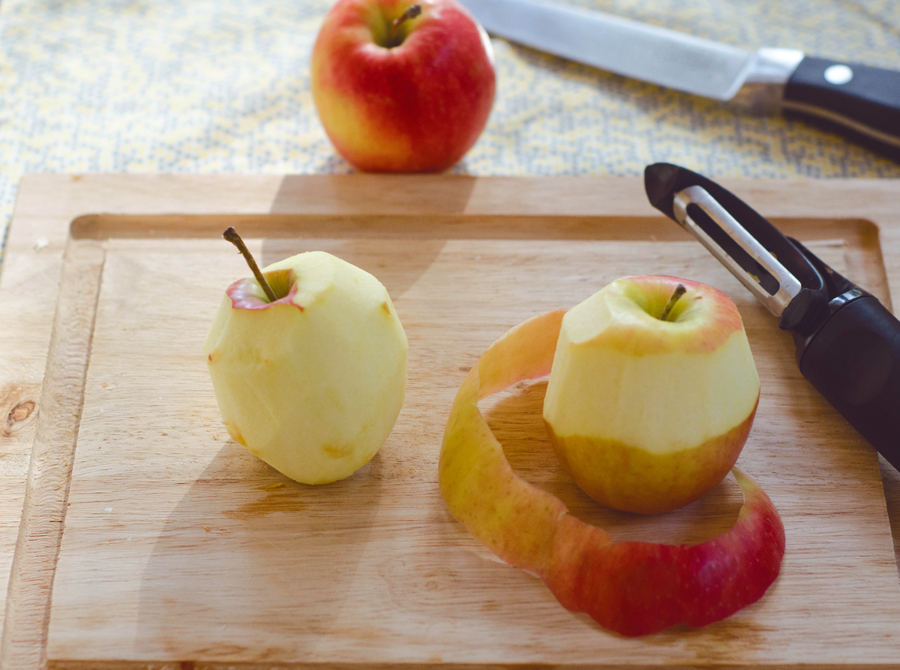 In this tradition we get to wear sweatpants or fancy pants (it doesn't matter we are at home…we don't even have to wear pants at all… although, I do not recommend cooking without pants, no matter how sexy you think it's going to be. Stuff splatters. We all learn our lessons). We eat an indulgent meal, usually dipping the lobster in some sort of butter bath.  We drink wine. We tell each other nice things. It's a good tradition and one that I look forward to every year.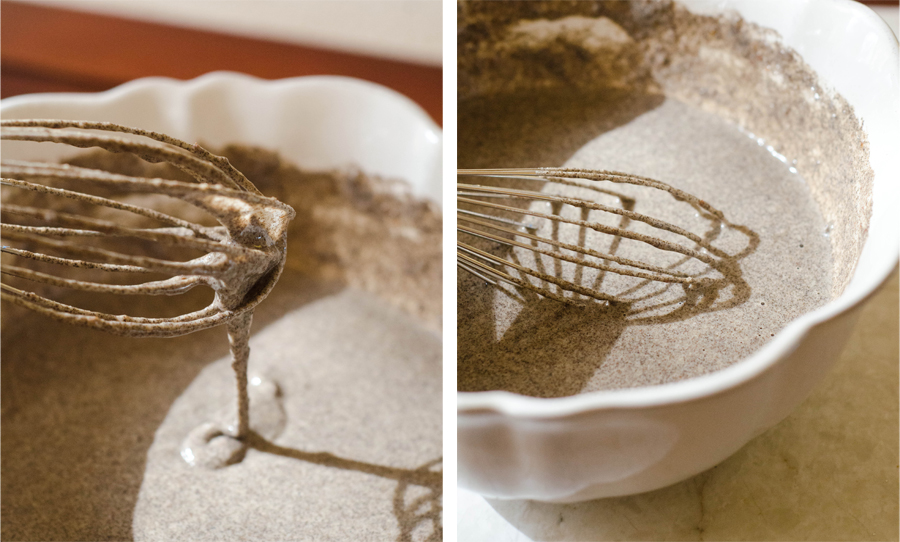 Although it is usually just referred to as Steak and Lobster day, that doesn't have to be the only special treat on the menu. What is that old saying? The way to a mans heart is through his stomach? That is true. I am sure my husband would still love me if I couldn't make a mean meatball or didn't bake him a confetti cake every year on his birthday… but, it certainly sweetens the deal.  It turns out that the most obvious way to my man's heart is through his sweet tooth. He is Dutch. He grew up putting chocolate sprinkles on his toast. It all makes sense.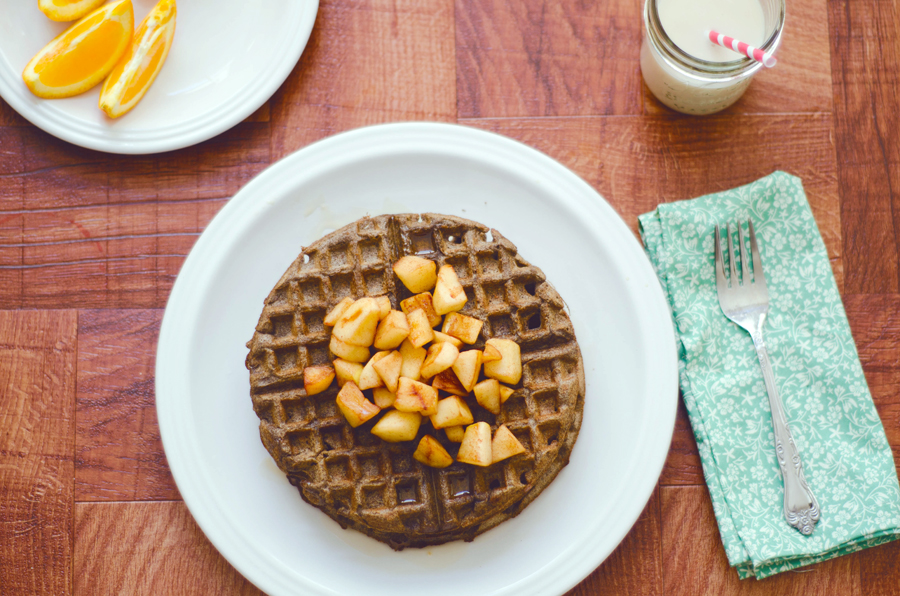 Waffles are always a good move for a man with a sweet set of teeth. I also added some cinnamon apples to sweeten things up a little more. I've said it once and I'll say it again, but fruit totally turns into something magic when you heat it up. Apples basically turn into pie filling. Hello. Delicious. The waffles manage to taste totally indulgent while remaining both gluten and dairy free! The apples cook down in coconut oil and release their natural sugars. Cinnamon joins the party and spices things up nicely! It's the perfect sweet treat for your Valentine… er… Lobster… er… I don't know what to call my husband on Steak and Lobster day. Will you be my Lobster-tine? Does that work? It's a work in progress. Give me your thoughts.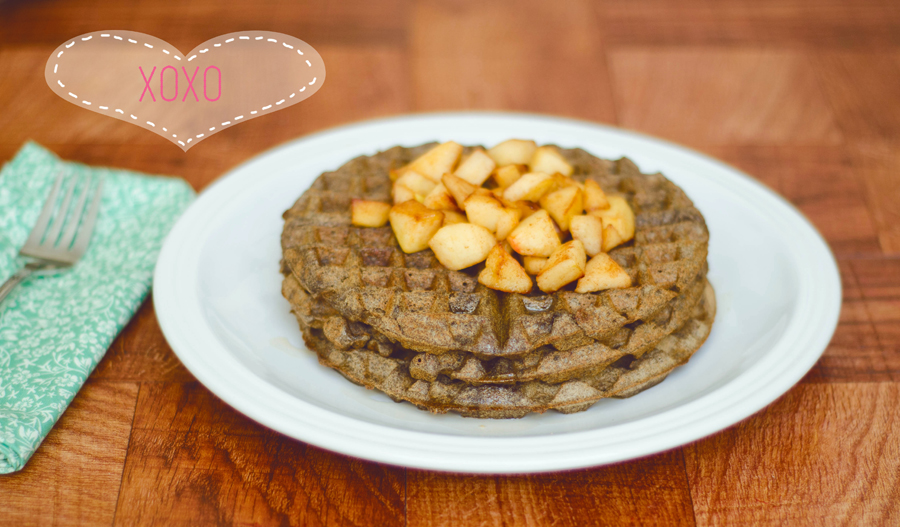 Real talk… I made these waffles that you see here while my husband was at work. I ate all of them.  I know that I am acting like I made them for him, and I totally have… but this batch was for me. It's okay to be your own Lobster-tine sometimes too. You are special. You deserve it.  If you have no one to share your waffles with, be your own Waffle-tine. It is totally a thing. (okay…enough sticking "tine" on to the ends of words. I got the memo).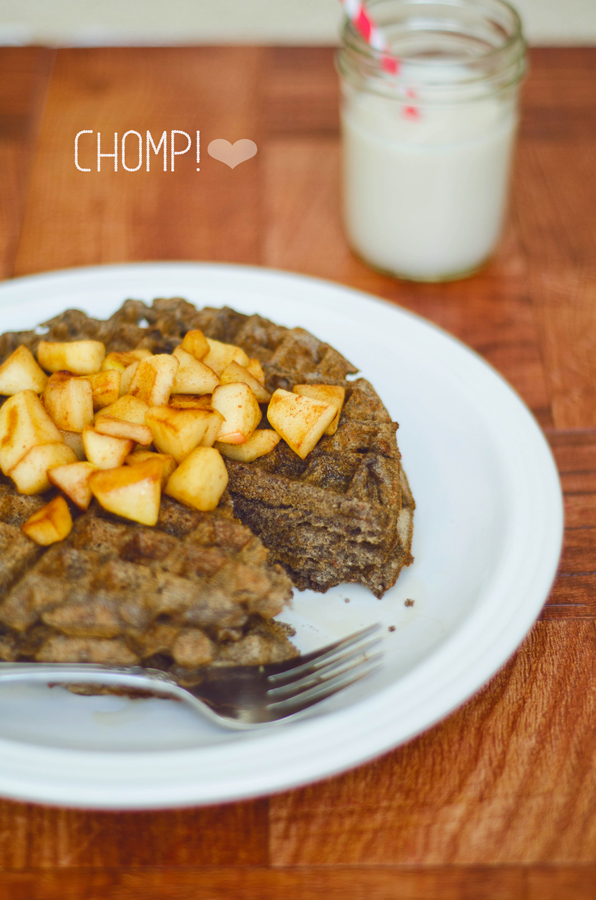 XOXOX, Love Bugs!  Won't you be my Waffle-tine? Okay. Really done now.
Buckwheat Waffles with Cinnamon Apples
Ingredients
For The Waffles
I cup buckwheat flour (I used Bob's Red Mill)

1/2

cup almond meal

1/4

cup white rice flour

1/4

tsp salt

1

tsp baking powder

2

tbs coconut sugar (can be replaced with regular sugar)

1

cup almond milk

1/2

cup lite coconut milk

2

large eggs

3

tbs coconut oil

Maple syrup, to top
For The Cinnamon Apples
3

pink lady apples, peeled and chopped

1

tbs coconut oil

1/2

tsp cinnamon
Instructions
Plug in your waffle iron and let it start heating up.
Peel you apples and give them a course chopping.
Heat your 1 tbs of coconut oil in a medium sized pan and then add in your apples. Add in your cinnamon and start to cook on low to medium heat. Keep stirring them occasionally so that they brown and caramelize on all sides.They are done when they become soft and have lightly browned.
While your apples are heating up, start to prepare your batter. In a large mixing bowl, add in your dry ingredients and stir together until they are all thoroughly combined.
In another bowl, whisk your eggs.
Add in your coconut oil, almond milk and coconut milk to the egg mixture and whisk together until everything is mixed well.
Add you wet ingredients to your dry ingredients and whisk. Whisk until a smooth batter forms. If your batter seems a little too thick, don't panic. Add in a little more almond milk. (I would add it in small increments, a tablespoon at a time.)
Once your batter is completely whisked together, you can start making your waffles. Spray your waffle iron with non-stick spray. (I use olive oil spray from Trader Joes) and then ladle a 1/4 cup or a little more of your batter into your waffle iron.
Cook your waffle until it is crispy on the outside.
After you are done cooking your waffles, top them with some of the Cinnamon Apples and some maple syrup and enjoy!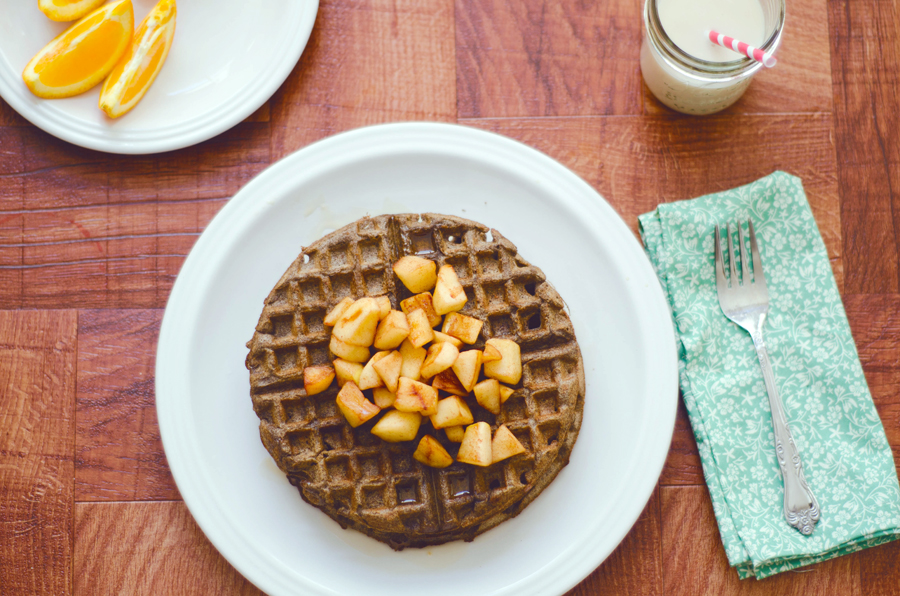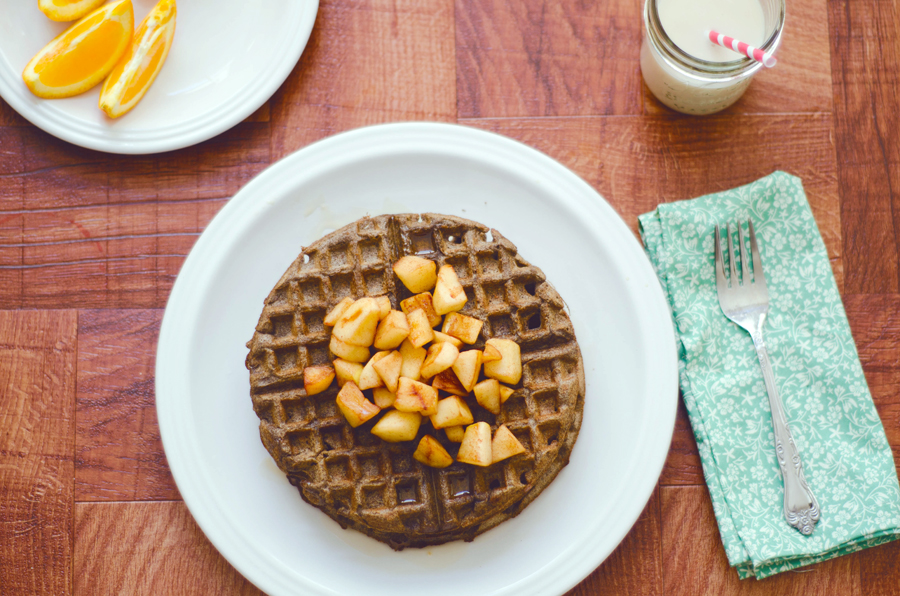 PAID ENDORSEMENT DISCLOSURE: In order for me to support my blogging activities, I may receive monetary compensation or other types of remuneration for my endorsement, recommendation, testimonial and/or link to any products or services from this blog.