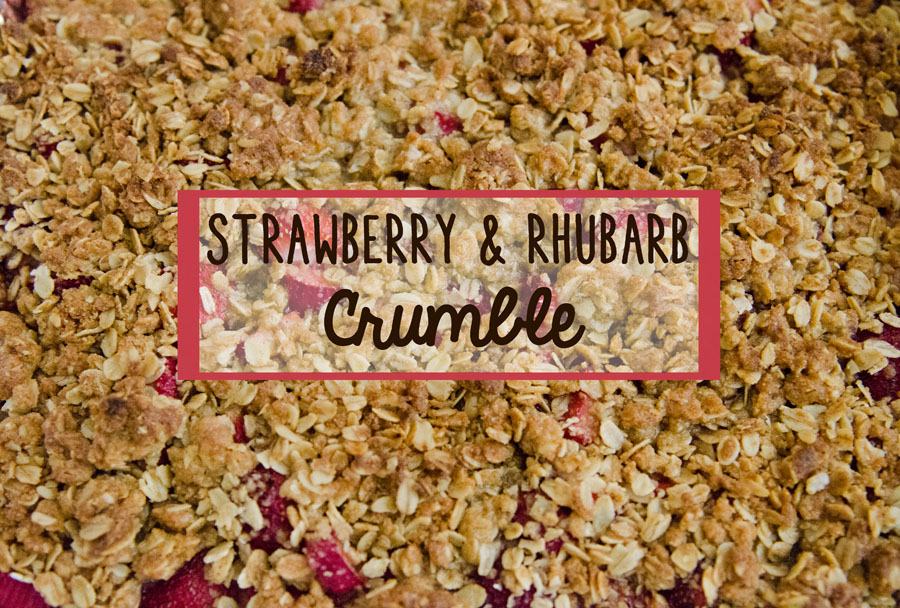 When you have a friend (who happens to be a chef) and he's in town cooking an awesome feast, you hop in your car and make your way to where he is. Immediately. This is a rule. It doesn't hurt if the location of this get together is right on a river. Things tend to taste better with a view. Total rule.
When you have a friend (who happens to be a chef) and he trusts you to bring a dessert to said feast, it's OK to use more than a stick of butter in your dessert recipe. This is also a rule. Go with it.
Is it time for a photo montage? Why not.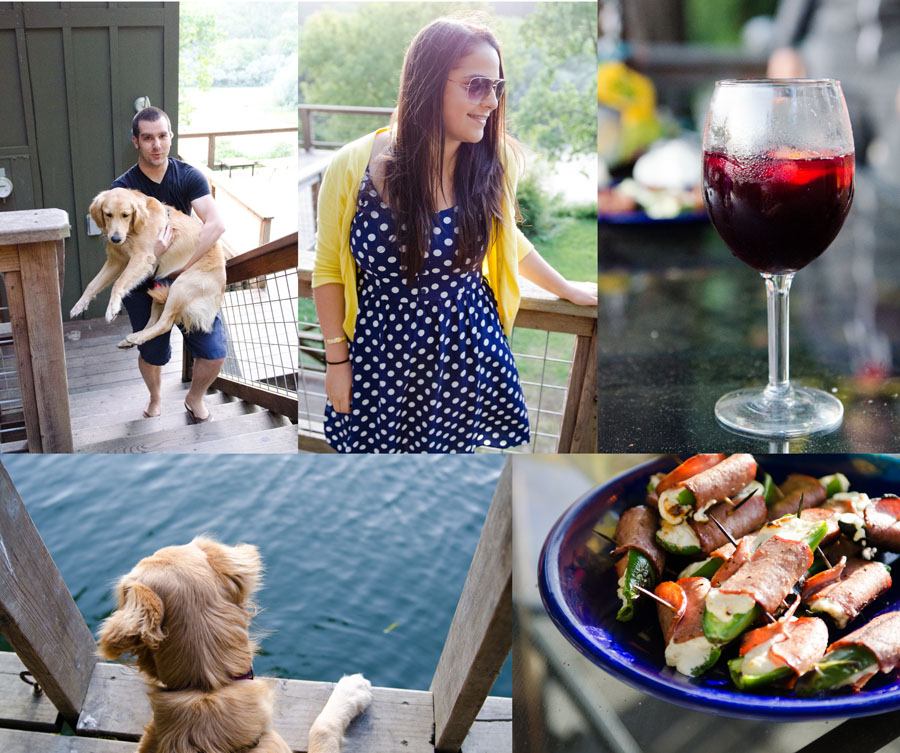 Here we have Peter carrying our sixty pound Golden Retriever up two flights of stairs. She was scared to climb them because she could see through the wooden slats. Next up is a picture of myself right next to a picture of sangria. Is this a coincidence? Probably not. Sangria was imbibed. It's rather relaxing to have a glass (real talk: four glasses) of sangria by the river. Believe it.
We took Emma down to the river dock. She really wanted to swim, but there was no way for her to climb back up if she were to jump in. So, instead, she stared longingly into the water. Sad face. Lastly, we have a photo of what were referred to as "Cry Babies." This, my friends, was because they made a grown man literally cry. No joke. I don't know why these particular jalapenos were so dang hot, but tears were shed, hiccups were had, and milk was consumed straight from the carton. It got pretty real.  Also, if I may share a brief lesson with you from personal past experience: do not chop up jalapenos and then touch your eyes. Holy FIREBALLS. Your eyes cannot drink milk.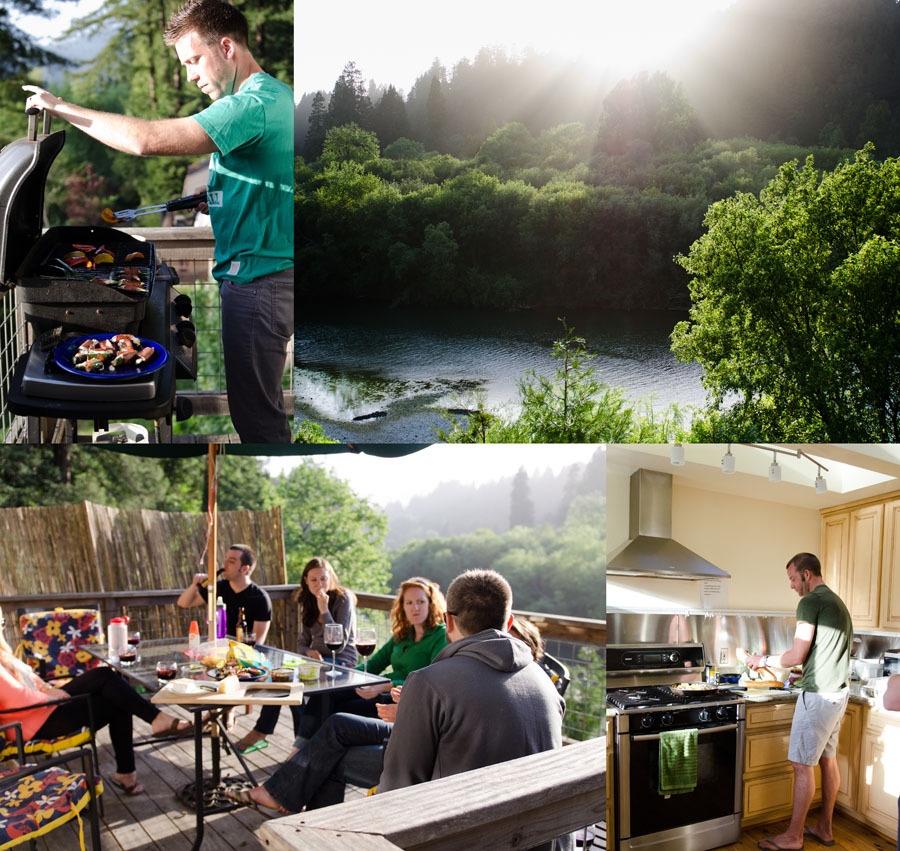 Check out that view! You could totally see that from the deck where we were grilling. See that tall dude in the kitchen? That there is Steve. He's the one I've been referring to as "Chef Friend." He knows how to cook some serious food. I would like him to be my neighbor.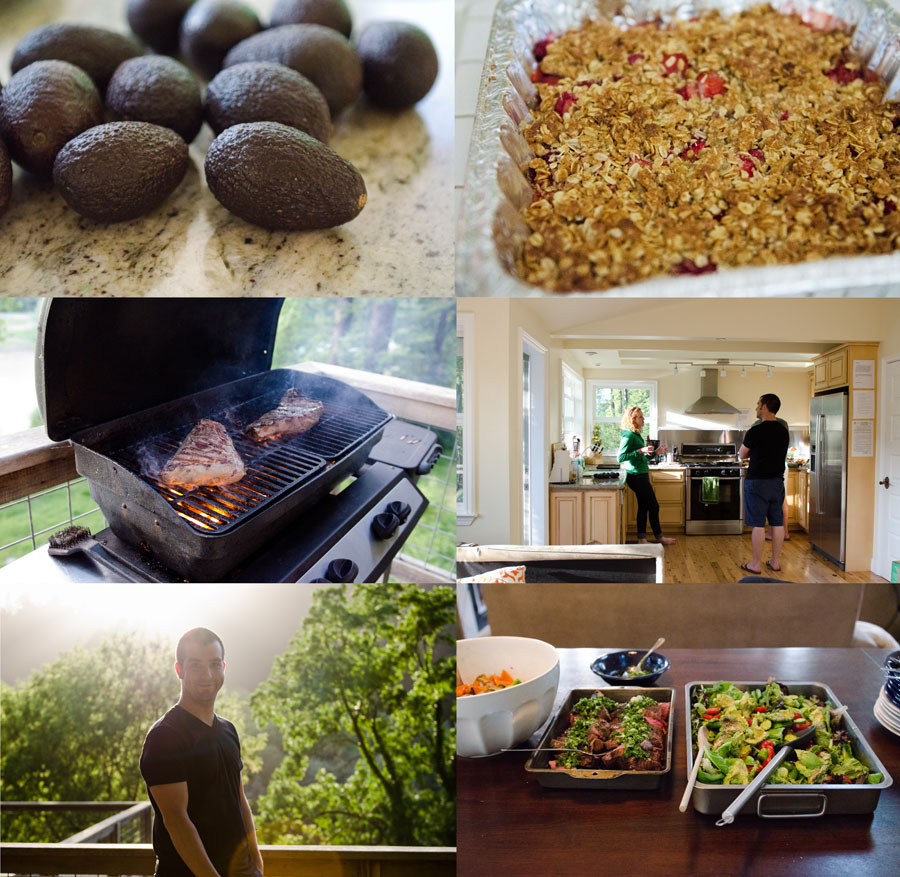 And finally…grilling. Grilling. Crumble. Food. Hanging around.  Handsome husband. Dinner. CHOMP!  Completely accurate synopsis.
Sheesh…that was a montage. Let me catch my breath. Alright. LET'S GET READY TO CRUUUUUMMMMBLEEE!!! First up we have a  mixture of gluten-free flour, oats, spices and brown sugar.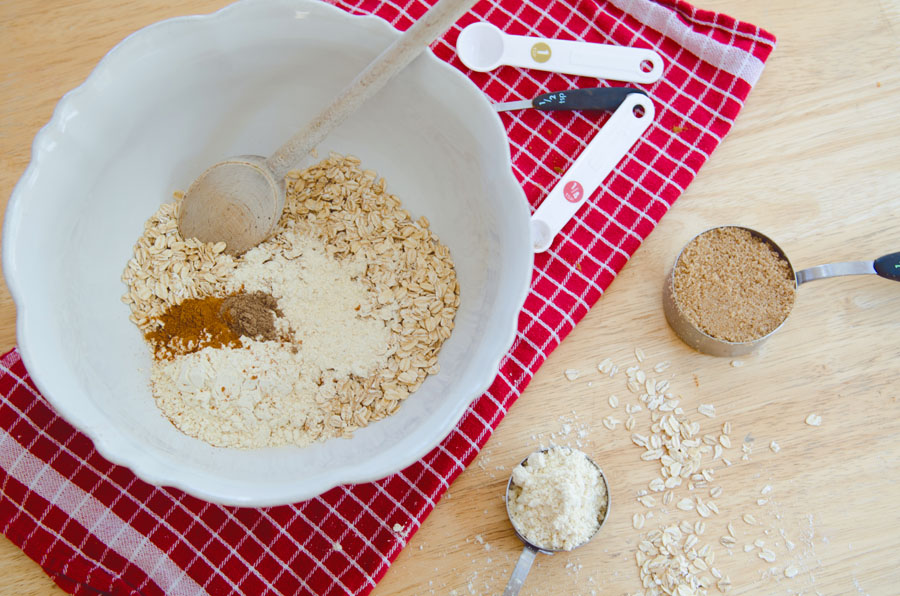 Butter is added. We stick our hands in. It gets a little dirty. We knead things and they get crumbly. You can totally be smarter than me and remove your jewelry beforehand.
After things get nice and crumbly, your mixture is going to chill out in the freezer while you get your chop on.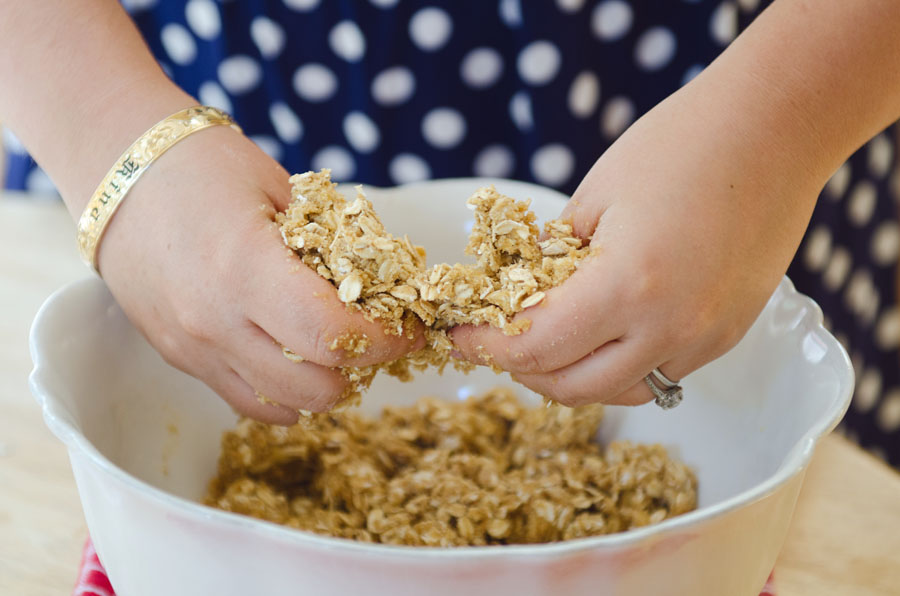 There is going to be chopping. We're going to chop up some rhubarb and a bunch of strawberries. See that butter hanging out? Foreshadowing.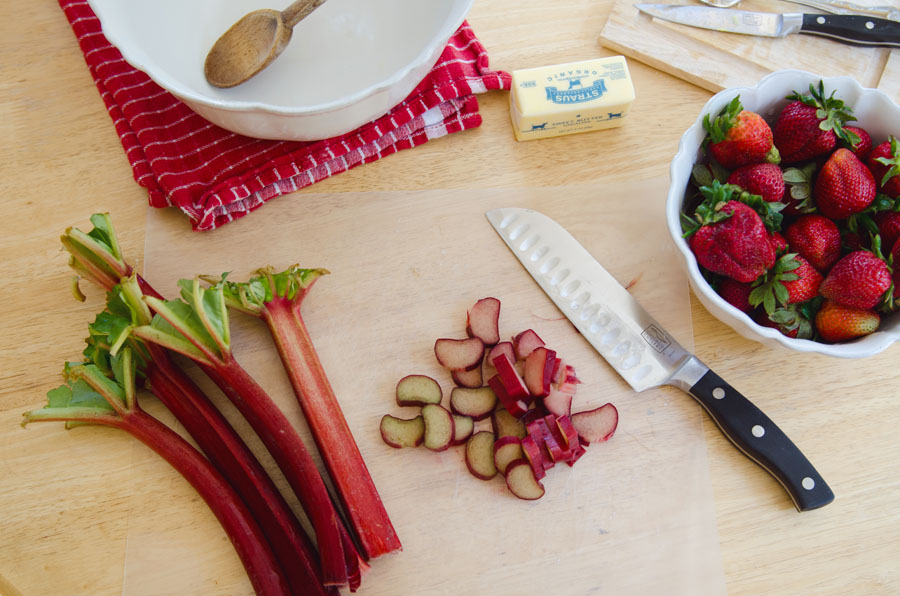 Okay. It's getting increasingly more real.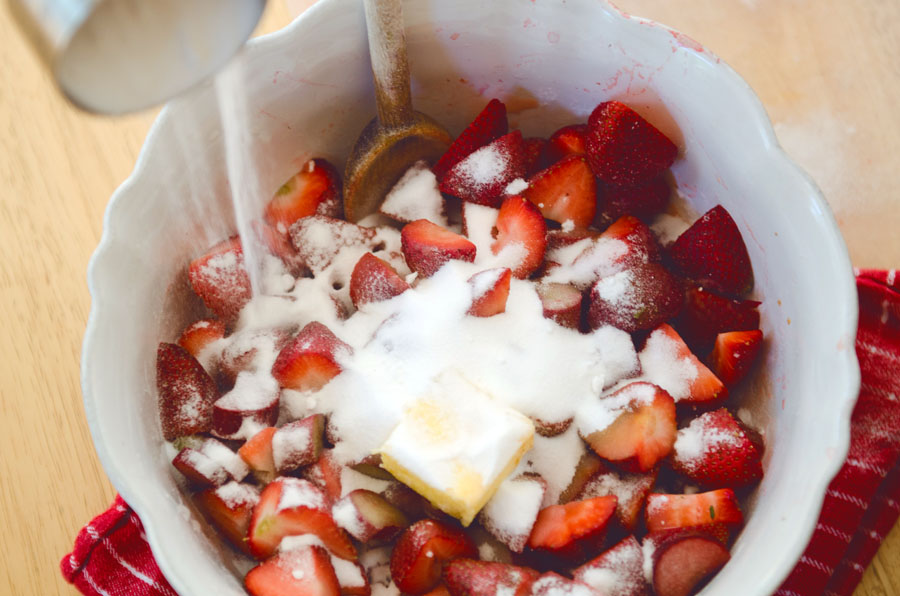 Oh wow. Sugar. Butter. Berries. Rhubarb.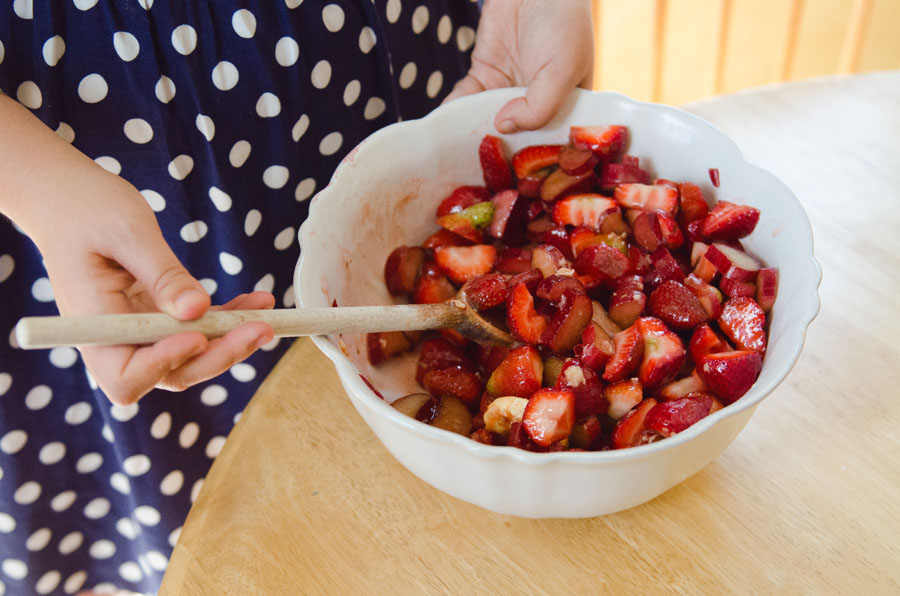 Stir it all together. It's gonna get glossy. Is it weird that I want to wear it?  Yes? Forget I said that.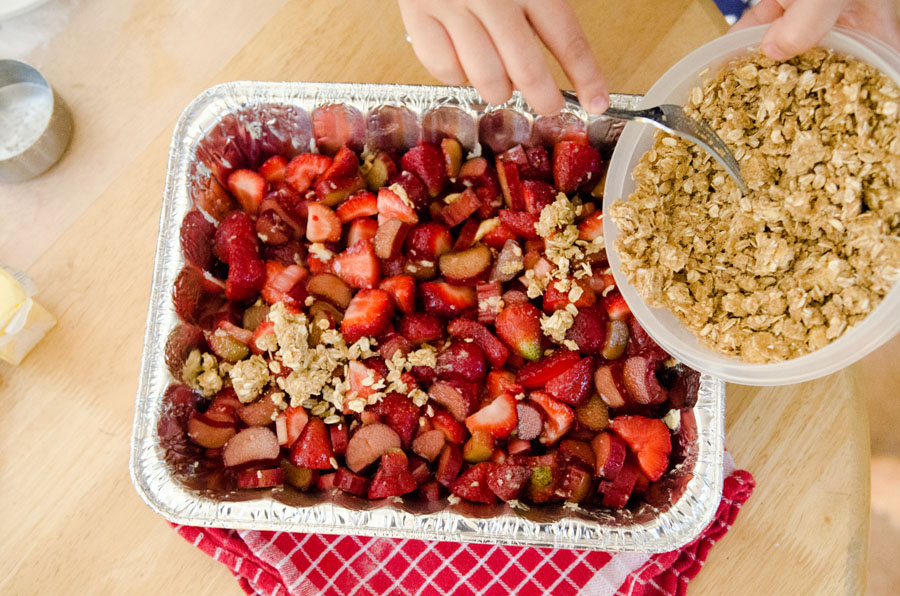 Your berry mixture is going to go down into a pan and your chilled crumble mixture is going to live right on top.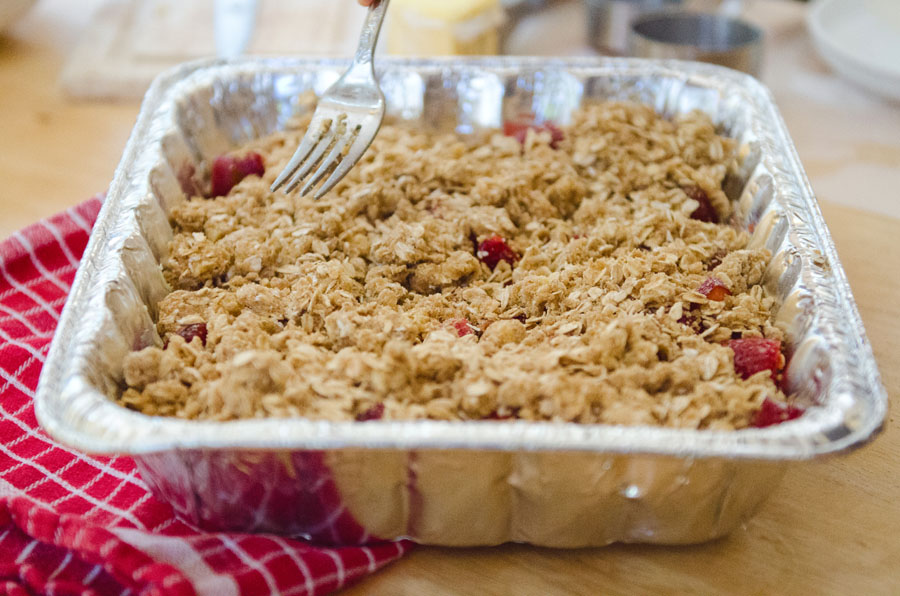 Pat it down with a fork. Resist the urge to start eating it now. It's only going to get better.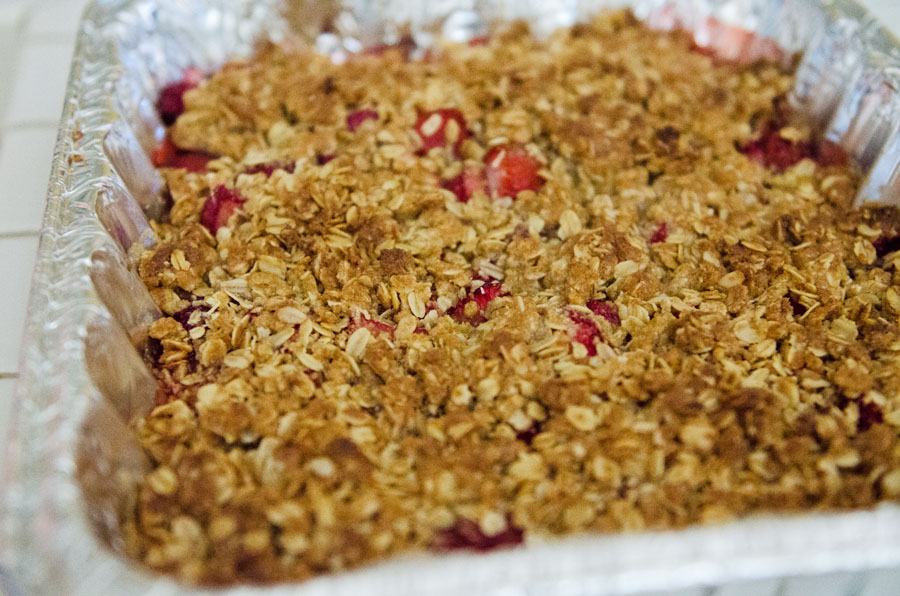 Bake it. The crumble will brown on top, and the strawberry and rhubarb mixture becomes something syrupy and delicious. I baked mine before I brought it up to the river, but I would almost advise against it. If I were to do it over again, I would have brought the chilled oat and flour mixture separately and assembled it about thirty to forty minutes before serving dessert. My crumble absorbed a lot of the juice and got a little bit soupy upon the second heating. Granted, it was still delicious, but I might do it a little differently if I did it over again.
By the time dessert rolled around, we were all completely filled with steak, sangria, and more than a little bit of garlic bread. I heated up the crisp and we served it casually in mugs with a dollop of vanilla ice cream on top. Not glamorous, but super comforting.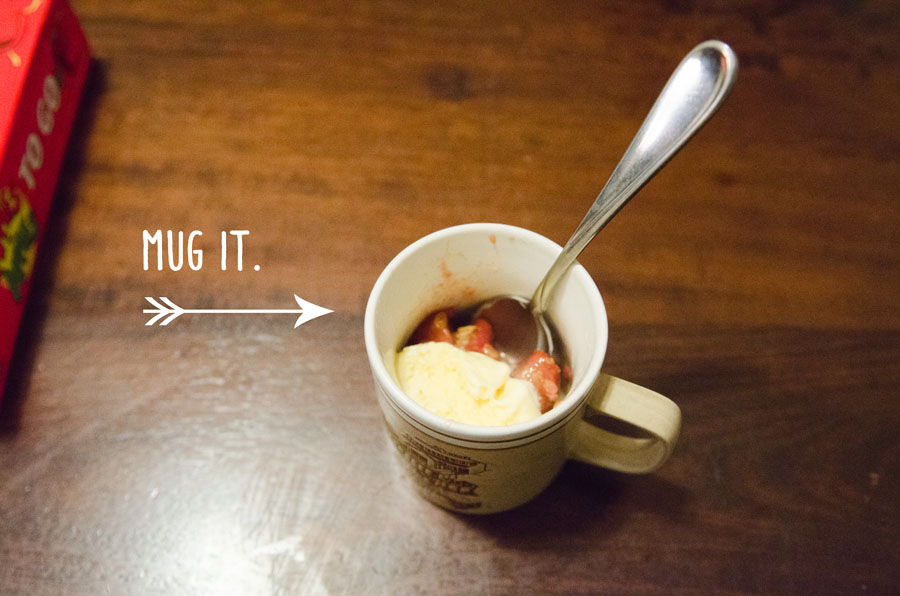 Before I had a chance to really photograph it properly (who are we kidding, I was hopped up on sangria and just wanted to eat this mug posthaste) the dessert was totally gone. I told you. It's a crowd pleaser. New Friends + River + Steak + Sangria + Butter-filled dessert = Success!  Life rule.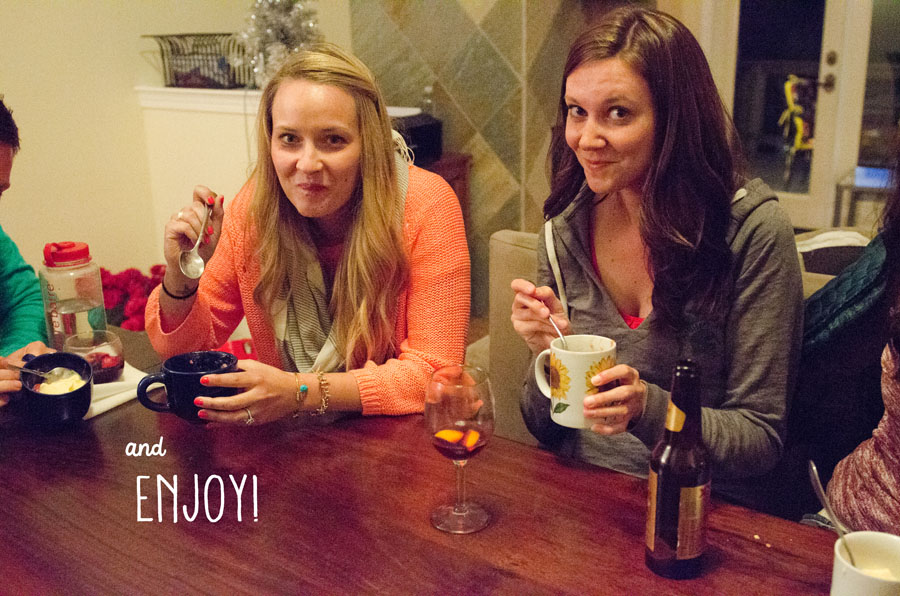 Gluten-Free Strawberry & Rhubarb Crumble
Ingredients
Topping:

1 cup rolled oats
3/4 cup gluten-free flour blend (I used Bob's Red Mill)
1/2 cup packed brown sugar
1/2 teaspoon cinnamon
1/2 teaspoon cardamom
1 stick (1/2 cup) cold unsalted butter, cut into small cubes

Strawberry & Rhubarb Filling:

2 tbs unsalted butter, softened
6 large stalks of rhubarb, chopped
3 cups of strawberries, chopped
1 1/4 cup superfine sugar
Juice from 1 lemon
2 tsp gluten-free vanilla extract
Instructions
Preheat your oven to 375 degrees
Butter a baking dish and set aside
In a medium-sized mixing bowl, combine your oats, gluten-free flour, brown sugar, cinnamon & cardamom. Stir together.
Add in your tiny cubes of butter. Using your hands, work the mixture until a coarse crumble forms.
Place your mixture into the freezer for 20 minutes while you work on your other ingredients.
In a large mixing bowl, combine your rhubarb, strawberries, sugar, butter, lemon juice & vanilla and stir until all of the ingredients are mixed together. You should not be able to see chunks of butter in your mixture.
Once your filling has come together, pour it into the bottom of your buttered pan.
Remove the topping from the freezer and fluff it up with a fork so it becomes crumbly again.
Pour your crumble evenly over your fruit mixture until it has been completely covered. Pat it down with a fork.
Bake for 30-40 minutes, or until the top becomes crispy and golden brown.
Allow your crumble to cool for 15 minutes, and then serve. I highly recommend pairing it with vanilla ice cream!
Enjoy!
http://soletshangout.com/strawberry-rhubarb-crumble-gluten-free/