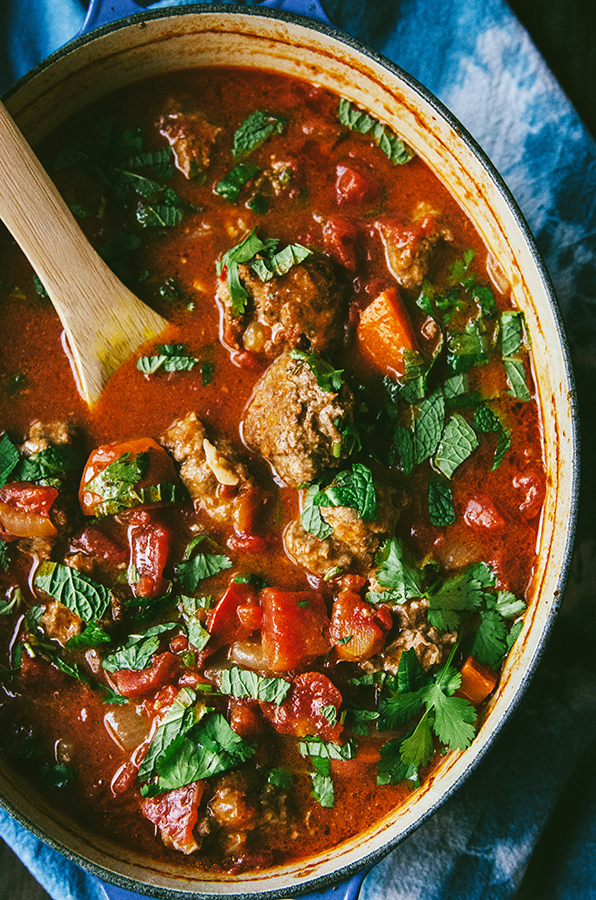 Over a week ago I walked into a natural pharmacy and walked out with about eighty dollars worth of cold and flu prevention. Yes, I gawked at my bill, but desperate times call for desperate measures. Hear me out.
My husband had recently gone to a business conference followed by a bachelor party, and somewhere in between shaking hands and guzzling beers with his bros, managed to acquire the kind of deep cough which sounds like one's harboring an elephant seal in their chest. I had lasted a week taking care of him without managing to show a single symptom. I made soup. I drew baths. I pumped him full of teas and elixirs. I rubbed essential oils into his chest. I made more soup. He eventually got better–or at least functional–that seal bark of a cough is a real clingy bitch. However, we were back to a normal-ish life–I could stop making so much soup now. Things were good.
THEN IT HAPPENED. The tickle in the throat. The running of the nose. The thick glazing of my eyes. The bone crushing fatigue. The barking cough. The boogers, you guys, the boogers. This is when I marched into my local natural pharmacy with the determination and heart of Rocky Balboa. I imagined my Eye of The Tiger montage as I filled my basked with teas, an expensive silver spray, more oregano products than an Italian grandmother and a natural cough syrup that's used by Beyoncé. I swung at this thing with all of my might, but unfortunately I was knocked out in the first round. Should I give up on the boxing metaphors? Probably, yes.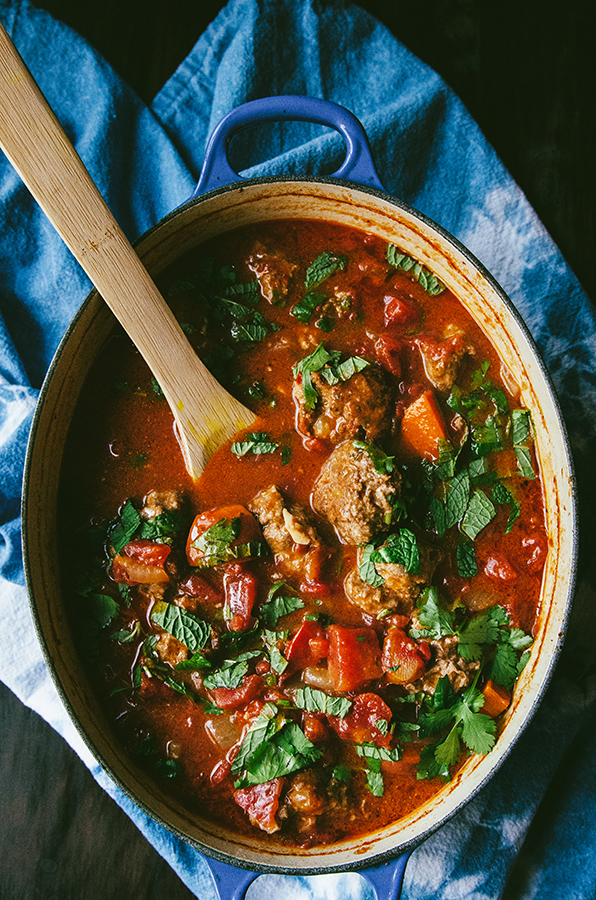 The next seven days were spent in a daze on the couch. I basically moved into the couch as if it was a very small one bedroom apartment. A paper bag sat at the foot of it, collecting a lifetime supply of Costco Kleenex. Several cups of varying liquids adorned the coffee table at all times. Essential oils for huffing and rubbing on my congested chest were strewn about. I started to worry I had narcolepsy because of my intense nap schedule. At one point, I spent an hour staring at the wall. Just staring. This was not good. Oh, and remember how I thought I was done with soup? Yeah, not so much. There were POTS of soup, consumed through coughing fits and sneezes. I exhausted every television option known to man. All of the Beyoncé cough syrup in the world would not save me. Bronchitis, you guys. It's real. During this time I got the memo that winter had turned herself into spring. The sun came out in a way that seemed like a personal insult to the grimy-darkness -loving-couch-gremlin I had morphed into. Too soon, Spring. Too soon.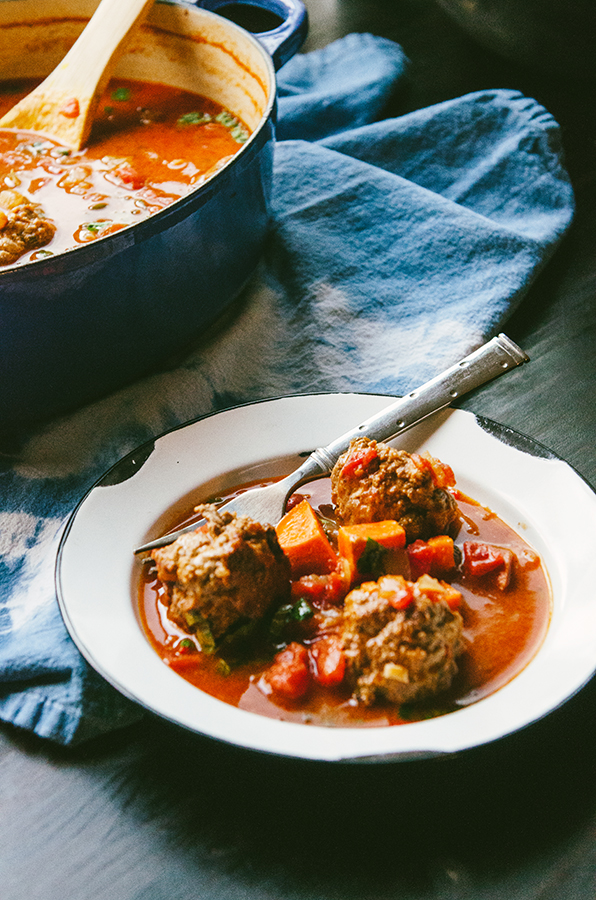 Today is day eight, and I'm starting to emerge from the couch. I woke up with some airflow moving through my nostrils and am thinking about not wearing pajamas all day. Sure, I'm still consuming more Kleenex than I'm comfortable with, but I'm here with my computer open and writing words. I haven't fallen asleep inexplicably in the duration of writing this post. Also, I'm sorry for telling you about all my boogers.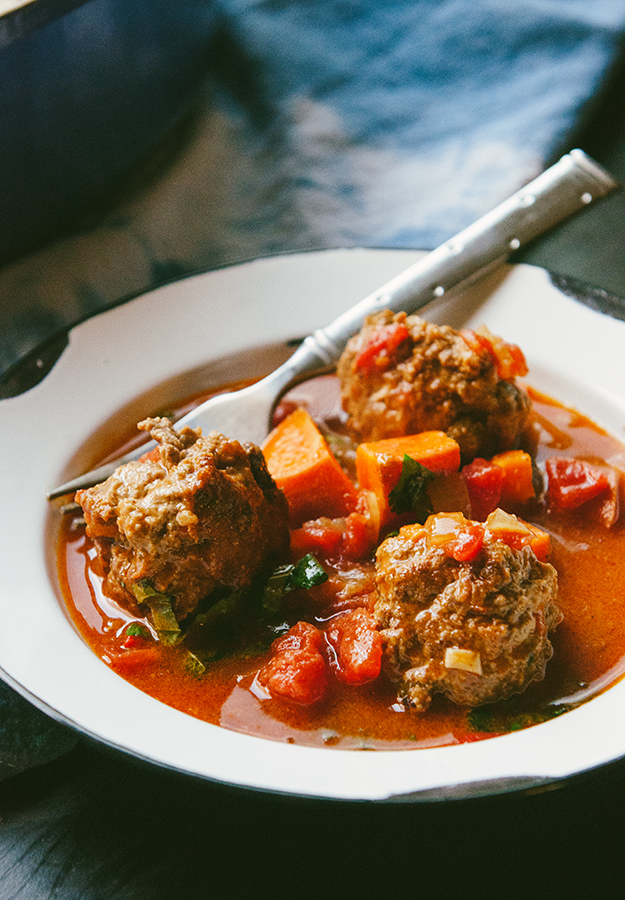 Absolutely none of this ties into this recipe for Moroccan Meatballs, by the way. I'm just commiserating. However, these meatballs are looking pretty dang tasty to me right now and they're totally not a pot of soup, so THIS IS PROGRESS. If you're an Italian meatball traditionalist, you might be looking at these round lil' babies with a side eye. Raisins, in meatballs? I know, I know. Don't freak out. Even though these meat nuggets are slow roasted in a tomato sauce, they are not your Noni's meatballs. They are spiced up with cumin and herbs, and the sauce is spiked with cinnamon and spicy harissa. It's comfort food with a twist! I hope you'll give them a chance and tell me what you think.
Now, I'm going to go take a shower and graduate from pajamas to sweat pants. Because, progress. Also, bronchitis sucks. Please make these meatballs. The end.
Tomato Braised Moroccan Lamb Meatballs and Sweet Potatoes
1
adjust servings
Ingredients
Meatballs
1

lb. ground lamb

1

tsp.sea salt

1/2

tsp. cumin

1/2

tsp. ground ginger

1/2

tsp. cinnamon

1/4

tsp. black pepper

1/4

cup chopped mint leaves

1/4

cup blanched almond flour

1

large egg

1/4

cup golden raisins

2

Tbsp. coconut oil (to brown meatballs)
Sauce
Instructions
Preheat the oven to 425 degrees.
In a large mixing bowl, combine all of the listed meatball ingredients, except for the coconut oil which is reserved for browning the meatballs. With clean hands, mix everything together until it forms a lovely uniform texture.
Portion the meat mixture into 12-14 balls. Roll them between your hands to form nice uniform balls. Set aside.
Add the coconut oil to a dutch oven over medium-high heat. Add your meatballs in a single layer to the pan and brown them evenly on each side. This will take several minutes. If you don't have a dutch oven that will accommodate that many meatballs at once in a single layer, simply fry them in batches. Once all of the meatballs are cooked, remove them from the pan and set them aside on a clean plate.
Start building the sauce in the same dutch oven that you just fried the meatballs in. Add the onion and garlic to the pot and allow them to cook down and begin to sweat in the meatball juices. Once they are soft, add in the sweet potatoes and stir. Allow them to cook together for a few minutes. Add in the tomatoes, spices, harissa, bone broth and coconut milk. Stir together until the sauce looks even and the coconut milk is evenly distributed throughout.
Add the meatballs back into the sauce. Allow the sauce to come to a simmer over medium heat. Once it's simmering, add the lid to the dutch oven and put the pot into the oven. Bake for 30 minutes.
Remove the dutch oven from the oven and remove the lid. The meatballs should be completely cooked through and the sweet potatoes will be fall apart tender. Serve and garnish with a bit of fresh mint or cilantro! Enjoy!
by Gina Marie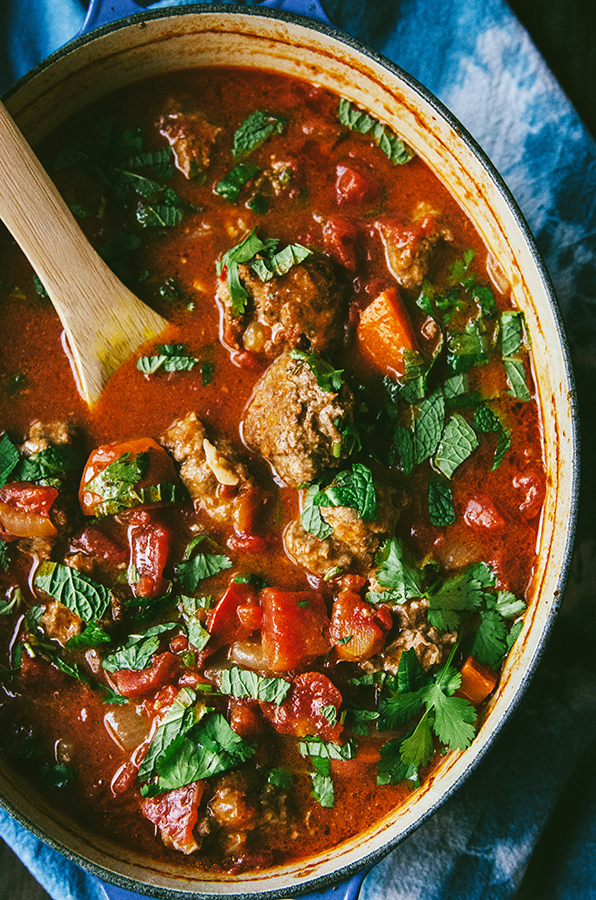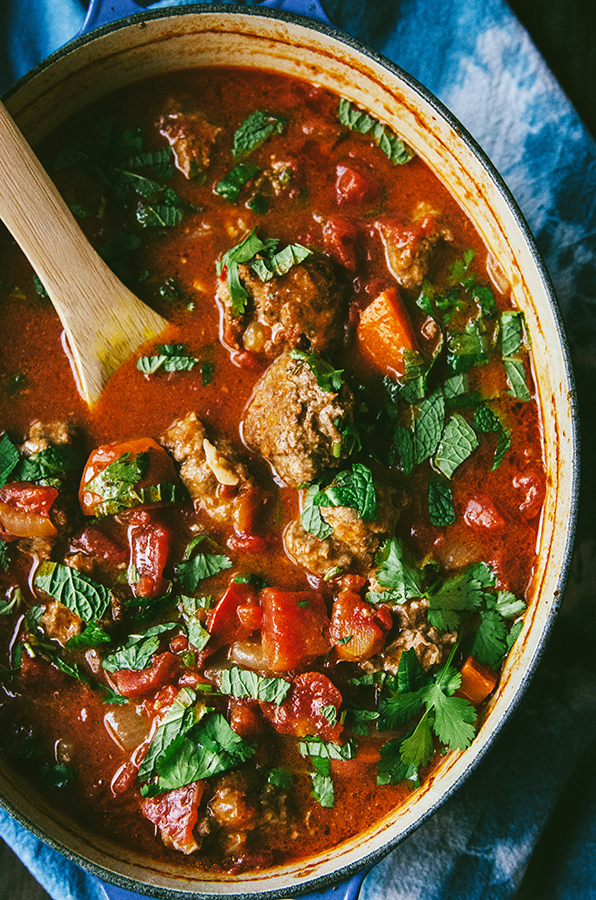 PAID ENDORSEMENT DISCLOSURE: In order for me to support my blogging activities, I may receive monetary compensation or other types of remuneration for my endorsement, recommendation, testimonial and/or link to any products or services from this blog.