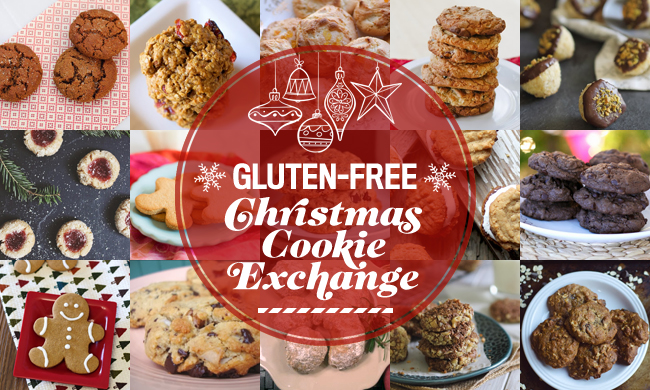 It's officially one week 'til Christmas. Whoa.
So, as I sit here frantically ordering Christmas presents on Amazon and trying to figure out who is going to puppy-sit my crazy dog when we go out of town next week, I thought it would be best if we eased some of the frenetic energy with COOKIES. Lots of cookies. I have some pretty talented cookie loving blogger friends. We've got you covered. 
Initially, we wanted to bake and send each other cookies for the holidays. But, life got crazy-town. What's bigger than a town? A city? Okay, life got CRAZY-CITY! No matter, it's not stopping us from sharing some of our favorite cookies with YOU! Let us be your gluten-free baking elves! I bet you we'd look pretty smashing in those pointy hats.
And… yes, I know you're concerned that I haven't finished my Christmas shopping yet. Me too. Me too. Cookies? Let's just eat more cookies. xox
Grain Free and Dairy Free Spiced Molasses Cookies
Beth from Tasty Yummies
I love traditional Christmas cookies like this. The spiced ginger molasses flavor is reminiscent of classic gingerbread cookies, except you can eat these guilt-free! They are grain-free, dairy-free, and if you leave the light sprinkle of raw sugar off the top, they are refined sugar-free, as well!
Gluten Free Vegan Pumpkin Cranberry Oatmeal Cookies
Sarah from Sarah Bakes Gluten Free Treats
Studded with tart cranberries and crunchy pecans, these pumpkin cranberry oatmeal cookies are a favorite in our house. They rustic delights are so moist and so addicting. You can't possibly eat just one!
Gluten and Dairy Free Chewy Amaretti Cookies
Meg from Beard & Bonnet
My chewy ginger amaretti cookies are sweet with a little heat at the finish and have a delightful crisp exterior and chewy interior. These cookies are making their way to Santa's cookie plate this year for sure.
Gluten Free Bacon and Chocolate Chip Oatmeal Cookies
Gina from So… Let's Hang Out
I like chocolate. I like bacon. I like chewy oatmeal cookies. This is the cookie that happens when you want it all! Oh, and don't leave the plate near your husband unless you want them to magically disappear.
Dark Chocolate Dipped Orange Macaroons
Gina from Running to the Kitchen
These macaroons are infused with orange flavor and made with just a bit of almond flour to give them an even chewier texture. Dipped in dark chocolate and topped with chopped pistachios, they're perfect for the holidays!
Sherrie from With Food + Love
I knew I needed to revamp my favorite childhood holiday cookie, the thumbprint this year. A grain free twist on a holiday classic that everyone loves.
Kelly from A Girl Worth Saving
Sugar cookies are a must during the holidays! I could not imagine the Little growing up without experiencing the fun mess of decorating cookies and the bonus of eating them later.
Gluten Free Vegan Rosemary Chocolate Chip Cookies
Kris from 80Twenty
These rosemary chocolate chip cookies are buttery, golden, sublime and just slightly exotic. If you haven't tried the rosemary-chocolate combo, be prepared to fall in love. Plus, their vegan and gluten free.
Gluten Free Peanut Butter Marshmallow Sandwich Cookies
Meg from Beard & Bonnet
These peanut butter marshmallow sandwich cookies are a special treat in our house! Our kids always squeal in delight when they see these cookies waiting on them and they have even become the #1 requested birthday treat in our house.
Gluten Free and Dairy Free Double Chocolate Peppermint Cookies
Beth from Tasty Yummies
Dark Chocolate and Peppermint together are one of my favorite holiday flavors. If you're with me, you can't go wrong with cookies!
Gluten Free Vegan Gingerbread Men Cookies
Sarah from Sarah Bakes Gluten Free Treats
Hello there, gluten free gingerbread men! Aren't these little guys the cutest? It's just not Christmas without gingerbread men cookies. These gluten, dairy, and egg free treats are a perfect addition to your holiday baking!
Grain-Free Chocolate Coconut Chunk Cookies
Aubrey from Homegrown and Healthy
Perfect for those grain-free healthy nuts, like myself. These cookies are packed full of protein and healthy fats for long lasting energy! Made with a combination of almond flour and coconut flour, sweetened with honey and mixed with dark chocolate chunks (soy and dairy free). You'll get a crowd pleasing holiday treat that everyone can enjoy!
Amy from Real Food Whole Health
These gluten free sand tart cookies are delicious and delicate, similar to almond shortbread, shaped into balls and crescent moons. They are naturally egg free and can also be dairy free, if desired. It's not Christmas until we make our sand tarts!
Gluten Free Chocolate Cashew Cookies
Gina from Running to the Kitchen
If sugar cookies and brownies met up, this is what they'd taste like. Rolled in cashews for some crunch, these are a fun holiday cookie to add to your list.
Gluten Free Totally Loaded Oatmeal Cookies
Gina from So… Let's Hang Out
Soft and chewy with the rich caramel-y sweetness of brown sugar shaking hands with maple syrup. These cookies are totally loaded with everything from coconut, dried cranberries and chocolate chips.
PAID ENDORSEMENT DISCLOSURE: In order for me to support my blogging activities, I may receive monetary compensation or other types of remuneration for my endorsement, recommendation, testimonial and/or link to any products or services from this blog.