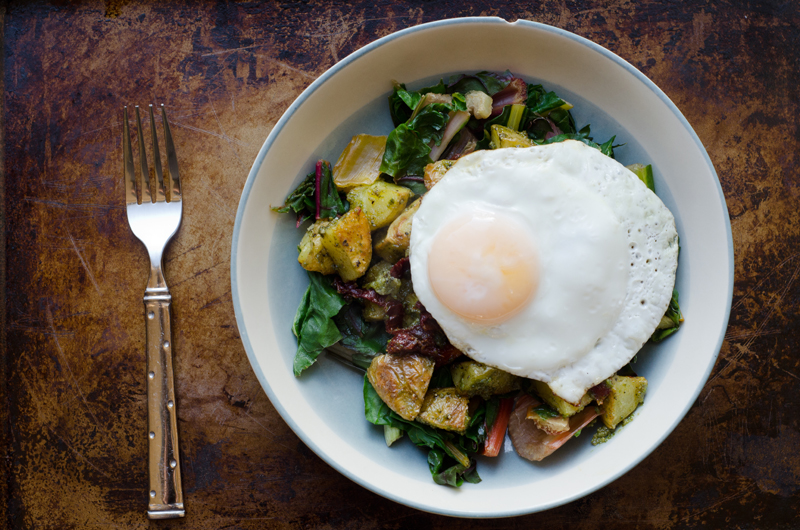 My husband has some solid beliefs when it comes to food.  His philosophy is strongly sandwich-based.  He believes that everything can be made into a sandwich. This has become such a thing in my family that I find myself texting my brother pictures of meals that my husband has turned into sandwiches. He is famous for it. In fact,  I have caught him daydreaming before while we are driving around and doing Sunday errands.  I asked him  "Hey Hun, what are you thinking about?" to which he replied "I was just dreaming about a sandwich that I am going to make when we get home.  It has ham and salami and an egg on it.  Ooooh, and cheddar."
He is a dreamer, what can I say.  He believes in breakfast.  He believes that everything is better with an egg on it.  I cannot entirely disagree with him.  Put an egg on almost anything and you got yourself a brunch.
*Note :I do not endorse putting eggs on anything with peanut butter or jelly. Or anything containing tuna fish.  Lessons learned.  Yes, that really happened in this house, my husband felt even a tuna melt could use an egg. It can't. Take our advice, especially on the tuna fish.  That was rough.*
Here is a nice little brunch that I whipped up using last week's chard and cashew pesto!  A healthy helping of wilted greens topped with pesto-covered roasted potatoes.  Throw in some sun-dried tomatoes, and for goodness sake, slap an egg on it!  A lovely brunch for two.
Ingredients: 
6 small Yukon gold potatoes, cubed
2 tbs olive oil
Salt, pepper, garlic (to taste)
1 bunch of rainbow chard
1/4 cup of chicken broth (or veggie broth to make it vegetarian)
3 tbs chard and cashew pesto
1/4 cup sun-dried tomatoes
2 eggs
Preheat your oven to 400 degrees.
Wash and cube your potatoes.  Coat them in olive oil and spice them with salt, pepper and granulated garlic to taste.  Lay them out on a baking pan covered in aluminum foil.  Bake them for 20-25 minutes or until they are soft inside and beginning to get crispy on the outside.
While your potatoes are cooking, wash and cut your chard.  Heat some olive oil up in your pan over medium heat and then drop in your greens.  Begin to cook down.  Add in your chicken broth and continue to cook down over a medium to low heat until they are lightly wilted but still remain vibrant and green.
After your potatoes are done cooking, put them into a bowl and mix in your pesto.  Stir your potatoes until the pesto has completely covered them.  Add in your sun died tomatoes and give them another stir.
Once your potatoes are all done, you can cook your eggs.
Prepare two eggs.  I think this meal pairs best with over-easy eggs.  The runny yolk is a nice addition to the crispy and flavorful potatoes.
Plate your meal.  Chard, potatoes and an egg on top.  Yum!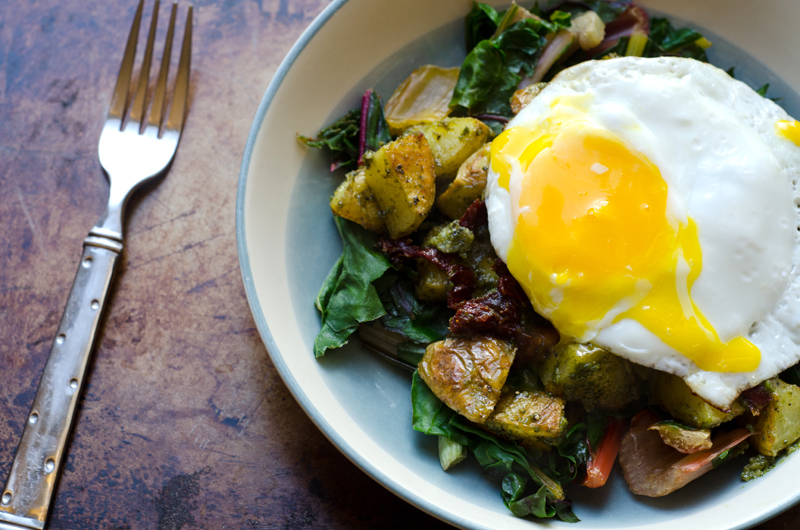 Enjoy.
Fantasize about the next meal you can put an egg on.  If you like it then you should totally put an egg on it…
Is it weird that I have been singing those lyrics to the tune of Beyoncé's" Single Ladies" since I made this recipe?  Maybe chasing my husband around the house doing the dance that she does in the video? (particularly the section where the does the whole punching and moving forwards move…)  I regrettably do not have the black leotard or the fiercely baby-oiled haunches. Real life.  It can be awkward.
PAID ENDORSEMENT DISCLOSURE: In order for me to support my blogging activities, I may receive monetary compensation or other types of remuneration for my endorsement, recommendation, testimonial and/or link to any products or services from this blog.