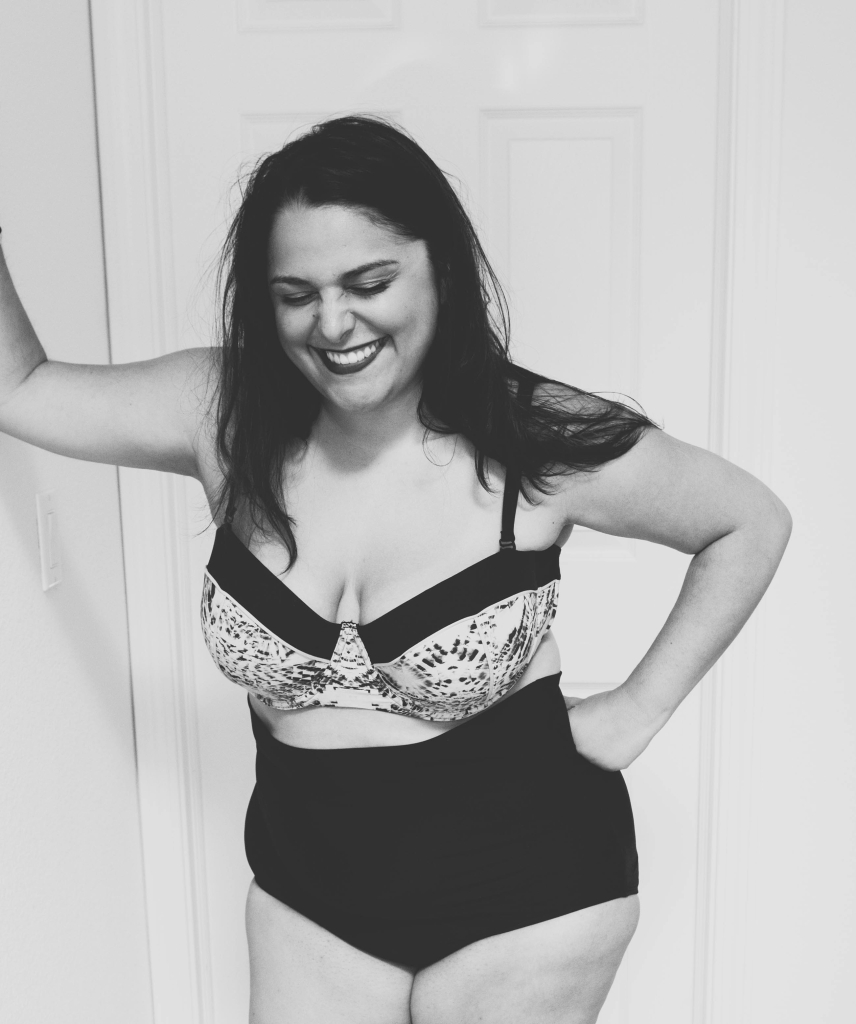 Body shaming is definitely a thing, and I did it to myself today.
This afternoon I wrote my Mom on Facebook, begging her to remove photos she posted on her Timeline of my recent visit to Los Angeles. They were family photos. Candids she had snapped while we were all in the pool together. I saw myself sitting hunched over in a swimsuit and I lost it. I cried. A little voice in my head woke up and began berating me like a mean girl in the high school cafeteria. "You're disgusting," it said. "You need to get these photos down immediately before anyone can see them–you don't want people to know what you look like right now. Hide it. Take them down. Also, you're worthless."
That inner voice I have raging inside of my brain — that mean girl voice– she's loud and wild and grossly judgmental. But, really, I am nothing like her. I like women's bodies. All of them. Big, small, muscular, busty, flat, short, tall, thigh gap, no thigh gap. We're all real women. We're all unique. We're all beautiful. Right now. Not five pounds from now. Not twenty pounds from now. Not any more or any less than if we change our hair or our boobs or have babies that rearrange our fleshy bits. I love you all and think you should too.
However, for most of my life, I've never said these things to myself. There's been very little self love on the body front. Instead, I've let that voice tell me if I was thinner, people would like me more and I would be more successful. I've let it tell me this is who I am — a pretty girl — and, if I lose that "pretty", I am nothing. I've let it tell me I am gross. I've cried under its scrutiny several times. I've avoided mirrors. I've allowed it to convince me to stay home from a party or a simple hang out with my girlfriends because I didn't want them to judge me. "What if they notice those ten extra pounds you're carrying since the last time you hung out? They'll think you've let yourself go." These are the words in my head. They've been there regardless of my weight. Thin or curvy. This is how I've allowed myself to speak to myself. In a way I would never EVER speak to a friend. Honestly, if someone spoke to a friend of mine that way, they might get punched. But here I am, allowing this mean girl to pummel me, and not fighting back.
The last three years have been the hardest of my life. After getting back from my honeymoon,  my health took a turn and snowballed into a full on crisis. I've had anxiety in some form since I was seventeen years old. I've also suffered from other strange yet seemingly unconnected ailments my entire adult life. I've been to so many doctors, and most of them would just tell me I was crazy. But I kept chasing a diagnosis. I refused to feel like I was dying and not have an answer as to why. I was still in my twenties. It shouldn't feel like my bones are rotting, and I don't have enough air in my body to move around. I used to have so much energy, so this new lethargy was alarming. I shouldn't be so riddled with anxiety that it's hard to leave the house. My brain felt like it was on fire, like there were tiny bugs scrambling around on its surface. There were so many different symptoms it made me feel like I was going crazy. I just kept thinking this isn't where I want my health to be. I don't accept it. Eventually, I was diagnosed with Chronic Lyme Disease and a whole host of other medical issues, which I am thankfully now on the path to healing. I've had to slow down. I've had to accept the days where I can barely get out of bed. I've had to be more patient with myself than ever in my life.
One of the side effects of this health crisis has been a forty pound weight gain. Even though I am eating the healthiest I have ever eaten in my whole life, and constantly trying to nurture my body, it seems to want to hold onto everything. I'm sure as the inflammation in my system goes down, and I treat this disease, things will shift. However, for someone who has a very mean inner voice, this has been one of the hardest things to deal with. I've looked in the mirror and not recognized myself. I've felt lost, and upset, and terrified of what others might think when they look at me. I've hidden myself. I've carefully curated my social media existence as to not show my whole body as it is right now. As if showing my body would take away from who I am. "People will think you're disgusting," the voice says, "you should be embarrassed".
But that's not real. And if it is, I don't want to accept it or participate in it. My body is housing a serious war. It should be high fived and hugged. And beyond the war it's waging on my illness, it's housing the person I truly am. A girl who likes to laugh, and loves fiercely and deeply without boundaries. A body is really just a thing I'm carrying around that makes it so my organs, my bones, and all the oceans of feelings and thoughts and dreams I have inside can stay contained and not end up in a deconstructed red mess on the floor. It's a human suit. A body with an immune system and thick thighs and a living, beating heart. If I died today, I hope people would see through this human suit and remember the things that made me… well, human. My very loud laugh. The way I hug you close and hard. The friendship we shared like sisters. My incessant need to feed you soup when you're sad. Holding hands and watching sunsets. Laughing until we just can't breathe. I don't need you to talk about how I was thin or fit or curvy or how I once fit into a pair of size two denim. That can be left out of the eulogy. Thank you.
I don't want to body shame anyone, and I'd like to start by stopping the body shaming I do to  myself. I'd like to get in the ring with that terribly mean girl that lives in my brain and try to win a few rounds. So, that's why I'm here, writing this, feeling vulnerable, and showing a picture of myself in a bikini as I am right now, living in this human suit that's currently forty pounds heavier and feels unfamiliar.. This is my declaration that I don't have to be ashamed of this body. A pledge to love myself through thick and thin, with no weighty emphasis on either state of being. It's saying I'm perfectly imperfect, a work in progress, and a girl who wants to feel like her soul outweighs the flesh on her thighs.
It's new and it's kinda terrifying. But I hope you'll try it with me. I figure the only thing I have to lose is an incessantly cruel mean girl voice. And, in the words of Gretchen Weiners, I'd like to officially tell that voice, "YOU CAN'T SIT WITH US". It's Wednesday, and on Wednesdays we wear self acceptance. Or, bikinis. Either way. Just leave the hate at the door.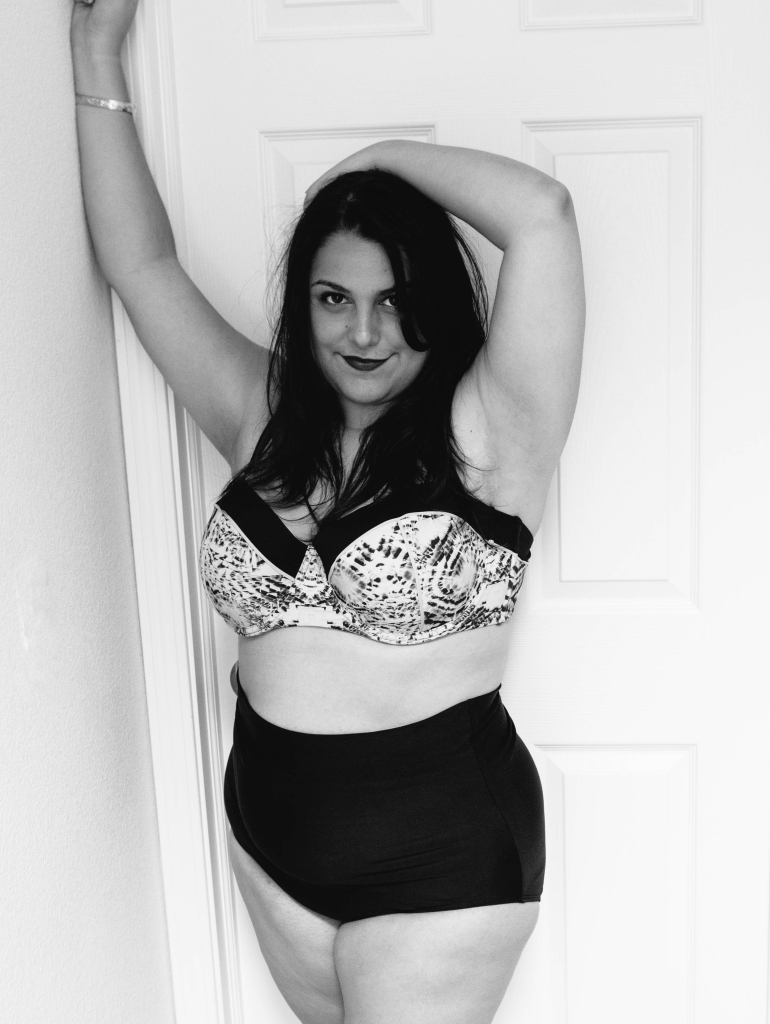 PAID ENDORSEMENT DISCLOSURE: In order for me to support my blogging activities, I may receive monetary compensation or other types of remuneration for my endorsement, recommendation, testimonial and/or link to any products or services from this blog.