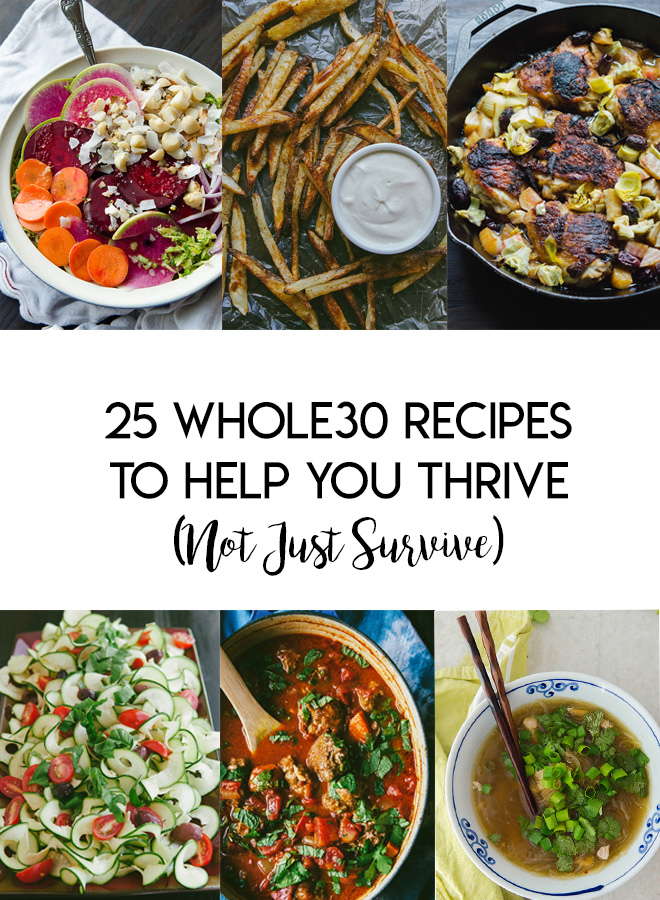 Happy New Year, everyone! I hope you all had a wonderful holiday season–I took a nice little break from blogging in order to do my annual holiday stress out, complete with traveling, spending time with family and consuming a moderate to high level of wine. All in all, it was good–but, now I'm back home and ready to rock out this year with you all. Let's start with a round up of some of my favorite healthy recipes! 
January seems to be synonymous with Whole30. A lot of people, like me, might have been living on a stress diet of wine, gluten-free peppermint jojo's and leftover beef tenderloin straight from a freezer bag. So, I get it. I get the desire for a tune up of sorts. In fact, I was chatting with my Physical Therapist (I'm fixing up an old-lady repetitive stress injury of the wrist, because I type like a real maniac) and she mentioned to me that she's in the process of a Whole30. Her confusion about what types of things she should eat while simultaneously not dying of hunger or boredom was palpable. It made me think that some of you might be in the same boat. Maybe you need a little bit of inspo–to know you can still eat food and you probably (definitely) won't die of starvation because this stuff is good and filling and tasty.
Also, I'm going to say I'm writing this for all of you because it's maybe weird to write an entire blog post in order to help out your Physical Therapist with their hanger. Is it? I don't know the rules. I wink at people in public when I'm nervous. I'm not the point person on social norms. We're all just doing our best. In that vein, here are TWENTY FIVE WHOLE30 FRIENDLY RECIPES that will help you to do your best. Thrive, mah-babies…don't just survive.
Note: In the description of each recipe I will let you know if the recipe needs to be tweaked to be one hundred percent compliant. The tweaks will be easy. Please don't not read my suggestions and then write me an angry and slightly snarky e-mail about how one of these recipes has peas in it and I'm ruining your life. Thank you in advance.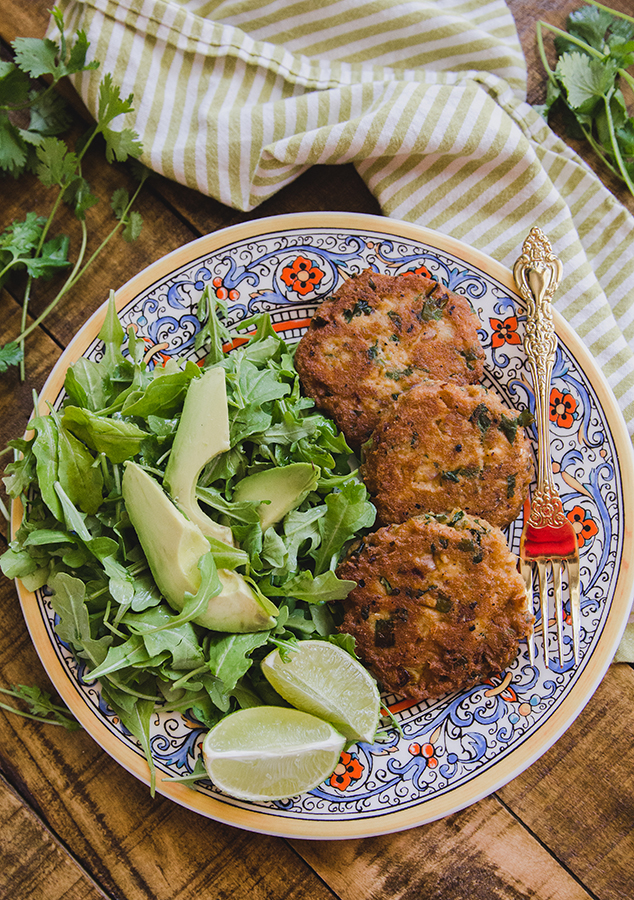 Grain-Free Chipotle Lime Salmon Cakes
These little babies are super easy to make and naturally Whole30 compliant. They are packed full of good fats–between the salmon, avocado oil mayo and the avocado oil for frying. One of the things I find most helpful while on a Whole30 (or, really, just to feel my best) is to eat enough fat. Healthy fats will help to keep you satiated, and help you to avoid the blood sugar rollercoaster which leads to that desperate hangry feeling. Serve them up with a simple salad and some extra mayo for dipping. Make sure you're using a Whole30 compliant mayo, or whipping up a batch of your own without any junky seed oils.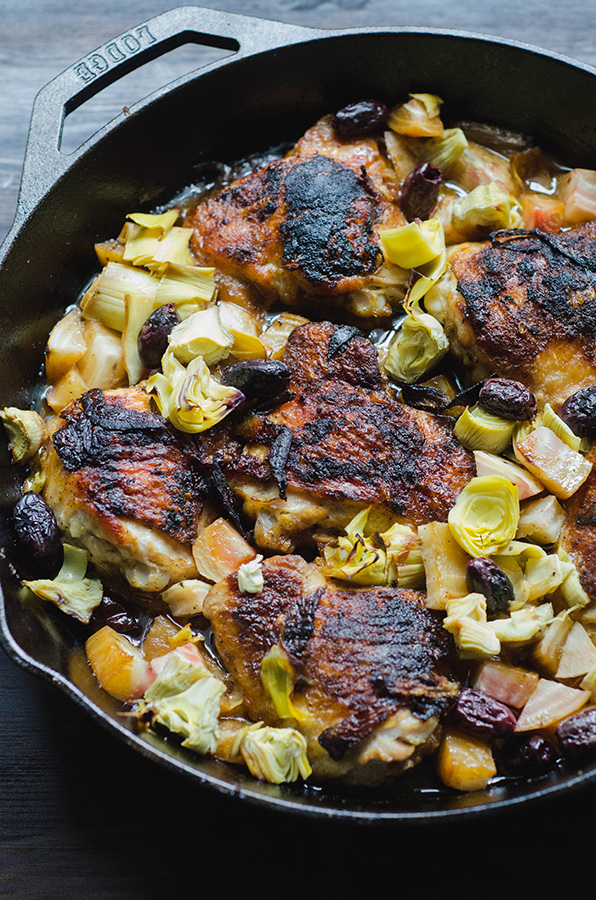 Crispy Chicken Skillet with Artichokes, Beets, Lemon and Olives
Who doesn't love a one skillet meal? Um, limited dishes means so much more time for activities! This meal is super easy and filled with a bunch of great Mediterranean flavors. Serve it as is, or with a mountain of your favorite roast veggies for a very satiating, delicious meal.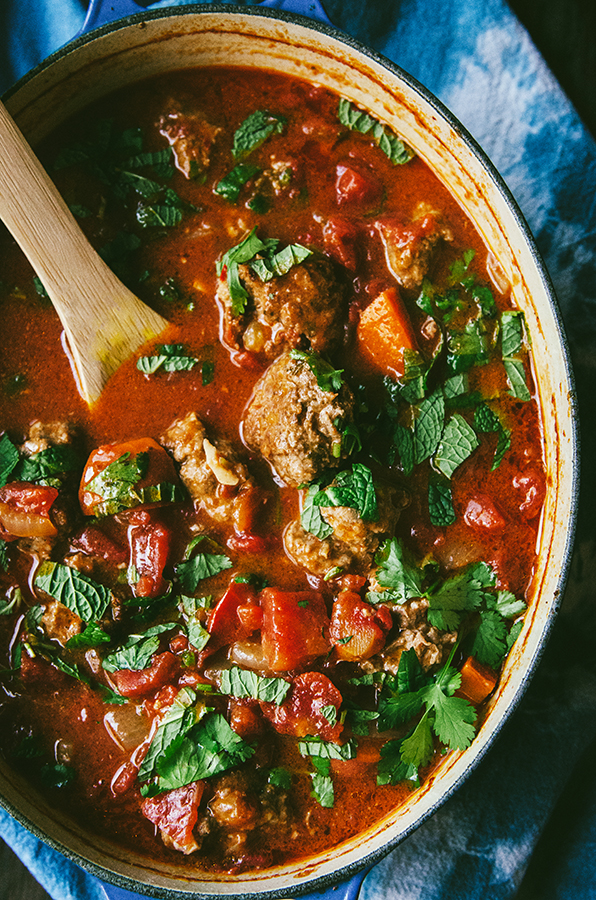 Tomato Braised Moroccan Lamb Meatballs and Sweet Potatoes
One thing that is essential on Whole30 is to bump everything up with spices and herbs! This braised dish is packed with exotic spices and topped with things like fresh mint in order to really enhance the flavors of the lamb and braising sauce. The sweet potatoes are comforting and help to make this a very filling dish.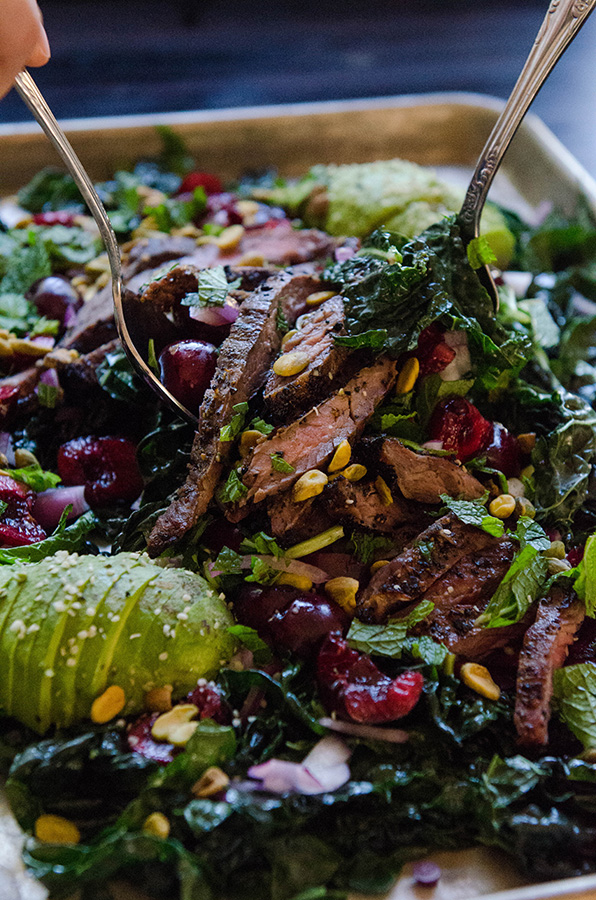 Massaged Kale Salad with Cherries, Pistachios and Grilled Flank Steak
Who doesn't love a BIG FREAKING SALAD? This massaged kale number is hearty and an explosion of flavor. We have the savory notes of the steak, the acid from the salad dressing, the fattiness of the avocado and the sweet and crunchy notes form the cherries and pistachios. Everything is topped with herbs to make it that much more EXTRA. If you want a meal packed with nutrients and flavor, this will definitely be your jam.  The best part about using kale instead of lettuce? It keeps! This salad will keep for up to a week without getting weird or wilted.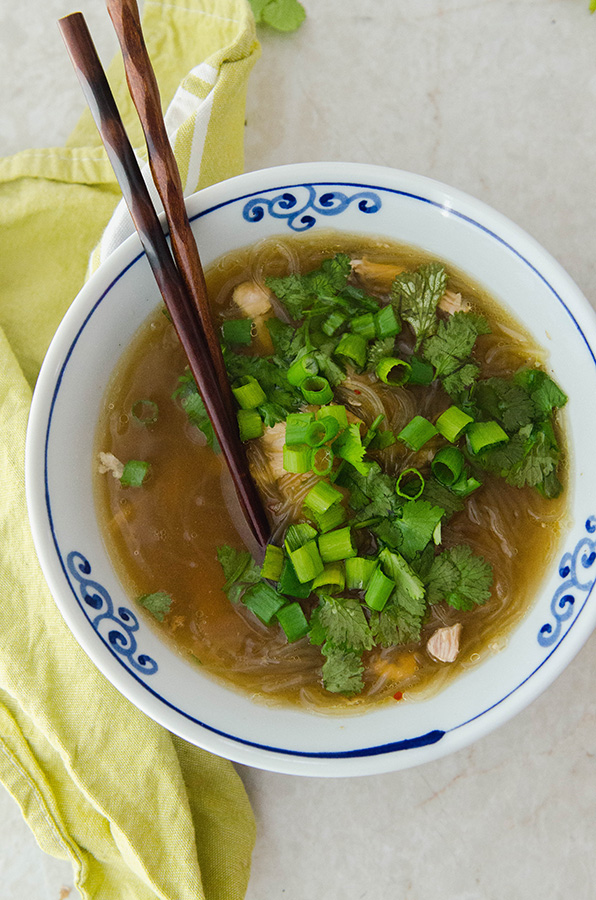 Instant Pot Ginger Chicken Noodle Soup
I make this soup almost weekly in my house–no need to be on a Whole30 to enjoy this warm and comforting instant pot recipe! It's so easy, and since you're using an instant pot, you can even throw in frozen chicken thighs (trust me, I do it all the time), and get a very good result! The noodles are made of kelp, and have the texture of a slightly crunchier rice noodle when cooked. This dish is super homey and nostalgic to me and reminds me a lot of the Hawaiian style Chicken Long Rice that I grew up with. NOTE: Use coconut aminos instead of tamari in order to keep it strictly Whole30.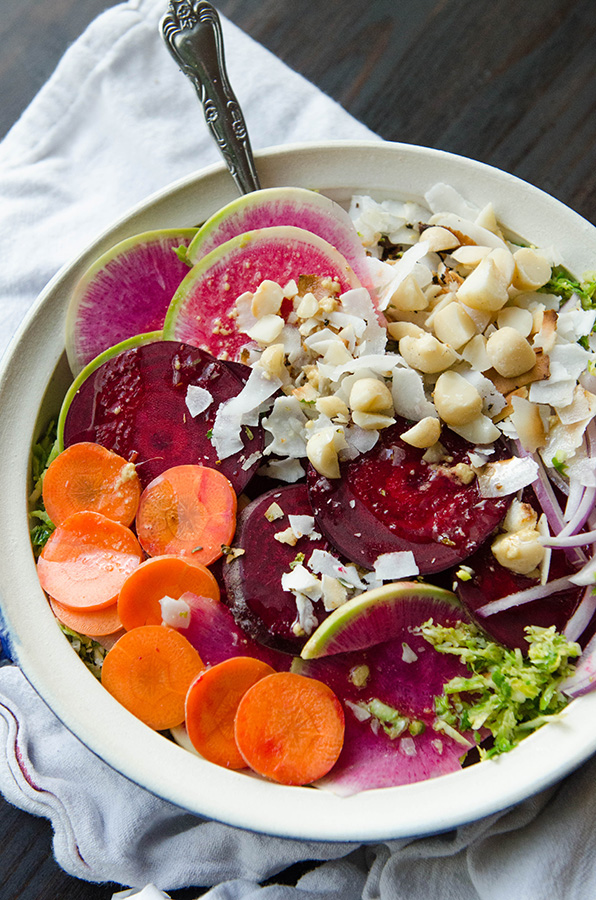 Warm Roasted Brussels Sprout Salad with Roots, Radishes and Toasted Coconut
You know that whole saying "you eat with your eyes first"? Well, this salad is a real looker. It's packed with a mixture of cooked warm Brussels sprouts and thinly sliced raw root veggies. It gets a nice exotic flavor from the hints of toasted coconut and macadamia nuts. All in all, if you're a veggie lover, this one is for you.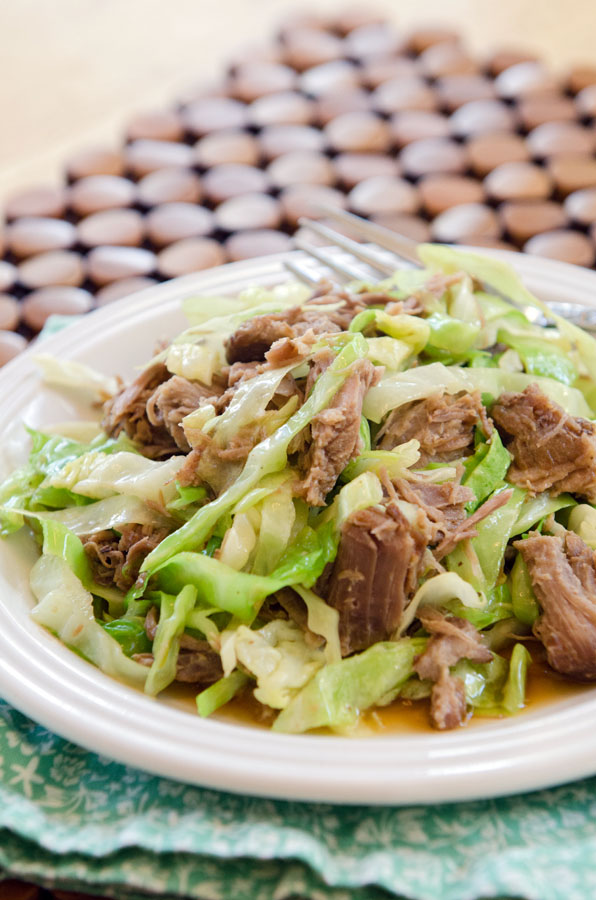 Totally Easy Crock Pot Kalua Pork
Have a crock pot? Cool. Now, how about we make this three ingredient recipe with plenty of leftovers for the whole week? This classic Luau fare is usually cooked in a pit underground, but I've hacked it so that we can cook it very much above ground, and enjoy it without having to call your Hawaiian cousin to help you dig a hole in your lawn. Want to take it a step further? Shred your pork and transfer it to a pan over medium-high heat. Add shredded cabbage and ladle the hot fat from the crock pot over the whole thing in order to wilt the greens. You won't regret it. Note: for this recipe to turn out you need to use this exact hawaiian sea salt. Normal table salt will not do.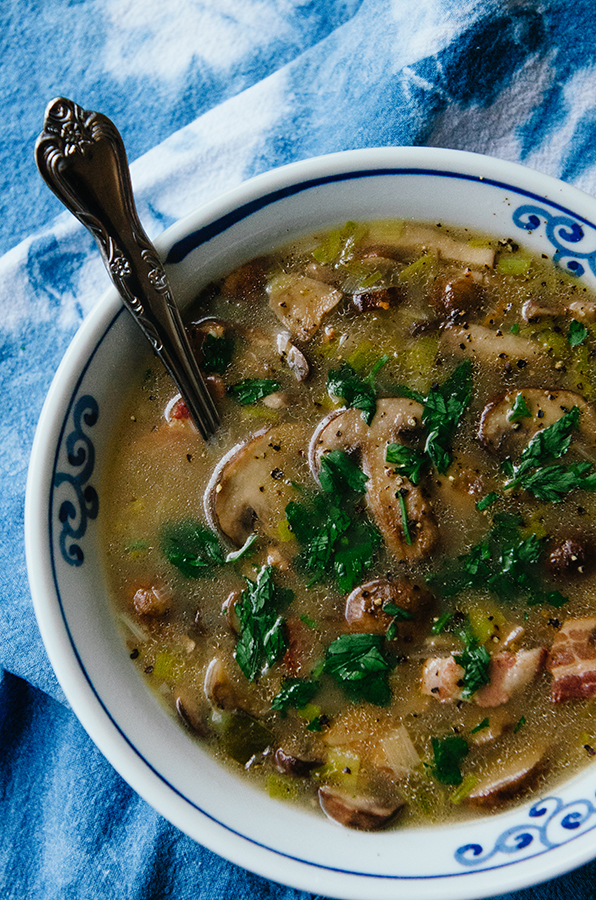 Creamy Mushroom, Bacon and Leek Soup
This one is for the umami lovers! It's a savory umami bomb in a bowl–with salty smoky bacon, crimini mushrooms and sweet leeks. If you're into mushrooms, do this. Now.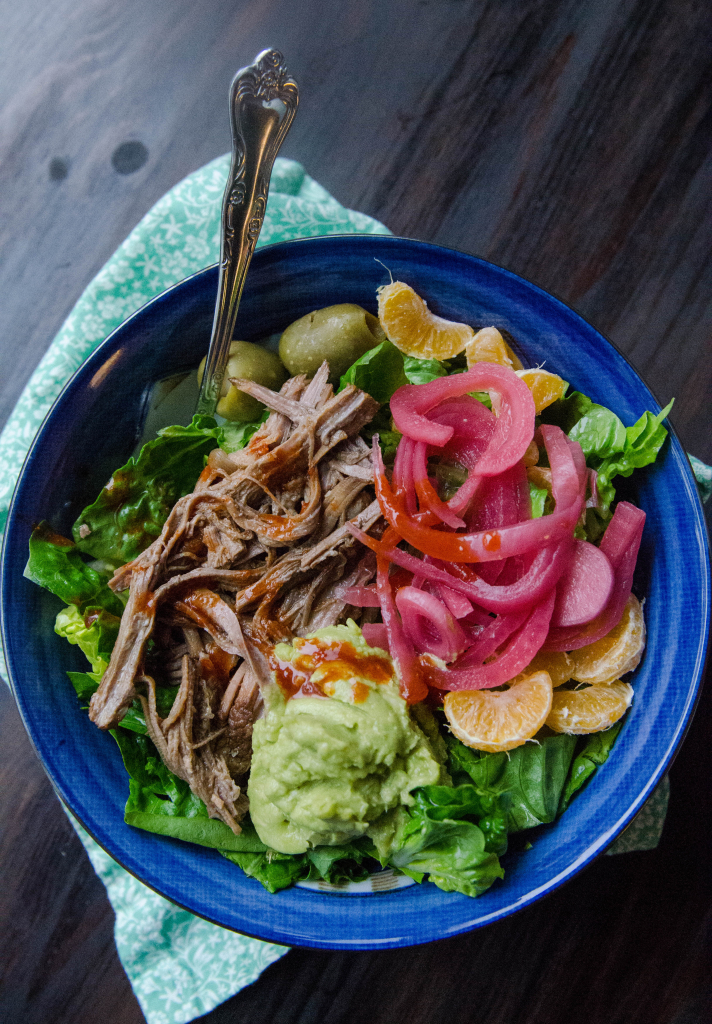 Slow Cooker Cuban Brisket Taco Bowls
These bowls are highly customizable. Simply make the slow cooker brisket (or, rather, let the slow cooker cook FOR you), and then pile a bunch of greens and Whole30 compliant toppings into a bowl. Chow down. Repeat. My favorite Whole30 toppings for this would be tomatoes, guacamole, some orange slices, salsa, and olives.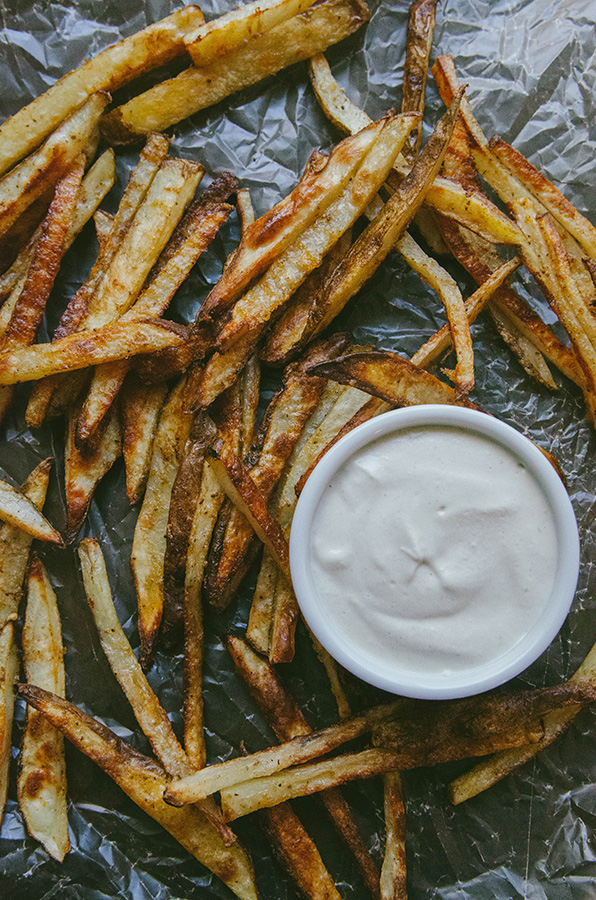 Crispy Old Bay French Fries with Sweet Onion Cashew Dip
They're crispy. They're salty. They're ready for dipping. Basically, this is a snack-time wet dream. I am both sorry and you're welcome. The dip is made with cashews but tastes like creamy onion dip. I know, it's basically witchcraft.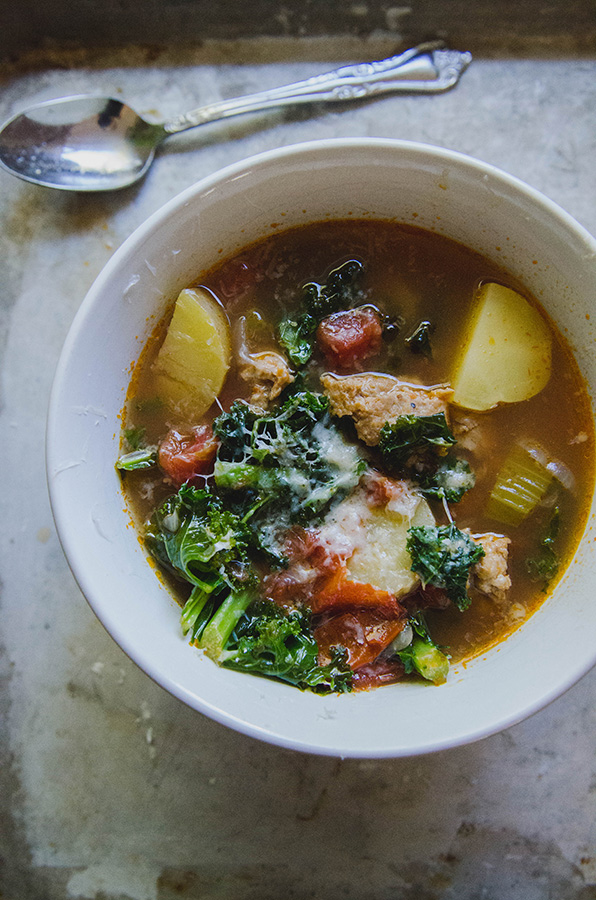 Dad's Favorite Spicy Sausage and Kale Soup
My dad asks me to make this soup every single time I see him. He has no idea what a Whole30 is, but if I told him he could eat this soup every day for 30 days, he might just accept the challenge. Not into spicy? Swap out the sausage for a mild Italian variety. Note: Leave cheese garnish off, and then this baby is 100% Whole30 and ready for you to fall in love.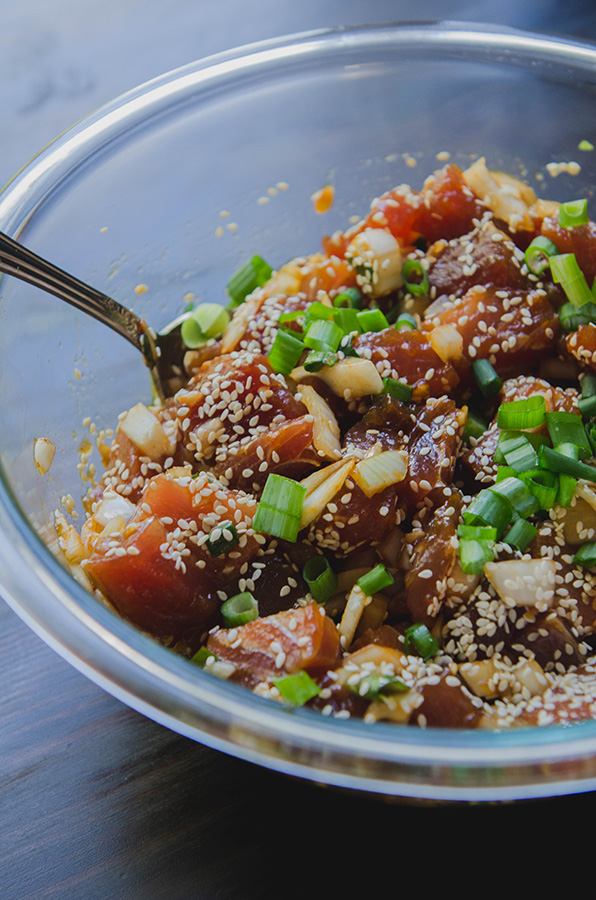 Spicy Ahi Tuna Poke
Raw fish is kinda my love language (isn't it yours too? No? Weird). With a couple of tweaks this delicious poke can be made Whole30. I like to serve this with some avocado, greens, cucumber and a side of mango. Something about the sweetness of the fruit goes really well with the saltiness of the sauce. NOTE: to make this recipe Whole30 compliant, use coconut aminos instead of tamari, and either skip the sriracha sauce or you can whip up some of Nom Nom Paleo's Whole30 friendly Sriracha. It's up to you. Either way, it will taste great.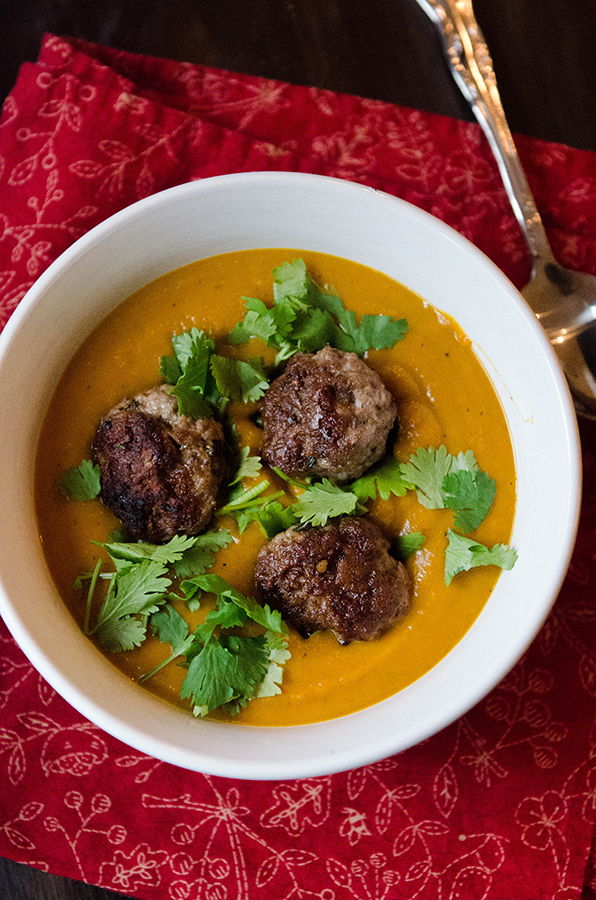 Roasted Kabocha Squash, Carrot and Ginger Soup with Lamb Meatballs
The year I developed this recipe we literally ate it every single week. We were HOOKED. The creaminess of the squash and the sweetness of the carrots are balanced by the savory fattiness of the lamb meatballs. It's so so cozy. My advice to you is not to skimp on the lime juice garnish–it really makes it something special!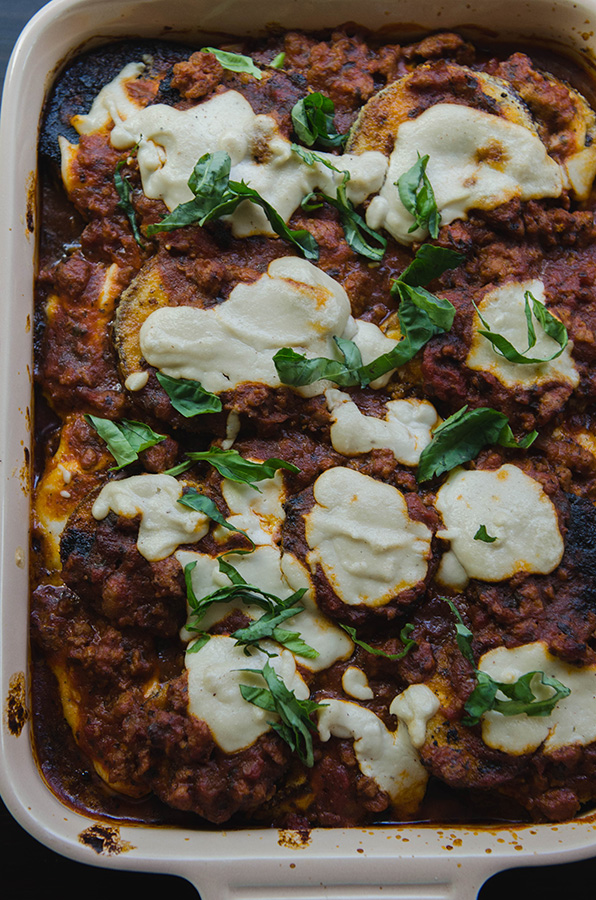 Paleo Eggplant Parmesan with Pork Ragu
This recipe might have a few steps, but it is a labor of love that is well worth it–especially if you've got some serious Italian food cravings. Eggplant is battered in almond flour and Italian spices, and then fried in olive oil. Sauce is simmered with pork, and cheese is magically crafted out of cashews (I know, it's nut-cheese which sounds more than gross, but I promise it's really good. Trust.), All of it layers together to make an Italian meal that you could serve your Nona. NOTE: To make this completely compliant, simply leave out the red wine in the sauce.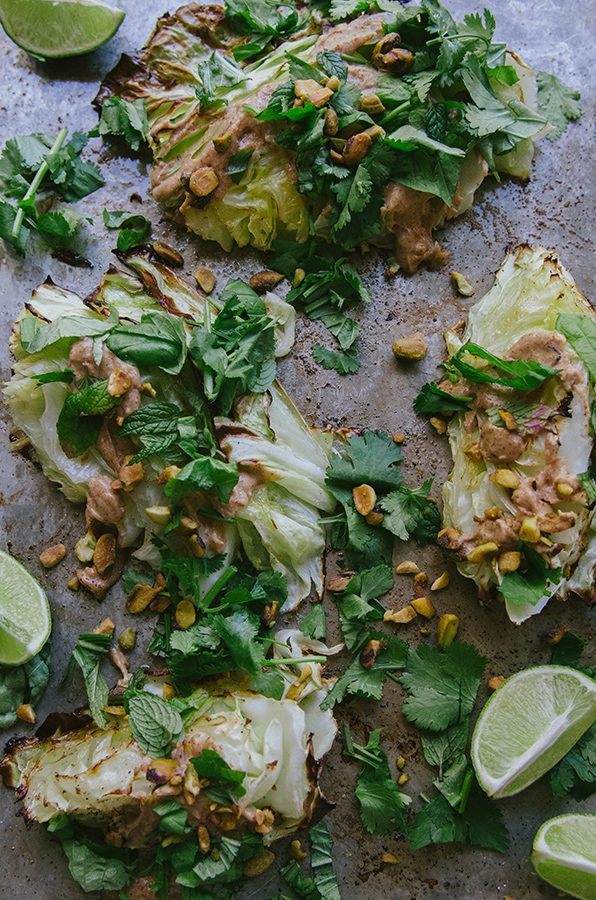 Roasted Cabbage with Almond Sesame Sauce and Herbs
Cabbage is such an underrated veggie. Did you know that when you roast cabbage it becomes sweet and soft and irresistible? Like, I might have eaten this entire pan as lunch after shooting these photos. So, if you feel like you need more veggies in your life, roast some cabbage, slather it in my almond sauce and eat up!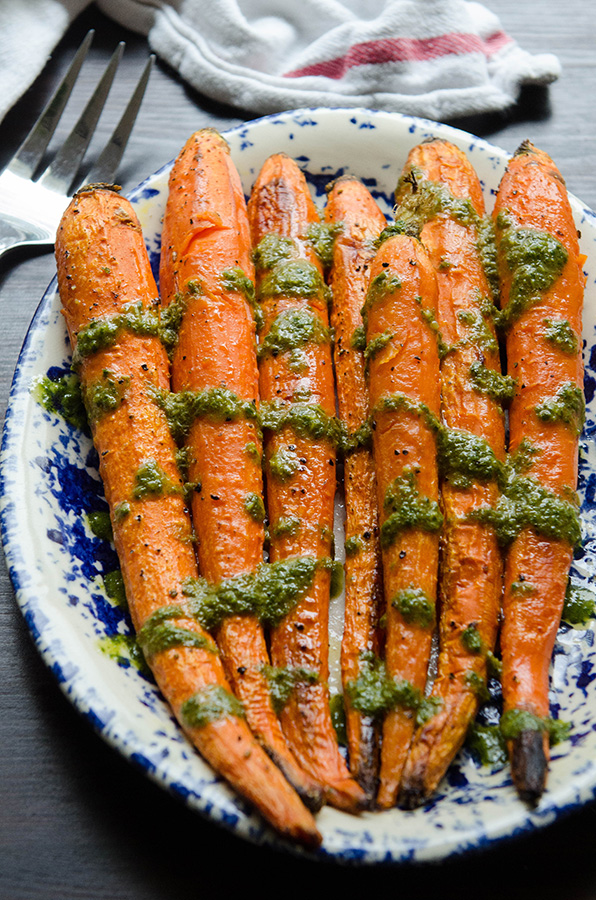 Ghee Whole Roasted Carrots with Mint Basil Sauce
This is just one example of what you can do with veggies on Whole30. Ghee–slather it on all the veggies. LIBERALLY. Roast them. Eat them. Be happy.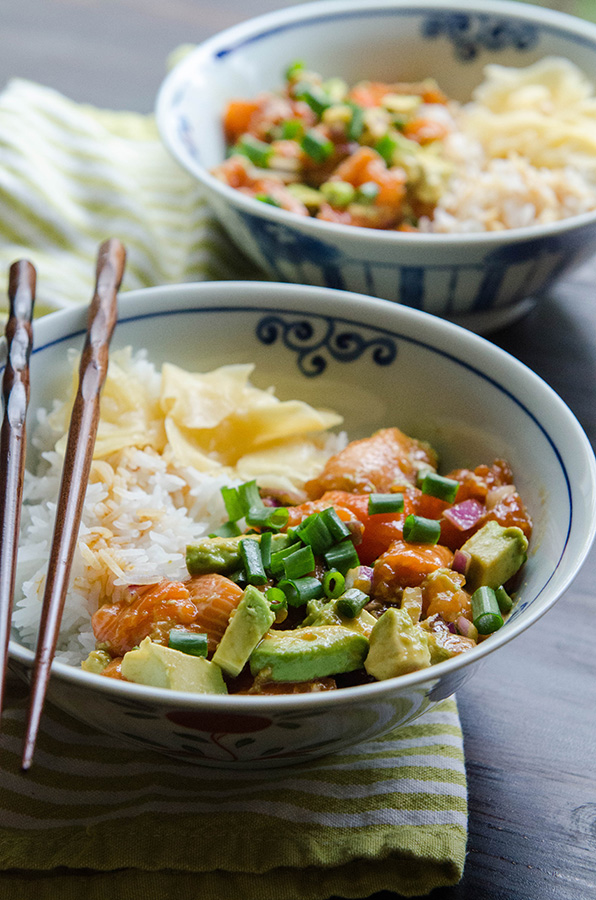 Salmon and Avocado Poke
Here's another great example of how to eat a bunch of good fats and stay satiated! Both salmon and avocado are great sources of good fats–not to mention completely delicious when paired together in a poke dish. Ditch the rice, and serve it over salad or with a big side of roasted broccoli. NOTE: to make it completely compliant use coconut aminos instead of tamari.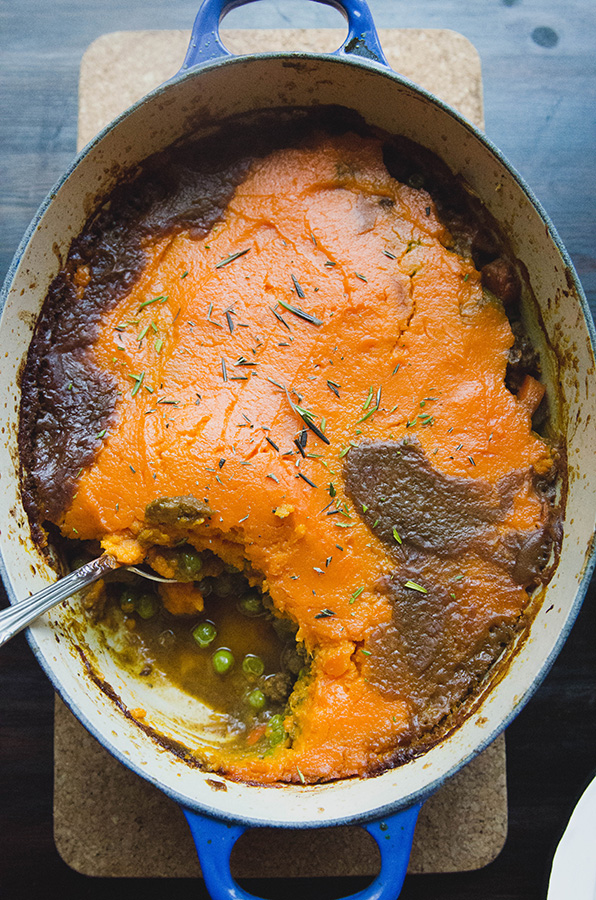 Curried Shepherds Pie with Sweet Potato Mash
Comfort food seems essential when you are scared that you might feel deprived! This is one of the most popular recipes on my site believe it or not! I get comments and messages almost daily about how much you guys love this one. The curry in the filling marries itself really well to the sweet potato mash on top. NOTE: To make it compliant, ditch the peas and add in whatever other veggie you'd like. Zucchini, spinach or broccoli all seem like great options.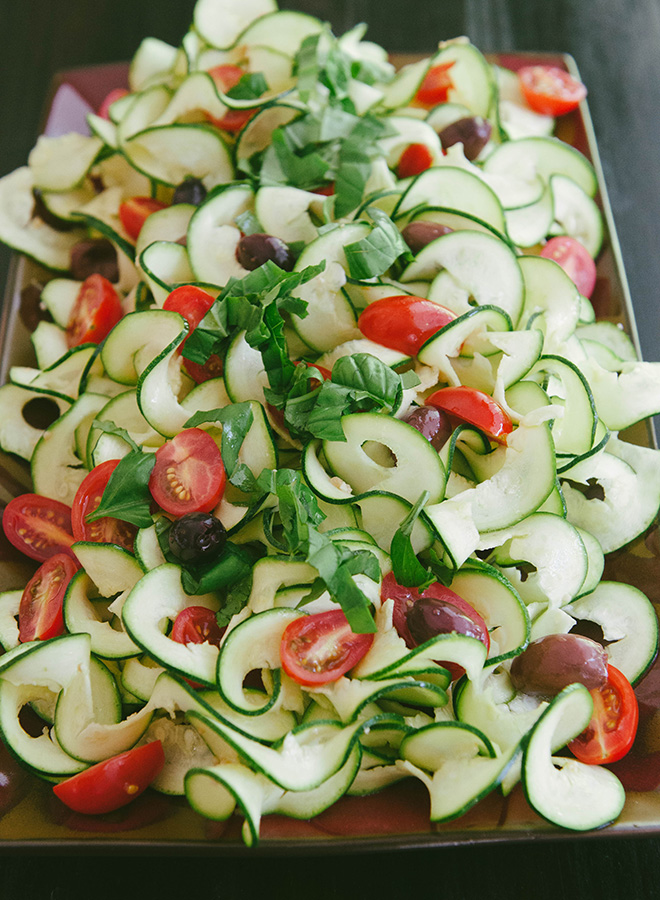 Raw Zucchini Ribbon Salad with Tomatoes, Olives and Basil
Nothing could be easier than this simple salad. Plus, it's pretty to look at and a total crowd pleaser. Sometimes simple is really best.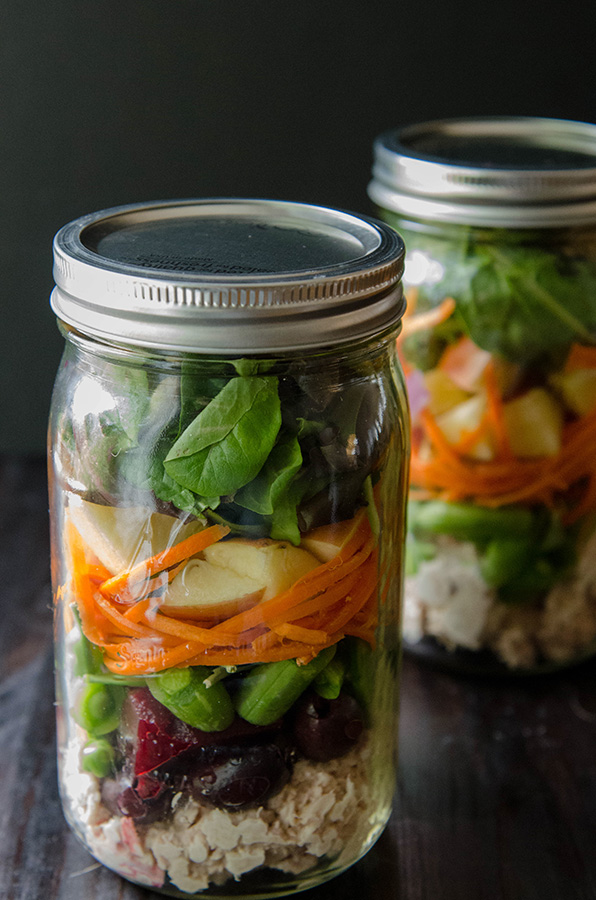 Loaded Mason Jar Tuna Salads To-Go
Places to go and things to do? One of the MOST important ways to get through your Whole30 is to meal prep, and that means lunch too! I love these mason jar salads for that reason. You can shove a lot of great ingredients into one jar and have a satiating lunch waiting for you in the office fridge.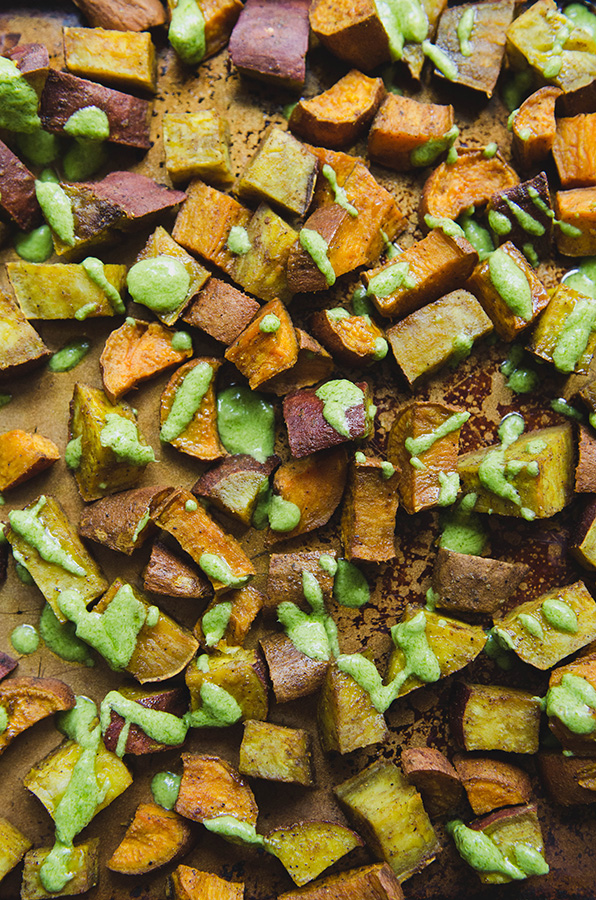 Turmeric Roasted Sweet Potatoes with Parsley Tahini Sauce
Turmeric is a powerhouse of a spice, and these sweet potatoes are a powerhouse of a side dish. Feeling like you need some comforting carbs, but you can't reach for your normal grains or pasta? Whip up a side of these taters with this herby, nutty dipping sauce. Turmeric is great for taming inflammation in the body–so, that's just a BONUS!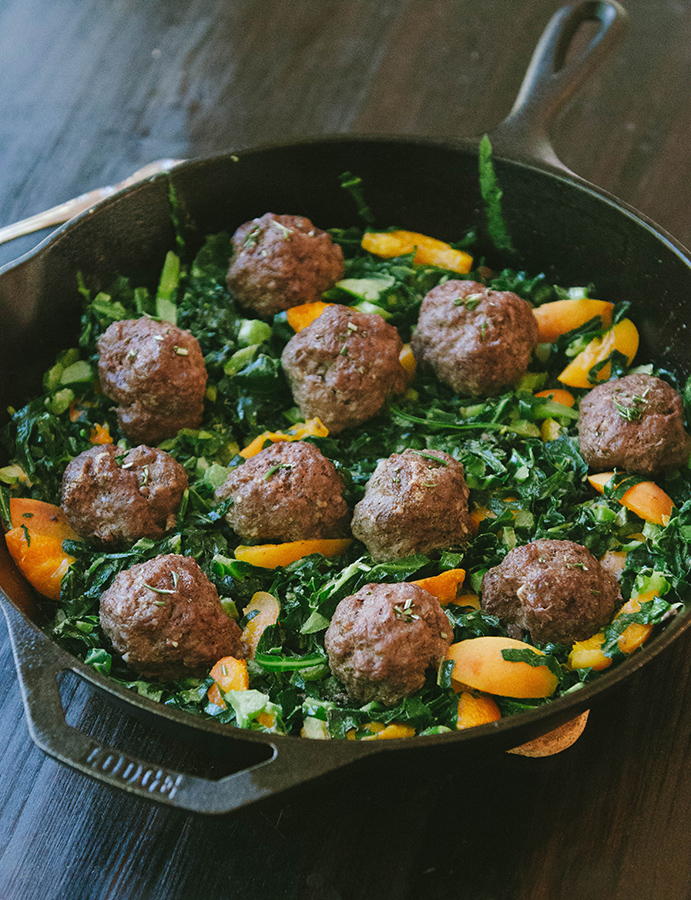 Rosemary Meatballs with Dijon Collard Greens and Apricots
Meatballs and greens are made special when you pair them with dijon and fruit. Can't find apricots this time of year? Add in whatever fruit you think would go best. Apples, pears, pitted cherries. All are good options.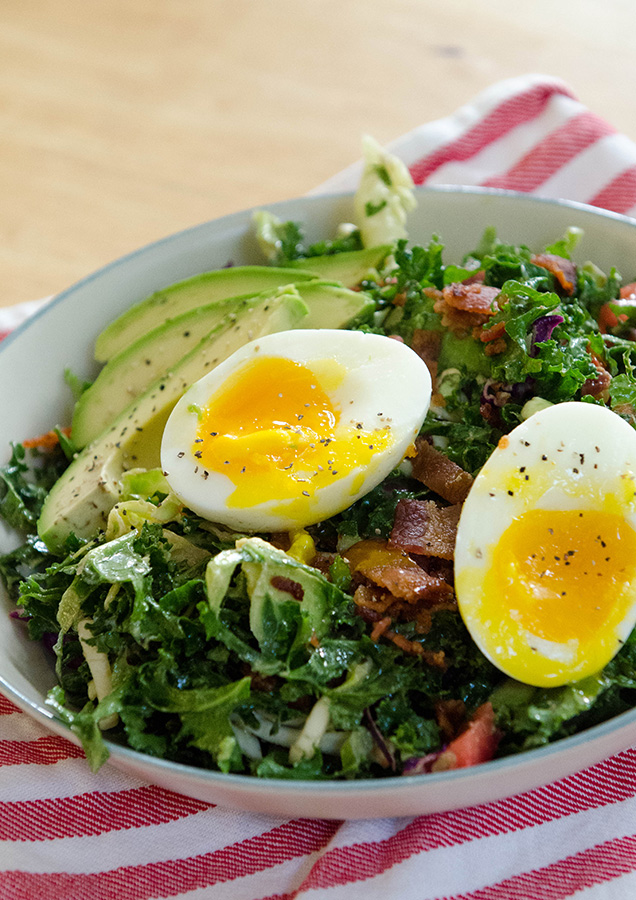 BLT Breakfast Salad
This salad is epic! Now, I'm not a breakfast person per say (I know, commence eye rolls), since I am such a leftovers hound and will basically eat dinner food anytime of day. But, whether you're a breakfast person or not, this salad is one for the books! It's like eating a BLT in salad form with the most perfect soft boiled eggs. Yolk porn is real, you guys. Look away. You can't? Me neither.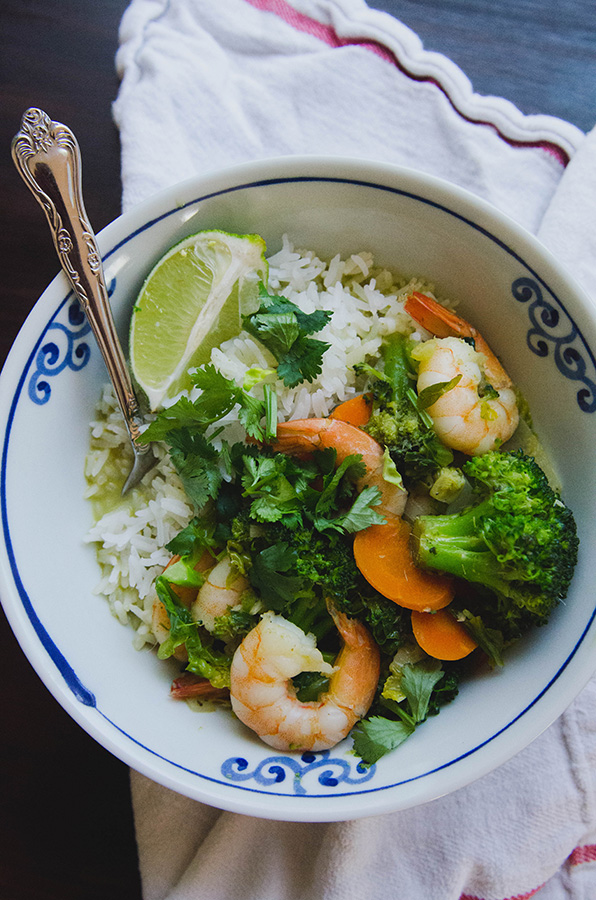 Green Curry Shrimp Stir Fry
This recipe is FULL of flavor and lots of fresh veggies. Serve it over cauliflower rice, or a pile of your favorite roasted root veggies to make it a complete satisfying meal. The sauce in this recipe makes plenty, and you'll have extra–it's great for slathering on pretty much everything.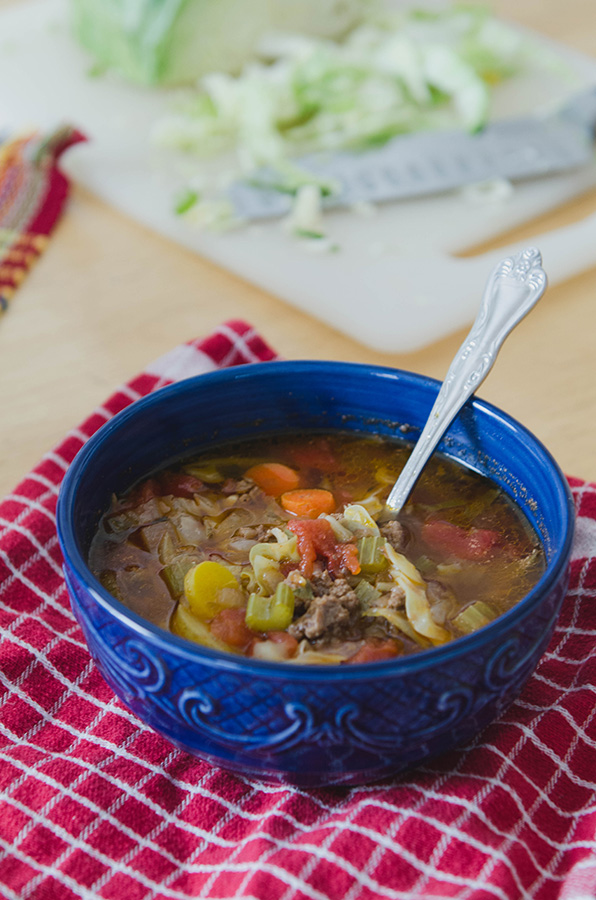 Rustic Beef, Tomato and Cabbage Stew
I made this soup after coming home from a trip and not wanting to go to the grocery store. The fridge was bare, and I was tired. It is so easy and made with ingredients that most of you will already have on hand. Nothing fancy here, just a bowl of warm and comforting soup with great flavors.
So, there you have it! Twenty five different things for you to put into your face whether you're doing a Whole30, or you just need some new healthy recipes in your routine! I hope this gives you some inspiration and the tools you need to accomplish your healthy eating goals! xoxox
PAID ENDORSEMENT DISCLOSURE: In order for me to support my blogging activities, I may receive monetary compensation or other types of remuneration for my endorsement, recommendation, testimonial and/or link to any products or services from this blog.