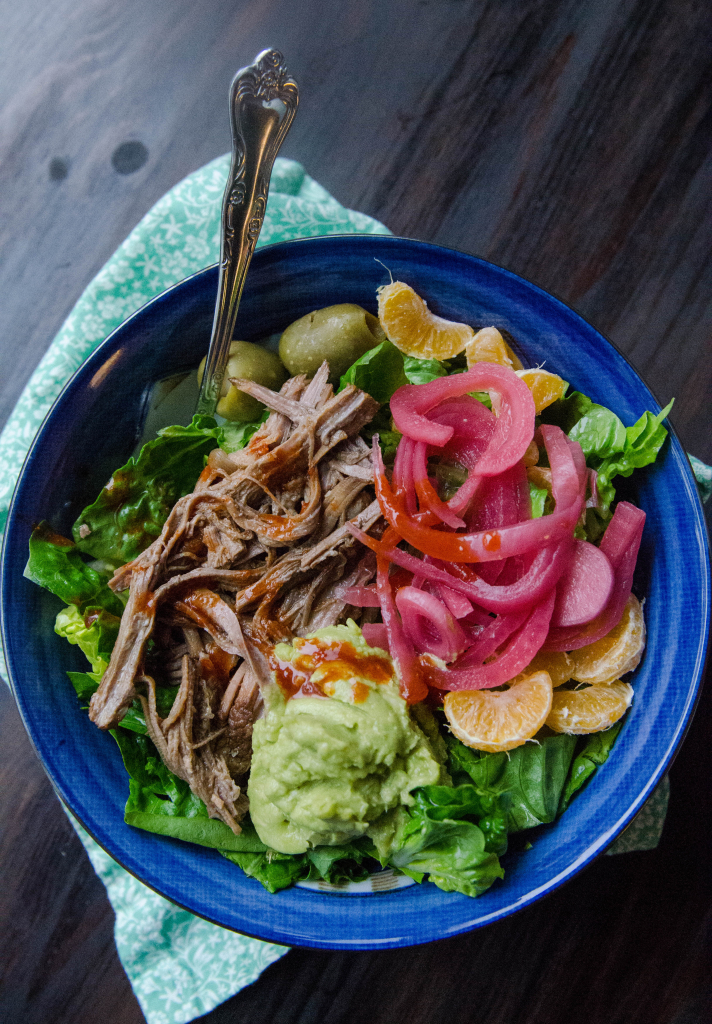 I don't usually write blog posts on Sunday evenings. I'm usually in the throes of doing a week's worth of laundry, meal-prepping, and simultaneously trying to nap with my mouth open and watch old episodes of Grey's Anatomy. Yes, it's hard to do all those things at once, but I'm nothing if not ambitious. Or, if we're honest, sometimes half the laundry doesn't get folded, only vegetables get chopped up for my "meal prep", and I'm like WAY deep into a Grey's Anatomy binge. Like, WAY deep. Like, season 10 deep. Like, Bailey might have OCD and Meredith and Christina are fighting and April is going to marry what appears to be a thirty five year old virgin DEEP. Ooof. None of this is really important though–just the simple point that on Sundays you won't usually find me here furiously typing up every weird thought that happens to come to my brain.
But, tonight, I found myself thinking that all of you need the recipe for these super easy taco bowls. 'Tis the season. I want to be the Santa Claus of your Cinco De Mayo celebration. Santa de Mayo. Except, I'll wear a sombrero and my belly will jiggle like a bowl full of guacamole. My sleigh will be pulled by donkeys. I demand that you leave out taquitos and a glass full of tequila. Yes, I will still be coming down the chimney–because, Santa. Ho-Ho-HOLA! FELIZ CINCO DE MAYO! A merry taco bowl to you, and to all a goodnight. Someone feel free to stop me any time now…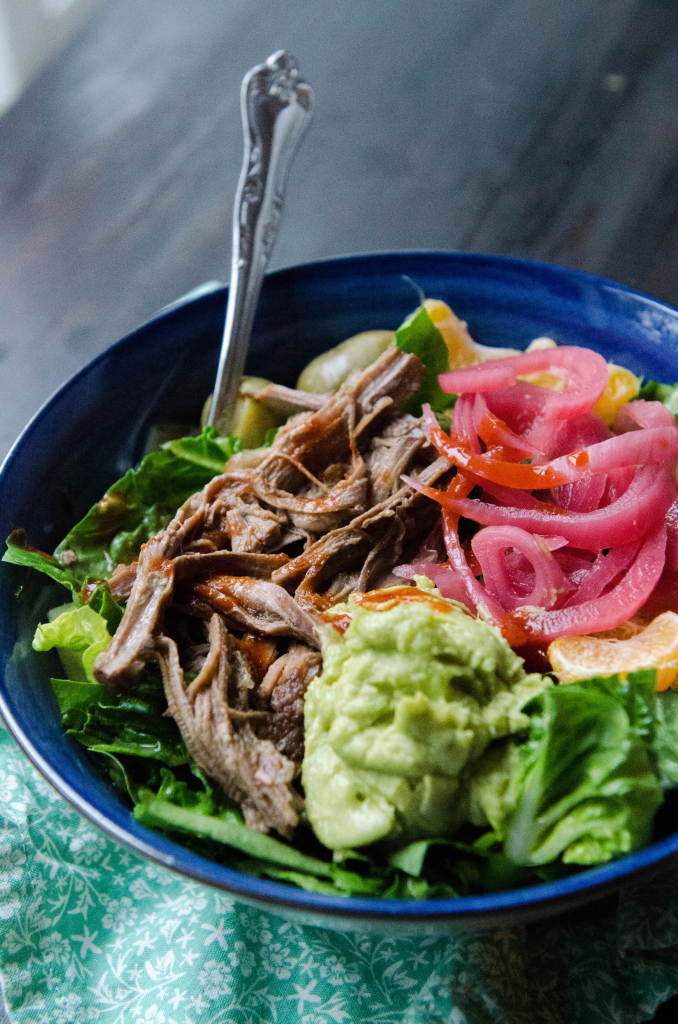 So, I've been sitting on this recipe for a while. No. That's not exactly correct. You see… I kind of forgot that I had written it down. I have a very organized recipe system in which I write down a recipe as I am developing it. I write it down in a high tech composition book that is splattered with more coconut oil than ink. This is an upgrade from my first year of blogging where I would take to writing down my recipes on the backs of grocery receipts, junk mail envelopes, and loose pieces of paper. It only takes having to fish through your kitchen trash five billion times in order to learn that lesson. No big deal. So, this recipe has been hiding from you in my high tech composition book. Its page was fastened to the back of the recipe for these Pumpkin Cinnamon Rolls with a little bit of sticky almond flour residue. But, it's since been liberated and just in time for cinco de freakin' mayo. Because, who doesn't want to slow cook meat and put a whole bunch of guacamole on it?! If we're naughty we can chase them with Watermelon Margaritas.
Remember when I got really obsessed with the movie Chef, and then insisted on marinating ALL THE PORK? That phase didn't quit. It hung around for a while. And, as you can see, it wasn't just pork that took the brunt of my obsession. There was definitely brisket.  There was a lot of garlic being used, and a lot of pickles being put on everything. The taco bowl is not a new obsession for me, but it become magnified. I spent weeks just cooking up different meats and throwing them into bowls with tons of guac and other jazzy toppings. This combo was a particular favorite of mine. Shredded brisket meets pickles meets all the guac meets oranges and garlic stuffed olives. Oh, and hot sauce–because, yes. But, this bowl of food is merely a suggestion. I'm not going to tell you how to used your juicy, spiced up shredded brisket. I'm not going to boss you around. I mean, if you wanted to make it into these taco bowls, I wouldn't discourage you at all. But, feel free to be inventive. Add salsa. Add mango. Add a dash of your hopes and dreams. But, Santa De Mayo totally makes a request that you slather whatever you make with guacamole. It's only right.
Slow-Cooker Cuban Brisket Taco Bowls
Ingredients
Brisket
2

lbs beef brisket

1

large onion, chopped

6

cloves of garlic, minced

sea salt, pepper, granulated garlic (to taste)

1/2

tsp cumin

1/4

tsp cloves

1/4

tsp ground ginger

1/4

tsp cinnamon

1

lime, zested & juiced

1

inch knob of ginger, peeled

1/2

cup beef broth

1 1/2

cups orange juice
Taco Bowls
Greens (lettuce, spinach, kale-- whatever you like!)

Guacamole

Olives

Segmented Orange Slices

Hot Sauce

Lime Wedges
Instructions
Add the chopped up onions and garlic to the bottom of your slow cooker. Nestle the beef brisket on top of the onions and garlic. Liberally spice both sides of the brisket with salt, pepper and granulated garlic.
Add the cumin, cloves, ground ginger, and cinnamon to the pot. Make sure that it is spread out evenly over the meat if possible. Add the zest and the juice of 1 whole lime.
Pour the orange juice and the beef broth into the pot and add the chunk of ginger root. Set the whole thing to cook on low for 6-8 hours or until done and easily shredded.
Once the brisket is done if can be used to make taco bowls like I suggest in this post, eaten as a main dish, or added into traditional tacos. Use your imagination and enjoy!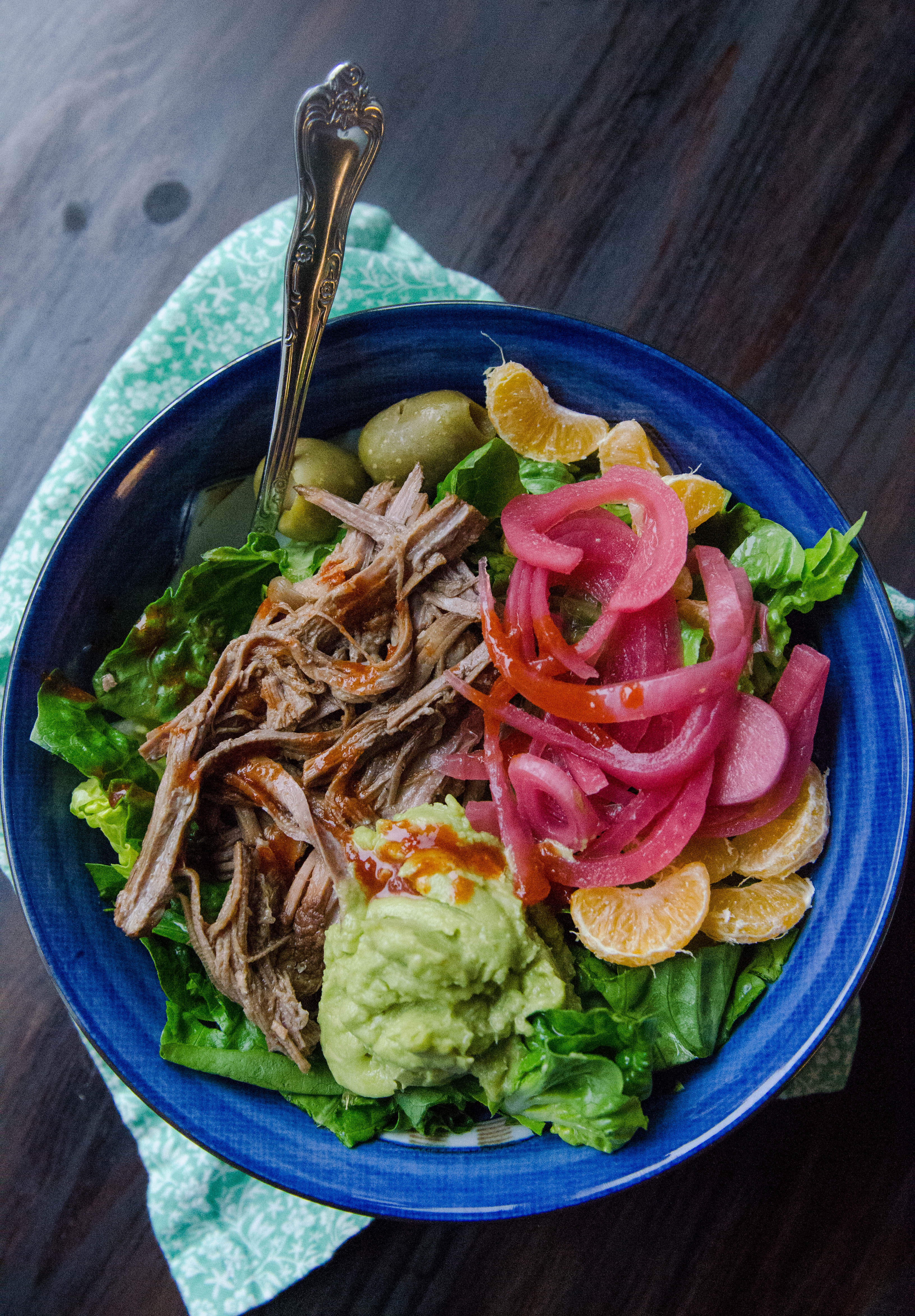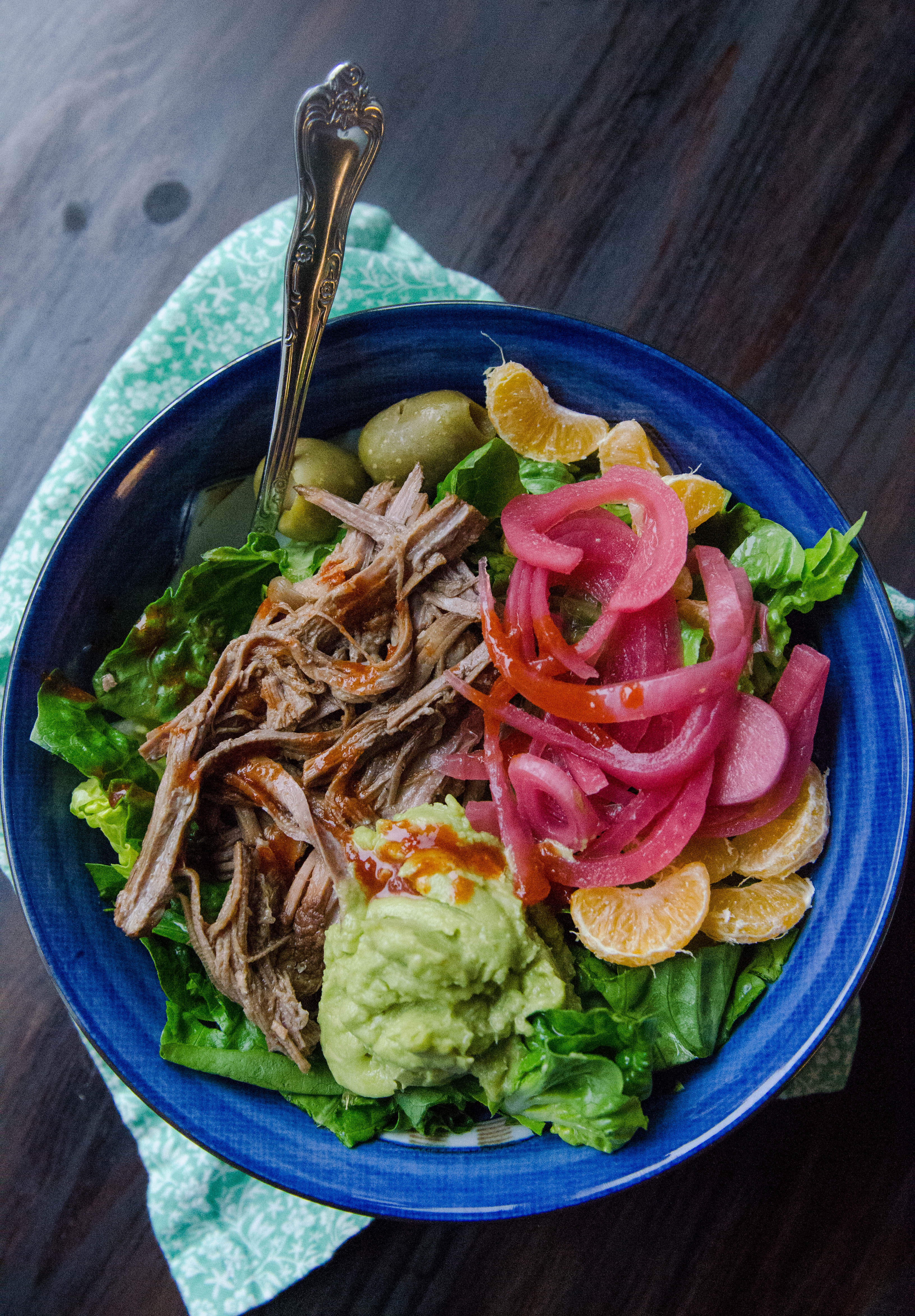 PAID ENDORSEMENT DISCLOSURE: In order for me to support my blogging activities, I may receive monetary compensation or other types of remuneration for my endorsement, recommendation, testimonial and/or link to any products or services from this blog.