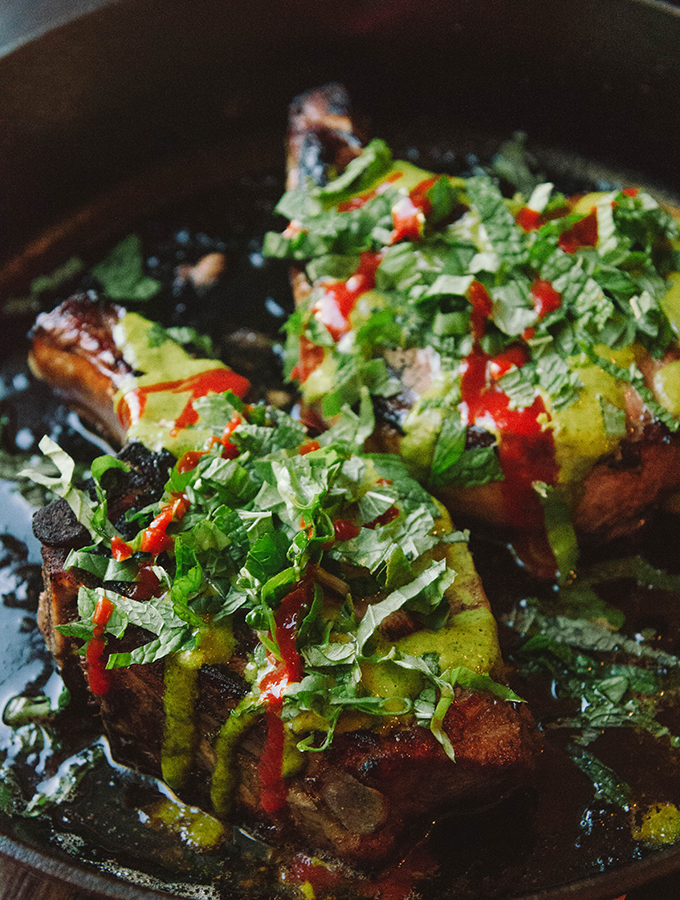 Ever watched a film that gave you an insatiable need to marinate pork?  No? Well, then perchance you've never seen Chef.
I might have watched this movie three times in one weekend, but I can't say for sure. What I can say for sure, is that this film was GRADE A food porn. It felt like a breath of fresh air–a bacon-scented wind blowing against my food-loving-face.  A visual symphony, singing me a melody of "marinate something—probably a pig". So, that I did. We got piggy with it.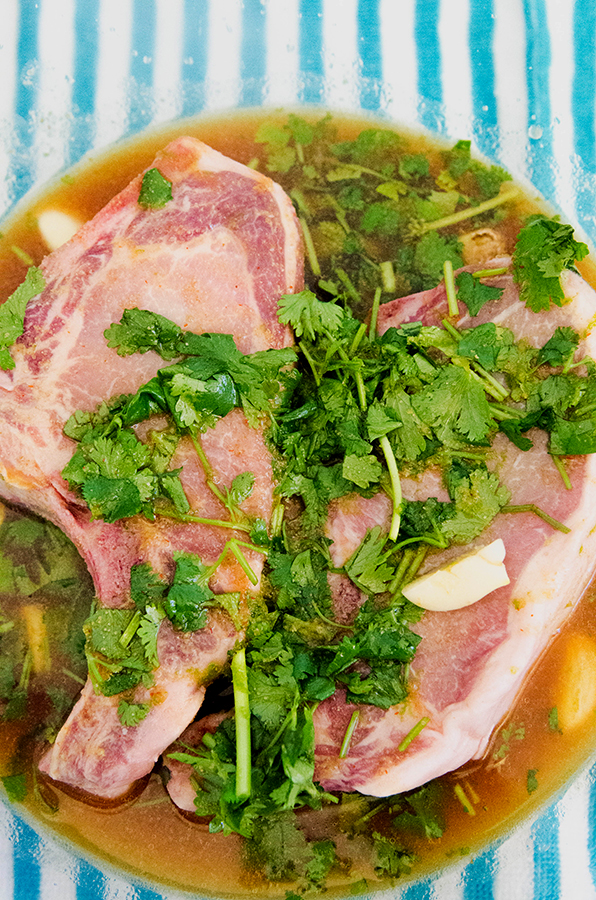 I just happened to have these thick cut pork chops in my fridge. It was a little bit like destiny. I love when that happens. Stars align for the glorious purpose of porkin' out.
The things I had in my fridge to create a marinade were of the Asian persuasion. I almost always have those flavors on hand. I did however send my husband to the store for some pineapple juice and extra cilantro. The pineapple brings both a sweet and bright flavor to the chops and the cilantro gets whipped up into a special sauce. I know there are a lot of cilantro haters out there (WHY?!?!! *shakes fists at the sky dramatically*) so if cilantro ain't your jam (WHY?!?!! *movie montage of dramatic fist shaking*) you can replace the cilantro for a different herb such as basil or parsley.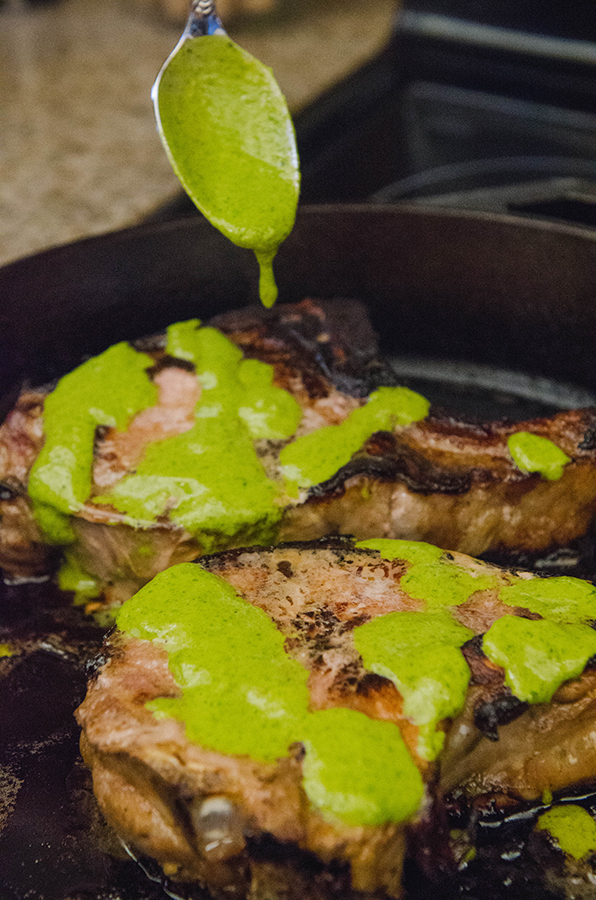 By the time the chops were done cooking, I had no patience to take out a fancy squeeze-y bottle and make this part of the process look presentable. Instead, you're getting a real life view of what it looks like to shovel sauce onto a pork chop in a fit of feverish hunger. Just keeping things real. No need to be dainty about it.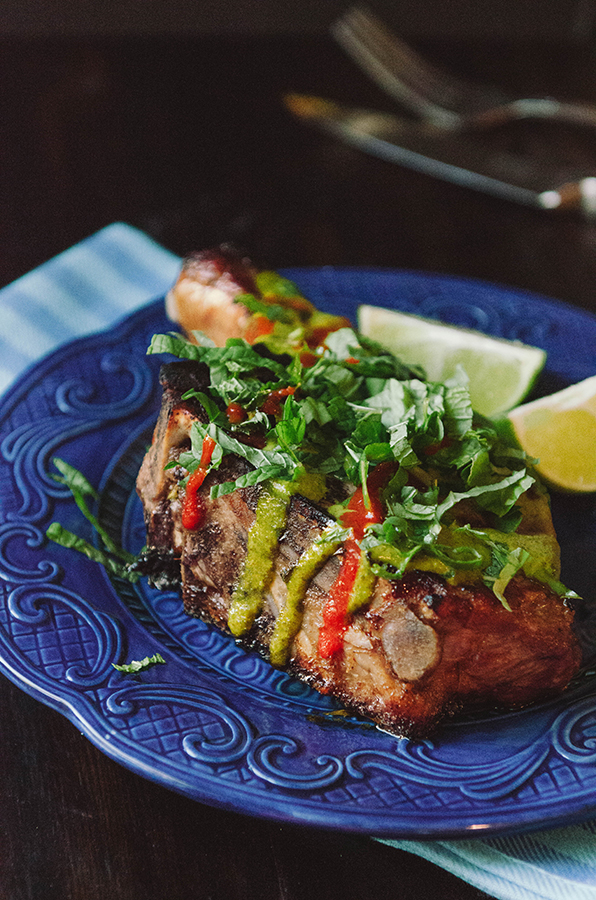 If you like heat, add a lil' more sriracha. Throw on a handful of chopped herbs and serve with a couple of lime wedges. Now, for the love of all that is holy, pork out with your bad self.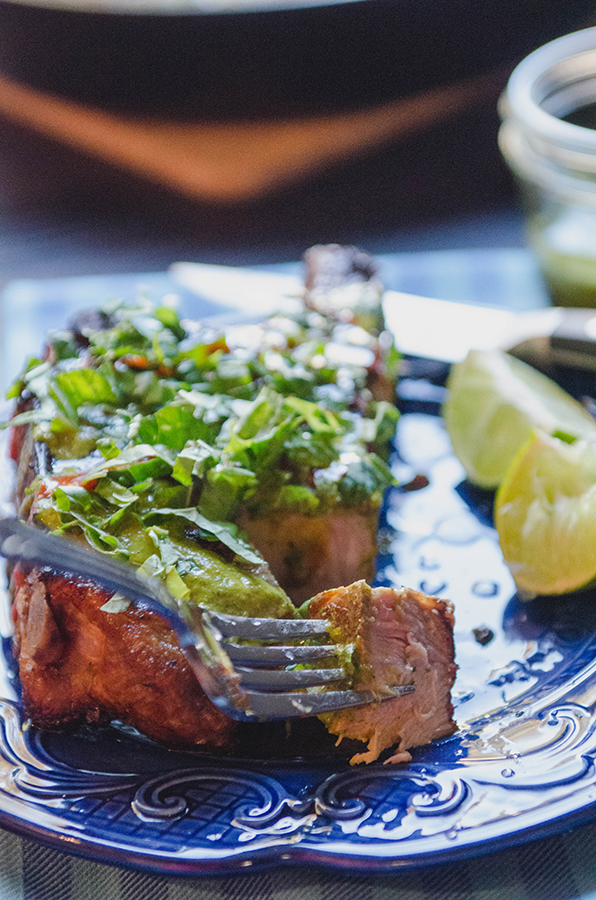 Marinated Thai Pork Chops With Spicy Cilantro Sauce & Herbs
Ingredients
Marinade
Sauce
Garnish
Instructions
Wash your pork chops and pat them dry. Take a fork and poke holes in the surface of the pork chop on both the front and back side. This will allow for the marinade to seep into the meat.
Combine everything from the pineapple juice to the chopped ginger in a large bowl. Whisk everything together until it is fully mixed. Add your pork chops into the marinade. If possible, make sure that they are fully submerged. Cover them and put them in the refrigerator to marinate for 3-6 hours.
Once your chops are done marinating, preheat your oven to 400 degrees and melt your coconut oil into a cast iron skillet over medium heat. Once the oil has heated up and the skillet is hot, add your pork chops to the pan. Don't move your pork chops once you place them down until you are ready to flip them. You want them to develop a crust on either side. Depending on the thickness of your chops this might take anywhere from 2-5 minutes a side.
After your chops have a nice crust on both sides, place them in the oven to bake for 5-20 minutes depending on the thickness of your pork. My pork chops were very thick so they took longer to cook through, but if you are using a thinner chop you need to keep an eye on them so that they don't overcook.
While the chops are in the oven, combine all of the ingredients for your sauce in a blender. Process it on high until it resembles a smooth green sauce.
Remove the pork chops from the oven and allow them to rest for a few minutes. Serve them up drizzled with your sauce, fresh chopped herbs and a little extra sriracha for spice! Enjoy!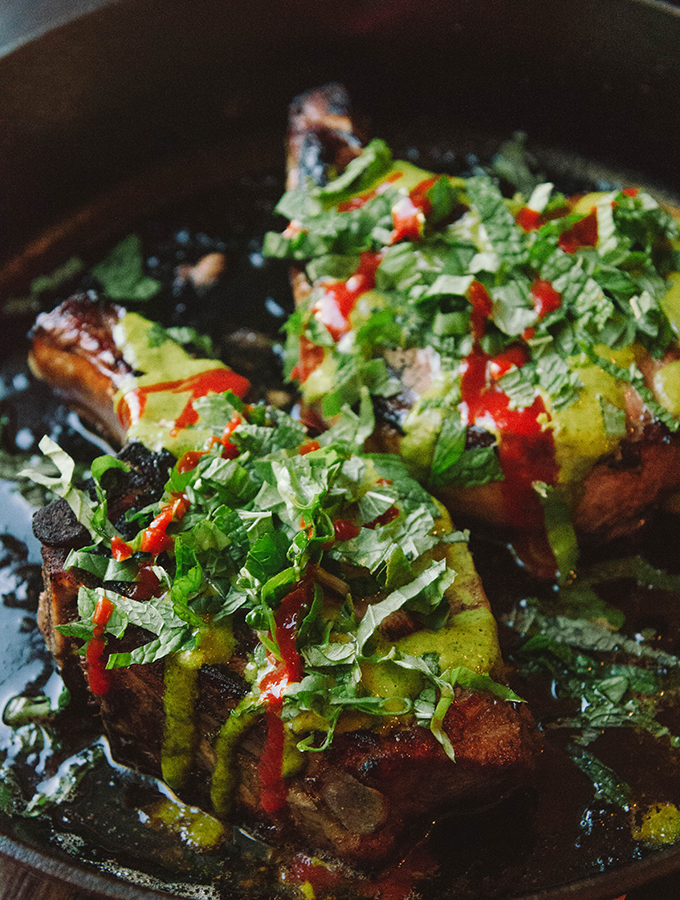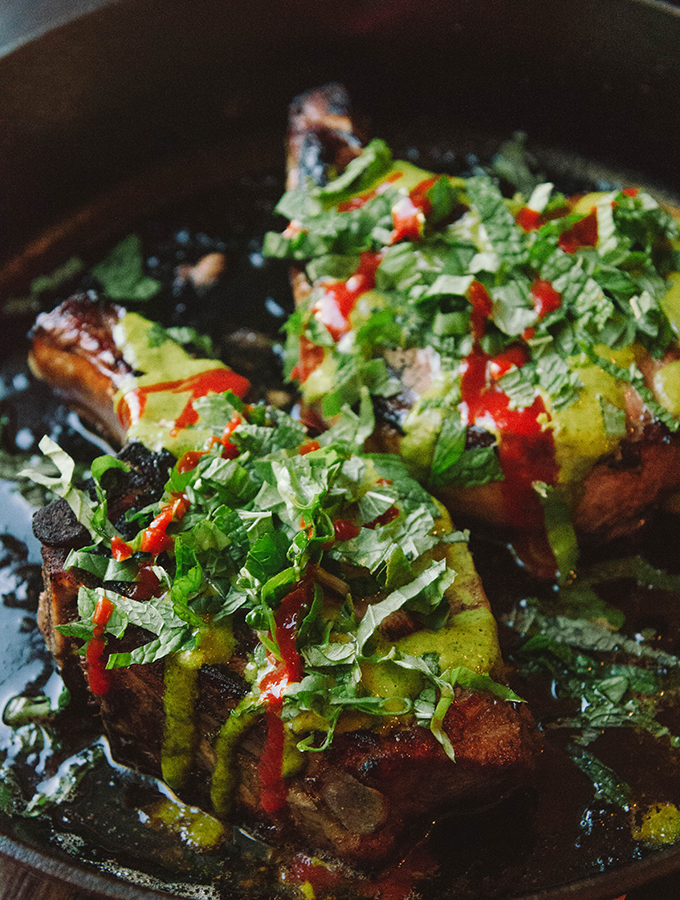 PAID ENDORSEMENT DISCLOSURE: In order for me to support my blogging activities, I may receive monetary compensation or other types of remuneration for my endorsement, recommendation, testimonial and/or link to any products or services from this blog.