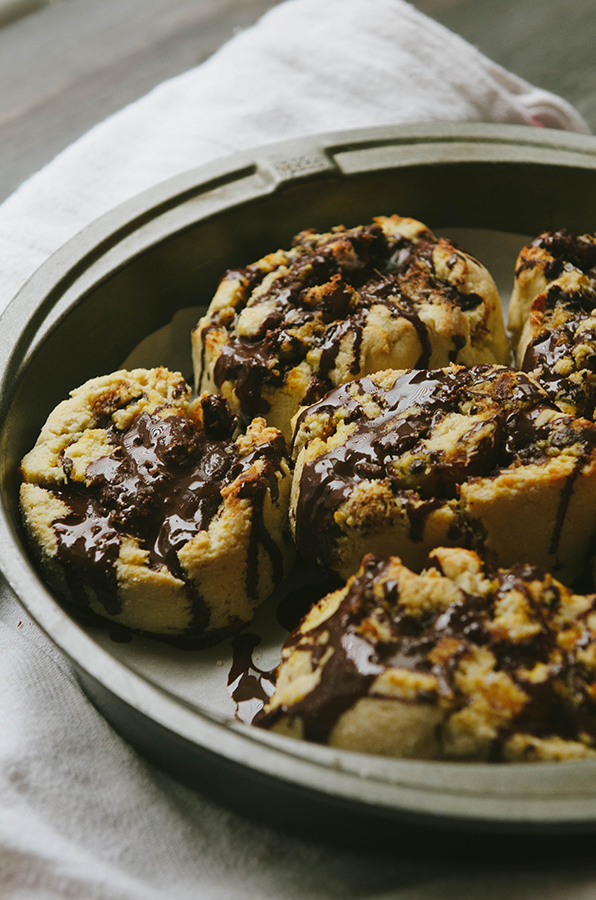 I'm going to ignore the fact that both Halloween and Thanksgiving have passed and try to shove more PUMPKIN down your throat. Sure, we've already mixed pumpkin and chocolate together — but not into a CINNAMON ROLL. Believe me, this is going to be good.
I know that typically after Thanksgiving has ended we launch straight into everything peppermint and holiday — so, I'm going to rebel a little (shocking, I know). I'm shoving pumpkin butter into some cinnamon rolls. I'm slathering them with chocolate glaze. I'm sprinkling the tops with sea salt. These feel like the holidays to me. I could totally eat one of these while snuggling by the fire with a cup of tea. Actually, that's exactly what I did. Oh, and then I ate one straight out of the refrigerator later that night. Turns out they are good cold too. Just had to check. Sometimes I use my blog as an excuse to professionally late-night-snack. It's slightly shameless.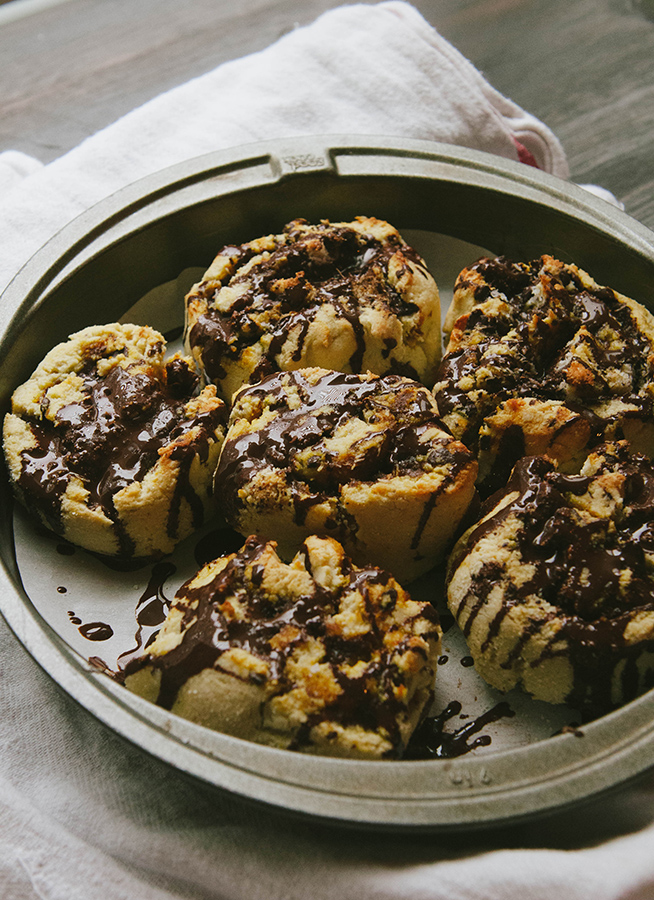 Other than being loaded with chocolate and pumpkin butter and cinnamon, these cinnamon rolls are totally grain-free. Say-whaaaa?! I know. I had my doubts too. But, with a little guidance from one of my favorite cookbooks, I was able to construct a dough that delivers on flavor and has a lovely pull-apart consistency. They aren't the yeasted, Cinnabon, sugar-bombs from your teenage mall-lurking days (I can't be the only teenager that used to lurk around the mall for like five hours on a weekend—ugh), but they're pretty dang delicious. #Winning #PutTheseBunsInMyFace #RegrettableHashtags.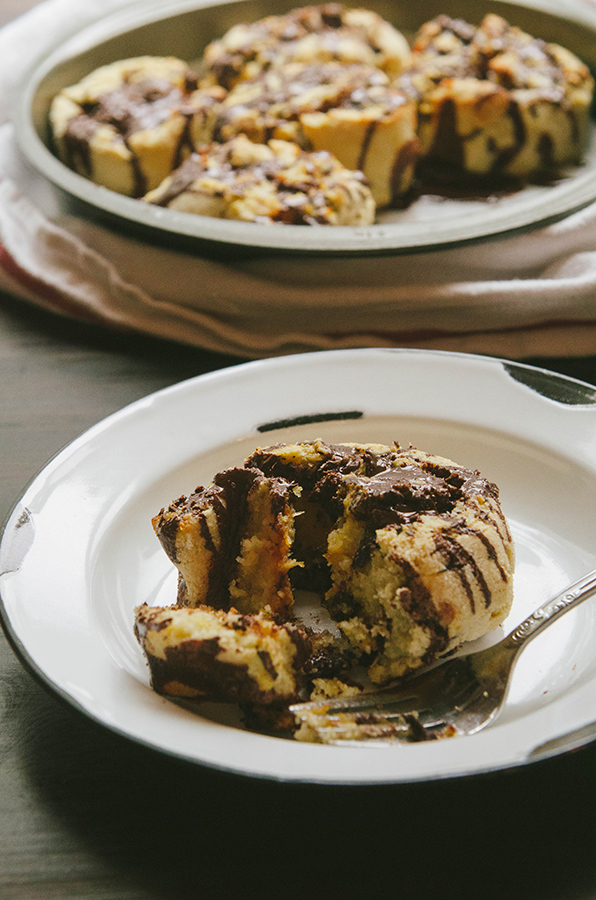 I hope you enjoy these as much as I did. Pumpkin it up. It's not too late. 😉
Grain-Free Dark Chocolate & Pumpkin Butter Cinnamon Rolls
Ingredients
Dough
Filling
Glaze
Instructions
Preheat the oven to 350 degrees. Line a baking sheet with parchment paper and set aside.
In a large mixing bowl combine the almond flour, coconut flour, arrowroot flour, baking soda and sea salt. Stir together until combined well.
In a separate mixing bowl combine the eggs, coconut oil and maple syrup. Whisk these ingredients together until they are well combined. Pour the wet ingredients into the dry ingredients and mix together. Once everything looks like it's coming together, use your clean hands to knead the dough until it is smooth. It might be sticky, but it will smooth out.
Refrigerate the dough for 10-15 minutes. This is going to make it much easier to work with. Once it's done chilling remove it from the refrigerator. Place a long sheet of parchment paper on the counter and sprinkle it with some almond flour. Remove the dough from the bowl and place it onto the parchment paper. Place another sheet of parchment paper on top of the dough and gently roll out the dough to a 10 x 15 inch rectangle, and about an inch in thickness. Make sure to do all of this gently, as the dough is fragile.
If necessary, trim up the edges of your dough to make it a perfect rectangle. Mend or patch any torn spots. Remove the top layer of parchment paper and begin to layer your fillings onto the dough. Start with the pumpkin butter. Spread it out evenly. Add the cinnamon evenly over the pumpkin butter, and finally add your chopped dark chocolate evenly over the dough.
Turn the parchment paper so that the short end is facing your body. Starting with the end that is closest to you, use the parchment to carefully begin to rolling the dough away from you and into a tight roll. The parchment paper will help ease cracking in the dough, but if it does crack it's okay. Simply mend it with your fingers as best you can.
Once you've rolled the dough into a tight log, it's time to cut it into a cinnamon rolls. Using a bread knife, cut the log into six even rolls. Reshape them into circles if need be, and place them onto your parchment lined baking sheet (cut side down) about an inch apart form one another.
Bake for 17-20 minutes or until the rolls are nicely golden brown on the outside and still gooey and soft on the inside.
While the cinnamon rolls are baking, prepare your glaze. Add your chocolate and your coconut oil into a double boiler and melt together.
Remove your cinnamon rolls from the oven after they have cooked to your liking. Carefully place them onto a a plate and drizzle with the warm chocolate glaze. Sprinkle the tops with fleur de sel. Enjoy!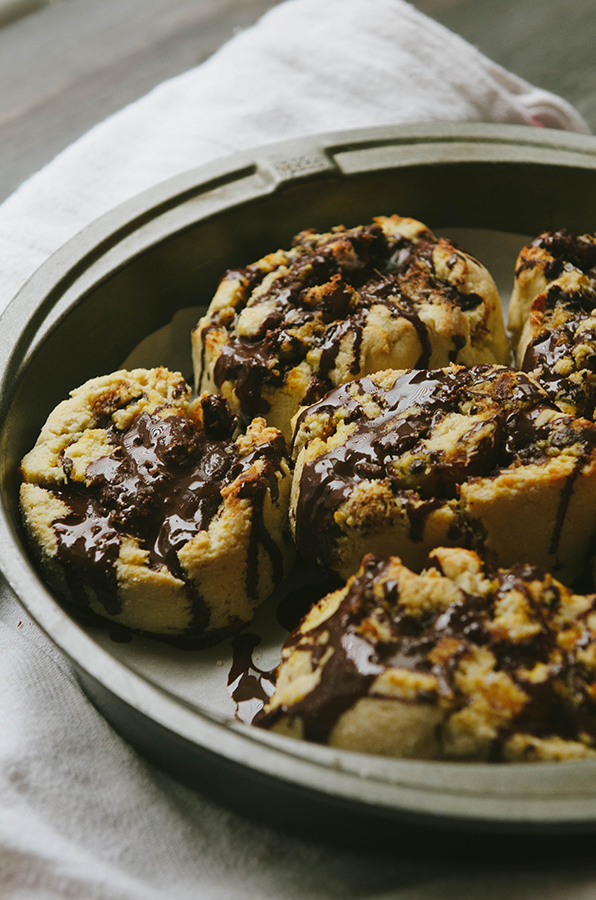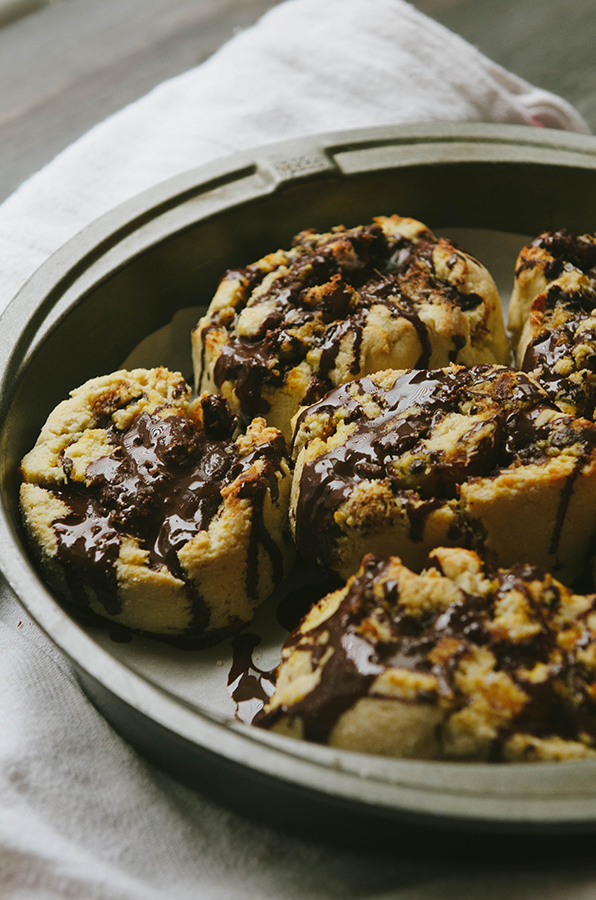 PAID ENDORSEMENT DISCLOSURE: In order for me to support my blogging activities, I may receive monetary compensation or other types of remuneration for my endorsement, recommendation, testimonial and/or link to any products or services from this blog.