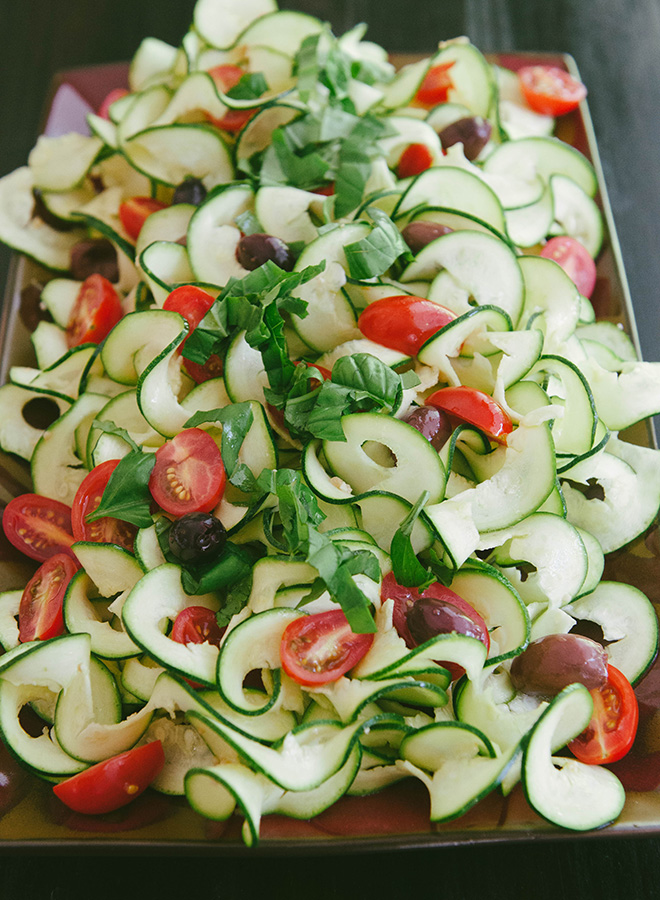 Alright, folks! It's already been a week since the Honest Whole 30 Recap, Week One!
If you didn't catch that post, you can read it here. I get into what the Whole 30 is, explore the creepy term "sex with your pants on" in relationship to cauliflower pizza, explain why I am not crazy-militant with myself,  and how I accidentally ended up drinking all the bourbon. Oh, and no… just in case you're wondering bourbon is not on the approved Whole 30 list of foods. Whoops. But hey, we're keeping it real.
So, today I get to share with you the nitty-gritty of the second week along with a super simple recipe for this zucchini ribbon salad. See that picture? I put all of that in my face. All of it. I photographed it with two plates to make it look like I was a dainty lady– and that I wasn't the only person hoovering a salad built for four into my singular gaping pie-hole.
Sometimes you just need to eat all the veggies, because you can't eat all the chocolate. Also, when in doubt… spiralize all the veggies. It just makes things fun. I don't have the scientific proof, but I'm pretty sure there is some sort of study somewhere by some guy who likes to do studies which states that eating zucchini in its spiralized form is 110 % more fun then eating "regular" zucchini. Also, I might have just made that up.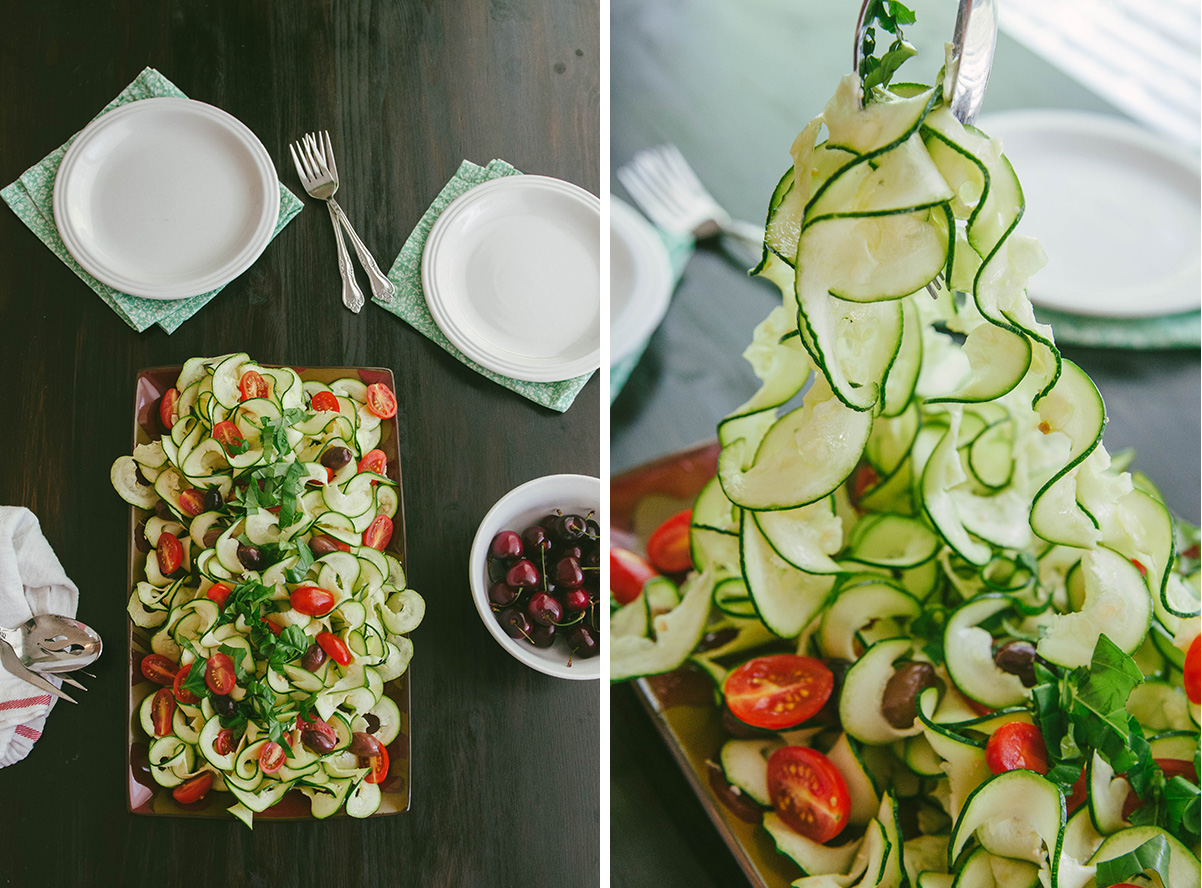 So, I've never been one who likes being told what to do. I actually have a picture of myself as a little hell-raiser (see below) that demonstrates this attitude perfectly. See those sassy hands on those hips? Those renegade pigtails? Yup. This is pretty much the core of my soul photographed in a snapshot. Also, that crew-neck is working if I say so myself. Not much has changed.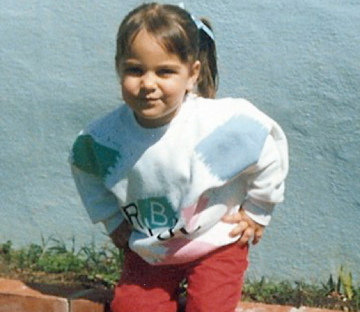 I don't like it when someone doubts me or tries to put limits on my capabilities. It makes me crazy. It makes me work like a maniac. It makes me put my hands on my hips and get a little bit Italian. This trait can be great and sensible and even admirable. But it can also turn on me within the confines of my own brain. For instance: The Whole 30 is telling me what I can and cannot do. There are limits. There is no chocolate. I dislike this. I want the chocolate. My brain now registers that I want chocolate and tells me that I can't do this Whole 30 thing. It's just too intense. Then this sassy little girl tightens the bows on her pigtails and tells my brain that she can do whatever she sets her mind to. It's a war in there. So far Sassy Mc-Baby Hips is winning. Thanks, Baby-G. You are my Whole 30 Spirit Human.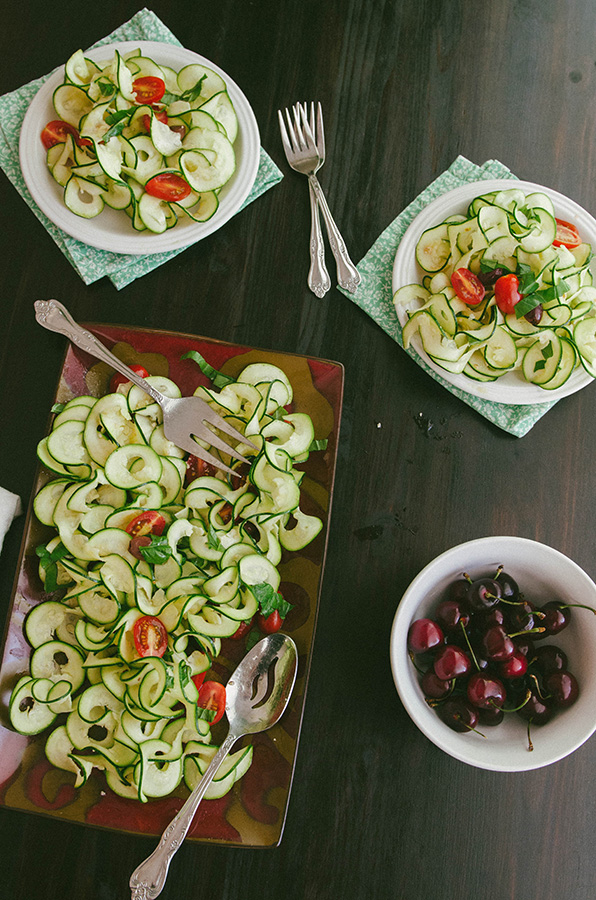 In my experience so far, the Whole 30 has been much more of a mental game than it has been about changing my eating habits. It's making me examine that part of myself that wants things simply because I "can't" have them. I spent an hour on the phone with my best friend Rachel yesterday. She was on day one of her first juice cleanse. We spent the majority of that hour telling each other what we would eat if we could eat anything. Fettuccine Alfredo came up. Rachel is a vegan. I mentioned something about a Cinnabon. I am gluten-free. It's as if a strange part of our brains have been activated to simply want EVERYTHING. The mind is a powerful thing. This week, my brain has consistently tricked me into wanting pizza every time I see a commercial for Little Caesars. I've NEVER IN MY LIFE fantasized about a Hot and Ready. This is getting ridiculous. At least I have all this zucchini to keep me company. Pretty much the same.
With that, shall we do a day by day recap of what this week looked like? I actually took notes this time. Reading them back makes me feel like I have lost my mind, but ya know… par for the course.
Day 8: I'm not hungry for anything and this makes me really mad. I hate not having an appetite.  The only thing I can seem to choke down is a little bowl of watermelon. I'm feeling emotional because my Mom left today from her visit to the bay and I'm going to miss her. I feel the desire the get a little crazy and emotionally eat an entire gluten-free pizza. Instead I drink an undesireably warm green smoothie while in traffic. Warm smoothies make me sad. It's like a depressing, hot liquid salad. Why did I finish it?
Day 9: After writing an entire article for The Kitchn, I neglected to hit the save button. This means that I lost the entire article and had to rewrite it. If I had some chocolate right now, I would feel less murder-y. That's just a fact. Once again I want to eat my feelings (up until now, I would never identify as an emotional eater). I have a lot of feelings. Instead of eating, I do the next most sensible thing.  I decide to troll animal rescue websites on the internet and look for puppies.  Because, obviously the next logical step to filling up the hole in your heart where chocolate goes is to adopt a new puppy. No. No. No. Stop it. I put my energy into lactofermenting a ton of pickles. My counter looks like a science experiment. For dinner I make TACO BOWLS! Or, GUACAMOLE (with some other taco-like shizz in it). Did you know that guacamole totally counts as a meal? It's true.
Day 10: As much as I joke and complain, I've had a lot of energy these days. I expend some of this energy by cranking up the soundtrack from the musical Chicago. I play all the parts. Pop, six, squish... you know the drill. I use my Swiffer as a microphone. I make eye contact with my neighbor through the window. I haven't met this neighbor yet. At least she knows that I can sing circles around Richard Gere. You know, the important things one likes to make clear in a first impression. For dinner we eat at a local restaurant that makes "bread" out of plantains. As much as I wanted to enjoy the heck out of it, I couldn't finish my sandwich. It felt heavy. I need to stay light on my feet in order to further my living room Broadway career.
Day 10: Lamb was on sale at Whole Foods. This is a big deal. I ate an entire grilled lamb shoulder with my hands. My husband knew better than to hand me a fork. I believe this is what some people refer to as being "in the zone". Or, maybe I am confusing that with "being gross". One of those.
Day 11: Yesterday a book showed up in the mail. It's an advance copy of Dairy-Free Ice Cream by Kelly from The Spunky Coconut. Every single page is like porn. I'm serious. I still have an unopened ice cream machine in my entryway. This is testing my will power. Instead of liberating my ice cream machine, I decide to liberate my spiralizer. I make this zucchini salad. I ate all of it.
Day 12: If eating hot dogs for breakfast is wrong, I don't want to be right. That's all. Feeling good. Also, sweet potatoes. Just YES.
Day 13: The only time I'm really thinking about the Whole 30 at this point is when I'm watching TV. My brain wants pizza. Or, a cookie. It doesn't care. It just wants something it can't have. Typical love story.
Day 14: Today was super busy and I didn't plan ahead. By the time dinner rolled around I was so HANGRY that I picked up the husband from the bus stop, dragged him to Chipotle and made him order us salads with double meat and tons of guacamole. They ran out of carnitas right before our turn in line. I almost cried. I'm not kidding. Lesson: If you're hungry enough, you will cry over carnitas.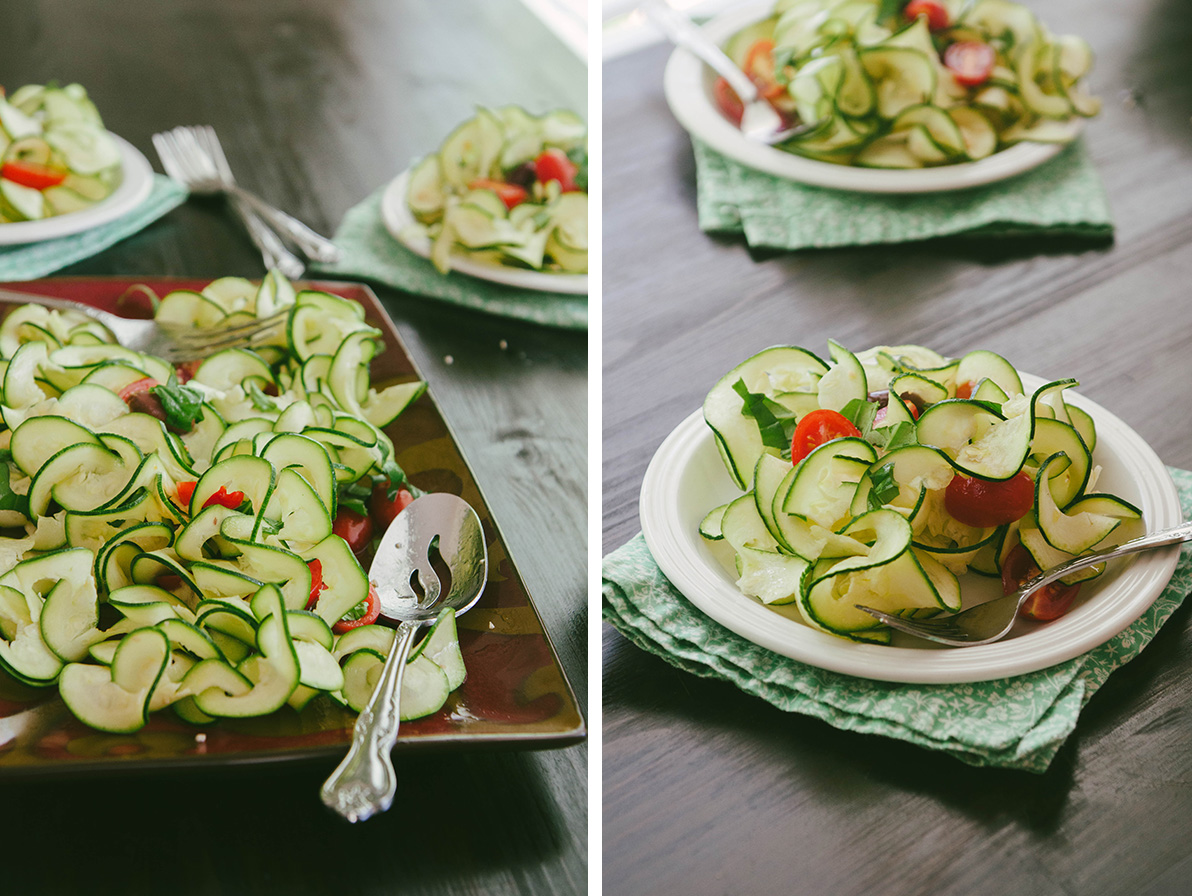 Alright, that's about all the crazy I can cram into this week's recap. I hope I've inspired you to EAT ALL THE ZUCCHINI! Also, I'm totally halfway done with this. Can we high five? Cool. Wanna reenact that scene from Lady and the Tramp with this salad? No? Me either (except, the opposite of that).
Need more Whole 30 inspiration? Check out these posts from the archives: 
Honest Whole 30 Recap, Week One + Coco-Berry Superfood Smoothie
Three Ingredient Watermelon & Mint Slushie
BLT Breakfast Salad With Soft Boiled Eggs & Avocados
Totally Easy Slow Cooker Kalua Pork
Spaghetti Squash Pesto Pasta With Chard & Sundried Tomatoes
Roasted Eggplant & Basil Spread
Easy Beef Kebabs With Tangy Rosemary Chimichurri
Raw Kale Salad With Creamy Almond Dressing
Arugula Salad With Sausage & Strawberries
Crock Pot Carne Asada Lettuce Wraps
Roasted Cauliflower Salad With Olives & Capers
And, some help from my friends:
Creamy Honeydew Popsicles from Meatified
Thirty Whole 30 Slow Cooker Recipes from Meatified
Avocado Stuffed Meatballs from Honey, Ghee & Me
Whole 30 Shopping at Costco from Life Made Full
Yam, Celery Root Bacon Hash from Rubies & Radishes
Pineapple Mint & Lamb Kebabas from Autoimmune Paleo
Ginger Chicken from A Girl Worth Saving
Basil Brushed Roasted Artichokes from With Food + Love
Cumin Roasted Carrots With Cilantro Chimichurri from Tasty Yummies
Pork Verde from Popular Paleo
Paleo Avocado Bacon Sliders from Stupid Easy Paleo
Paleo Chicken Scallopini from Grok Grub
Lemon Blossom Spring Smoothie from Ravenous Venus
Paleo Reina Pepiada from The Curious Coconut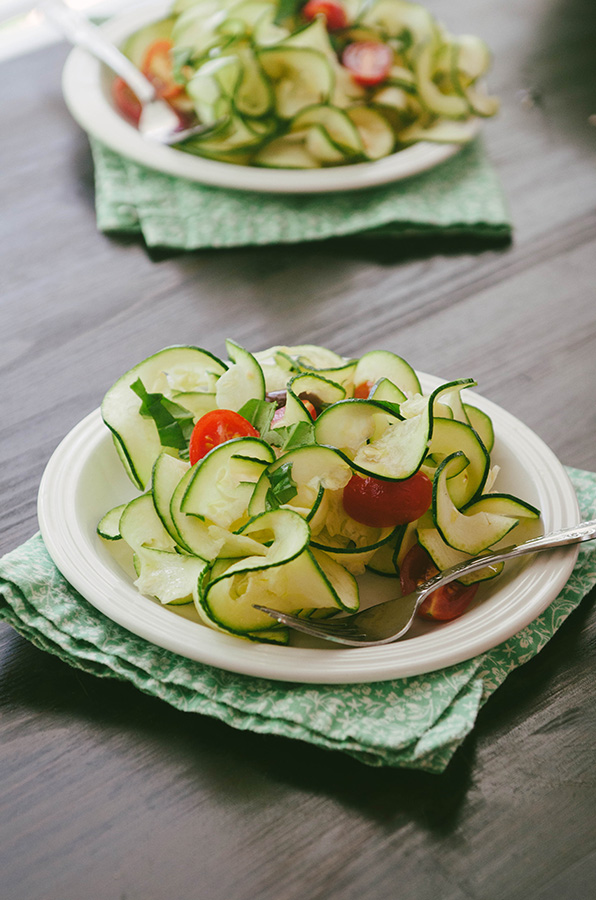 Raw Zucchini Ribbon Salad With Tomatoes, Basil & Olives
Ingredients
Salad
3-4

large zucchinis

1 1/2

cherry tomatoes, sliced

1/2

cup pitted kalamata olives

6-7

fresh basil leaves,chiffonade cut

Salt & pepper to taste
Dressing
1/4

cup extra virgin olive oil

3

tbsp red wine vinegar

Juice of 1 lemon

1

tbs minced garlic
Instructions
Using a spiralizerwith the widest blade attachment, spiralize all of your zucchini and place into a bowl. If you don't have a spiralizer, you can use a mandolin or a vegetable peeler to make long ribbons. They won't curl, but it will be the same thickness and feel.
Add all of your ingredients for your dressing into a mason jar. Put a lid on the jar and shake it until it is fully combined. Dress the zucchini ribbon and toss them until they are coated well.
Add in the tomatoes, olives and basil. Serve and enjoy!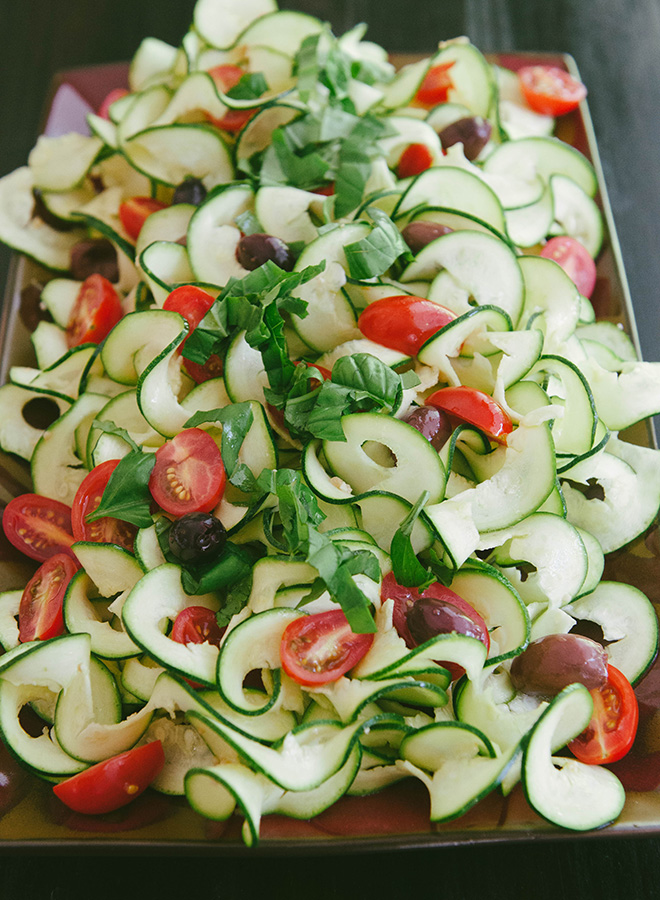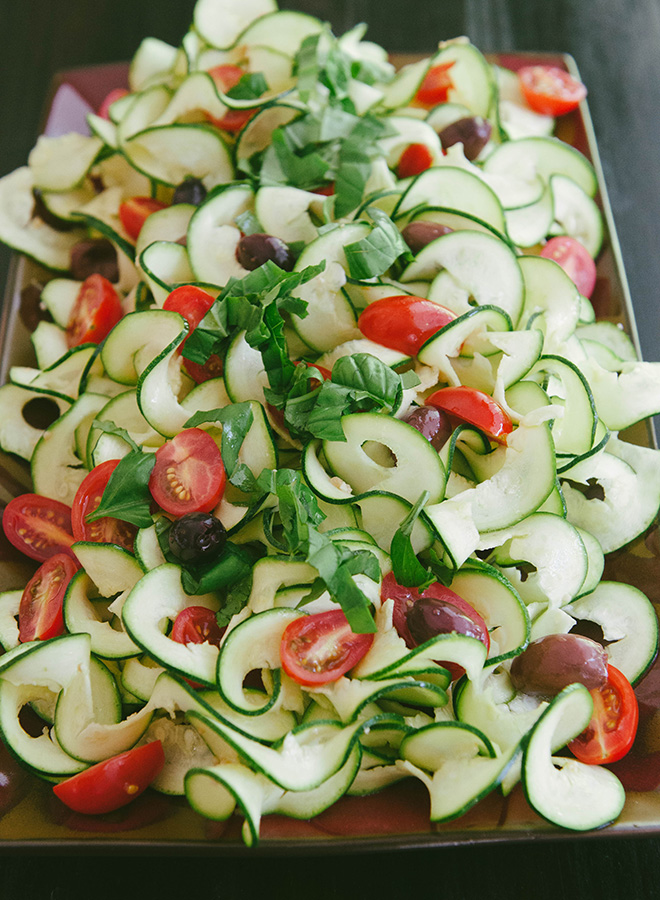 PAID ENDORSEMENT DISCLOSURE: In order for me to support my blogging activities, I may receive monetary compensation or other types of remuneration for my endorsement, recommendation, testimonial and/or link to any products or services from this blog.