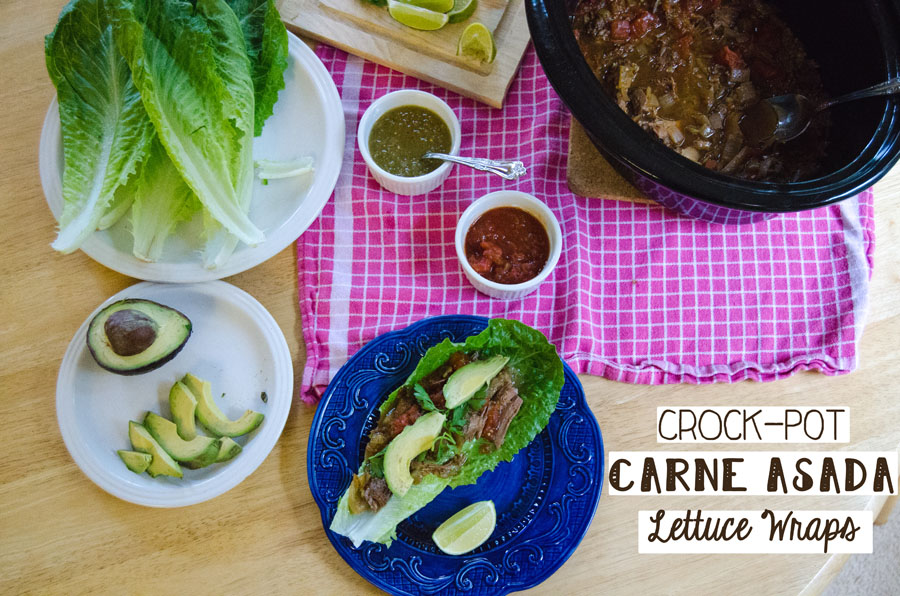 Don't you love it when dinner pretty much makes itself? All hail the crock-pot! It's been a very useful tool for me lately.
As I mentioned before, I've been trying out eating Paleo for 30 days. I think I'm somewhere in week three. It's been way less complain-worthy than I thought it was going to be. Sure, I might want to put goat-cheese on almost everything, but I resist the urge. Also, full disclosure…there might have been some light cheating. One night I ate out at this restaurant and caved at the truffle-infused mashed potatoes. Seriously, no regrets. They were everything I hoped for and more. Also, I might have had a whiskey sour a couple of days ago. Oh, and a hard apple cider last night. Hmm… maybe I am not doing this right. Oh, well. I do what I can. Sometimes a girl needs a whiskey.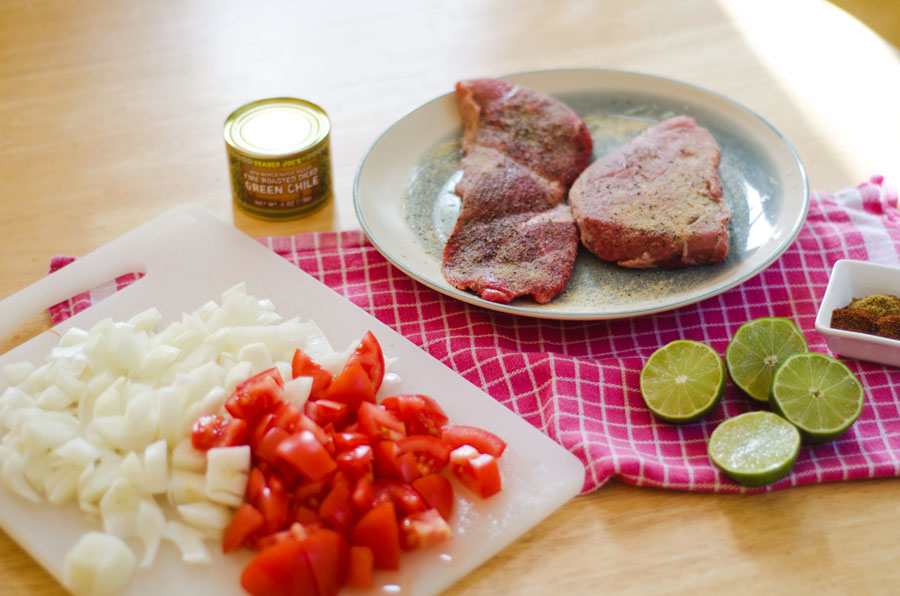 So, the crock-pot is my friend. I've been cooking up batches of yummy shredded meats and adding them to things like eggs, or salads, or even eating them plain and cold straight from the fridge. I do that. I have a tendency to eat leftovers without heating them back up, especially if it's any kind of steak. I get too excited and can't seem to find the time to make it warm before it miraculously lands in my mouth. If there was a steak-loving Muppet equivalent to Cookie Monster, I would be that one. One hundred percent. My brain is ramble-y and full of Muppets this morning. I like how I am pretending that this is different from other mornings. It's not. If you look inside my brain, it would most likely look something like this. Accurate.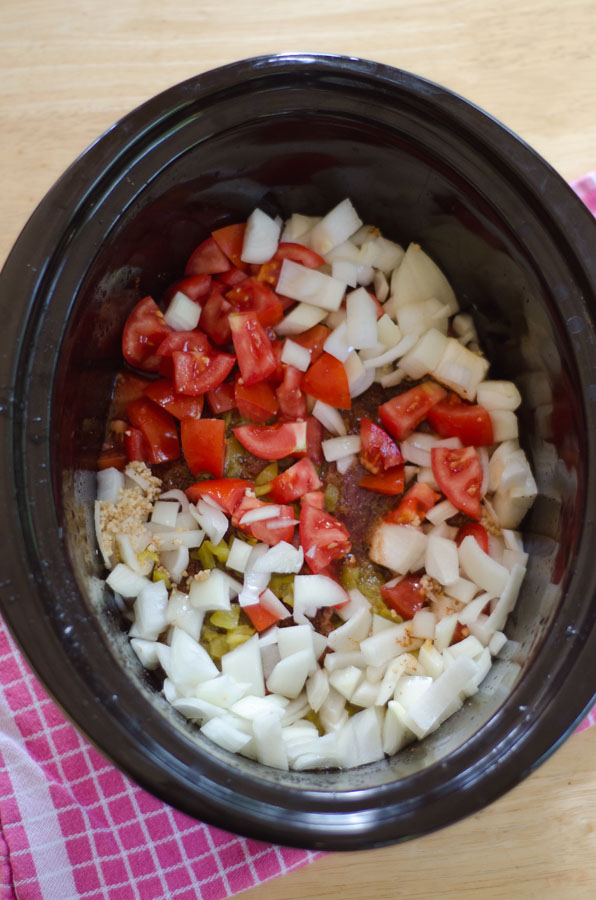 Let's transition back to dinner. (See? Ramble-y!)
Dinner is totally going to cook itself for you. You are going to throw things in a crock-pot and walk away. Go ahead, you are allowed to take a bath while listening to your favorite podcast. You've got time. Also, is your phone insured? Why is it that close to the bathtub? (Yeah, that was directed at myself. I play a dangerous game.) Once your steak has cooked slowly, you are going to shred it easily with a couple of forks. There will be salsa. There will be avocado. There might be hot sauce. Definitely lime. Are you mad that we aren't using tortillas in the recipe? You can totally sub out the lettuce for some nice, warmed-up corn tortillas. I decided to use lettuce since this whole Paleo thing has me going grain-free. Plus, what is lettuce if not nature's tortilla? Yes, that just happened. Nature's tortilla. Why am I not in advertising, again? Don't answer that.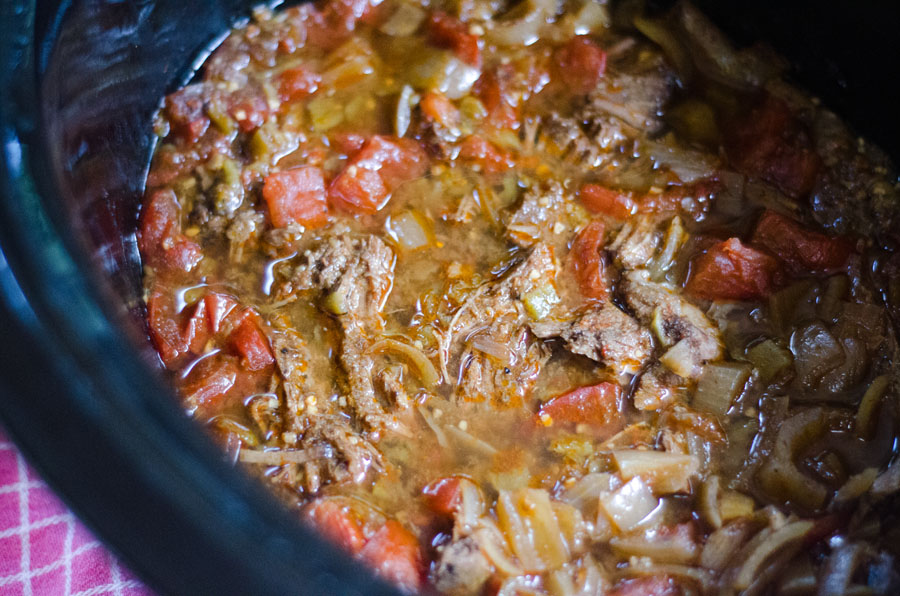 Once your meat has crock-potted the heck out of itself, it's time. You can use this Carne Asada any way you choose, you won't be disappointed. You can also follow my lead and we can get crazy with some lettuce wraps.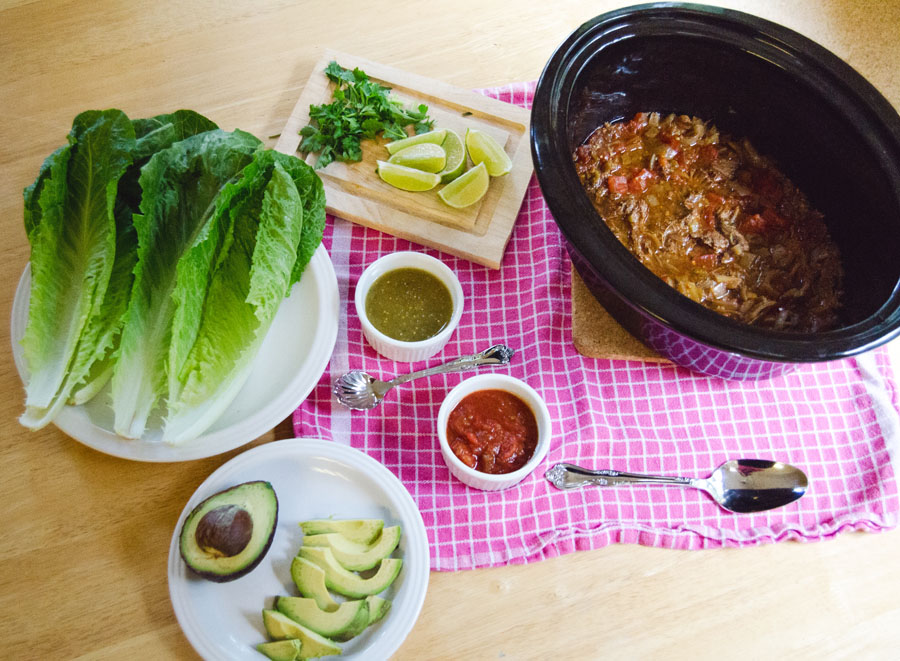 Hello, pretty spread! Don't mind if I do.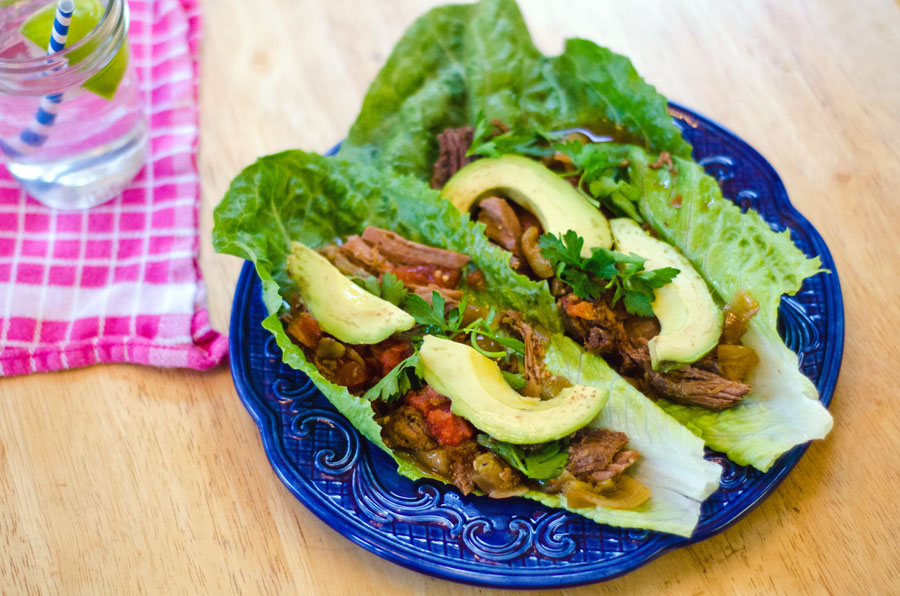 Look at those bad boys. Just a tip… nature's tortillas totally call for napkins. I learned this the hard way. When enthusiastically eating a lettuce wrapped taco, do not wear a white t-shirt. You are asking for it. Bibs are optional, but one hundred percent acceptable. Enjoy!
Crock-Pot Carne Asada Lettuce Wraps
Ingredients
Carne Asada
2

lbs steak ( I used boneless sirloin, but you can use any cut you choose. Tougher cuts are completely fine, since the slow cooking will make them very tender.)

1

medium yellow onion, chopped

2

tbs minced garlic (about 4 cloves, chopped)

2-3

tomatoes, chopped

1 4oz

can of fire roasted diced green chiles (I got mine at Trader Joes)

1/3

cup beef broth

Juice of 2 limes

2

tbs chili powder

1

tbs cumin

1/2

tsp cayenne pepper

Salt, to taste

Pepper, to taste

Granulated garlic, to taste
Suggested Toppings
Lettuce leaves (butter lettuce, romaine, iceberg)

Avocado, sliced

Salsa verde

Fire roasted salsa

Hot sauce

Lime wedges

Cilantro
Instructions
Rinse off your steak and pat it dry.
Liberally cover it with salt, pepper and granulated garlic on either side. Set aside.
Chop up your onions and tomatoes.
In the bottom of your crock-pot, add your beef broth.
Place your steak on top of the broth and cover your steak with the onion, tomatoes, garlic and green chilies.
Add in your lime juice, pouring it evenly over the whole mixture.
Add in your chili powder, cumin and cayenne evenly over the whole mixture.
Set your crock-pot on a low setting and allow to cook for 6-8 hours.
Once it is done, shred your beef by using two forks. It should shred very easily.
Serve up on a lettuce cup with your favorite sauces and toppings!
Enjoy!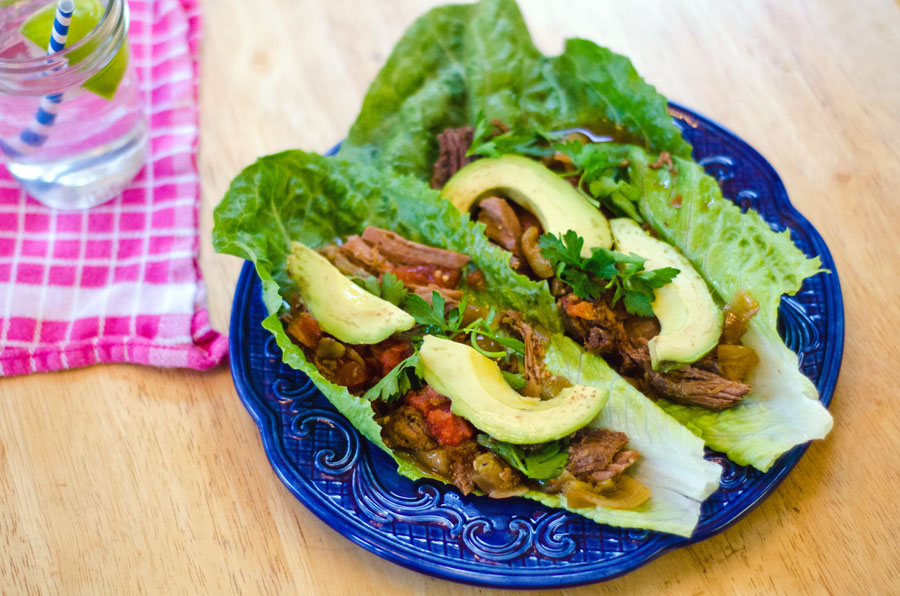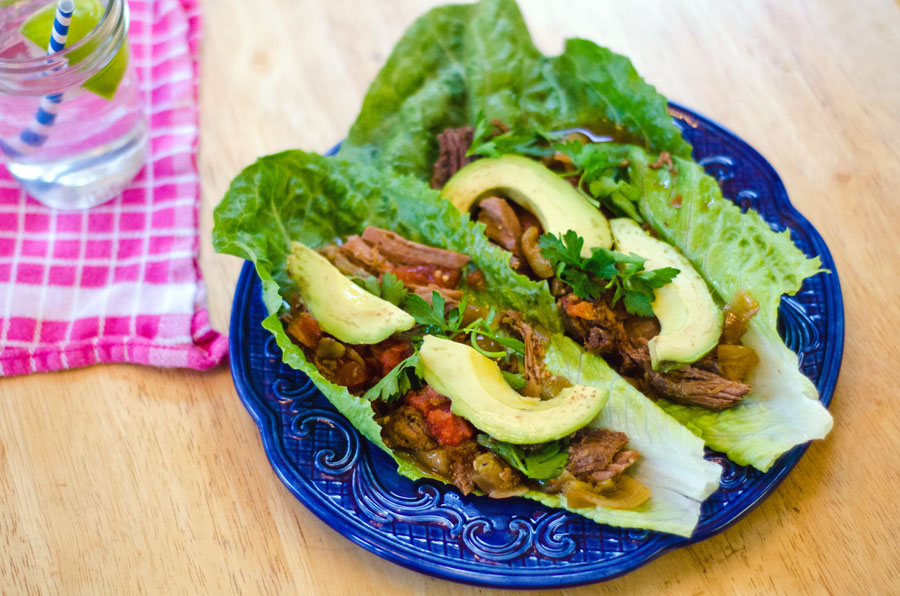 PAID ENDORSEMENT DISCLOSURE: In order for me to support my blogging activities, I may receive monetary compensation or other types of remuneration for my endorsement, recommendation, testimonial and/or link to any products or services from this blog.