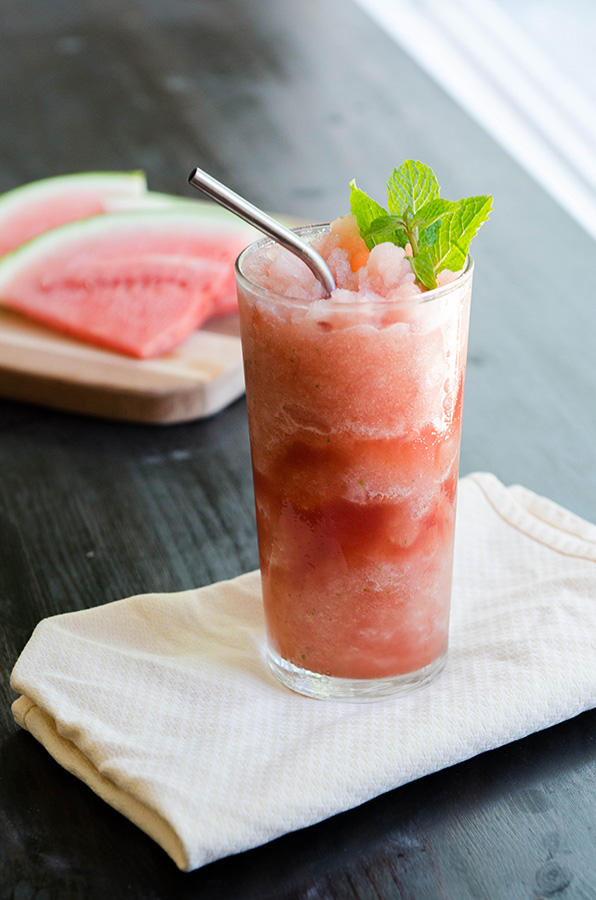 Back when I was a teenager, hot weather meant a couple of things.
Firstly, I was probably going to wear a top that showed my belly button and a suspicious amount of the ol' chesticles. Secondly, as the weather turned hot, the classrooms would start to smell really strongly of CK One or other popular man-scents. It turns out that heat activates its pungency, allowing it to mix with stinky adolescent pits and creating what I'm sure to be a toxic death cloud — a cloud that was teeming with the scent of desperation and overly gelled hair. Thirdly, after school I was going to drive my sweaty-crop-top wearing self to 7-Eleven to dispense  a slushie into a BIG GULP cup. I would usually opt for cherry mixed with coca-cola. The ice would turn a murky brown. Sometimes they had a flavor that came in neon blue, which was fun because it would give you a smurf tongue. I can't recall the exact flavor–but, I'm sure it tasted blue. These were the things of early summer.
Only a few things have changed since then.
Firstly, my shirts are longer. Secondly, I no longer have to sit in classrooms full of teenage boys wearing liters of heated-up cologne. I do however, have to exist in this world–and it seems that this entire world smells like Axe Body Spray these days. Summer intensifies this notion. The struggle is real. Thirdly, If I consumed the amount of sugar in a Big Gulp, I imagine my heart beating so fast that it might leap from my chest, run away and start a new life somewhere without me–probably in a nice elderly community in Florida. Soaking up the sun and wearing Hawaiian prints, flirting with the staff. Is it a red flag that when I imagine my heart personified it is an old person who is on retirement? Yes. I think the answer is yes.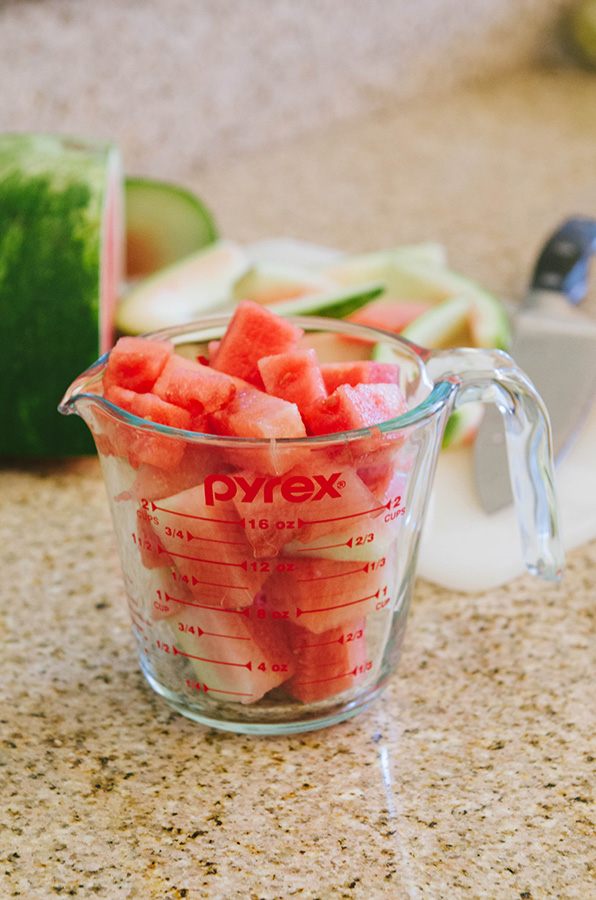 What is comes down to is that my body no-likey all of that sugar. It rebels. It sends me into an anxious frenzy. I'd like to avoid that at all costs. No one likes to feel like their heart might explode. It's an element of danger that is definitely not in my middle name.
Also, If you haven't been following along I am currently in the process of trying to complete a Whole 30. I explain what that means, as well as give you a real honest recap of week one in THIS POST. It gets real. So, I've been finding ways to have fun with it. This slushie happened after taking a long walk on a hot day. It came together with three ingredients, and totally blew my mind. Take that, 7-Eleven. I'm gonna be Big Gulp-ing it healthy style.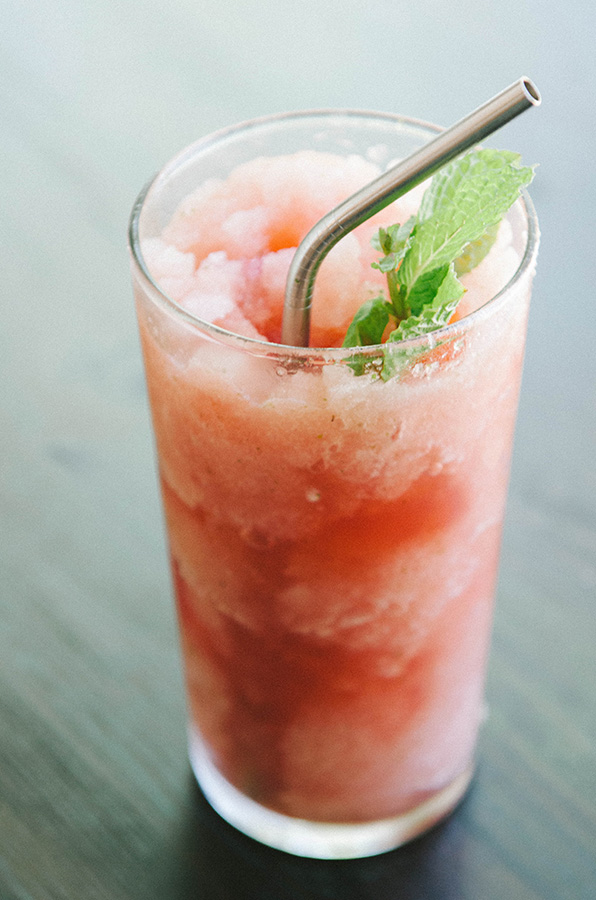 Sit in the sun. Tie up your top. Put a little CK One on your wrists. Slurp up this slushie. Feel the nostalgia!  Maybe put on a little old school Christina while you're at it? I mean, it wouldn't hurt to set the mood.  😉
Watermelon & Mint Slushie
Ingredients
2

cups watermelon, cut into cubes

1-2

cups of ice

1

sprig of fresh mint
Instructions
Put your watermelon into your blender and process on high. It should turn into liquid fairly easily, especially if you are using a high powered blender.
Add in your ice. Less ice will make it easier to sip through a straw, more ice will make it easier to eat with a spoon. I usually use about 1.5 cups, but have gone all the way up to 2. Also, if you are NOT working with a high powered blender, add in your ice a cup at a time and process in between.
Add in your mint and process again until you have one consistent slushie mixture.
Pour and serve!
If you have leftovers, consider freezing them into ice cubes. You can add the ice cubes to your blender later and have another slushie waiting to go!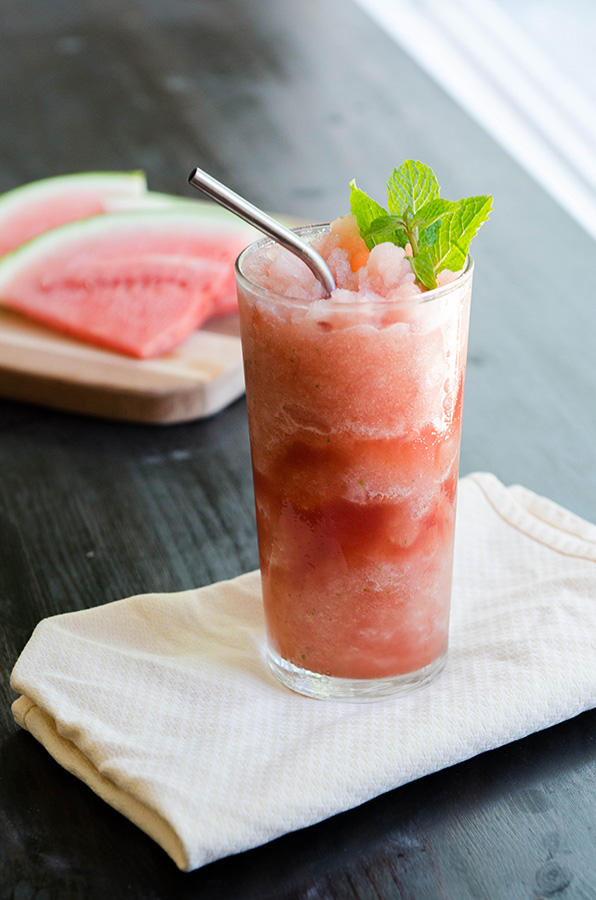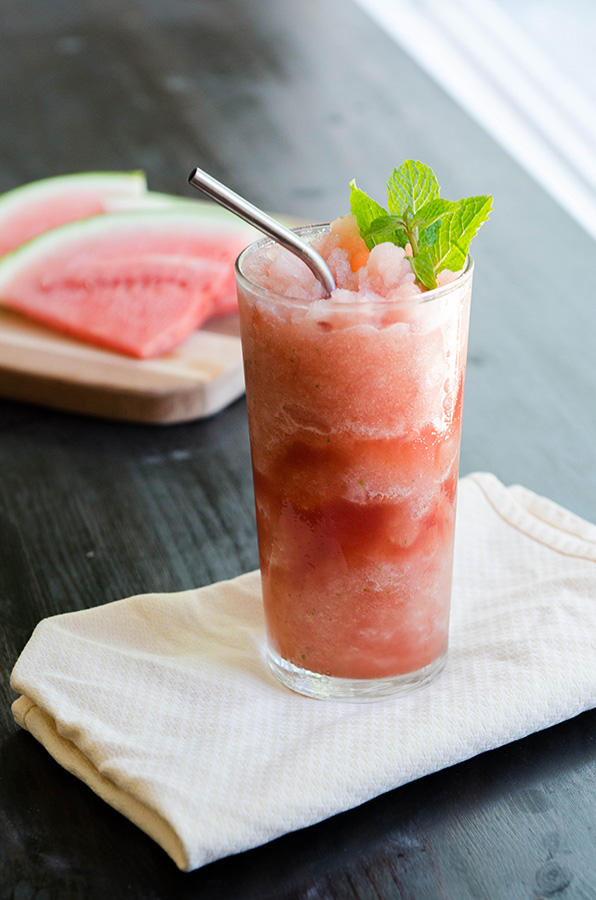 PAID ENDORSEMENT DISCLOSURE: In order for me to support my blogging activities, I may receive monetary compensation or other types of remuneration for my endorsement, recommendation, testimonial and/or link to any products or services from this blog.