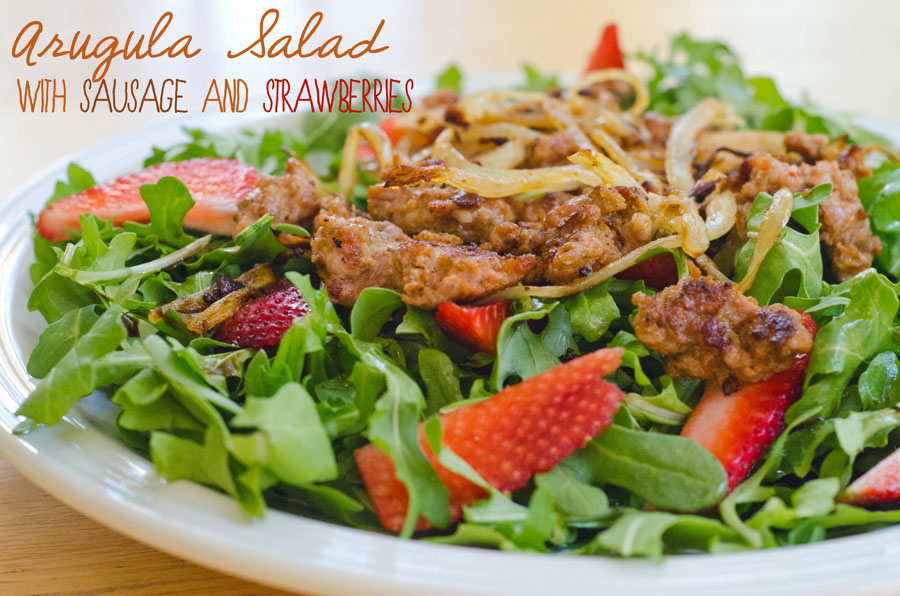 Have I taken it too far? I have put strawberries in very close proximity to your sausage and your caramelized onions. We have a bit of a sweet and savory situation.
You are either shaking your head at me and wondering things like "Why do they allow her to have a food blog?" OR you are intrigued. Thank you for your adventurous palate and inquisitive spirit, Friend. I dig you. Plus, is it really that crazy? I've seen crazier. I've made crazier. This afternoon I ate smoked salmon and blueberries together. Crazier.
I have always been a fan of the sweet and the salty together. My husband and I like to make a meal that we simply call "Sweet and Savory Toast". This is not so much a meal as it is us, taking two slices of bread, toasting them, putting something like ham on one half and something like PB&J on the other half and eating them in quick succession. I am the kind of gal that would not shy away from putting bacon into your chocolate chip cookies. It just sounds good to me. I like sea salt on my chocolate. I know you do too, be straight with me. There is something about the salt that brings out the sweet, and vice versa.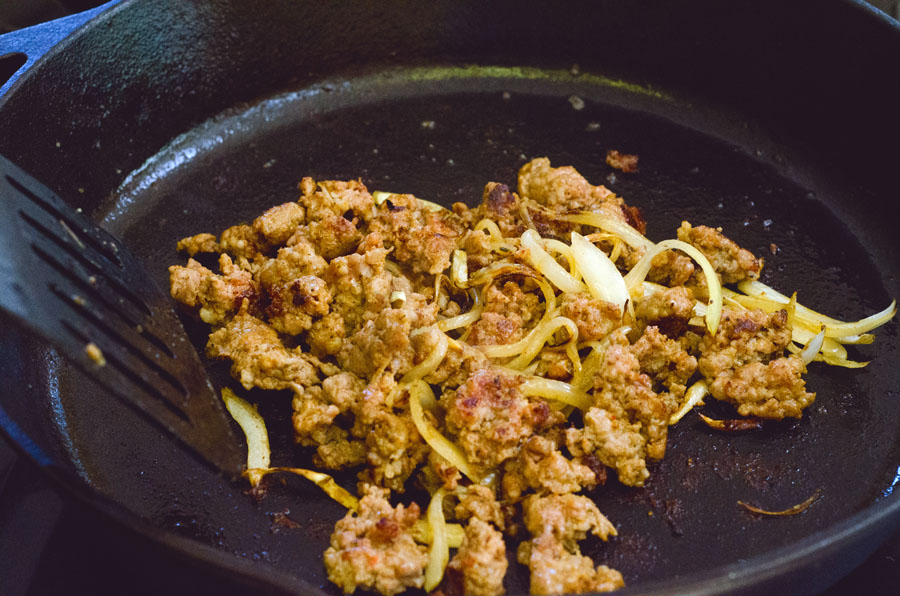 So, for the last five days I have been trying something a little different. I have decided to eat Paleo/Primal  for 30 days. I have not tried it before, and wanted to get a sense of what it is all about. Some of you are probably asking "Wait… isn't that called the Whole30 challenge?" To which I will say, probably, but cool it with the labels. Maybe I will have a glass of wine in these 30 days. Don't judge me. However, for the most part, I am trying to eat really clean. I am taking a break from grains, legumes and dairy and replacing them with organic meats, tons of veggies, a little bit of fruit, nuts and delicious fats like avocado and coconut milk. Oh yeah, no processed sugars either… I know, I know, this sound's restrictive. Are you crying on the inside because I will not be posting dessert recipes for 30 days? Dry your eyes, Friend. You know me. I baked something on the second day of this challenge. Yes, I spent over an hour trolling the internet, frantically typing things like "Paleo Desserts" and "IS CHOCOLATE PALEO?!?" into Google. Normal. I found things. It was fine. I adapt. We are cool. Things could be way worse. I've been eating pretty darn well, and feeling pretty darn good. I will keep you posted. I totally reserve the right to freak out about this in a couple more days.
Until then, I bring you this glorious salty and sweet bed of greens. It's as easy as cooking up a sausage, caramelizing some onions, slicing some strawberries and tossing it all together over some arugula. I know you, and you could do that in your sleep. I would, however, advise not cooking in your sleep. I would also advise wearing pants when you cook sausage. It can splatter. This splatter will be very alarming when it touches your bare thigh. You might yelp. You might try to climb into your kitchen sink in order to run cold water on your thigh. It's not a sexy moment. Just put on pants. I learn these lessons for you so you don't have to learn them for yourselves.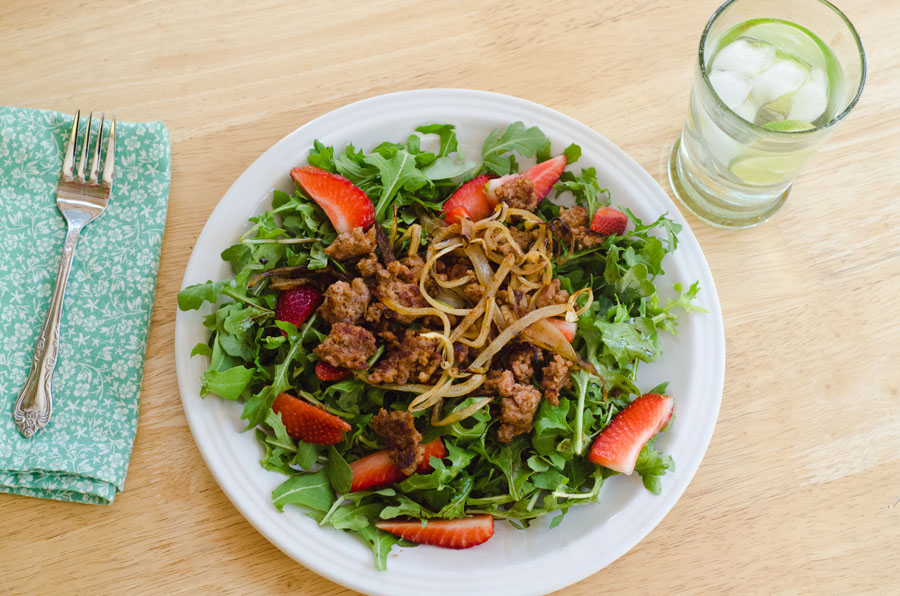 Enjoy! xo
Arugula Salad With Sausage And Strawberries
Ingredients
1

uncooked sausage link (I used Andouille for this recipe, but you could sub in your favorite sausage)

1/2

onion, thinly sliced

4

strawberries, washed, hulled and chopped

1

bag of arugula (I purchased mine at Trader Joes)

Olive Oil

Balsamic Vinegar
Instructions
Heat up a small amount of olive oil in a cast iron skillet over medium heat.
Remove your sausage from its casing and place into the hot pan along with your onions.
When the sausage begins to brown, chop it up with a spatula and continue to cook it until there is no remaining pink and it is cooked through. Your onions will also cook down and begin to caramelize. Make sure you stir your mixture occasionally to prevent your onions from burning to the bottom of the pan.
Add your arugula to a large bowl and dress it with a little bit of olive oil and balsamic vinegar. Toss your greens in order to make sure they are fully dressed.
Layer your cooked sausage and onions on top of your dressed arugula.
Finish by adding in your strawberries.
Serve and enjoy!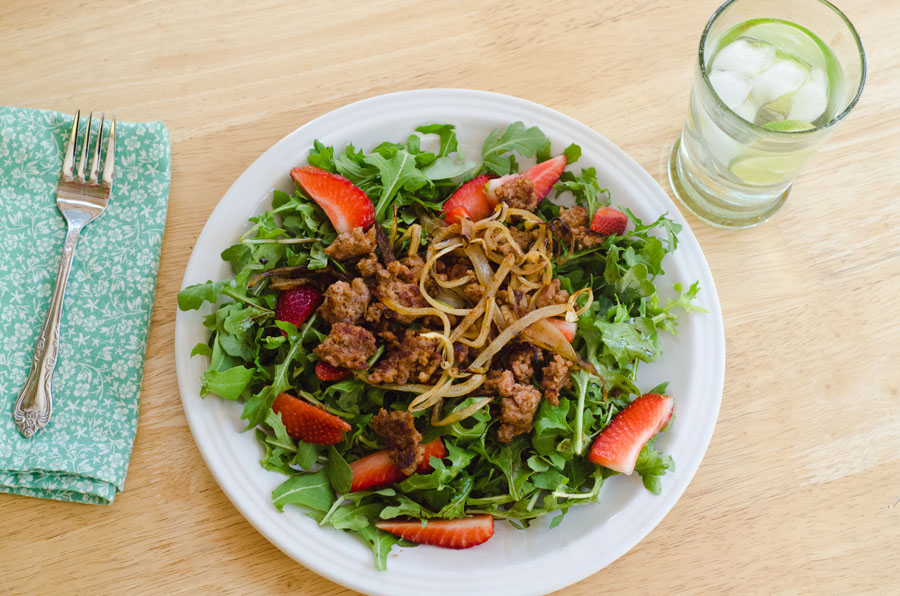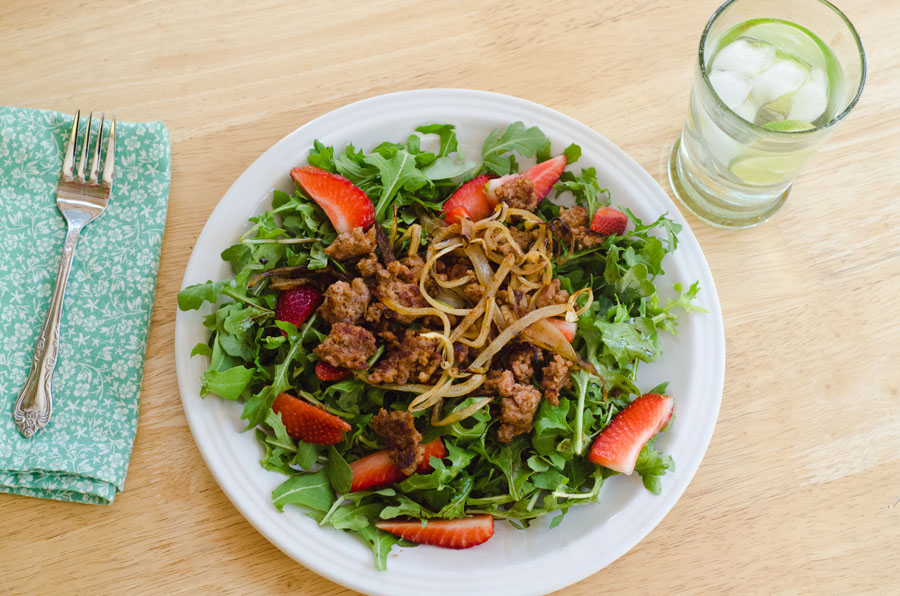 PAID ENDORSEMENT DISCLOSURE: In order for me to support my blogging activities, I may receive monetary compensation or other types of remuneration for my endorsement, recommendation, testimonial and/or link to any products or services from this blog.