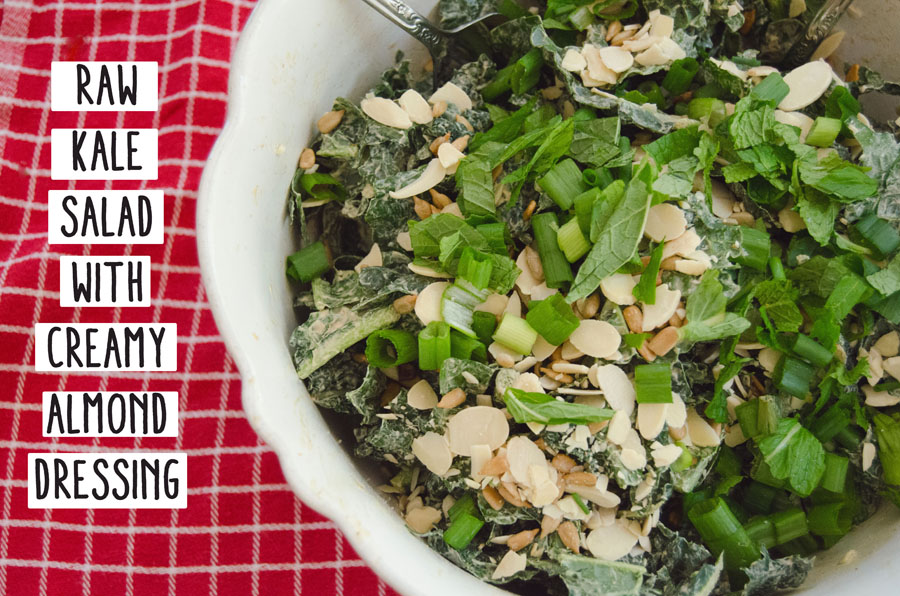 I like kale. I like it in a salad. I like it in a quiche. I like it in my dip. I find ways to put it into most everything. Remember that Shepherd's Pie we made? I totally kale-d you. I just made a verb out of kale, and although that might be taking things too far, we're going to run with it. Prepare to be kale-d.
So, this salad was my attempt at trying to recreate a salad that I splurged on at a restaurant over the weekend. The original recipe had a creamy tahini and peanut dressing. Can we just talk about tahini for a moment? I like the taste of it. I can never remember to purchase it. EVER. This is the reason that I never make my own hummus, or if I do, it ends up tasting like it's missing something. This would be because it IS missing something. It's missing the tahini I can never remember to buy. EVERRRRRR.
Needless to say, there was no tahini in my cupboards. There was also no peanut butter in my fridge. Peanuts are not on the paleo approved lists of foods(since they are technically a legume), so for the last 26 days, I have been grooving on almond butter (unless, of course, I am out at a restaurant and ordering salads that are slathered in peanut butter. Flexible morals.). Without the two basic ingredients that I knew for certain to have been in my weekend salad splurge, there was only one thing to do. Improvise. It worked out. I ate a lot of this salad. I ate the leftovers for breakfast. It worked out just fine indeed.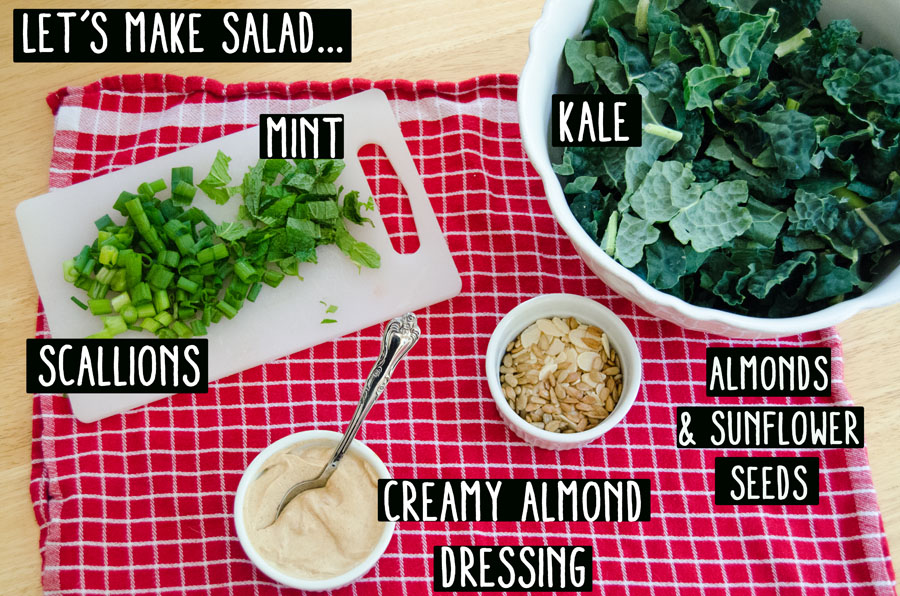 See how creamy that almond dressing is? Delicious. Let's mix it with the kale. You are going to use your hands so that you can massage the dressing into the kale leaves and mix it in really well. This will be a little bit messy, I am not going to lie to you. My insider tip would be to remove your wedding ring or other jewelry. I did not do this. My diamond is tinged with a delicious film of dried almond paste.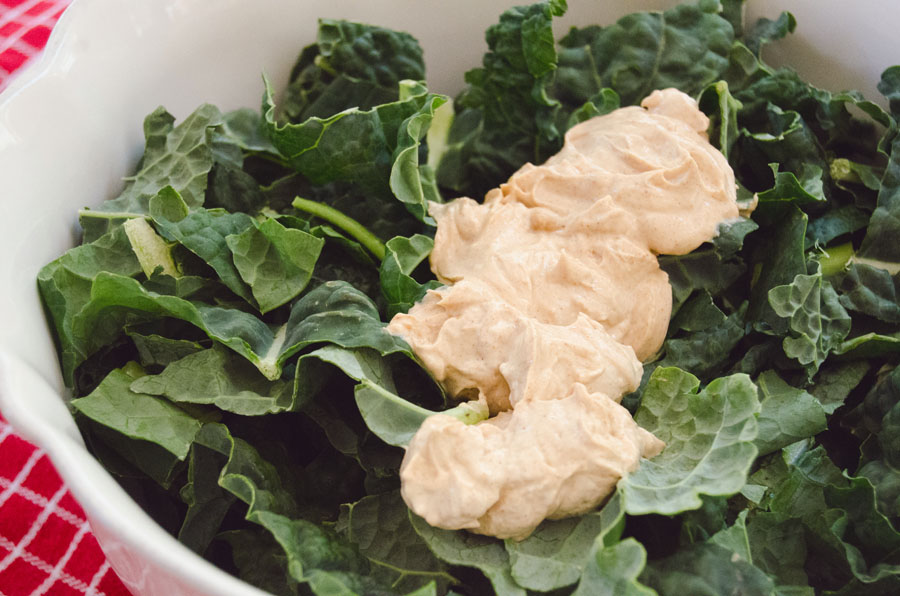 Once you massage it in, you will get this. Yum.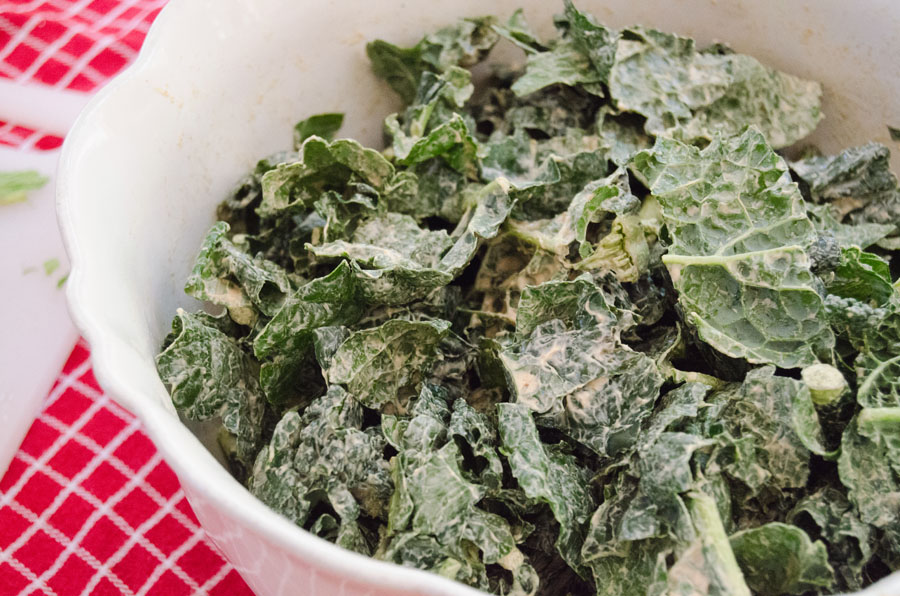 Now, simply add all of your toppings! BAM! You just got kale-ed. (Yup. Still happening.)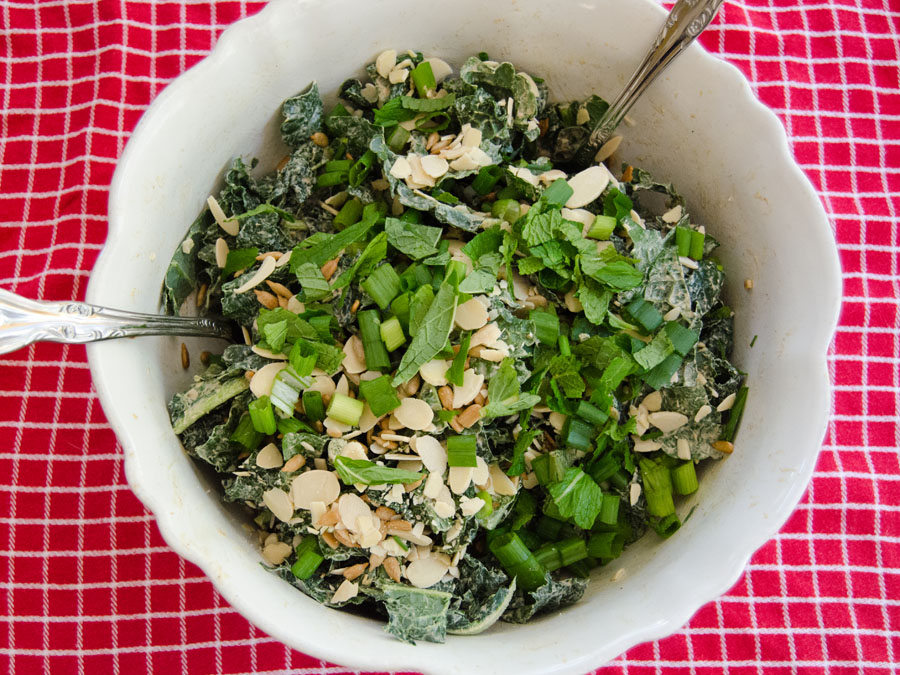 I got fancy and served mine up with a half of an avocado. You will not regret it.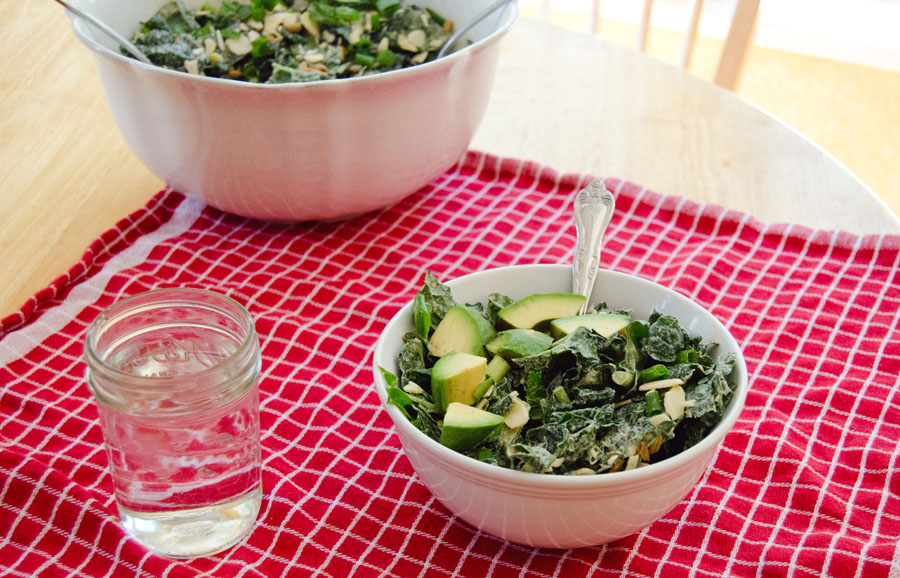 Hope your day is kaletastic! Kalerific? Kaletacular? Too far? Noted. Have an awesome Wednesday, Friend!
Raw Kale Salad With Creamy Almond Dressing
Ingredients
Kale Salad
1

bag of prewashed dinosaur kale (or two bunches, washed and de-stemmed)

1/2

cup of scallions, diced

A handful of mint leaves, thinly chopped

1/4

cup slivered almonds

1/4

cup roasted sunflower seeds (without shells)

Avocado, optional
Creamy Almond Dressing
3

tbs almond butter

2

tbs apple cider vinegar

4

tbs olive oil

1

tsp raw honey (use maple syrup to make vegan)

1 1/2

tbs gluten-free soy sauce (use coconut aminos to make it paleo)

1

tsp grated ginger

2

small cloves of garlic, peeled

juice of 1 lemon

water, as needed
Instructions
In a blender, combine all of the ingredients for your salad dressing. Blend on high until the mixture comes together and becomes creamy.
If your dressing is too thick, you can add a little bit of water and process again. I would add a very small bit of water (1/2 a tbs) at a time to make sure that you do not water it down too much.
After your dressing has come together, set it aside.
In a large bowl, mix together your kale and your dressing. Using your hands, massage it into the leaves until the dressing is mixed thoroughly throughout.
Once your dressing if mixed into the kale leaves, you can add your toppings.
Serve with a couple of slices of fresh avocado. This salad can be served right away, or stored for a couple of days in the fridge. Since the base is kale and not lettuce, it will not wilt in the same way,Enjoy!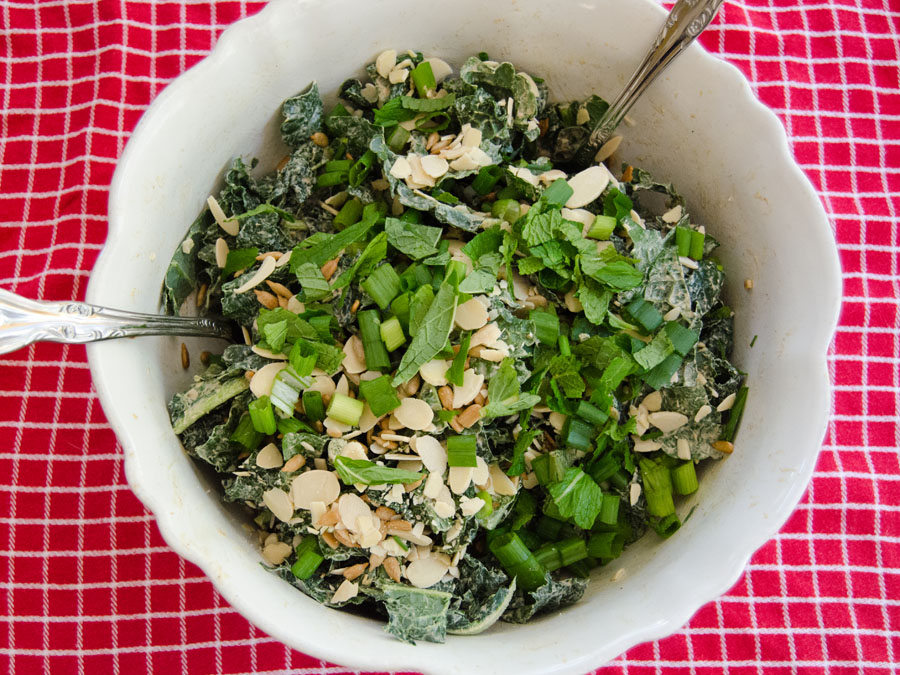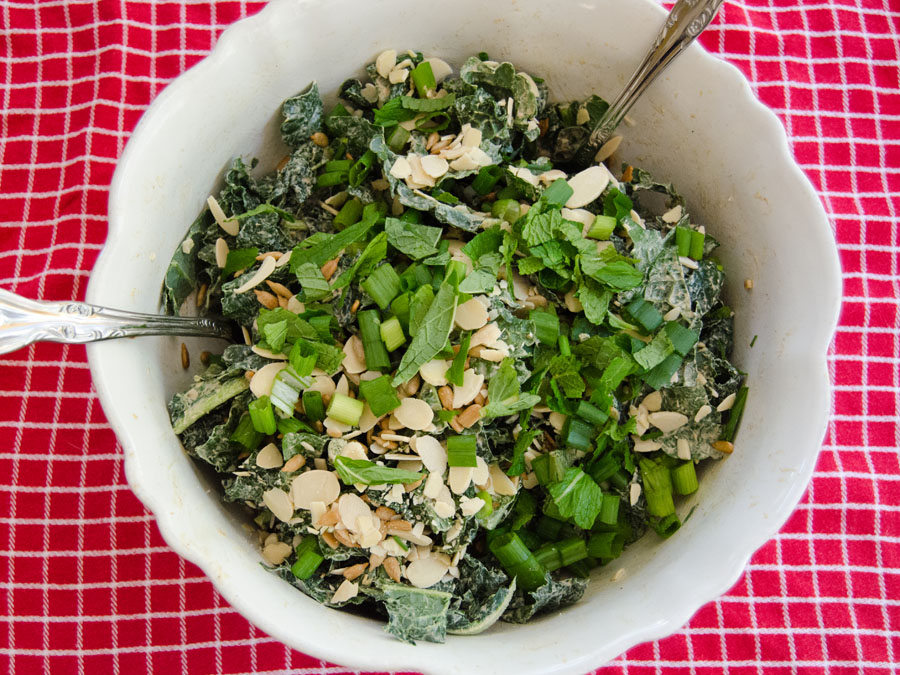 PAID ENDORSEMENT DISCLOSURE: In order for me to support my blogging activities, I may receive monetary compensation or other types of remuneration for my endorsement, recommendation, testimonial and/or link to any products or services from this blog.