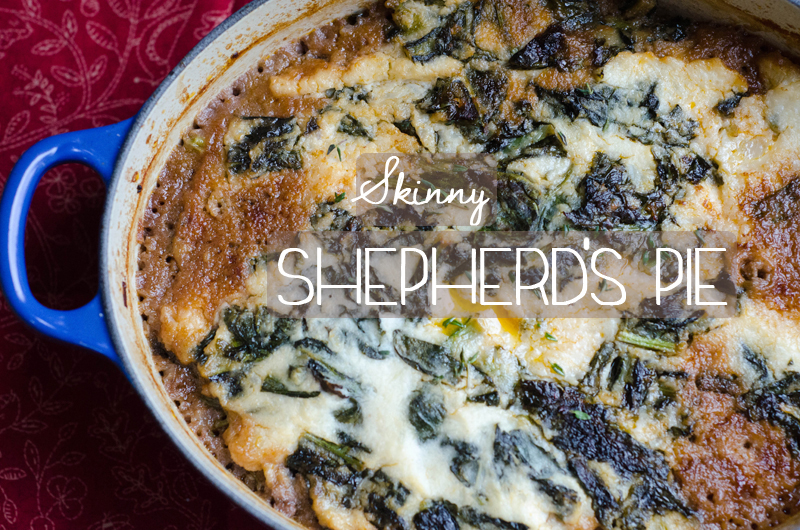 Yesterday I couldn't get it together.
I tried to come to this space and write for you, but my brain seemed to still be on a three day weekend.
Weren't those three days nice?  My weekend included some of the following events:
Thai food with one of my main gals. I commented on how much Pad Thai was in front of me and proceeded to eat everything but two bites. I boxed it up as if to say "See? I totally knew that would be too much." We both knew I could have finished it. I was trying to be a lady.
I managed to watch three Disney oldies. The Rescuers, The Rescuers Down Under and The Aristocats. I have a serious soft spot for talking animals of any kind. I had to talk myself down off the ledge from actually watching Santa Buddies. If you haven't seen the cover, it's a bunch of golden retriever puppies wearing santa hats.  Some might think this is off-putting. I'm not one of these people. Don't judge me. We can't all be perfect. (If we are being honest, I think the creepiest thing in that picture is the glazed over Santa. What is he going to do with all those puppies?)
The husband and I discovered the Tom Collins. Turns out they go really well with the movie The Aristocats.
There were THREE trips to the local dog park. Emma made friends like a tiny golden champion. One of her friends was a boxer. This boxer walked up to a young boy and relieved himself on the kid's leg. The shocked look on the poor young man's face was unparalleled. His socks were wet. He was upset. I mentally high-fived myself that it wasn't my dog that has defiled a young child, knowing full well it could have been. We take small victories in our camp. Of course, all mental and physical high-fiving ceased after realizing that Emma has a proclivity for the elderly. If you need assistance walking and use a cane or a walker, my dog will make a B-line for you and ram into your legs. I found myself  assuming a bent-knee-ready-to-catch-the-elderly-stance coupled with a whole lot of "Oh, I am SOOOO sorry!" spewing from my mouth. No high fives there. None at all.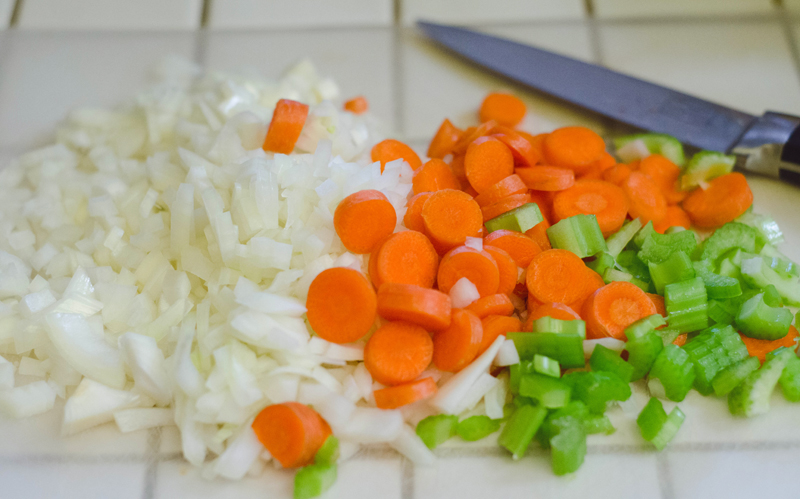 So, when I came here yesterday to hang out with you, all that happened was me staring at the computer screen and writing sentence after broken sentence, mostly about dog parks. (Yes, I know I have spewed some dog park tales onto you today, but believe me there were more yesterday. Lots more.)
When that happens you just kind of take the day off.
I put myself into the kitchen where I didn't have to speak in complete sentences. I chopped veggies, I browned meat, I layered flavors and ended up making you a guilt-free Shepherd's Pie.
Now Shepherds Pie, in my experience, can be really hit or miss. I first discovered this savory pie when I was a kid. I spent a summer working at the Renaissance Pleasure Faire. There were costumes, there were cod-pieces, there were some people who lived and breathed Ren-Faire year round. There was jousting, and there most certainly was Shepherds Pie. Since I was a kid, I saw nothing creepy about working with a host of adults who never broke from their Ren-Farie characters or owned more cod-pieces than actual street clothes. Later in life, I would visit the very same Faire where I spent that summer and shudder a little. At least the Shepherd's Pie was decent. Also, you have to kind of appreciate a place where you can go National Geographic on a turkey leg.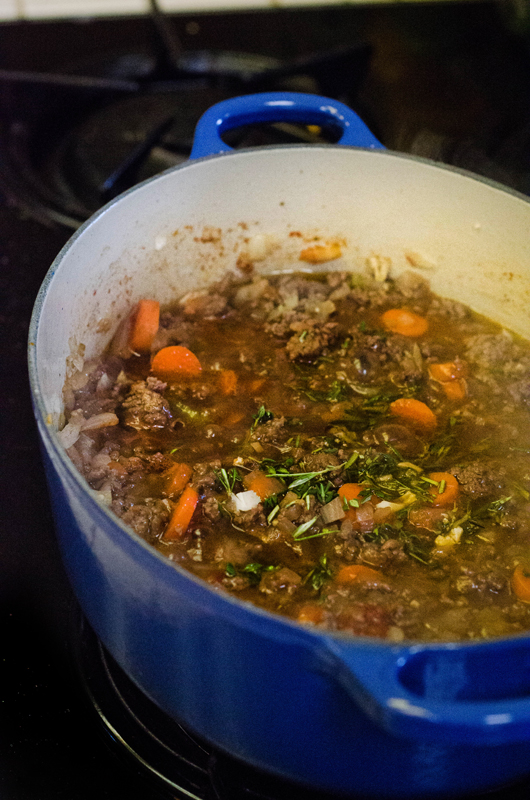 The only other Shepherds Pie experience I have had is of the frozen variety. There was a dark period where my husband and I were both extremely busy. I was working three jobs and he was working at least two jobs. We would buy the Trader Joe's prepackaged shepherds pies, heat them up quickly and eat them with tortilla chips. Even as I am typing this I am getting queasy at the memory. The TJ's shepherds pies were always a gamble. Sometimes they would be just fine and other times the consistency of the meat would be suspicious. Dog food, suspicious.
Finally, a couple of weeks ago I decided to make the Shepherd's Pie of my dreams and do it up properly. I bought ground lamb and cooked it in butter. There was cream in the potatoes and of course more butter. It was so decadent and rich. Unfortunately, the husband and I felt our digestion working  overtime to try to digest all the richness. I decided I should try to lighten this recipe up. There is nothing comforting about comfort food that leaves you uncomfortable.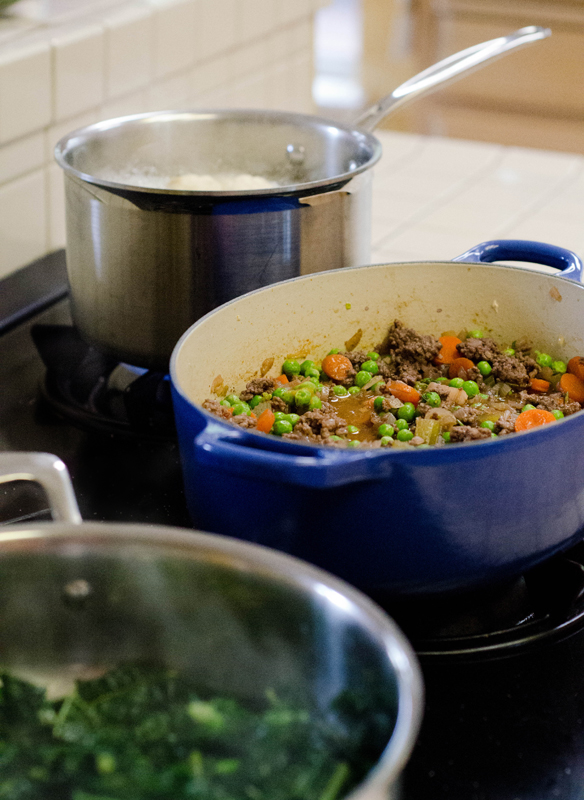 I tried the recipe again yesterday without the use of butter. I replaced cream with Greek yogurt. I even swapped out the potatoes for cauliflower. It was so tasty that Peter didn't even notice that I had swapped them out. I had to break it to him gently. He was duped. Did I mention there is even kale and spinach in it? We are totally doing it up right. Lets get to it…
Ingredients:
Olive Oil, enough to coat the bottom of the pan
3 cloves of garlic, minced
1 large onion, finely chopped
3 medium carrots, chopped
1 stalk of celery, halved and chopped
1 lb of ground lamb (or ground beef)
1/2 cup beef broth
3/4 cup red wine
2 tbs tomato paste
2 sprigs of rosemary
2 sprigs of thyme
2 cups fresh or frozen peas
salt, pepper, granulated garlic ( to taste)
1 head of cauliflower, chopped
1/2 cup Greek yogurt
2 cups of kale, finely chopped
1 cup of spinach
Add olive oil to your dutch oven and heat up over medium heat.
Add in your garlic, onion, celery and carrot. Allow the onions to become translucent. This should take a couple of minutes.
Add in your ground meat and generously salt and pepper. Brown the meat on all sides.
While your meat is browning, take out a medium-sized pot and boil some water for your cauliflower.
Once the meat is browned, add in your tomato paste, wine and beef broth as well as your thyme and rosemary  Allow the mixture to cook down and thicken, about 10 minutes. Once your sauce has thickened, add in your peas and cook for an additional minute.  You can then remove the meat mixture from the heat and set it aside.
Preheat your oven to 375 degrees.
Add your cauliflower to your pot of boiling water and cook until it's tender when poked with the fork. This should take 10-15 minutes or so. You want to make sure it's cooked really well so that you will have no problems turning it into a smooth and creamy mash.
While your cauliflower is cooking, heat up some olive oil in a medium saucepan. Add in your kale and your spinach and allow it to wilt.
Once your cauliflower is done, remove from heat and drain it. Add in your greek yogurt and blend with an immersion blender. If you don't have an immersion blender you could use a hand mixer or an old-fashioned potato masher. Once your mixture is smooth and resembles mashed potatoes, add in some salt to taste and mix it a little bit more.
Combine your wilted greens with your cauliflower mash and stir until there are ribbons of greens throughout the mixture.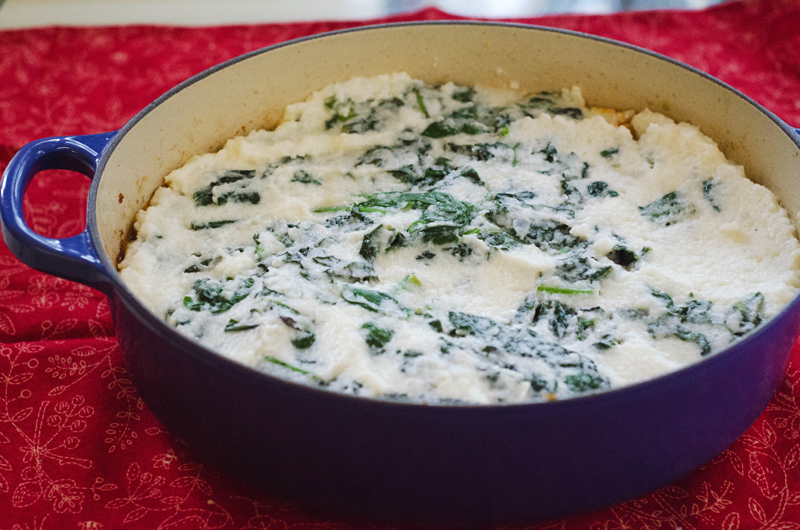 Top your meat mixture with the cauliflower mash and spread it out into a smooth top layer.
Bake for 30 minutes, or until the top is golden brown.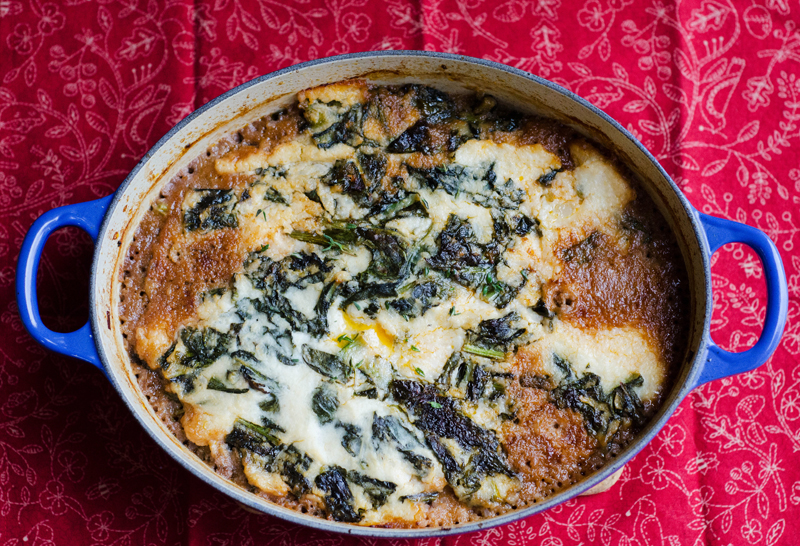 Serve and Enjoy! xo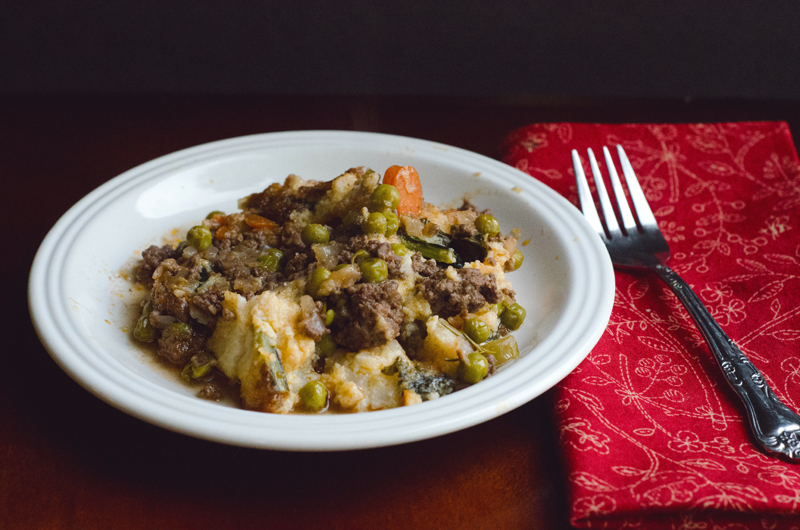 PAID ENDORSEMENT DISCLOSURE: In order for me to support my blogging activities, I may receive monetary compensation or other types of remuneration for my endorsement, recommendation, testimonial and/or link to any products or services from this blog.