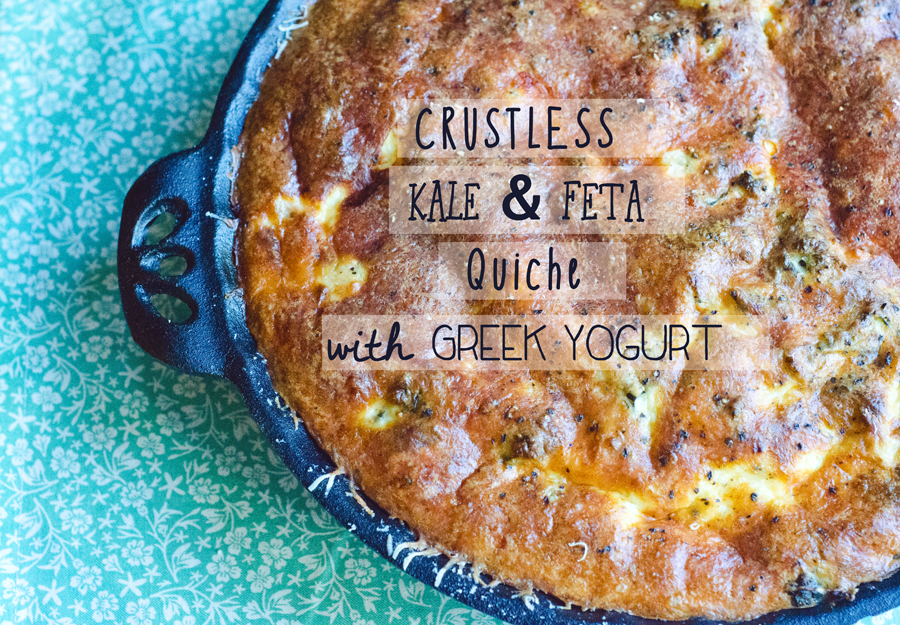 I am back. I can breathe out of my nose. It basically feels like the first day of spring. I want to click my heels and dance with my hands waving in the air. I want to do jumping jacks.  I want to bake cookies. I want to do anything that is not struggling to breathe while lying on a couch and watching terrible daytime programming. I want to eat anything but chicken soup. If I eat anymore chicken soup, I fear I will actually transform into a chicken. This would make my cooking/blogging life difficult. Wings don't have thumbs, making it very hard to type and even harder to lift things like pots or baking sheets.
Enough of that. I haven't left the house for more than ten minutes at a time in the last six days. Forgive all preposterous declarations of what life would be like if I was indeed a blogging chicken. It would be hard, that's all I am sayin'.  Also, I would probably not make you things like quiche. Chickens don't eat quiche. Aren't you happy I am not a chicken?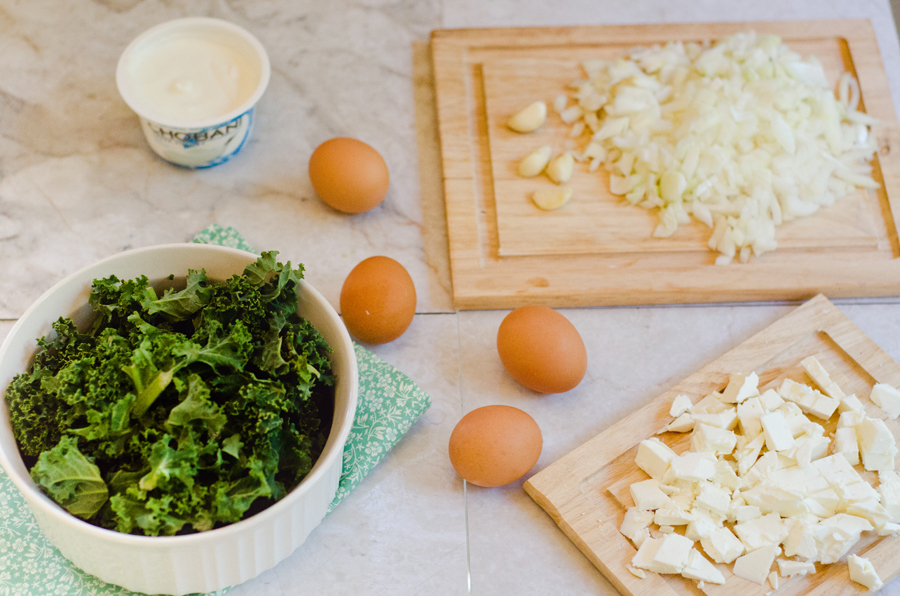 This is probably no secret by now, but I tend to cook with what I have on hand. I am not much of a planner in my day to day cooking life. My Mom came to visit a few weeks back, and I wanted to make her a nice breakfast. Moms totally deserve nice breakfasts. When I looked in my fridge, I saw the usual suspects: Kale, Eggs, Cheese.  The only thing standing between me and a fabulous quiche was milk. I stared at the vanilla almond milk we keep on hand and considered it. (I once made mac and cheese with vanilla almond milk. You can gag now. I did.) Nope. That will not do. Coconut milk? Nope. I then spotted some Greek yogurt. Hmmm… why not? It was totally worth a try. If It didn't work out there was always granola.
I sauteed onions and garlic with kale and stewed tomatoes. Holy yum!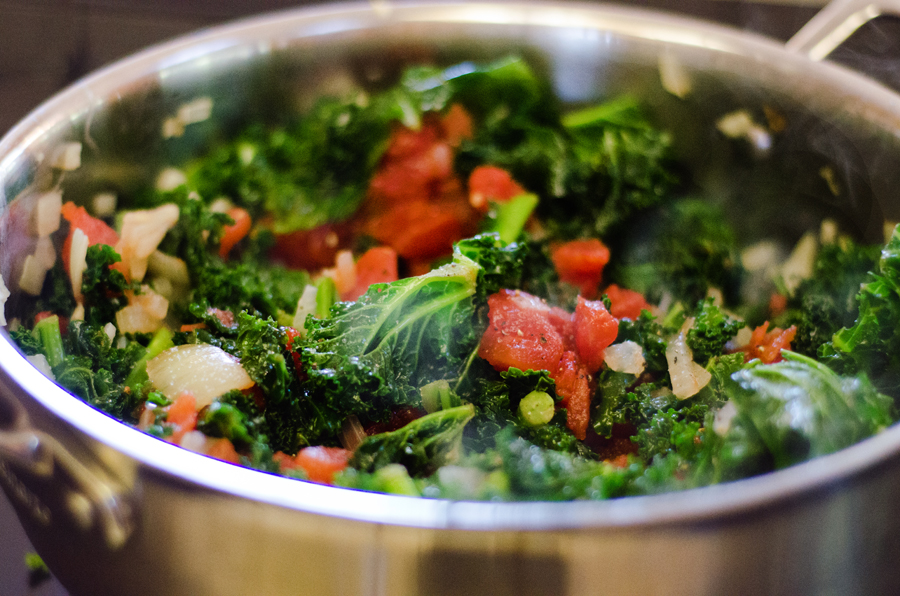 I beat eggs into greek yogurt until it became almost fluffy. I put the sauteed kale into a cast iron baking dish with crumbled feta.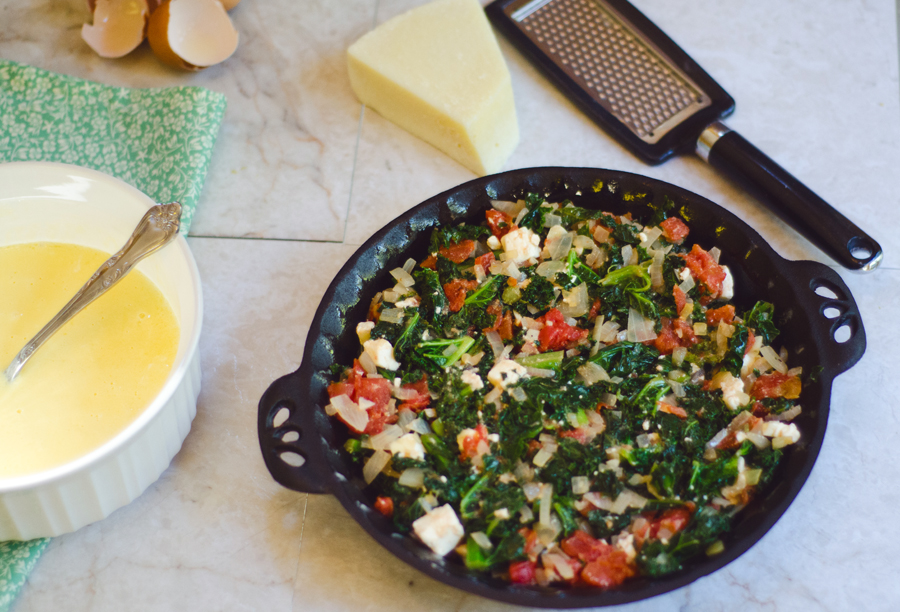 Then there was cheese on cheese. Grating some fresh pecorino on top assures that you will get a nice golden crust.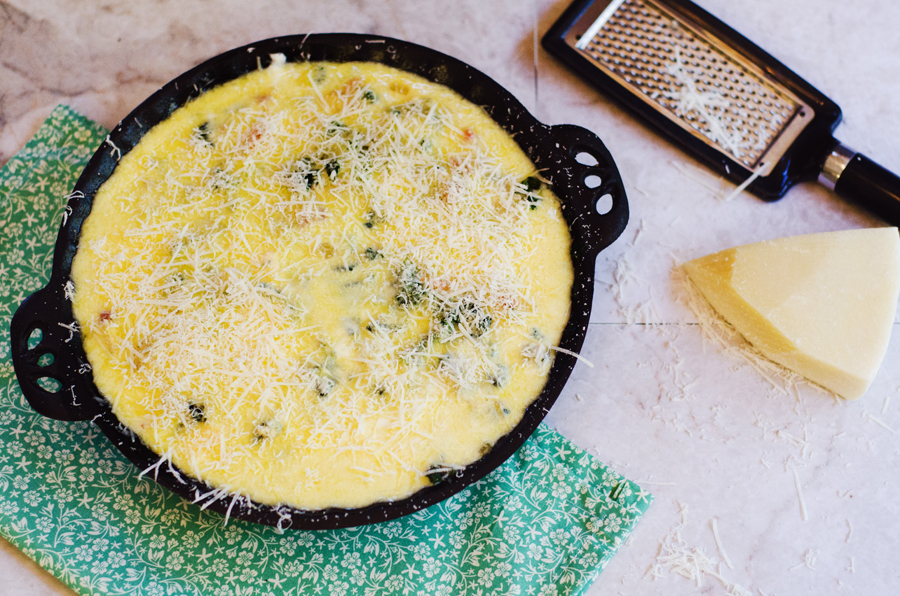 See? I promised.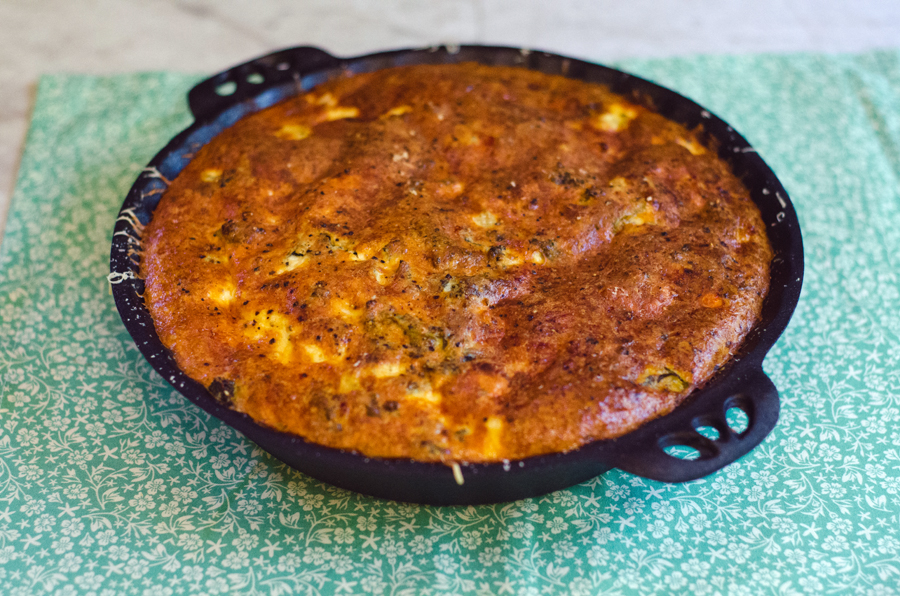 Now it was time for the moment of truth… the tasting. I took a bite thinking "Please let this be better than vanilla almond milk!"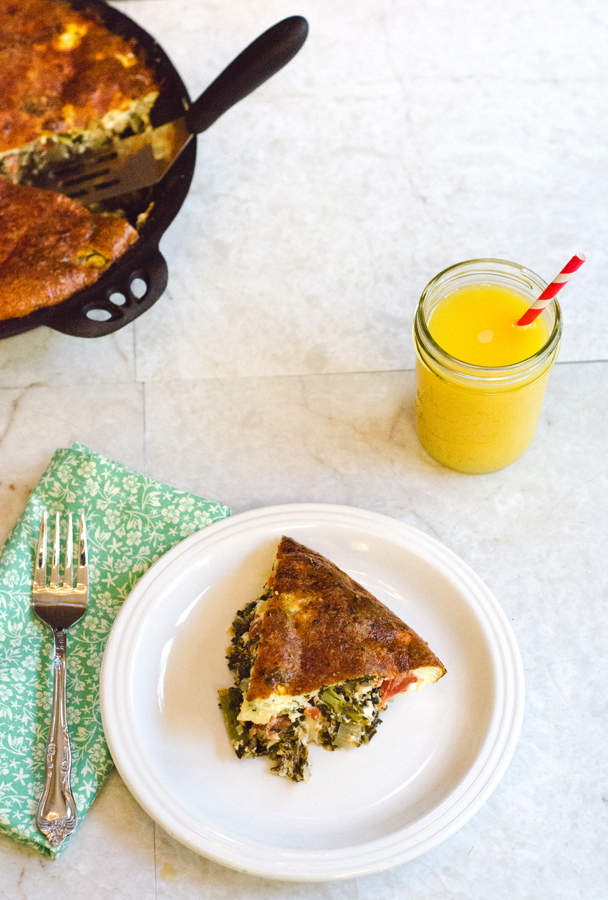 HOLY EGGS! It was delish. Greek yogurt really does its thing in this quiche. It brings a little bit of a welcome tartness to the dish and helps those eggs stay really light and fluffy!  Basically, I am a genius (on accident…per usual). Everyone had a couple of pieces. Mom was happy. Bellies were full. I am not a chicken. End of story. Ta-daaa!
Disclaimer: The nice people at Chobani sent me some of their product for recipe testing and development. However, all opinions are my own.
Crustless Kale & Feta Quiche With Greek Yogurt
Ingredients
Olive Oil, enough to coat a pan

1

bag of kale (or one bunch, chopped)

1

medium onion, chopped

4

cloves of garlic, minced

1/4

cup chicken broth (veggie broth can be substituted)

1 14oz

can of vine-ripened tomatoes, drained

6oz

Greek Yogurt (I used Chobani 0% Plain Nonfat)

5.25

oz sheep's milk feta, coarsely chopped

5

eggs

Grated pecorino romano cheese, to top

Salt and pepper, to taste
Instructions
Preheat your oven to 350 degrees
Prepare all of your veggies by washing, chopping and mincing.
In a large saucepan, heat up some olive oil over medium heat.
Once your olive oil is heated, add in your onions and your garlic and saute until translucent.
Add in your kale and begin to saute. If it is having some trouble wilting, you can add in your broth. Cover it and cook down for a couple of minutes.
Once your kale leaves have begun to wilt, you can add in your can of drained tomatoes and stir. Allow to cook together for a couple of minutes with the lid off, stirring occasionally.
Turn the heat off on your burner and add your chopped up feta to your kale mixture. Stir it all together until everything is evenly combined.
Put your kale mixture into a greased baking dish. I used a 9 inch cast iron pan.
Add your yogurt to a medium sized bowl. Crack your five eggs into the same bowl and whisk together until there are no lumps and the eggs are fluffy and thick. If your eggs are not liquid enough add in a tiny splash of water and continue to whisk until it is mixed through.
Add your egg mixture on top of your kale mixture in the baking dish. With a fork, move around some of the kale mixture so that the egg mixture can seep into the entire dish and does not sit on top.
Salt and pepper the top of your quiche.
Grate some pecorino romano directly on top of your quiche so that the entire top of the quiche has a light layer of cheese covering it.
Bake for 35-40 minutes. Check on your quiche periodically. It is done when the top is golden brown. When you cut into the center it should be dry and void of liquid egg mixture. If there is still liquid, continue to bake it, checking on it every couple of minutes.
Serve and enjoy!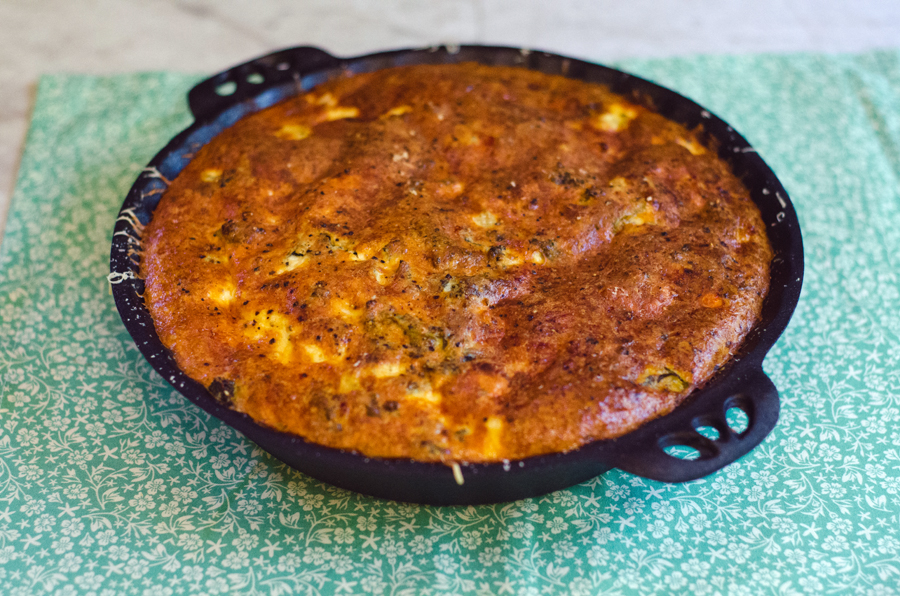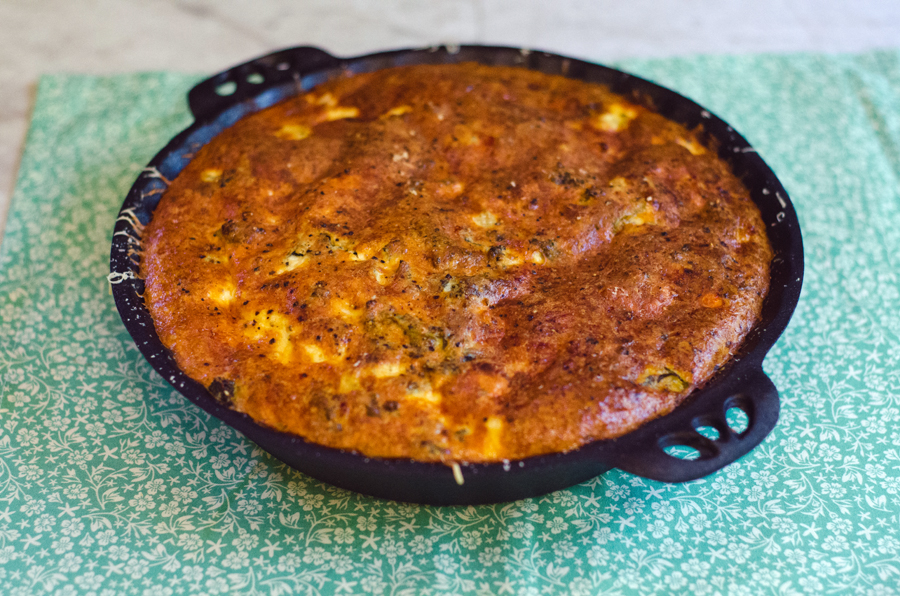 PAID ENDORSEMENT DISCLOSURE: In order for me to support my blogging activities, I may receive monetary compensation or other types of remuneration for my endorsement, recommendation, testimonial and/or link to any products or services from this blog.