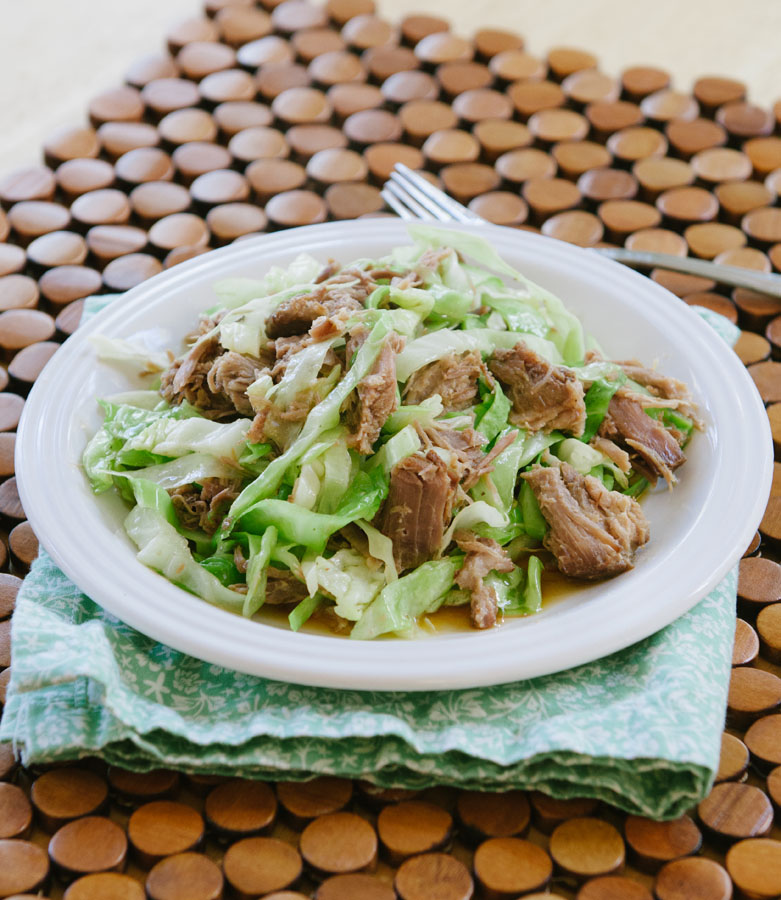 Happy New Year, Friends! I hope you enjoyed a bit of holiday R&R! What did you do? Did you travel? Did you stay home? Was there any Christmas caroling? How about scandalous NYE romance? Did your crazy aunt get drunk and take off her wig? I want stories. Spill it. You should write me. I enjoy a good tale.
I had a quiet holiday this year. The husband and I enjoyed cozy fires and copious amounts of carbs mixed with cheese. There was bourbon-sipping and movie marathons. There was friendship, wine, merriment and board games. There were cookies, a bag of butterscotch caramels, and a complicated relationship with a bag of chocolate-drizzled kettle corn. I'm just now slowly and reluctantly coming out of my Netflix coma and assimilating back into the real world. I suppose I should start drinking more water and wearing less yoga pants (oh, and possibly doing MORE yoga) — but, let's just ease into things. I'm needing a little more time to regroup and reboot before I come in here guns blazing a fired up trail of resolutions and green juice. We'll get there. There will be a notebook scrawled with 2014 intention setting and polar bears doodled haphazardly in its margins. But, for now… let's just enjoy that sleepy moment right after waking up from a long nap. The late morning sun is shining in through my window and I just want to lay here a little longer with my eyes closed and take it all in. It's comfortable here.
It's only fitting that my first recipe for the year is one of total comfort and ease. This is Hawaiian girl comfort food at its best.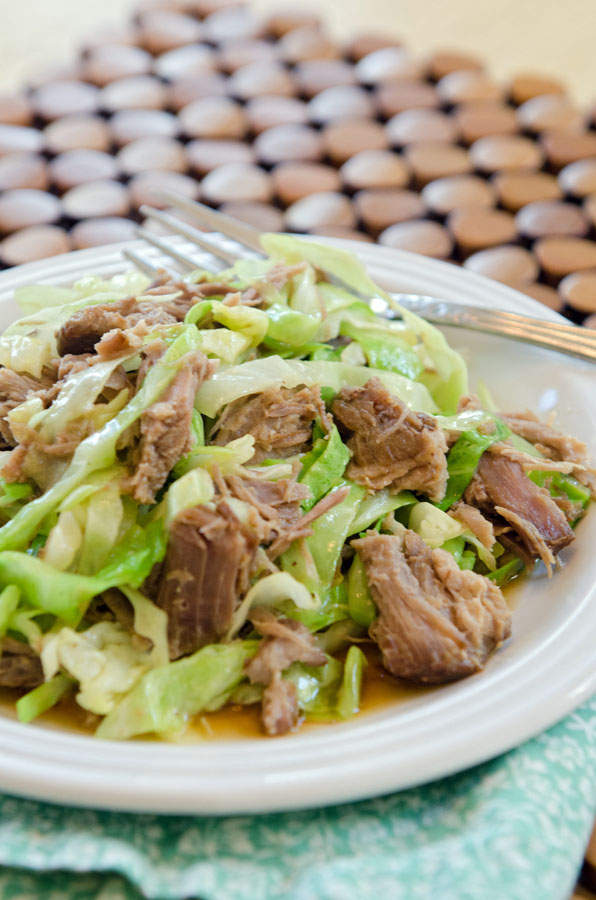 You know how certain smells can evoke really powerful memories? For instance, every time I smell that cheap White Rain coconut-scented shampoo, I'm immediately transported back to the summer of '95. This was the first summer in a long line of summers where I was convinced that the more I smelled like fruity nonsense and other things like "freshly cut grass" (or this vanilla-heavy scent suspiciously named"amber romance") that I was doing something right and being oh-so womanly. Growing up is weird. Or, when I smell meatballs simmering in a wine-laden red sauce I am immediately transported back to the night where Pete asked me to be his wife. We often like to joke that "meatballs smell like engagement". Sexy, right? Don't answer that.
This pork is not just one, but a whole host of sense memories for me. It reminds me of my family. It smells like big family luaus and birthday celebrations. It smells like being a little girl in my grandma's kitchen and watching her chop up cabbage while helping to put on a pot of rice. It smells like the time my Mom and I decided to try to make this in the pressure cooker and accidentally shattered an entire bottle of liquid smoke on the tile floor (okay, it smells better than that — but, still — memories). It smells like my wedding. Yes, we had a Hawaiian feast for dinner. It was a process. My brother dug out a big hole. My grandfather fashioned an underground oven called an imu. The HUGE pig was covered in Hawaiian sea salt, wrapped in banana leaves and buried to cook in the ground until it was incredibly tender and full of flavor. Pretty neat, right? This is traditionally how it is done. But, hey… who has time to dig out an imu on a weekday? Also, I'm fairly certain there are permits involved. I'm not sure if the imu is really "street legal" in the 'burbs. So, instead of getting out your shovel, salting up an entire hog and foraging for banana leaves, let's just keep it simple.
Real simple. Three ingredients + slow cooker.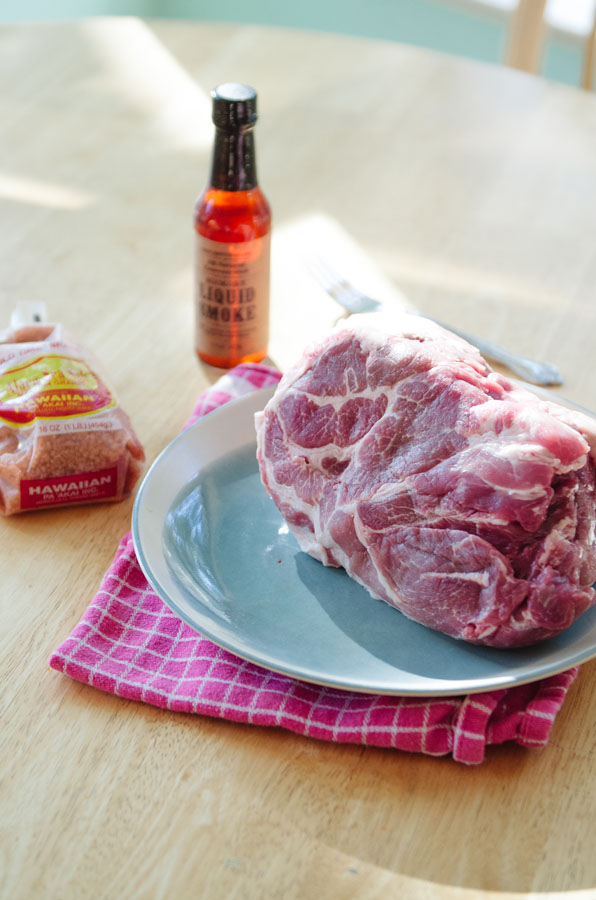 You're going to need a pork butt, some liquid smoke and some Hawaiian sea salt. That's it. It can be difficult to find Hawaiian sea salt in your every day market here on the mainland, but you can easily order it online here.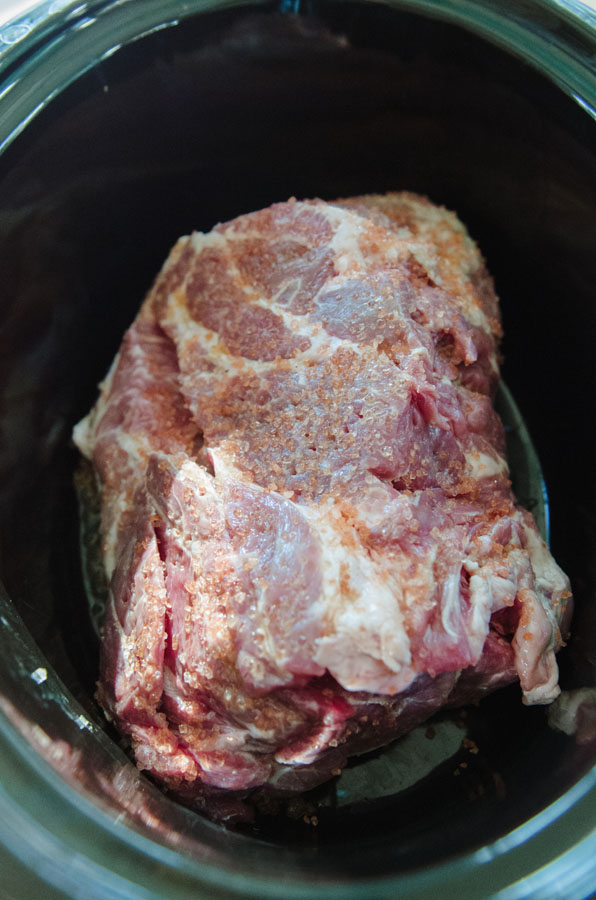 You're going to smoke and salt up that pork butt. I feel like there must be lots of butt jokes in here somewhere, but I just can't think of them. I feel disappointed in myself.  Into the crock pot it goes for several hours. You can go about your business and forget about it… or, like me, if you mainly work from home, you can be tortured by the amazing smell filling your house ALL DAY LONG.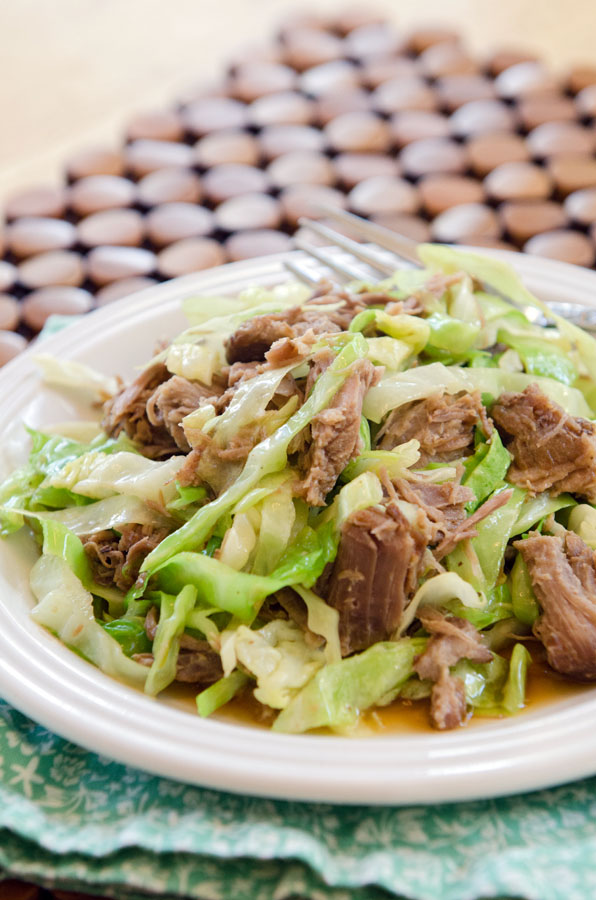 Once your pork butt has kalua-ed itself, you can take it out of the crock pot and shred it. It will happen easily. In fact, you might have trouble getting  your pork out of your crock pot in one piece. It's SO tender. I decided to slice up some cabbage and cook it up with my pork since that's how we traditionally do it in our family. Go ahead and eat it plain. Serve it with rice. Serve it over veggies. Anyway you go… you pretty much can't go wrong. But, cabbage and rice is a solid move.
Enjoy, friends! I hope you find as much comfort in this meal as I do. xo
Easy Slow Cooker Kalua Pork
Instructions
Prepare your pork by taking a fork and puncturing it all over. Make sure you puncture it on all sides several times. This will help the flavor soak into the pork.
Place your punctured pork butt into the pot of your slow cooker. Add your liquid smoke to coat your pork.
Salt your pork well on both sides using the Hawaiian sea salt.
Set your slow cooker to low and allow it to cook undisturbed for 7-12 hours. The cooking time is going to very based on the size of your pork butt and the heat of the low setting on your crock pot. My roast was 3.5 lbs and cooked in about 7 hours. Start checking for doneness around the seven hour mark.
Once your pork is cooked through it should be incredibly tender. You will be able to shred it with a couple of forks easily.
Serve over rice (cauli-rice works well too!), or cook it up with cabbage in a pan. If I am cooking it up with cabbage I will add a little bit of tamari for flavor and to help wilt the cabbage.
Enjoy!
*Note: reserve some of the juices in your crock pot in order to put on any pork that you might be storing. It will help your pork to not dry out!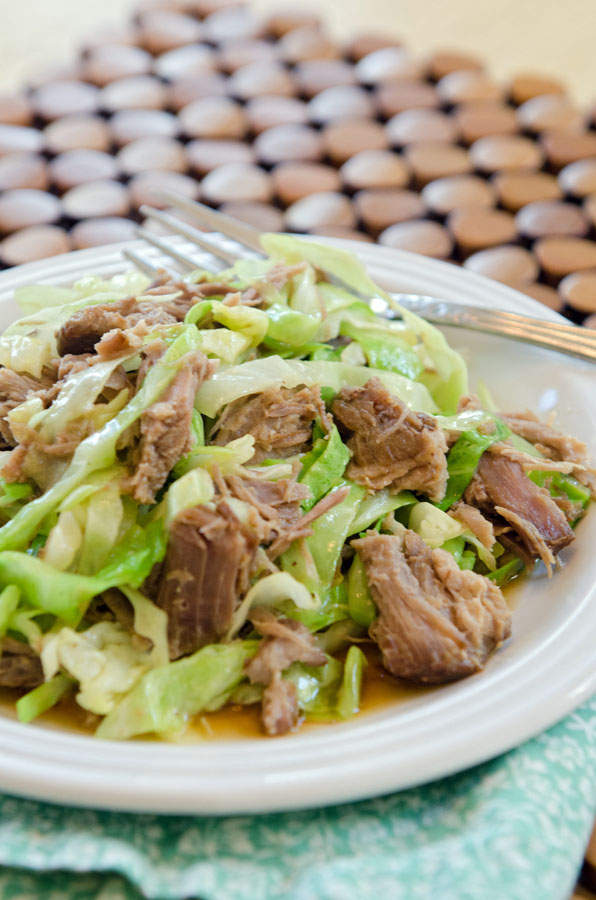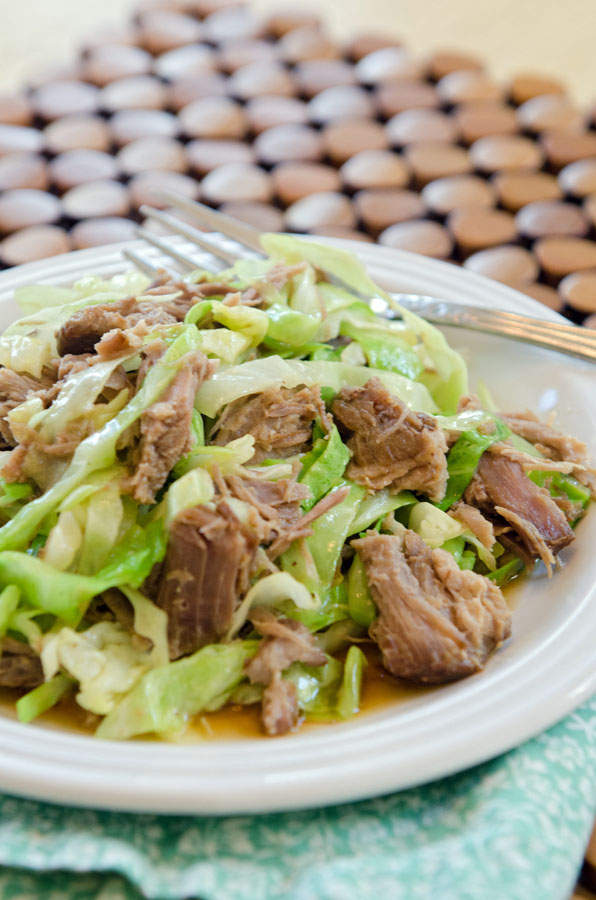 PAID ENDORSEMENT DISCLOSURE: In order for me to support my blogging activities, I may receive monetary compensation or other types of remuneration for my endorsement, recommendation, testimonial and/or link to any products or services from this blog.