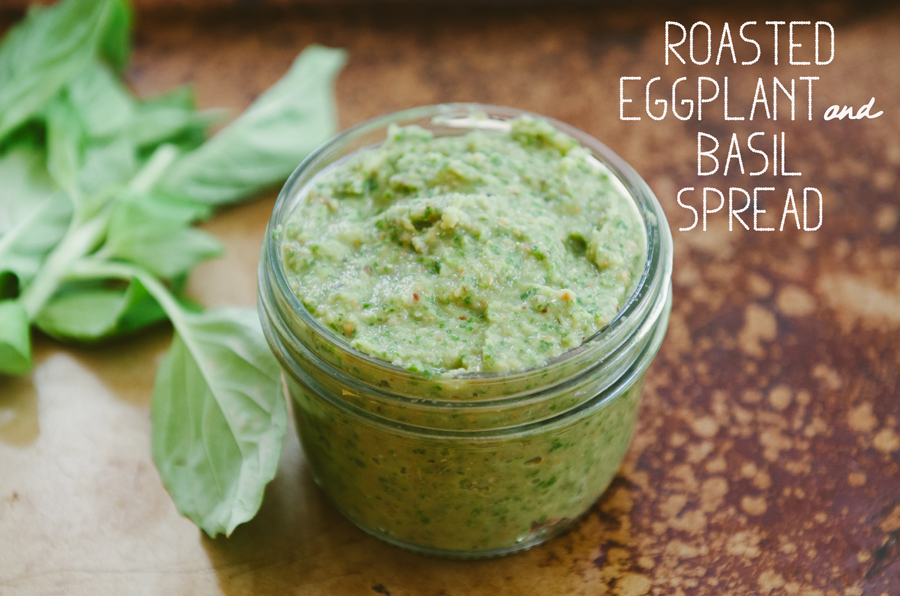 Every now and then I find myself in a stalemate with a veggie (this week it was an eggplant). We pause, we lock eyes… we just kind of stare at each other. I grumble and look quizzically at it as if it's going to speak to me. It's as if I am Michelangelo and this vegetable is my marble. Maybe it will tell me what it wants to be. Nope. It's not talking. We've got ourselves a strong and silent type.  At this point I get all ponderous and morose over why I decided to purchase an eggplant in the first place. I consider letting it live out its final days on the counter top right next to my sad little banana graveyard, but just don't feel right about it. Plus, let's be honest…. I'm hungry. Life is hard.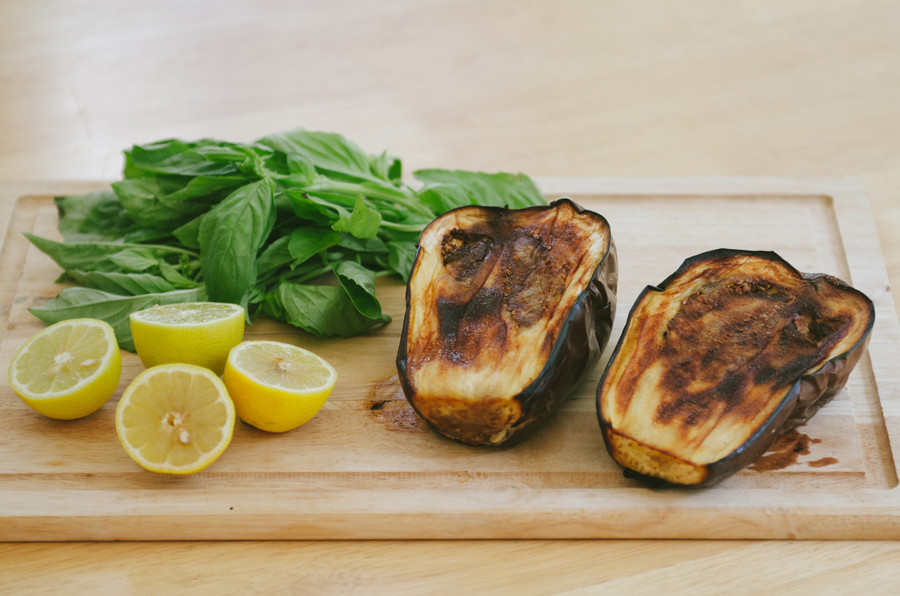 In a flash of inspiration I thought "HUMMUS!!!" I search my fridge with a wild abandon that is usually reserved for school children on Easter. Ah-HA! Tahini! I found you. I can't believe my luck. I actually have tahini in my fridge. Is there a number that I can call just to alert the Life Police that I'm seriously nailing it? I get my eggplant in the oven and start to roast it. I slice some lemons. I peel some garlic. I prep some olive oil. Super-dramatic-overly-celebratory-hummus-shindig… party of one! Proud of myself, I open up my tahini only to find that it has a fuzzy green film sitting pretty on the top. The wind goes out of my sails. Can I get that number for the Life Police again? I need to retract my previous statement.
Like any girl that is good and hungry, I am not about to let some  highfalutin tahini in a green sweater get me down. Nope. It's on. So… basil. Let's make something herbaceous and then spread it all over a piece of bread and make a sexy sandwich. Yesssss. We could alternatively dip anything into this spread situation (did someone say carrots?), or in a pinch it could be eaten off of a spoon. I am a girl who likes options.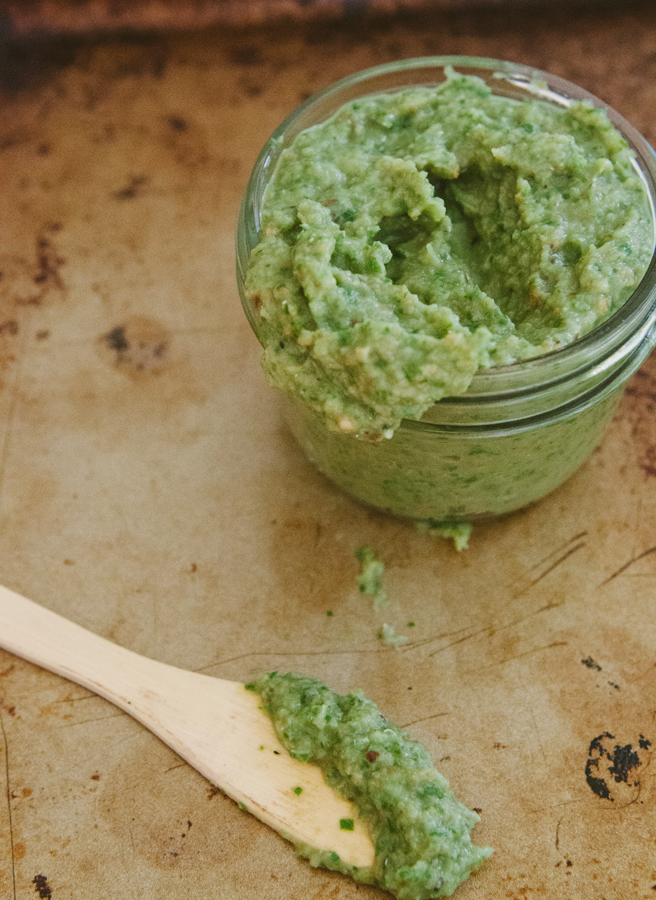 Once your eggplant is done roasting, things are easy. You scoop out its flesh and put it into the food processor with your other ingredients. It all comes together in this pretty, flavorful and super creamy spread. Take that, tahini!
I enjoyed mine on a piece of toasted gluten-free bread with sliced tomatoes, red onions and a bit of a balsamic glaze. Classy.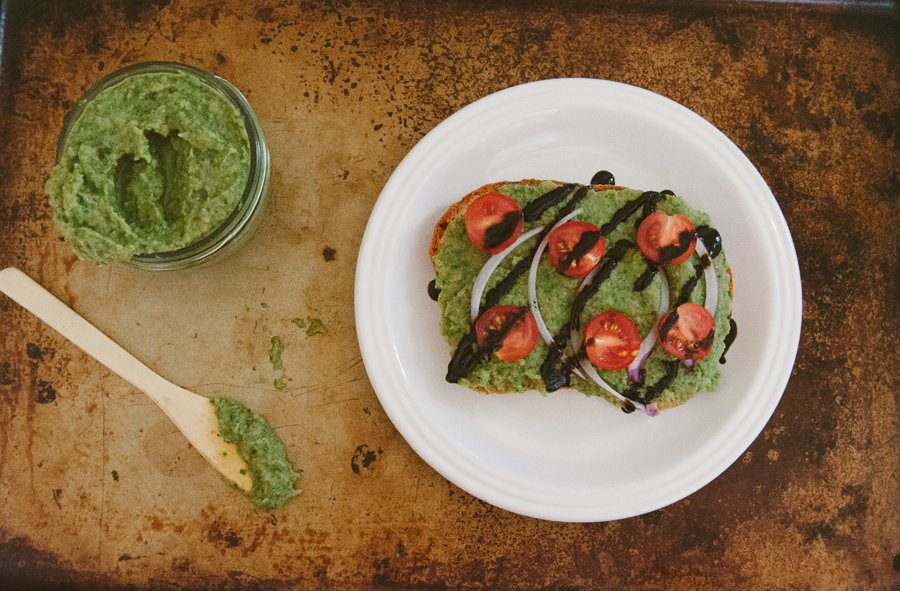 Roasted Eggplant & Basil Spread
Ingredients
1

large eggplant

Juice of 2 lemons

2

cloves of garlic

1

large bunch of basil

1/4

cup extra virgin olive oil, plus more for drizzling eggplant

salt & pepper to taste
Instructions
Preheat your oven to 400 degrees.
Wash your eggplant and pat it dry with a clean towel. Cut it lengthwise and place it on a baking sheet.
Drizzle your eggplant with olive oil and spice with both salt and pepper.
Roast in the oven for 30-45 minutes or until the skin of the eggplant looks puckered and the flesh is brown and soft all the way through.
Allow your eggplant to cool for a couple of minutes. Once it is able to be handled, scoop out the flesh of the eggplant and place it into your food processor.
Add your lemon juice, garlic, basil and 1/4 cup of olive oil and process on high until the entire mixture comes together.
Enjoy on bread, with veggies or with crackers! This dip should last about a week in an airtight container in the fridge. It's a really great addition to jazz up your sandwiches!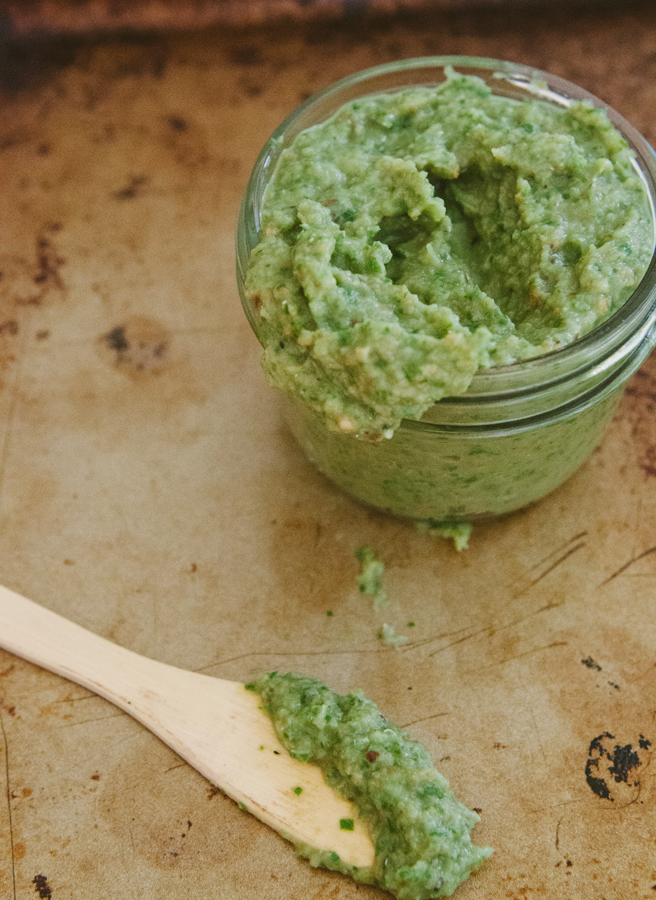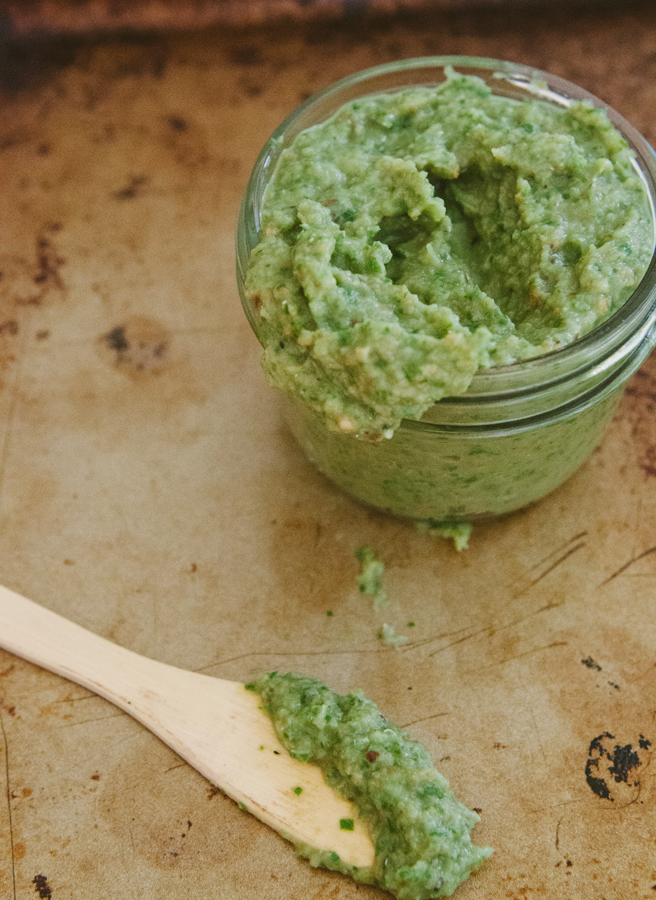 PAID ENDORSEMENT DISCLOSURE: In order for me to support my blogging activities, I may receive monetary compensation or other types of remuneration for my endorsement, recommendation, testimonial and/or link to any products or services from this blog.