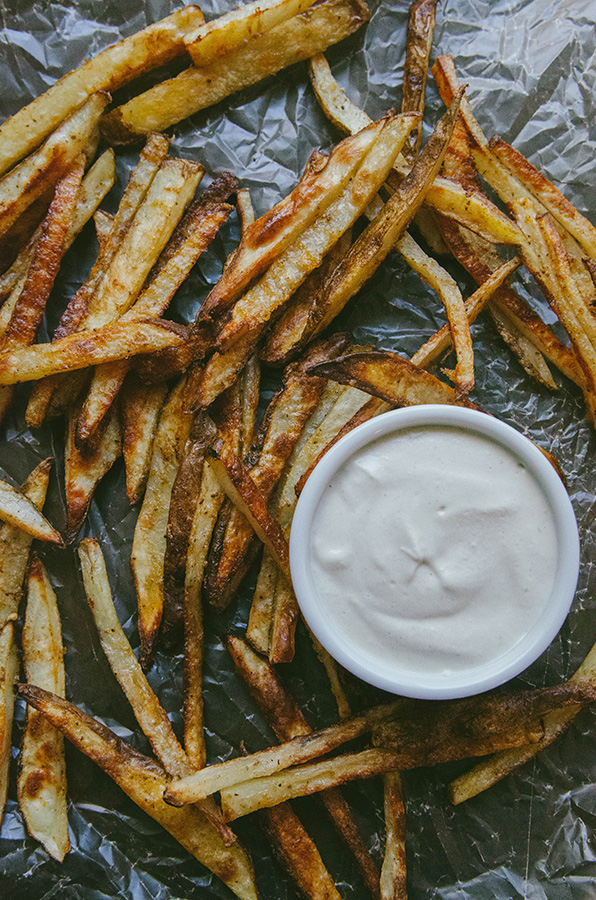 It's pouring rain outside. My lawn has liquefied into a swampy and unfriendly puddle. My grandmother (one of my absolute favorite humans on this earth) has been in the hospital for days. It's Monday. I have a 101 degree fever…again. Life is happening. It's swift and rough and sometimes lovely despite its discomfort. There have been moments through the uncertainty and sadness that have felt light and necessary. Being able to hug my mom. Telling jokes in a hospital room with my family–and feeling the blanketed weight of our situation lift in between the breath of laughter. Holding my grandmother's soft hand as she falls asleep and mumbles bits and pieces of her Watercress Soup recipe. Hanging out with my cousins and meeting their sweet puppy Moose. But, if we're honest, I'd really like to crank some sappy ballads, turn on the fireplace, hide under a blanket and sing at the top of my lungs. Does anyone else process emotion this way? Also, french fries with crispy edges and something good to dip them in.  Ballads and fries. All day.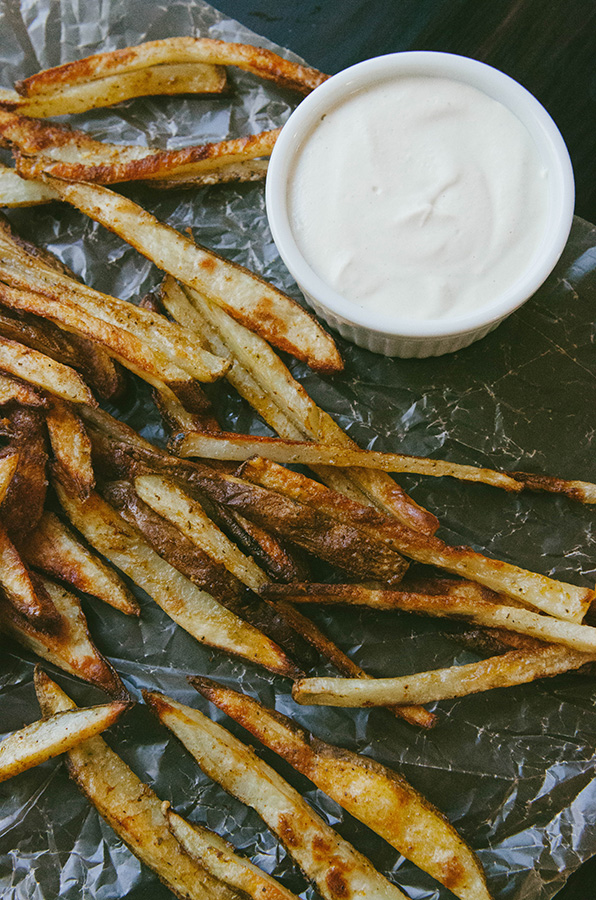 These crispy babes were inspired by my friend Sherrie and this recipe over on her blog With Food + Love. I had stored the image of those little potato wedges in my memory banks, and knew that I wanted to lace these potatoes with Old Bay seasoning and dip them into something creamy. I used a little tapioca starch to make sure that the taters got that extra crispiness without having to deep fry them (says the girl with TWO unopened deep fryers in her garage—Facebook relationship status: It's complicated). The dipping sauce is cashew based and loaded with a sweet onion flavor. In fact, you could definitely make these babies vegan if need be. Simply use coconut oil, avocado oil, or olive oil instead of the ghee. But, I'm telling you…if you can get down with ghee, it takes these taters to the next level. I've never been mad at potatoes for tasting too buttery.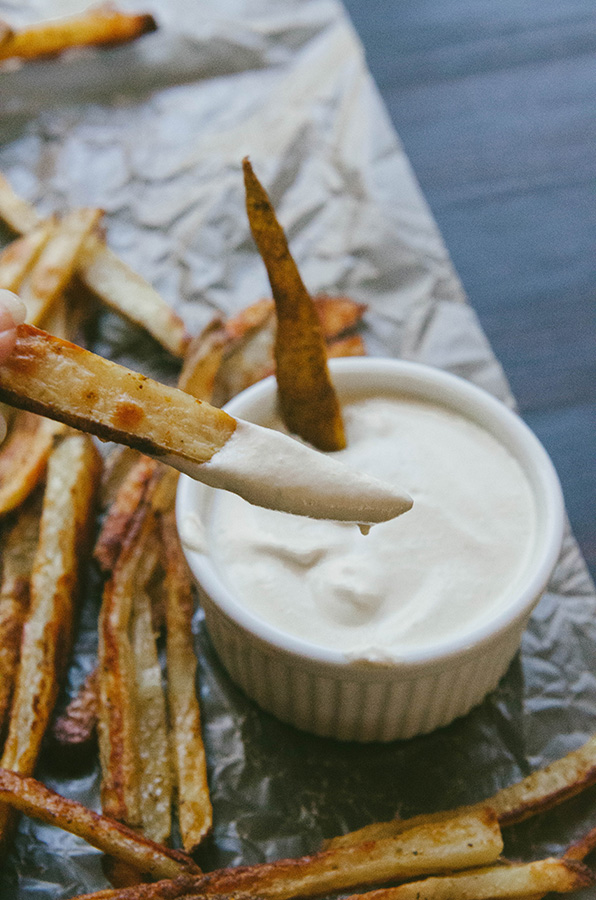 So, if life is feeling hard, or you're experiencing an epic case of the Mondays, let me help. You're going to need a couple of potatoes, an oven and a lot of moody music. Wear a shirt you don't care about so that you can snack with wild abandon, potato crumbs be damned. Call the people you love, and tell them how much you appreciate them–even if it's through a mouthful of potatoes and dip. In matters of love, what you have to say is always more important than whether or not your mouth is full.
Crispy Old Bay French Fries With Sweet Onion Cashew Dip
2 servings
adjust servings
Ingredients
French Fries
Onion Dip
1

cup raw cashews, soaked for a few hours or up to overnight

1/2

cup unsweetened almond milk

2

tsp. dehydrated onions

1

large clove of garlic, pressed

1/2

tsp. sea salt

Juice from 1 large lemon

Minced chives, to top
Instructions
Preheat the oven to 450 degrees. Line a baking sheet with parchment paper and set aside.
Add the cut potatoes, ghee, salt, old bay and tapioca starch to a mixing bowl. Use clean hands to toss the fries until they are completely coated with ghee and seasoning.
Pour the fries out onto the parchment lined baking sheet, and arrange them into a single layer. Bake them for 20 minutes, remove them from the oven, flip them and bake them for another 15-20 minutes or until crispy.
While the fries are in the oven, start on the dip. Drain your soaked cashews, and add them to a high speed blender with the almond milk, dehydrated onions, garlic, sea salt and lemon juice. Process until it is smooth and creamy. You might need to use a tamper. Once it's completely smooth, put it into your desired serving dish and top with chives.
Serve the french fries hot with some of the dip on the side for dippin'! Enjoy!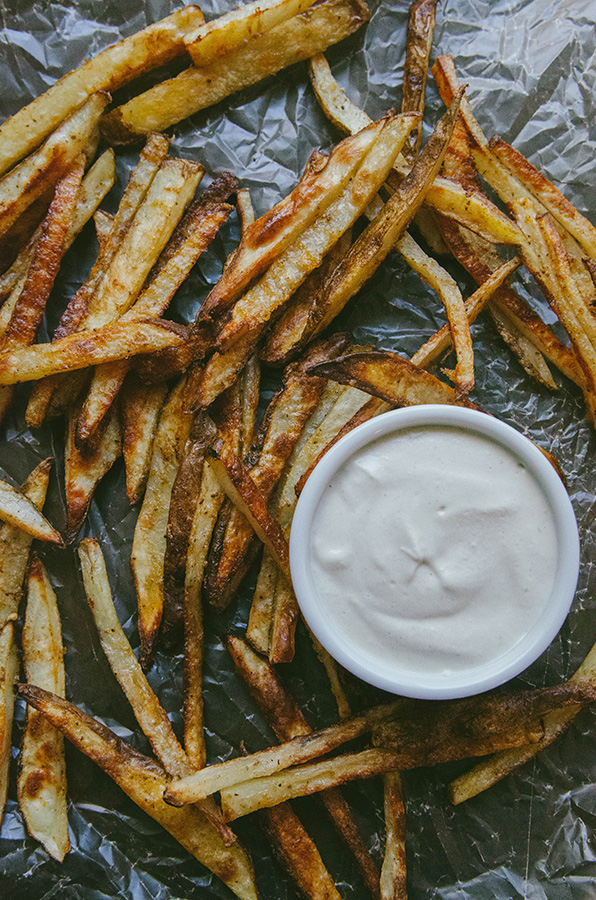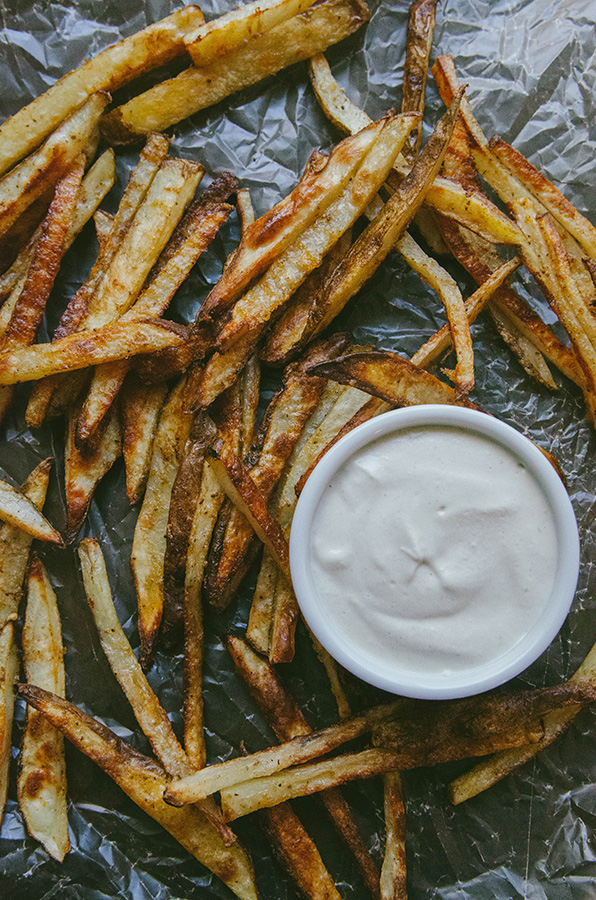 PAID ENDORSEMENT DISCLOSURE: In order for me to support my blogging activities, I may receive monetary compensation or other types of remuneration for my endorsement, recommendation, testimonial and/or link to any products or services from this blog.