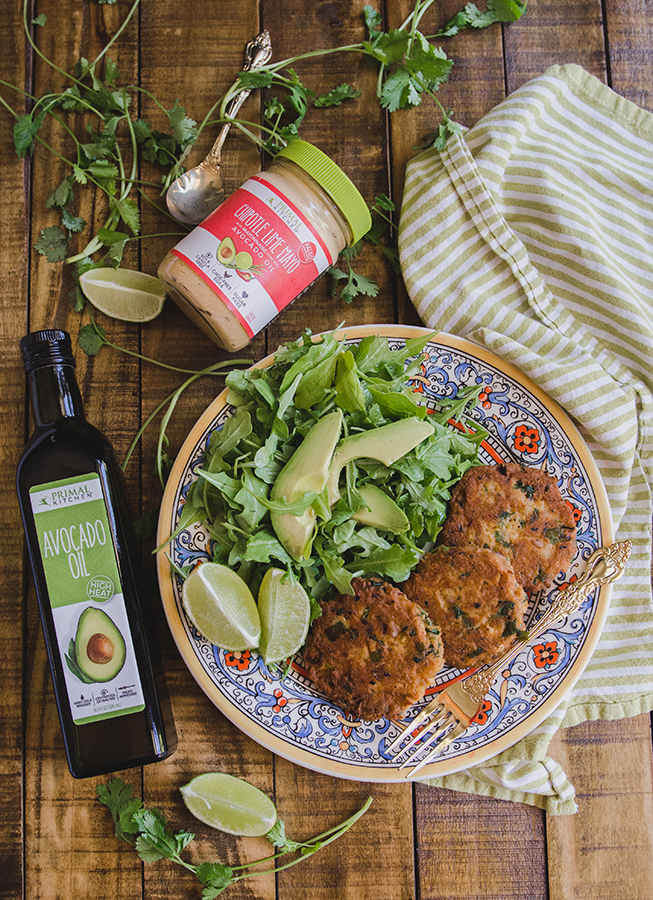 This post was sponsored by the lovely people over at Primal Kitchen, however, all opinions  on their bomb-diggity products are my own. 
Today I've partnered up with Primal Kitchen to bring you guys a crazy delicious recipe, that's not only easy to make, but totally clean eats. That's right, dudes–these fried up little cakes are completely Whole30 friendly! You might remember that one time I did Whole30 and told you all about how I ate an entire jar of cocktail olives? Oh, and that other time I did it again over at The Kitchn and received ALL of the angry comments about how I should really just stop being a horrible person and eat legumes already? Yeah, friends. The internet is weird. So many feelings.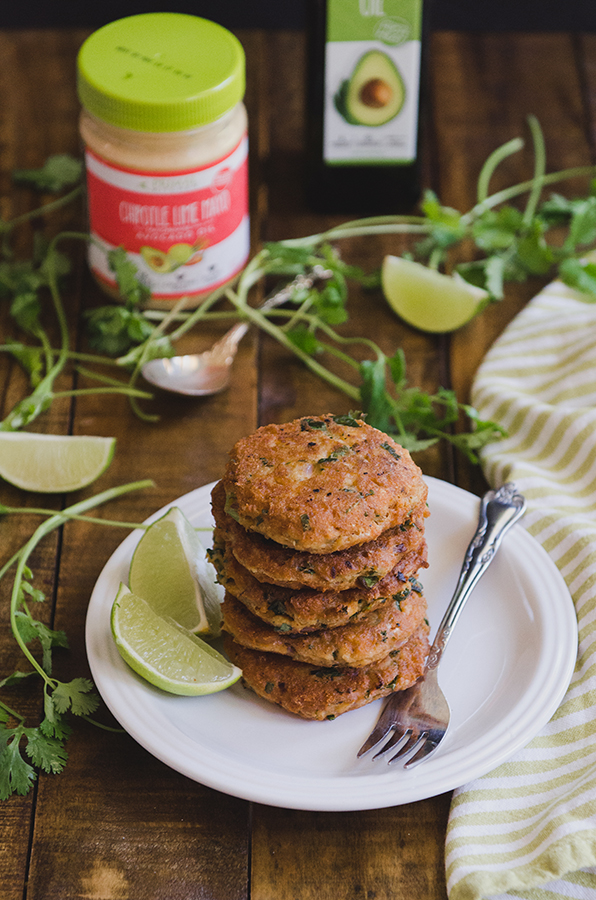 Like, we all know that feelings run deep–especially online. Facebook for example is a place where one learns that their distant cousin is really into guns and Donald Trump memes.  Pinterest is a place for discovering that your best friend keeps a collection of emo quotes on a board actually titled "Feelings". Twitter is basically a #hashtagfeelings factory. Oh, and then there's Instagram where you can have your own feelings over Chrissy Teigen's cute baby, followed by a personal existential crisis as to why you're following at least 10 people from the show The Bachelor.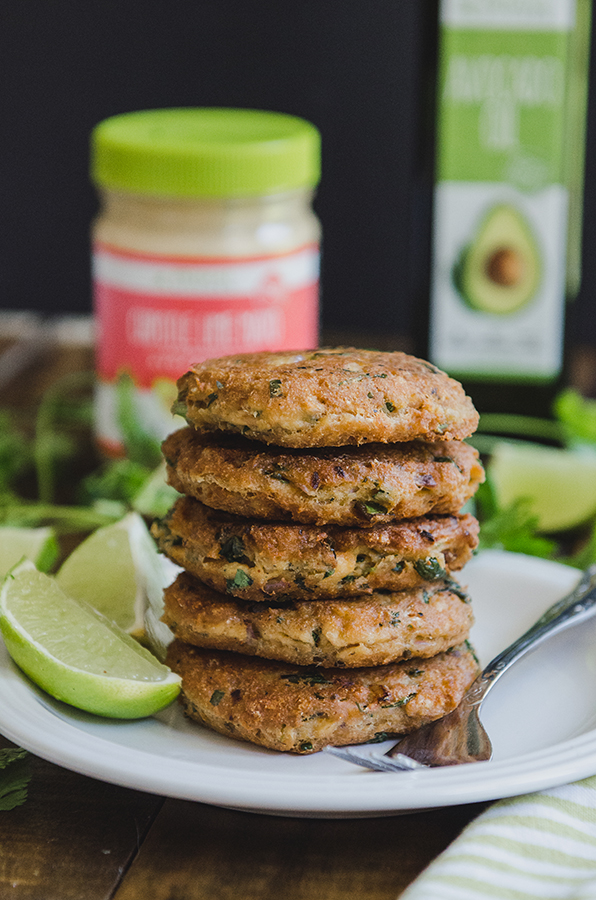 Then, of course there are blogs. This is where I spew a hearty amount of my own feelings, peppered with pictures of things like roasted cabbage or tall glasses of green stuff. I give it to you straight, and I feed your face while doing it. Today, I'm going to maybe sort of change your life with these easy salmon cakes. Not to sound super self important or braggy, but #omg #humblebrag #regularbrag #salmoncakesarelife #FEEEEEELINGS. Too much? I'll dial it back. Just a little excited about this recipe here.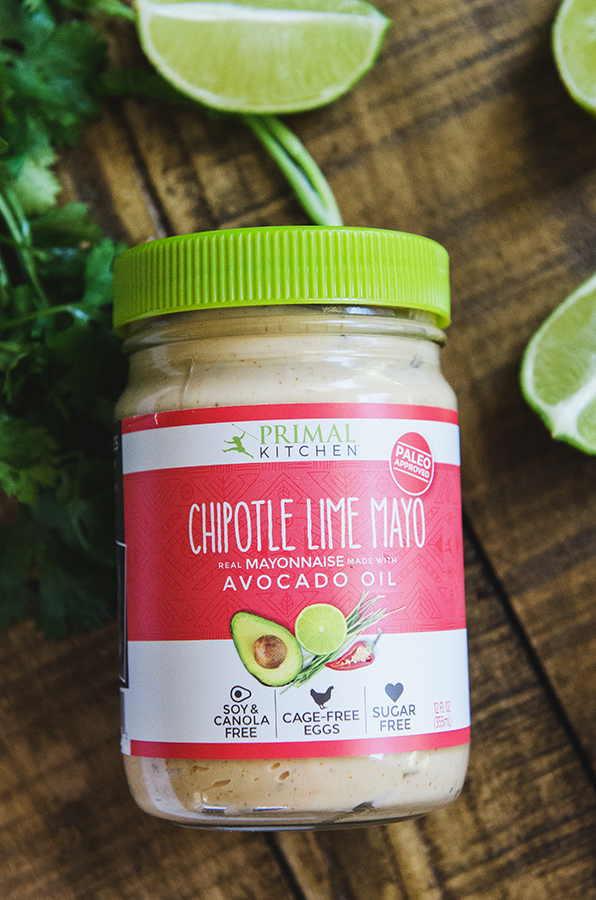 These salmon cakes get a great punch of flavor by using Primal Kitchen's Chipotle Lime Mayo. Not only is their mayo super flavorful, but the ingredients are actually healthy. Their mayonnaise uses avocado oil and pastured eggs instead of the usual seed oils or soy ingredients that you'd find in your run of the mill mayo–nothing funky going on here, just the real stuff. I also fried these babies up in Primal Kitchen's avocado oil, since it's a source of good fats and really easy to work with! The rest of the cake is spiced up with fresh herbs, garlic, and lime zest–making it a powerful crispy bite. I pretty much make these every single week in my house and they are always devoured!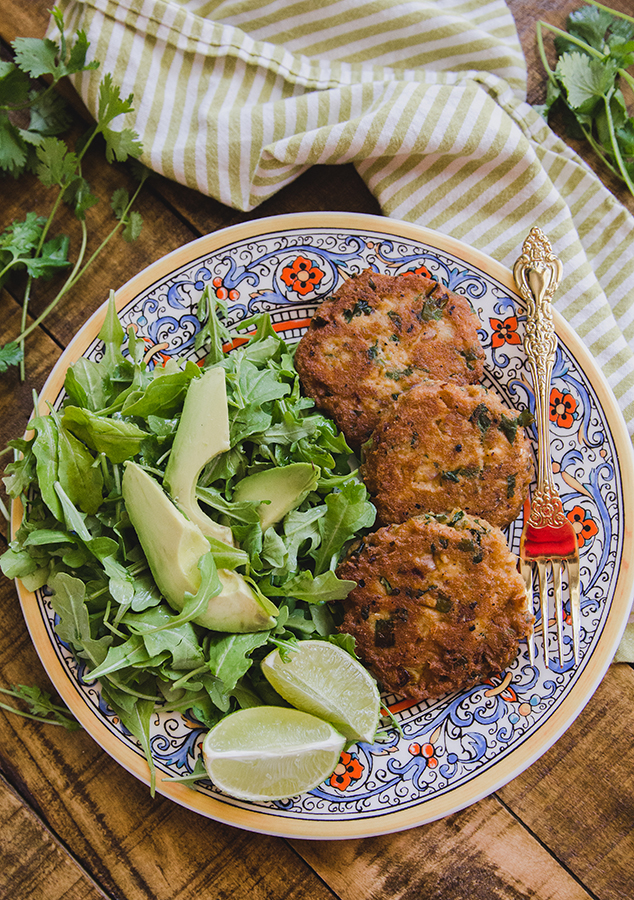 Another excellent thing about salmon cakes is that they're super versatile. If you don't like cilantro, you can sub in other herbs like parsley, thyme or rosemary. Don't have any canned salmon on hand? That's fine, you can make it work with tuna fish or crab meat. Not into chipotle lime (but, WHY?!?! It's soooo good!)? Totally cool. Just sub in Primal Kitchen's plain mayonnaise instead. Get funky with your spicing and throw in some curry, turmeric, and coriander. The world is your oyster salmon cake. I'm giving you my fail proof recipe for my favorite version of these bad boys, but feel free to play around and experiment on your own!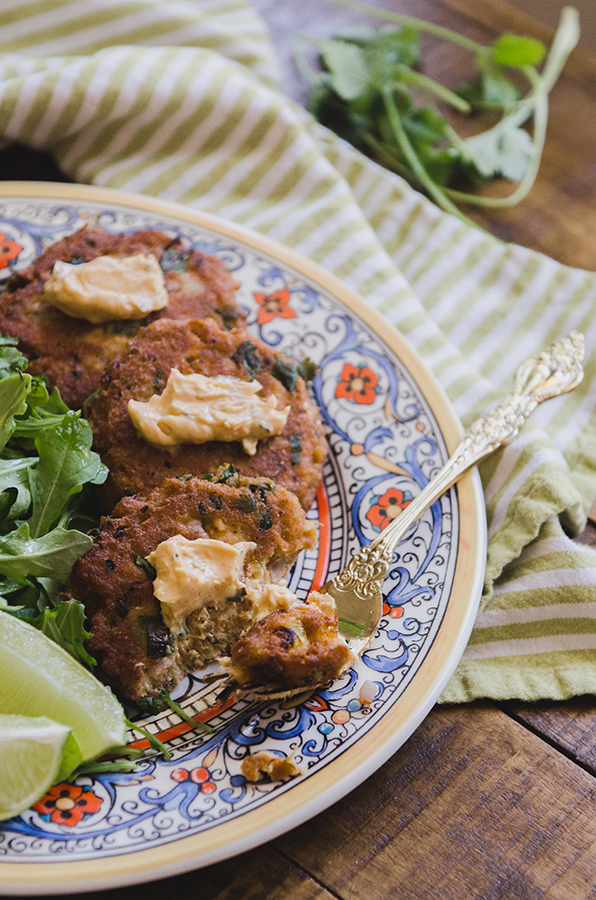 One of the best parts about using the Chipotle Lime Mayo is that it doubles as a dipping sauce for your cakes! I like to slather a bit over the top of each of my crispy cakes to add some extra creaminess and flavor. Serve it with a side of greens or your favorite veggies and it's a complete meal. Huzzah. #AllTheSalmonCakeFeels <— Do you think that could trend on Twitter? Oh…you don't? There go my hashtag dreams. How about #MayoIsLife or #CleanMayoDirtyThoughts? Too divisive? Too sexy? I dunno…feel free to jump in and save me from myself. Really. Anytime now. I'm gonna stop right about here.
But, before I go, please enter yourselves into the giveaway to win a  sweet gift pack from Primal Kitchen! You'll be sent a box of goodies including two types of mayonnaise (the regular and the chipotle lime), avocado oil, greek salad dressing (seriously SOOOO good), honey mustard salad dressing and a box of their snack bars which are basically the equivalent of a paleo snickers bar. Excited? Yeah, me too. Use the rafflecopter widget below to enter and hopefully win! Good luck, matey! 😉
Please note that this giveaway is for the U.S. only. A winner will be chosen at random using the Rafflecopter widget below.
Consider joining the So…Let's Hang Out mailing list in order to get alerts when new recipes are live, or when there are awesome giveaways going on! I'll never spam you because that's extremely rude and just not how we roll.
Grain-Free Chipotle Lime Salmon Cakes
7-9 salmon cakes
adjust servings
This recipe was inspired by my awesome lady-friend Beth over at Tasty Yummies
Instructions
Drain the cans of salmon, and add the fish to a large mixing bowl. Break it up with a fork so it is flaky. Add in the onion, cilantro, garlic, scallions, and lime zest. Stir together until everything is distributed evenly.
Now, add in the egg, Chipotle Lime Mayo, cassava flour and spices. Mix again until the mixture is moist throughout and well mixed.
Add the avocado oil to the bottom of the skillet until it is about 1/4 of an inch deep. Heat it up over medium/high heat. To see if it's hot enough to fry in, get a little bit of water on your finger tips and flick it into the pan. Once it's hot, the water will sizzle back at you.
Using your hands, divide the salmon up into cakes. Use your hands to form the cakes. I find that with this amount of fish I can make between 7-9 cakes. Since the mixture is a a bit soft, I find it easiest to shape the cake with my hands, place the cake on a spatula and then gently flip the cake into the oil.
Once the cakes are in the pan, allow them to cook for about two minutes on each side or until your desired level of crispiness. Remove the cooked cakes form the pan and set them aside on a paper towel covered plate. The paper towel will help to soak up any avocado oil on the surface. Fry the rest of your cakes in the same way.
Once your cakes are done, serve them up with a side of the Chipotle Lime Mayo for dipping! Enjoy!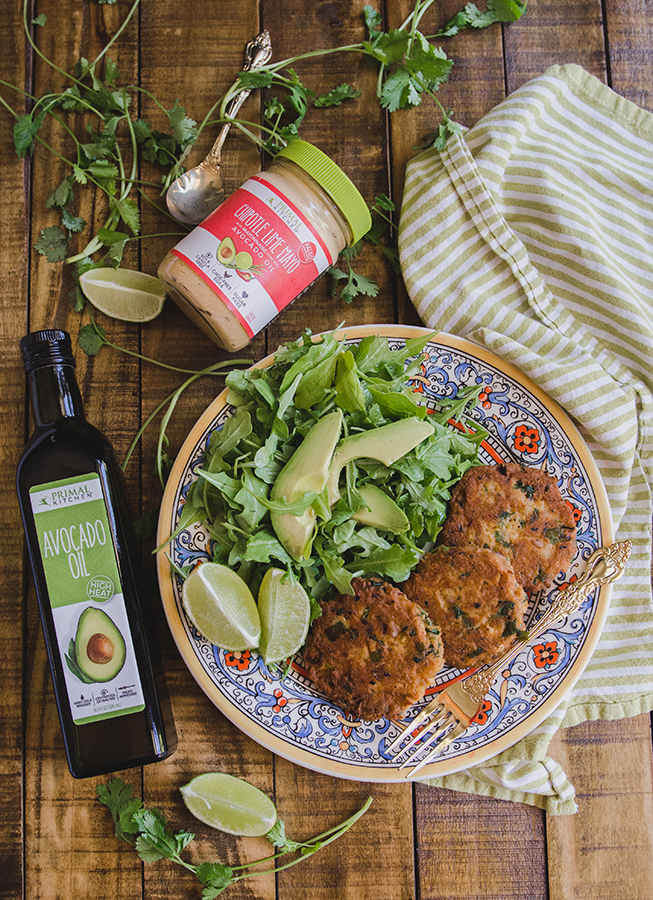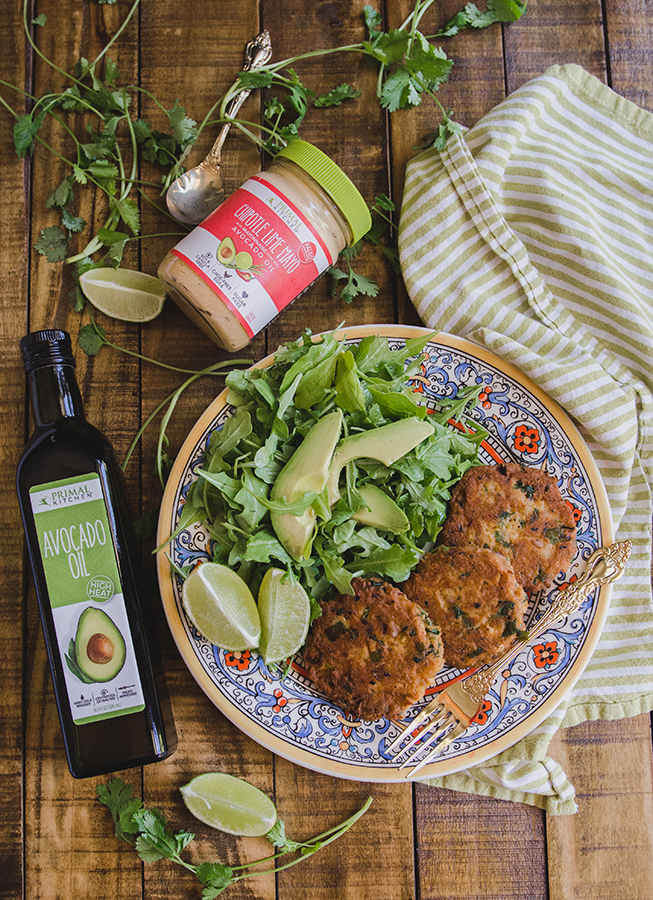 PAID ENDORSEMENT DISCLOSURE: In order for me to support my blogging activities, I may receive monetary compensation or other types of remuneration for my endorsement, recommendation, testimonial and/or link to any products or services from this blog.