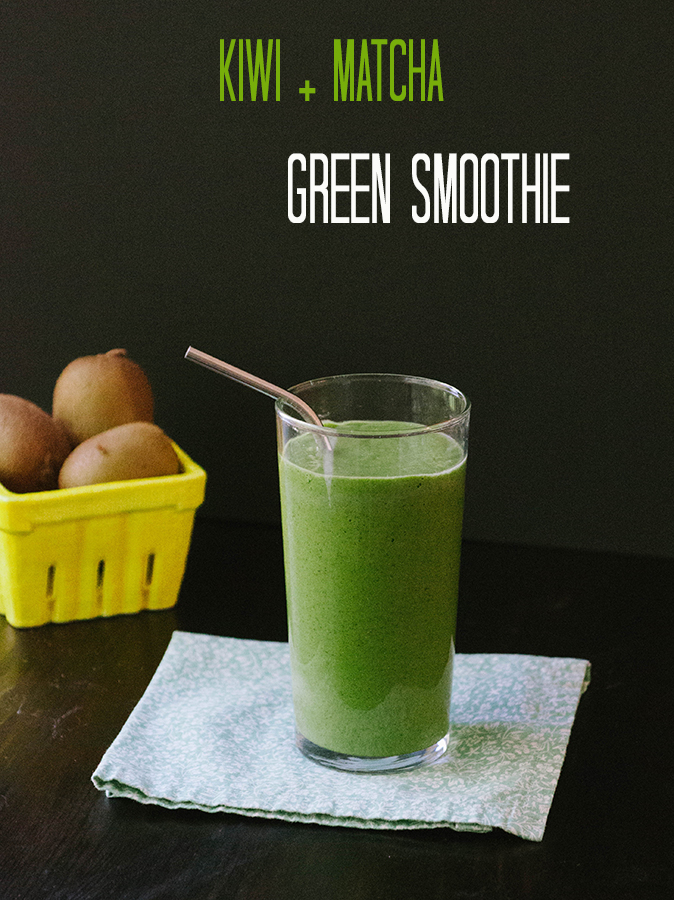 The weekend said "Let there be candy", and there was candy. This was one of my better Halloween years as far as not gorging myself with peanut butter cups. However, I did go kind of mental on a bag of these Dark Chocolate Honey Mints (Only three benign ingredients–they are a revelation)!
I'm totally not bragging or saying that I'm better than you for not eating Snickers bars trough-style out of a pumpkin-shaped vat. In fact, I am currently doing an autoimmune protocol to heal my gut… so, I'm probably worse than you. Also, there was that time that I ate like two pieces of this awesomefunfetti cake for breakfast. I understand what it feels like to have a stomach full of sugar and regret.
This morning my body was like "Let there be smoothies".  Okay, body. I get it. I'll schlep my blender onto my counter top and make some green magic. Just you watch. I'll put in a bunch of green things and liquefy them. It's gonna feel real good. It might even give us an energy boost. I can always use one of those. I mean, Mondays are hard.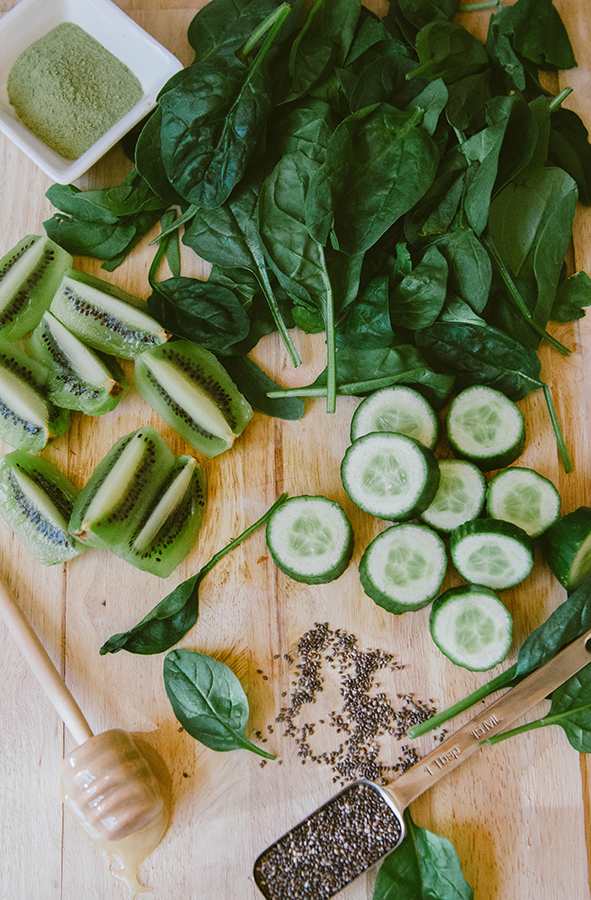 Cucumbers and spinach galore make this smoothie veggie-powered. Popeye would be like, "Whaddup?" Always a good sign. Kiwi gives it tang, and a bit of raw honey sweetens it up. Chia is one of my favorite ingredients to instantly give my smoothie a protein, gut-friendly, energy-fueling boost! Also, this smoothie boasts a new-to-me ingredient that I'm totally loving: MATCHA!!
What is Matcha?
Good question, folks. And, I know what you're thinking. No, it's not the newest dating ap where they mat-cha up with some dude who calls himself "AnacondaLuver81". Nope. Not that at all. (I don't blame you if you stop reading now–I can't promise my jokes will get better. It's Monday.)  Instead we're talking about a powder that is made with high-quality green tea leaves. Here's why I love it…
It gives me a much needed energy boost without making me feel shaky. As someone who is very sensitive to caffeine, and feels like they might just pass out and die after a couple sips of coffee (not kidding), it's nice to have something in my health arsenal that can be used as a friendly pick me up. It's more like a gentle alertness instead of a wired feeling.
It contains the amino acid L-Theanine, which promotes a sense of calm and relaxation. You're probably like… "Um, Gina… did you just read your last sentence? You said this stuff was going to keep me awake, not make me calm". I know. Weird, but it does both. From my experience, it helps to even out my stress. I have actually taken L-Theanine as a dietary supplement for stress before, so it's nice to get a little in my diet where it occurs naturally.
It's great in aiding with detoxification. This stuff is an antioxidant powerhouse. When I am experiencing lyme die off, or other detoxing symptoms, this is one of the things that I work into my detox regimen. It helps to move things along and alleviate symptoms. You don't have to have a chronic illness to experience detoxing symptoms either. Have you ever made healthy dietary changes and noticed that you're feeling kinda foggy headed or super tired? Maybe you've done a juice cleanse and ended up in an emotional heap of tears and body aches? These are detox reactions. When we can get the body to eliminate toxins more effectively, the symptoms start to subside. Always a good thing.
There are lots of other reasons to love Matcha, but those are my three personal favorites. Alright…time for the great candy detox of 2014? Perfect. Ready. Set. Blend.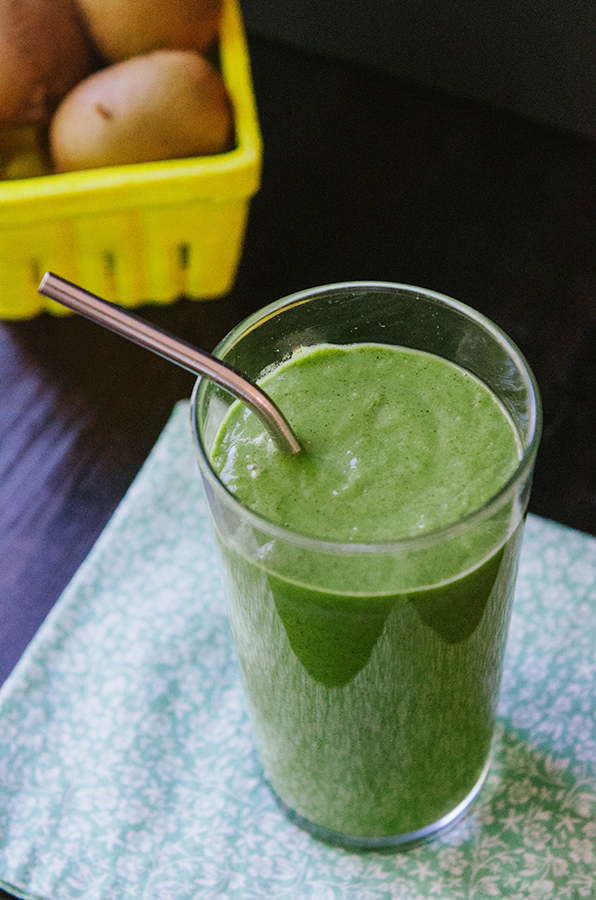 Kiwi + Matcha Green Smoothie
Instructions
Put all of the ingredients into a high powered blender and blend on high until everything is processed and smooth. Drink up!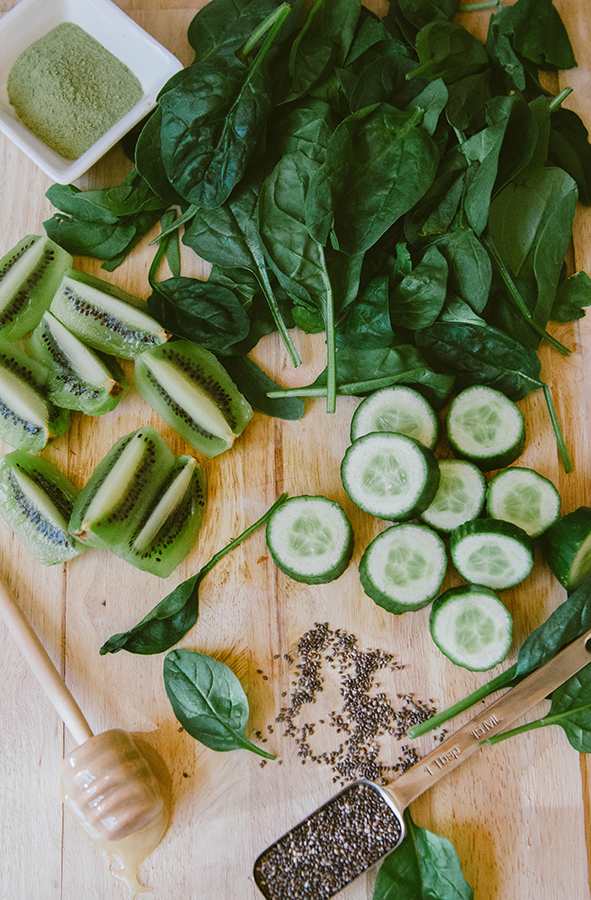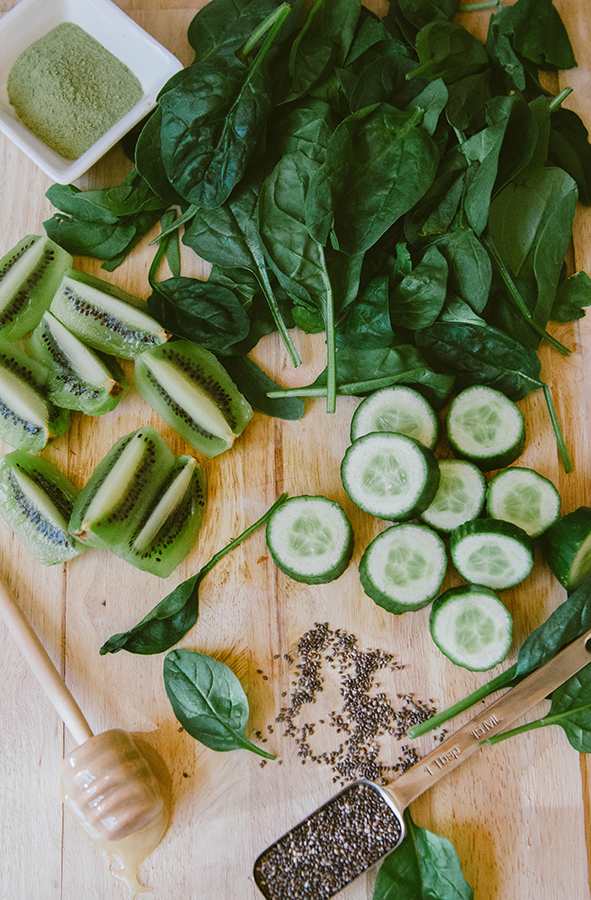 Note: I am not a medical professional. All opinions expressed here are based solely on my own experiences and research and are not intended to diagnose, advise or treat anyone. If you expect you are suffering from a medical condition, please seek the proper attention form a medical professional. Thank you!
PAID ENDORSEMENT DISCLOSURE: In order for me to support my blogging activities, I may receive monetary compensation or other types of remuneration for my endorsement, recommendation, testimonial and/or link to any products or services from this blog.