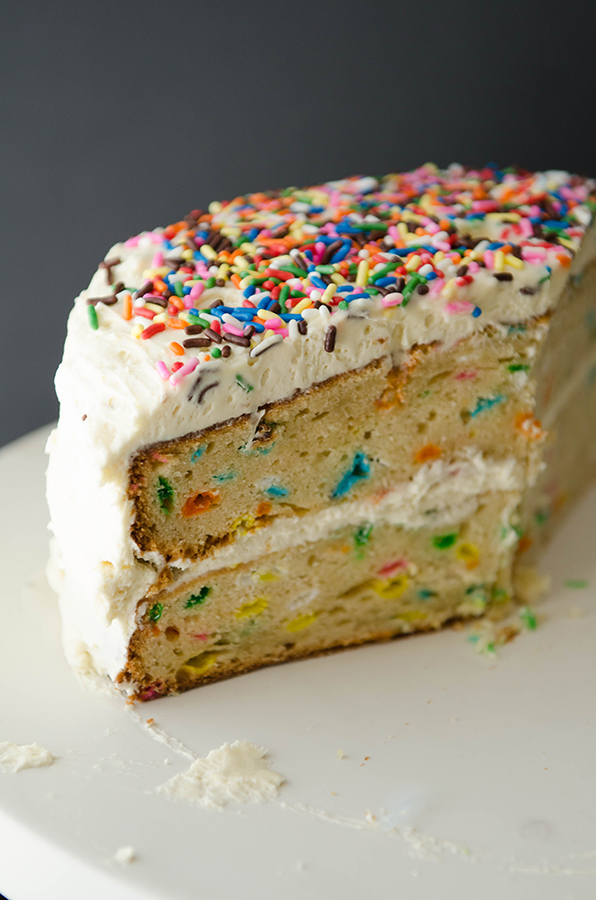 It was my husband's birthday, so I took four sticks of butter and a mess  of sugar and made this big ol' cake.
I know, I know. This isn't our usual speed. I am known for my healthy grain-free scones and big guiltless pans of meatballs. We drink green juice. We also drink bourbon. But, this. Well, it's out of my comfort zone. It's a layer cake. Remember that time I cried over a layer cake? Yeah, that got real. But sometimes, just sometimes we step out of our comfort zones for love.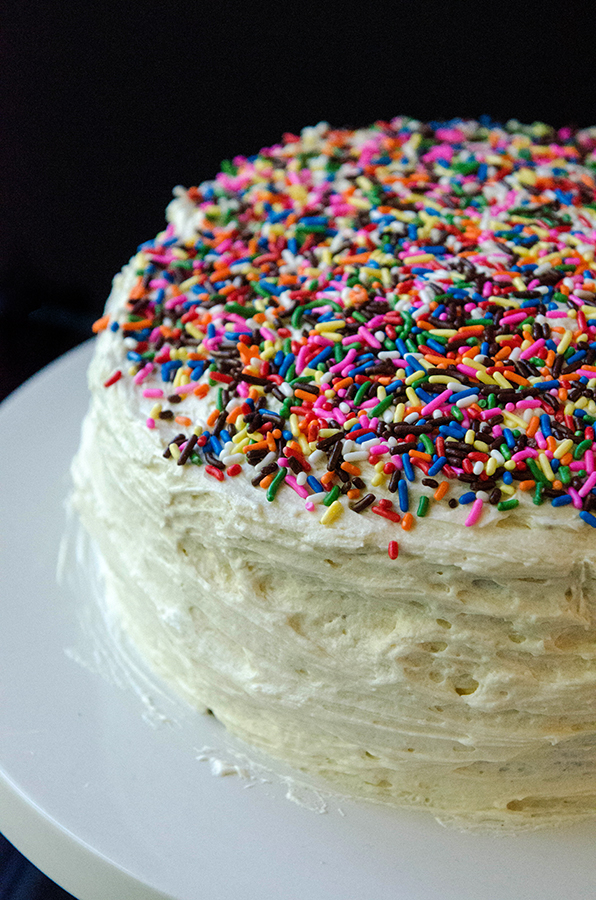 Ya see… I married a grown-up version of Cookie Monster… except he's not cookie exclusive. This man likes anything sweet. He's got Swedish fish swimming through his veins. If we go out to breakfast he will order the double stuffed french toast and douse it in maple syrup. It's like being in a romantic relationship with a sarcastic non-tights wearing version of Buddy The Elf. Also, funfetti cake is his favorite thing. He's asked for it every year in our ten years together. So, this year I decided to make one from scratch. No boxes. No "just add eggs and oil". But, real deal cake made with my own two hands. Like a big grand sugar-laced love letter tied up in buttercream frosting bow.
Thank goodness for Sally's Baking Addiction. Her recipe was easy to adapt. She walked me through it like a lady. Thanks, girl! You helped make one sugar-loving husband really happy!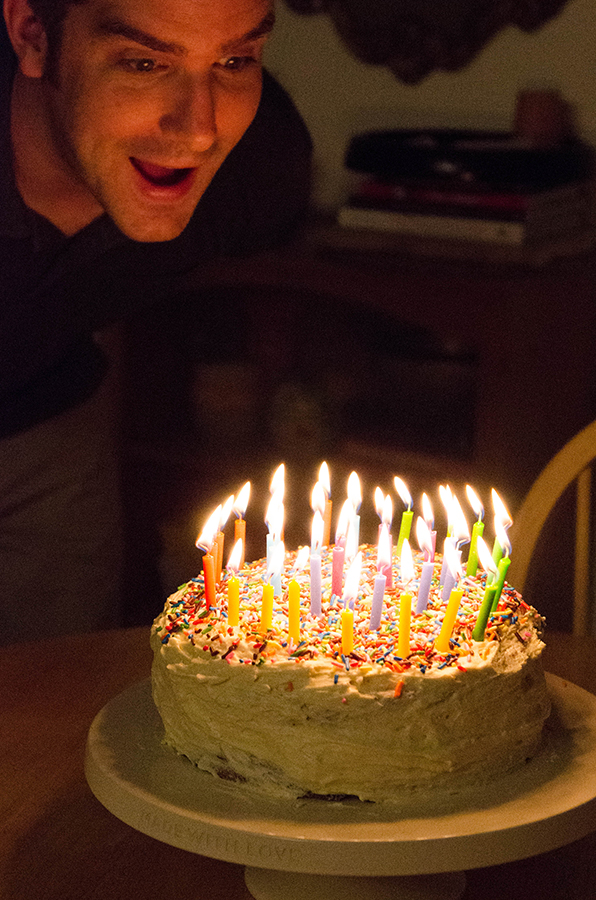 I will admit that there is something very satisfying about frosting a cake and packing it with sprinkles! Sprinkles make everything look happy. Especially my husband's face. Also, my face before I ate two pieces of this for breakfast and then passed out in a sugar-induced cake-coma. Whoops. We all have to learn our own lessons.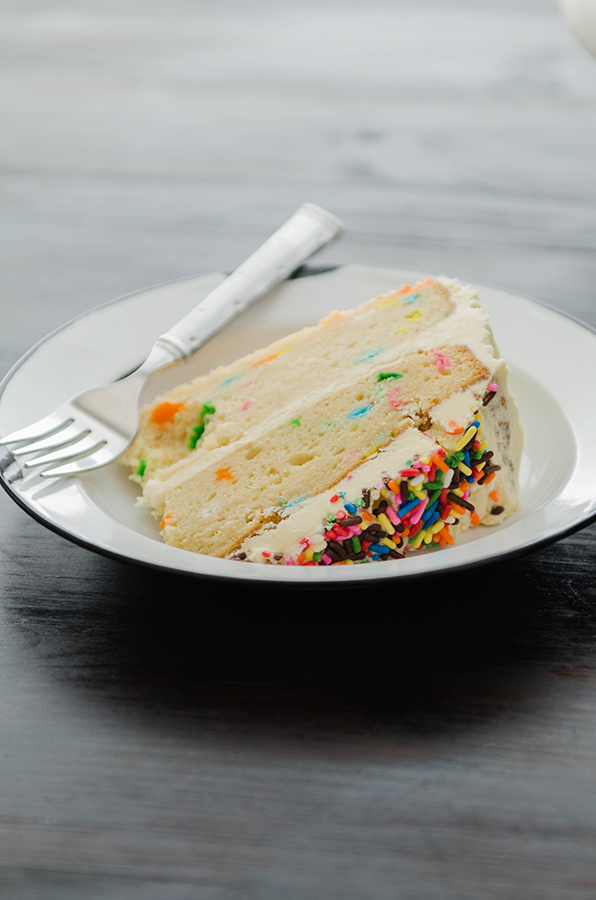 Ready to get your cake on? May I recommend stretch pants and extra sprinkles? Cool. Enjoy!
PS. I'm totally not responsible for sugar crashes. Cake at your own risk.
Gluten-Free Funfetti Cake With Buttercream Frosting
Ingredients
Funfetti Cake
Buttercream Frosting
Instructions
Preheat oven to 350 degrees. Grease a non-stick 9 inch cake pan (or two if you are making a layer cake) generously with butter and set aside.
In a medium bowl, mix together your gluten-free flour, salt, baking powder, and baking soda. Set this mixture aside.
Melt your butter in a large microwave-safe bowl. Whisk in your sugars until there are no lumps. The mixture will be gritty. Whisk in the egg, vanilla yogurt, milk, and vanilla extract until it is well combined.
Slowly mix the dry ingredients into your wet ingredients until there are no lumps. The batter will be thick and kind-of sticky. Slowly stir in the sprinkles, but do not over-mix or else the sprinkles will bleed their color into the batter.
Pour the prepared batter into the greased cake pan(s) and bake for 20 minutes.
After 20 minutes have passed, cover the cake pans loosely with aluminum foil. Bake for an additional 13-17 more minutes or until a toothpick inserted in the center comes out clean. Allow to cool completely before frosting.
While your cake is cooling, you can start on your frosting. Beat softened butter in your stand mixer on medium speed (if you don't have a stand mixture you can use a hand beater). Beat the butter for 3 minutes or so, or until it is creamy.
While your machine is still running, add powdered sugar, milk, and vanilla. Increase the speed of your machine to high and mix for another 3 minutes.
If your frosting is too thick, add more milk. If it is too thin, add more powdered sugar.
Frost your cooled cake and top with sprinkles. If you are making a layer cake add a layer of frosting to the center of your stacked cake and then frost the outside.
Cake is best enjoyed the day it is baked, but will last for up to five days on the counter in a cake container or in the refrigerator. The cake will become a bit denser with each additional day.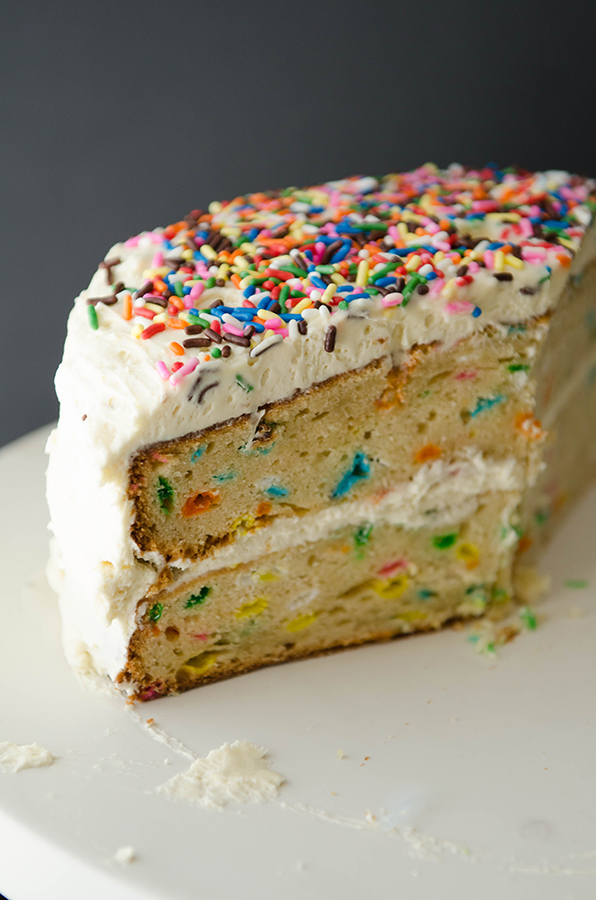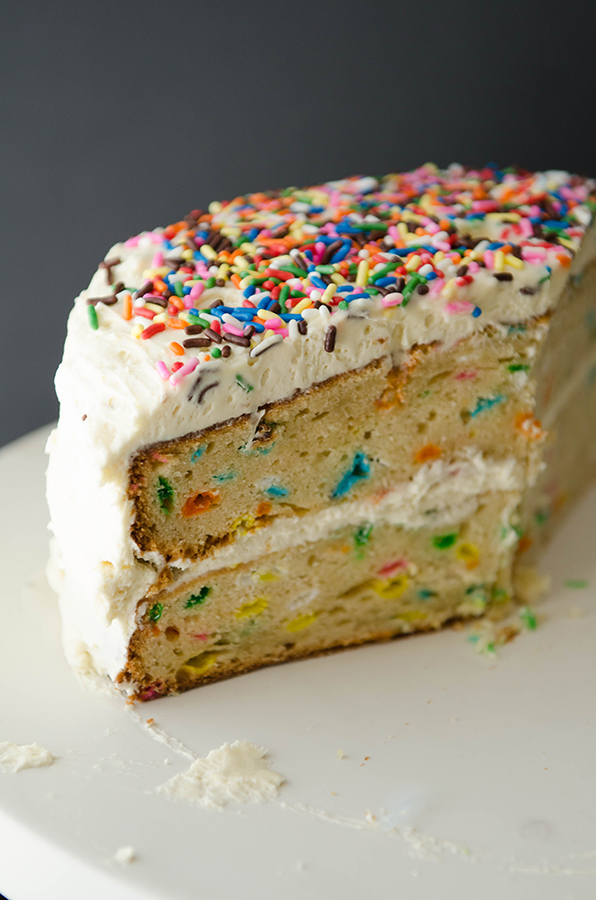 PAID ENDORSEMENT DISCLOSURE: In order for me to support my blogging activities, I may receive monetary compensation or other types of remuneration for my endorsement, recommendation, testimonial and/or link to any products or services from this blog.