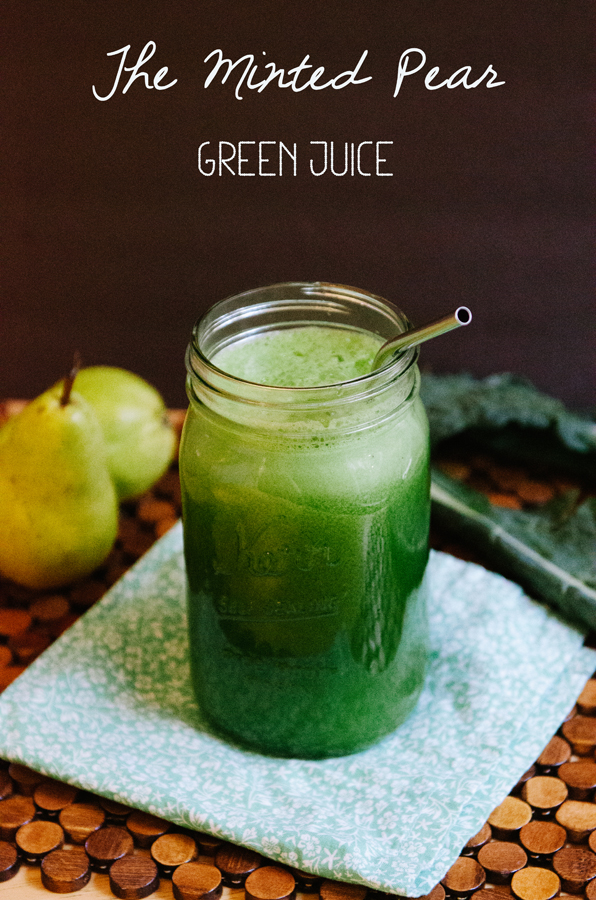 Are you looking at the title of this post and thinking, "Whoa. Did you just name that green juice like one would name a cocktail?" Yes. The answer is yes. I thought it would make green juice fun and flirty. It was either Kale, Pears, Mint n' Stuff or The Minted Pear. I stand by my choice. We deserve to make our green juice fancy.  Pinkies up, yo.
Alright, so last week was off the chain. I feel like I got hit by a birthday bus. How are you guys doing? You good? Did you make any of those donuts yet? Oh, lawdy! Those things are crazy good. Go make those and then come back here and make this. The two go hand in hand. You'll get it. This stuff is good for an "okay, maybe that fourth donut was a bit much" hangover. I should know… I drank and entire quart of it. Not kidding. It goes down real easy.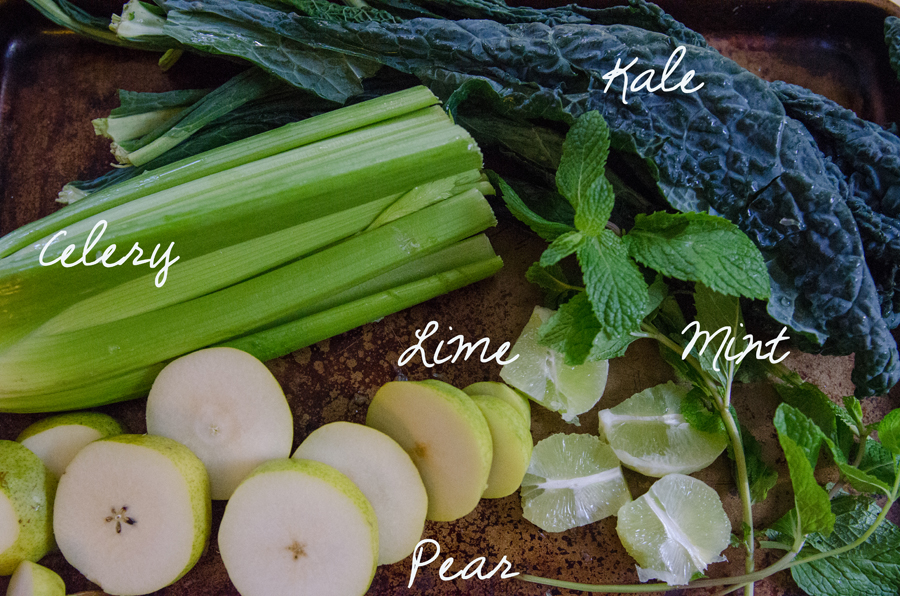 Juice is my jam when it comes to pushing the reset button. So many vitamins and minerals absorbed into your system! I always feel like I'm gulping down liquid gold. Er… liquid green? One of those. Or, both of those. My brain is functioning at 50% capacity at best. To put things in perspective, I spelled the word "green" by typing out "grean". I then stood here and stared at it for at least thirty seconds wondering how the heck that could be wrong. Wednesday might be winning. Perhaps I just need another quart of this grean  green juice. Buttons need to be reset. The spelling portion of my brain needs some kale and some pears and some mint n' stuff. Fire up that juicer, hoss! I'm comin' for ya.
Before you go, don't forget to enter my November giveaway! I've teamed up with some other really great bloggers in order to give a Vitamix away to one lucky reader! If you had one of those, you could take all of these things and make yourself a SUPER smoothie too. It's one heck of a piece of machinery! Check it out HERE.
Still with me? You're awesome. Remember that birthday party giveaway from last week? It's still going on until 11/8. I'm giving away this awesome Paderno World Cuisine Tri Blade Vegetable Spiral Veggie Slicer to one lucky reader. I know, it's giveaway MADNESS around here. Head on over HERE to enter!
Alright, Friends. Stay Juicy (I don't even know–weird closing statement).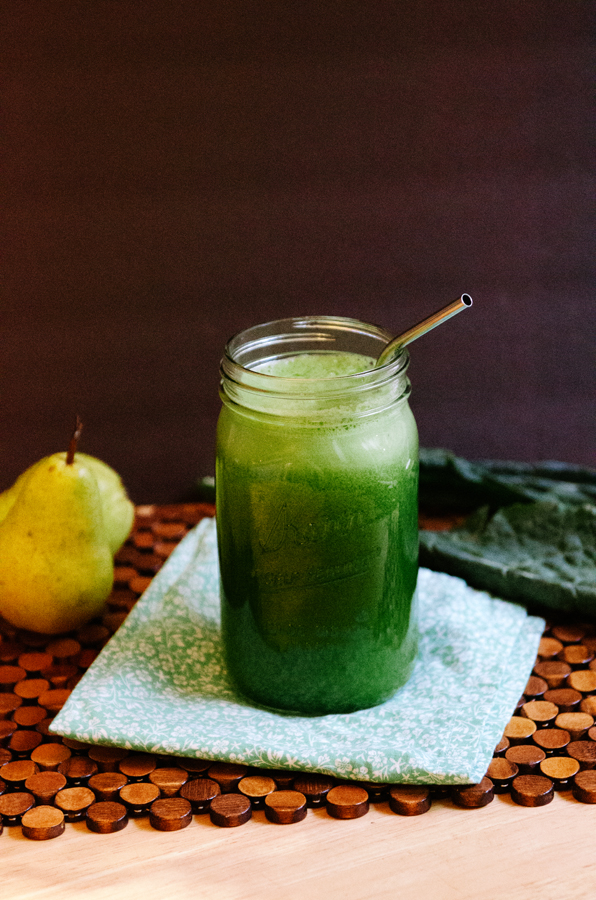 The Minted Pear | A Green Juice Recipe
Ingredients
1

bunch of organic celery

2

danjou pears, sliced & cored

2

limes, peeled

Handful of fresh mint

6

or so organic kale leaves.
Instructions
Process all of your fruits and veggies through your juicer.
Drink immediately, or store in an air tight container such as a mason jar for no more than 48 hours.
Enjoy!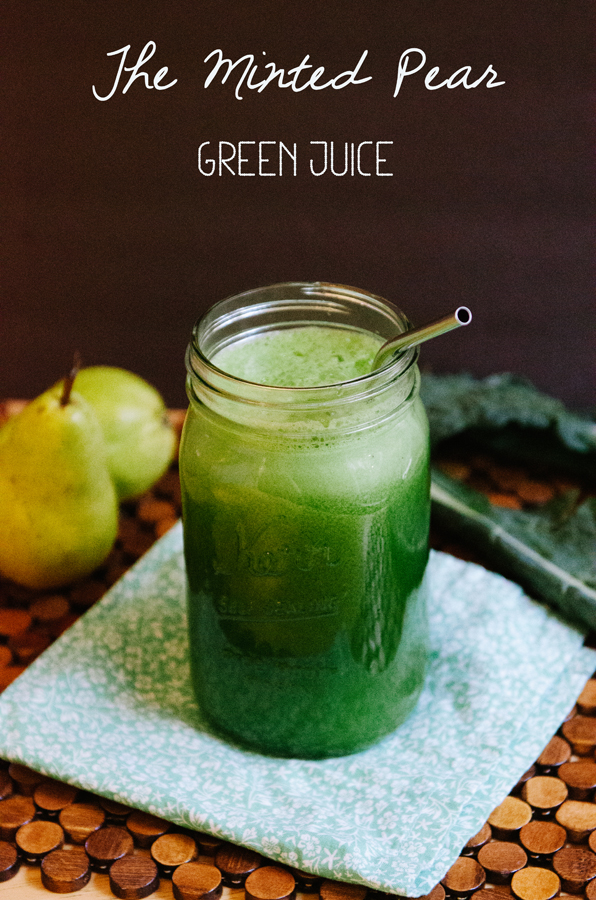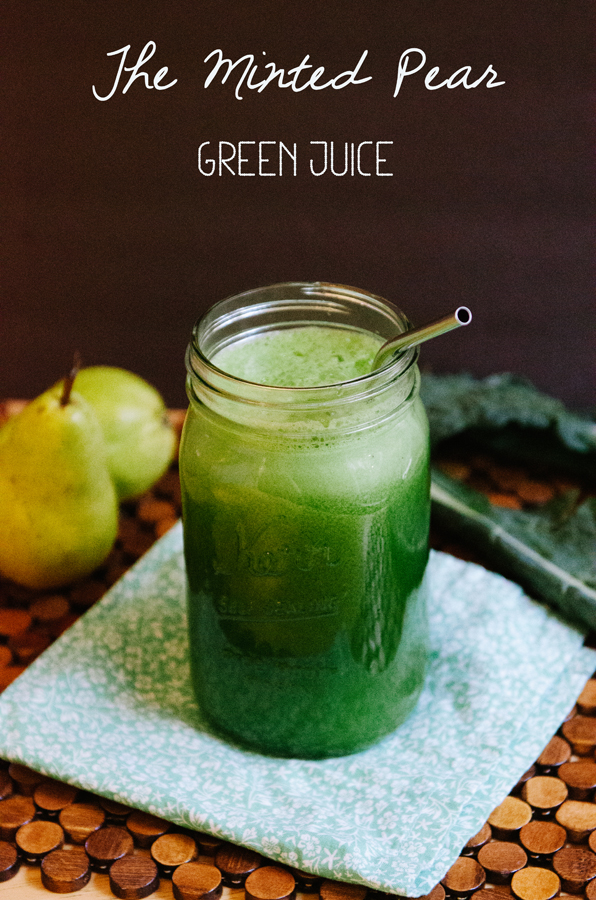 PAID ENDORSEMENT DISCLOSURE: In order for me to support my blogging activities, I may receive monetary compensation or other types of remuneration for my endorsement, recommendation, testimonial and/or link to any products or services from this blog.