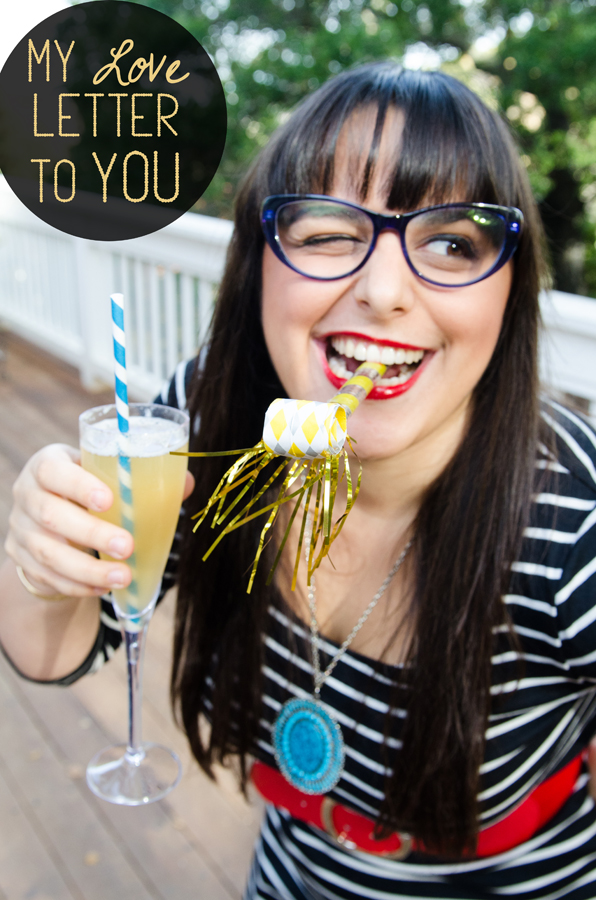 Okay, Okay. I know you're probably super tired of Birthday Week by now. It's been an entire week of celebration. That's a lot. Are you nursing a donut hangover? Yeah, me too. Or maybe it was that plate of ice cream sandwiches? Biscuits? Er…pudding? Who knows… it's cool… let's just throw a champagne cocktail on top of that. CELEBRATE GOOD TIMES, C-MON!! No regrets. Alright, so it's almost over. Just bear with me. I have one more post for you. I feel like it's only fitting I send off our first birthday with a full on love letter to YOU. It might get a little mushy… but, we'll get through it. Afterwards we can get drunk. We're going to mix champagne and bourbon together. What could go wrong? Don't answer that question.  Okay, here we go…
Dear Readers,
I need to tell you a couple of things.
Firstly, THANK YOU. Really.
When I hit publish on my first blog post a year ago, I had no idea where it was going to take me. In fact, even though I felt really nervous to hit that publish button, I was wholeheartedly convinced the only person that was going to be visiting this space and reading my ramblings was my Mom (Hi,Mom!). I love my Mom. I wish you could meet her. You'd really like her. She has REALLY good dance moves, and if she's in a party mood you can sometimes get her to do her impression of a toothless old woman. It's both convincing, horrifying and hilarious all at once. She's a really great cheerleader. In the early days she would call me after she read every single blog  post. I so appreciate her. She also called me the first time someone commented on my blog that was not a blood relative. The excitement was palpable. Seriously. It felt crazy and humbling. It still does… maybe even more so as my site has grown.
I often think about how many of you take time out of your day to come to my little corner of the internet. I am speechless. I realize you could spend your time doing countless things. You're busy people with busy lives. I get it. The fact you carve out a portion of your valuable time to come here, cook my food, comment on posts, hit me up on Facebook, send me messages,  trade weird stories or laugh at my jokes (even when they're REALLY bad puns) is not lost on me. I need to tell you how much I appreciate YOU and the community that we've built and continue to build.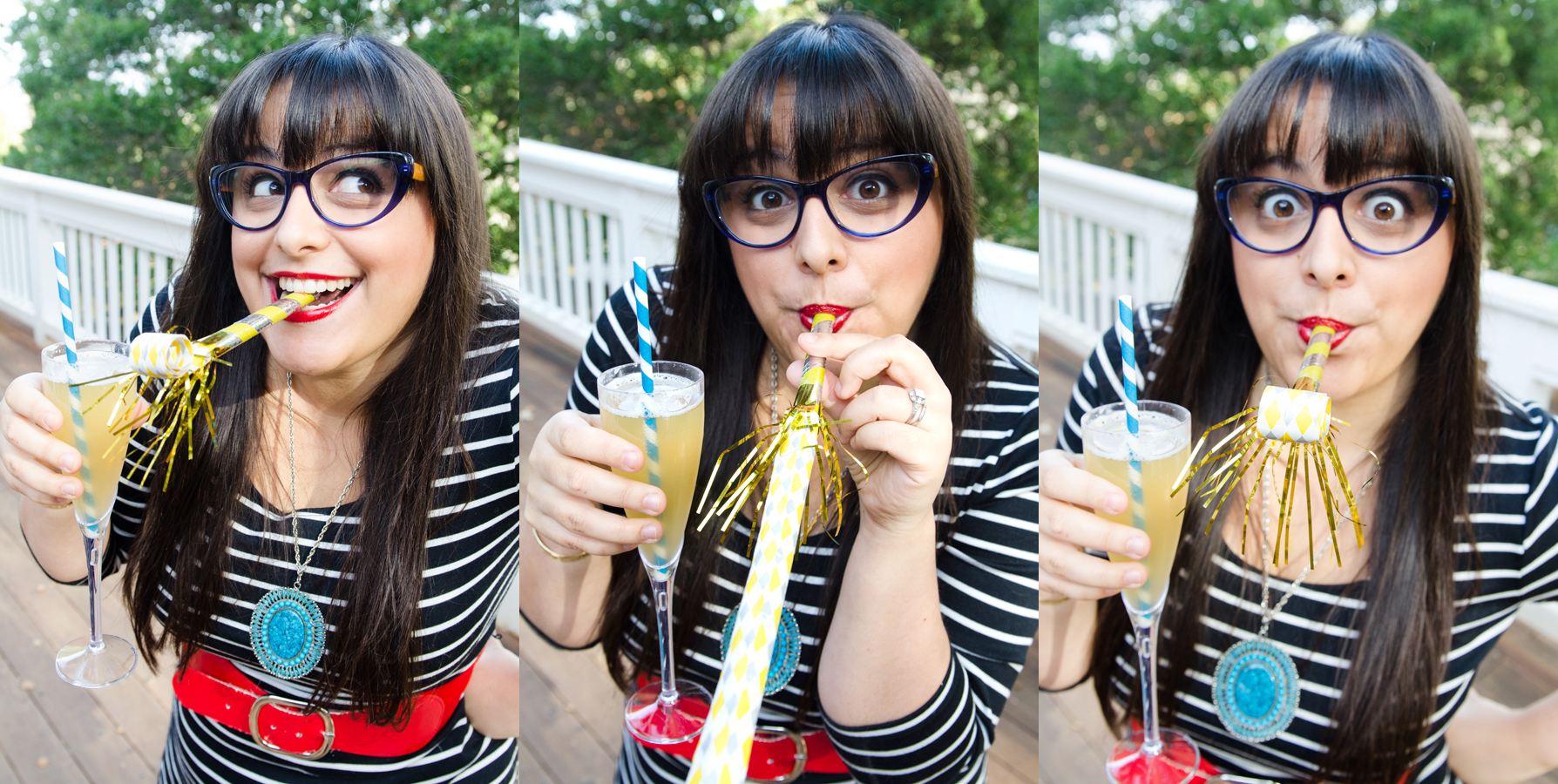 Thank you. Thank you for not making me feel like I'm not alone when I get a bunch of chocolate glaze in my bra, or accidentally answer the door without pants on. Thank you for all the virtual spontaneous dance parties. Thank you for your emails and supportive messages after I spilled my guts about some really difficult times earlier this year. Thanks for sharing your food journeys with me and writing to tell me that you've eaten an entire loaf of my banana bread in one sitting. I get you. Thank you for all of the virtual high five-ing and fist bumping. Thank you for not thinking I'm crazy when I draw animals wearing human clothes. Thanks for the friendship.  I mean, really.  I could literally go on and on and on…
I feel so much support and love from all of you. I want to throw it back at you with boundless enthusiasm and a giant bear hug. Polar bear hugs for everyone. Line up. It's happening.
I hope that you will continue on this journey with me. I know this year has only been the tip of the iceberg (polar bear-themed reference intended). To say I am excited about year two would be an understatement. I'm all in. Both feet. Let's do it. Thanks for being a part of my pack. I love you big.
Okay. Now, let's party. We have some champagne chilling.
Xoxox,
Gina
Whew! That was a whirlwind. Should we pop that champagne and have a celebratory cocktail? I think so. I'm going to make you a Ginger Fizz. It has all the markings of a good cocktail (bourbon) with all the markings of celebration (champagne).  But, first… let me show you what I can get my dog to do with the motivation of dog biscuits: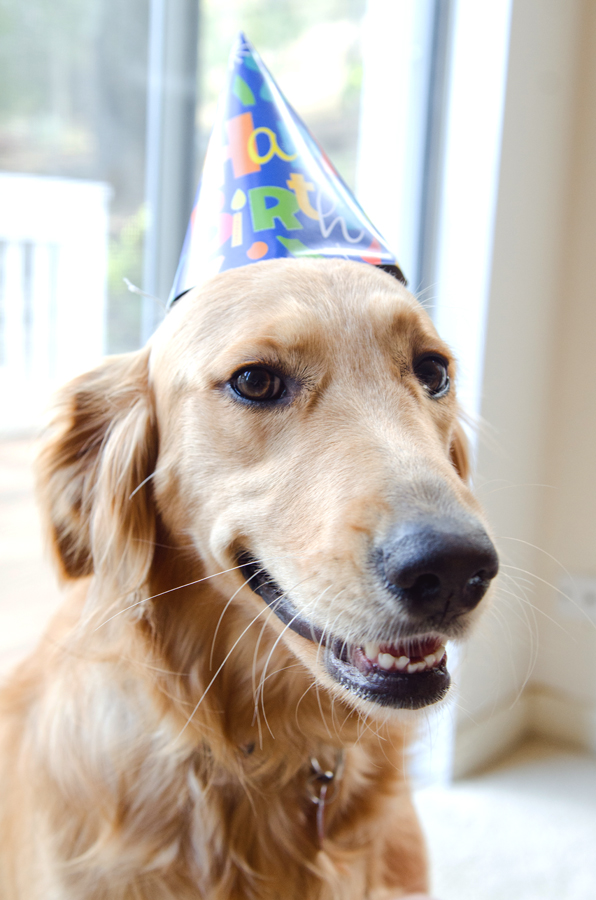 It tickles me. She's much less tickled. Don't worry, she was rewarded handsomely with some sort of peanut butter biscuit. She doesn't work for free.
Now, for this cocktail: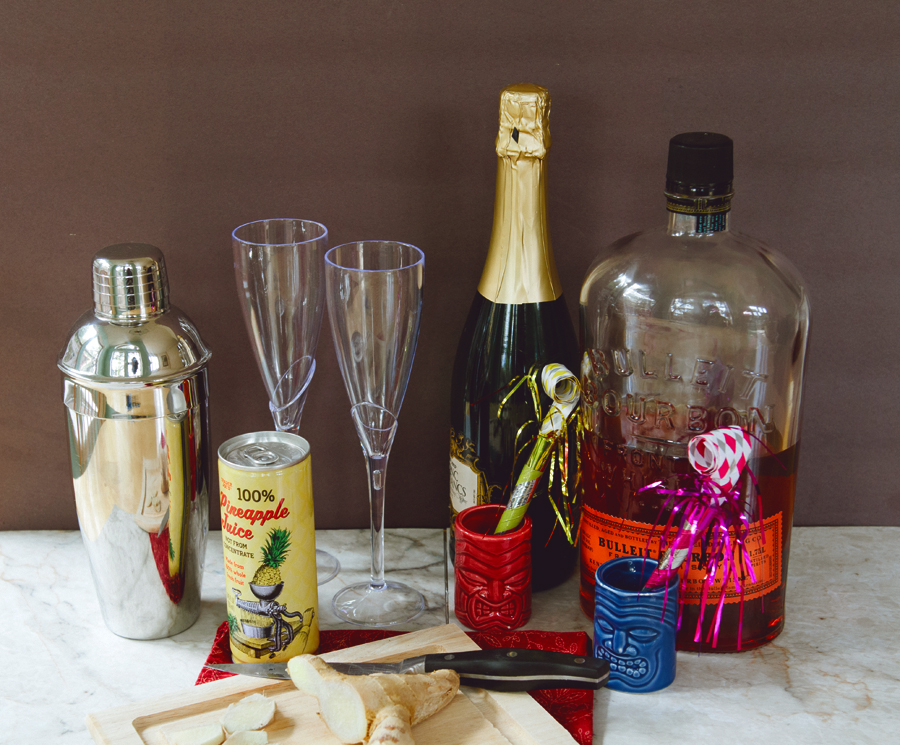 You're first going to need a couple of really crappy, dollar store-purchased champagne flutes. Unless, unlike me, you didn't break your real ones. Good for you. Angry tiki shot glasses are optional, but not discouraged. Party blowers inside said shot glasses while impractical, do add a bit of flare, don't you think? Totally. Now, in your shaker you are going to mix up your pineapple juice with your bourbon and some crushed ginger. Shake, shake, shake. Don't shake your champagne. That will not end well.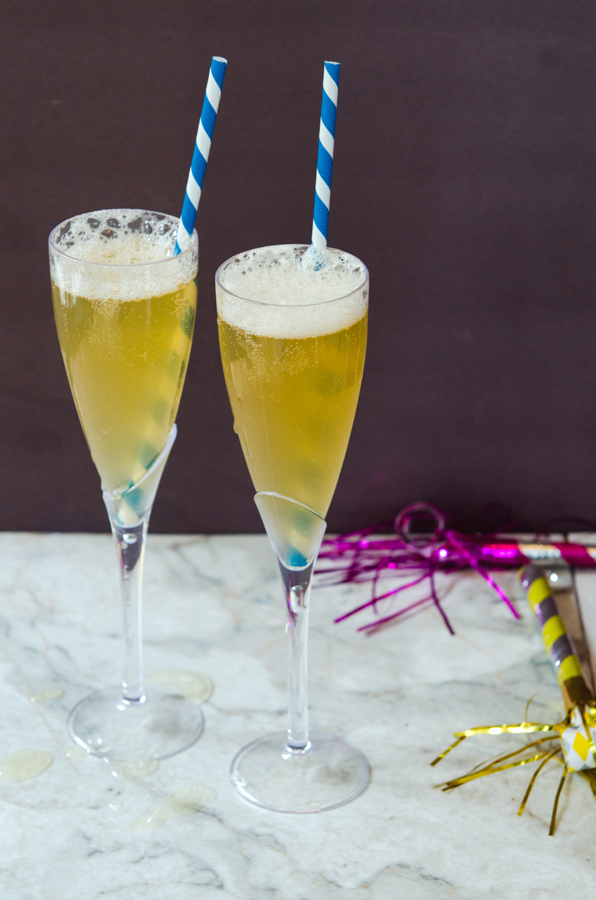 Pour your bourbon and pineapple mixture into your super classy plastic champagne flutes. Top it with some champagne. Put a straw in it if you want to get weird.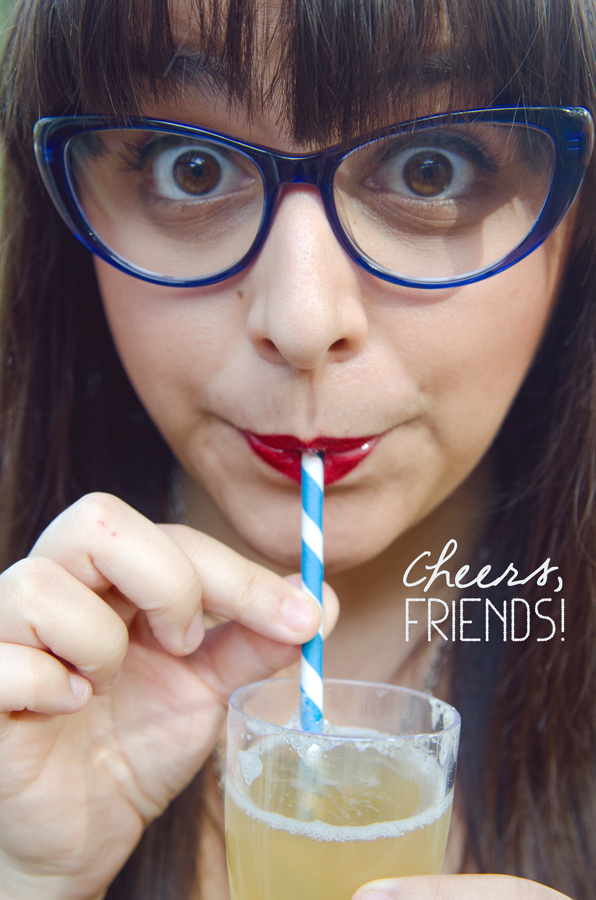 AND, we're in business!!  This one is for you, friends! Cheers. Hugs. Gratitude. All of the things.
You're the best.
Ingredients
1

part bourbon

2

parts pineapple juice (more if you like a sweeter cocktail, feel free to adjust it)

2

parts champagne

3-4

pieces of sliced ginger

ice cubes
Instructions
Add ice to a martini shaker and add in your bourbon and pineapple juice.
Crush your ginger using a garlic press into the shaker.
Shake your bourbon, pineapple & ginger mixture.
Pour evenly into champagne flutes.
Top with chilled champagne.
Cheers!!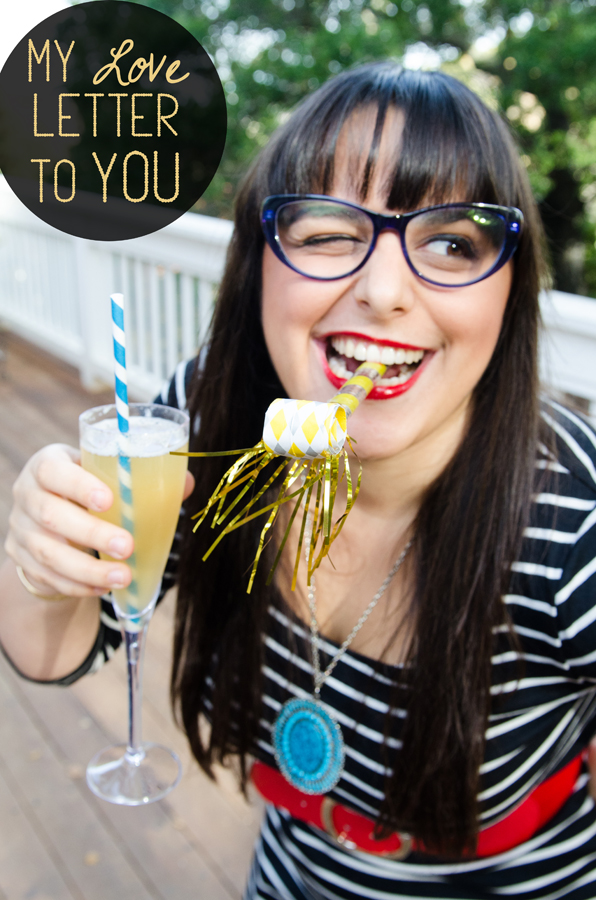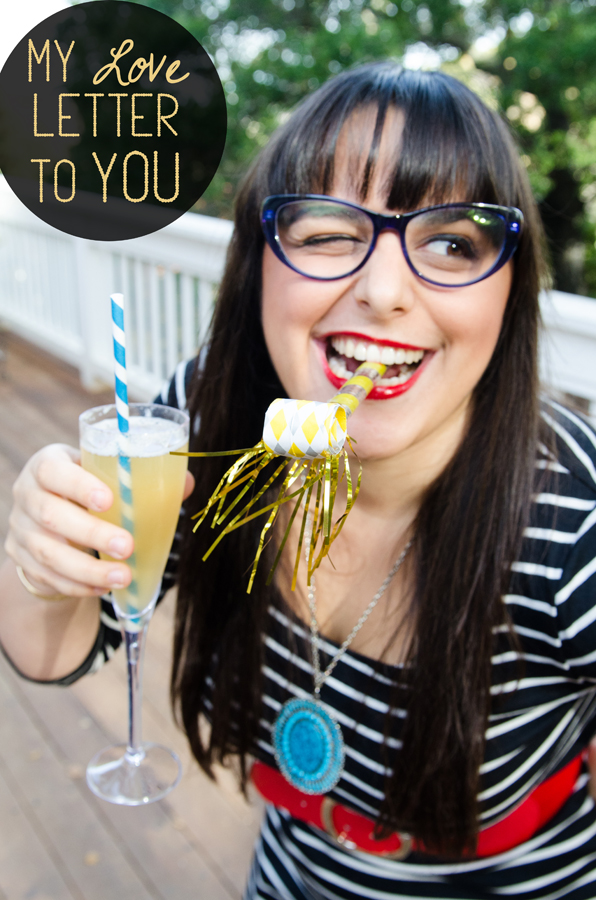 PAID ENDORSEMENT DISCLOSURE: In order for me to support my blogging activities, I may receive monetary compensation or other types of remuneration for my endorsement, recommendation, testimonial and/or link to any products or services from this blog.