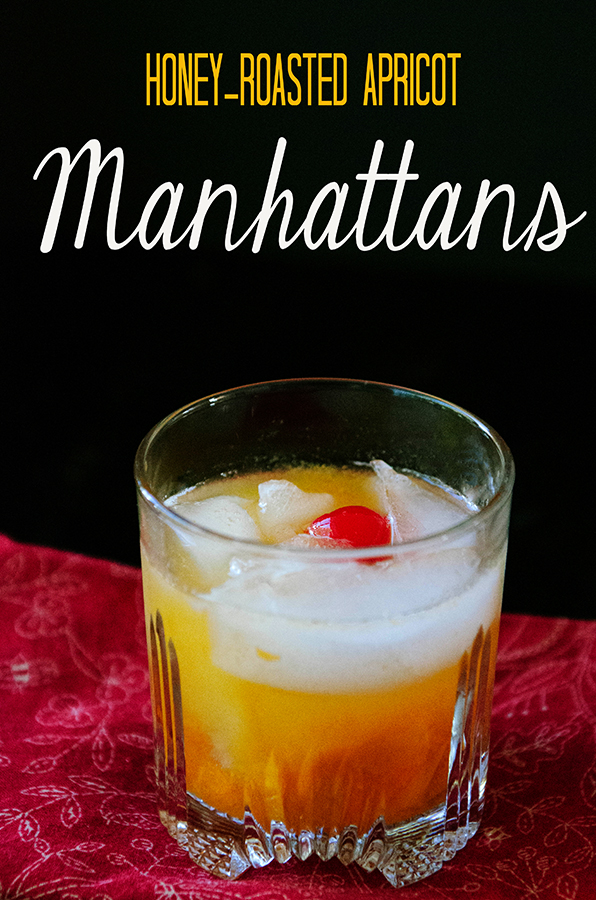 If you know me, you know that I love bourbon.
Somewhere along the line it happened. I'm not sure when, but it did. I gave up my teenage affection for hard lemonade, and my Sex And The City-induced Cosmopolitan phase in favor of spicier, boozier, hair-on-my-lady-chest-ier pursuits.
My husband found his love of Bourbon through my father. It became a family affair. If we're having a cozy evening with my family, there is a more than likely chance that we're going to be swilling Manhattans with (or as) appetizers. If you're wondering, this practice goes really well with a game of Cards Against Humanity. It's only slightly awkward when your Mother (the decidedly least gross, modestly-mannered person in the bunch) pulls out a big win for putting together combinations of cards that would make a sailor blush. Okay, perhaps it's best that you play at your own risk. You've been warned. Mothers can surprise you.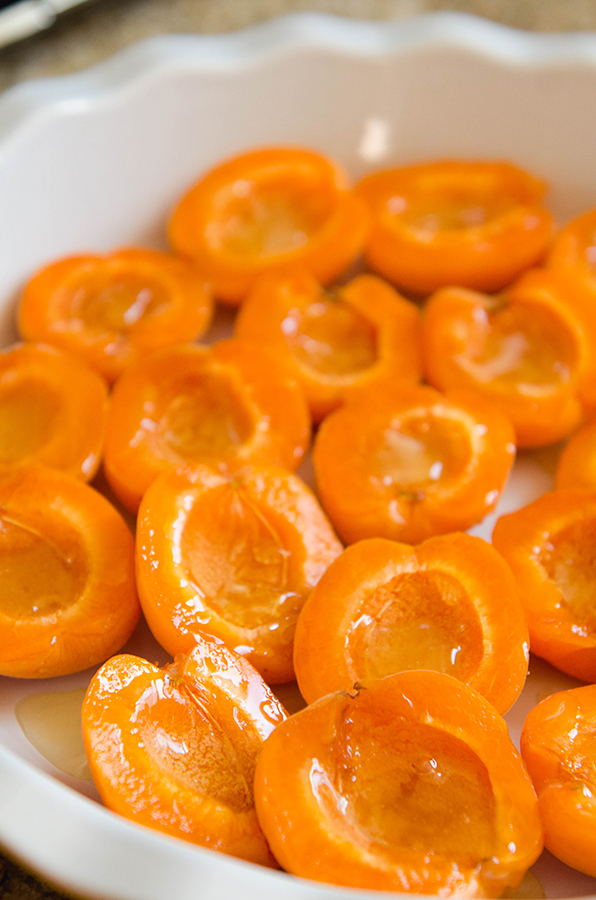 I crafted this particular drink as a special treat for my husband after a particularly long week of work. I love making him little treats. It's like a love letter. But, this time it's a love letter that gets you tipsy. So, I think we win the love letter contest.
As most of my recipes, this one was a born out of my necessity to use produce before it goes bad. I had purchased a ton of stone fruit. Some made its way to a cobbler, and some of it just sat on the counter. Armed with love for my husband and about a dozen ripe apricots, the wheels started turning. We shall roast this fruit in honey, muddle it, drench it with bourbon and call it a schmancy-pants Manhattan. This will certainly prove my love.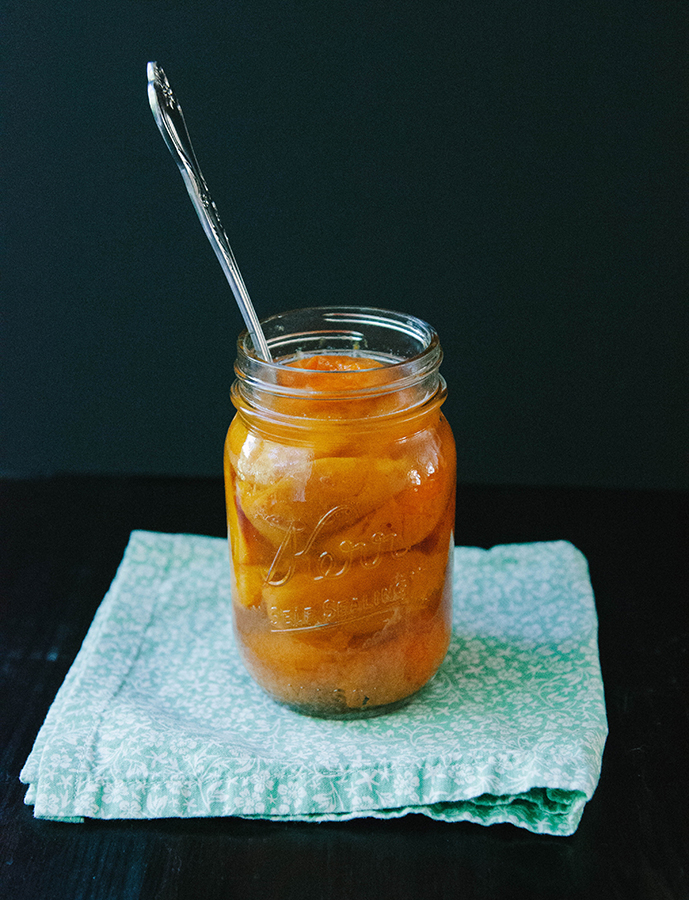 The great part about these apricots is that they will keep for a of week or so in your fridge. Once roasted with honey, the juices help preserve the fruit. Store them in a mason jar in your fridge. Lucky for me, I still had quite a few of these sitting in my fridge when my friend Beth (the uber-talent behind Tasty Yummies) came to visit me.  In addition to having some of the best eyebrows I've ever seen, Beth is one of my favorite humans and our friendship is perhaps one of the best things to come out of the crazy world of blogging thus far. Thanks, internet!
Our visit was like a super relaxing mini vaycay from real life. We sat around in yoga clothes, chatted about anything and everything, watched the trashiest of the trashy TV, ate our weight in Hawaiian food, and sipped on some fancy-pants Manhattans. Yes, it feels good to drink a fancy drink while laughing your butt off in yoga pants. It elevates the otherwise un-glamorous scene to one of pinkies-up. Not really. But, dang these things are good.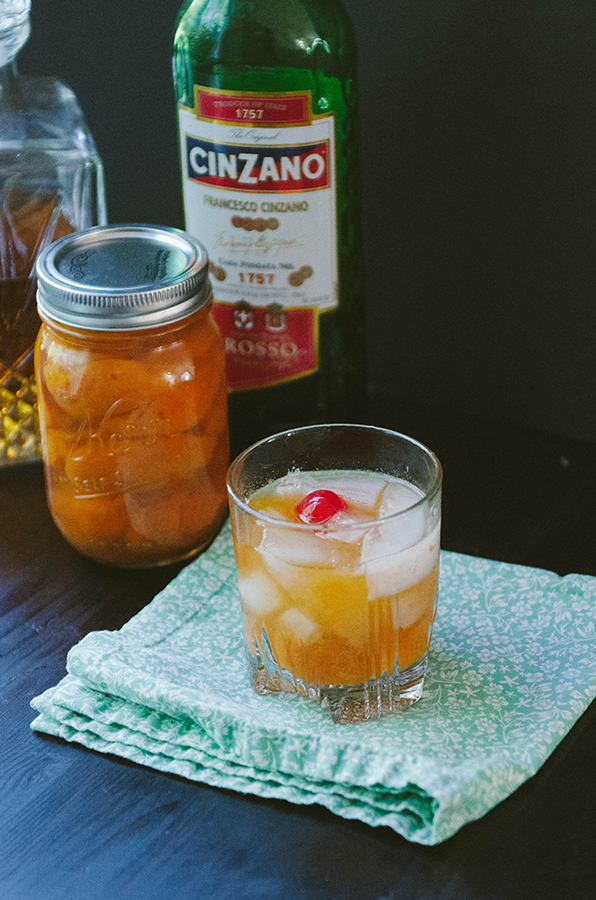 So, whether you're making these to share with a friend, using them to say "I love you", or simply wanting to craft a summery-booze-cruise for your taste buds, this is TOTALLY the way to go. Cheers, friends. *clink, clink*
Ingredients
Roasted Apricots
Apricot Manhattan
2

roasted apricot halves

2

ounces bourbon

1/2

ounce sweet vermouth

2-3

dashes of angostura bitters

Ice

Maraschino cherry, to top
Instructions
Preheat oven to 350 degrees.
Slice your apricots in half and remove the pits. Place in a baking dish cut side up.
Drizzle the hollows of your apricots with the honey, and sprinkle with a pinch of salt.
Bake for 15 minutes and then flip the apricots to be skin side up. Bake for another 5 minutes, until apricots are very soft.
Allow to cool. Store in an airtight container with all of the syrup for up to a week in the refrigerator.
To make the cocktail, muddle 2 roasted apricot halves into the bottom of a high ball glass.
Add bourbon and sweet vermouth and continue to muddle until the apricots begin to liquefy. Stir in a few ice cubes, add a couple dashes of bitters and top with a cherry! Cheers!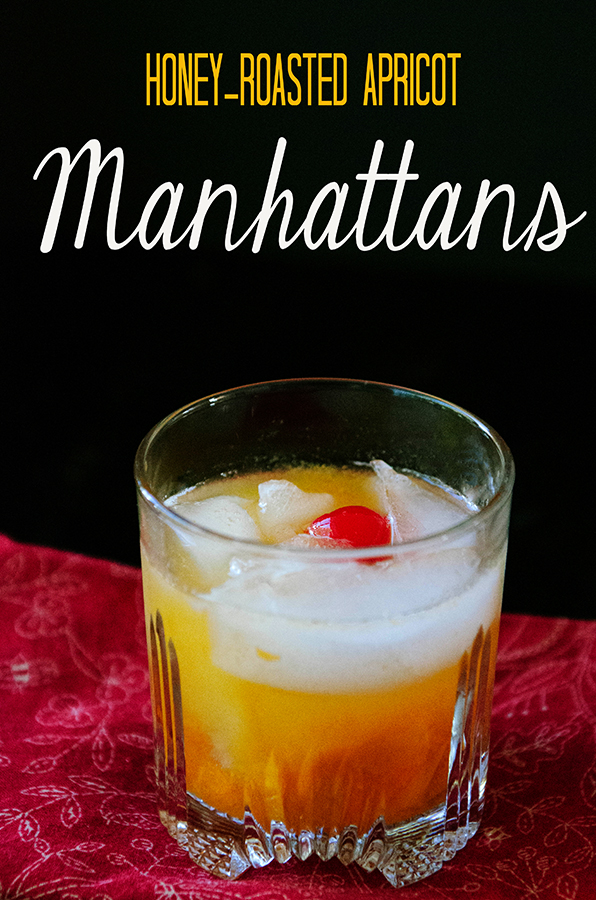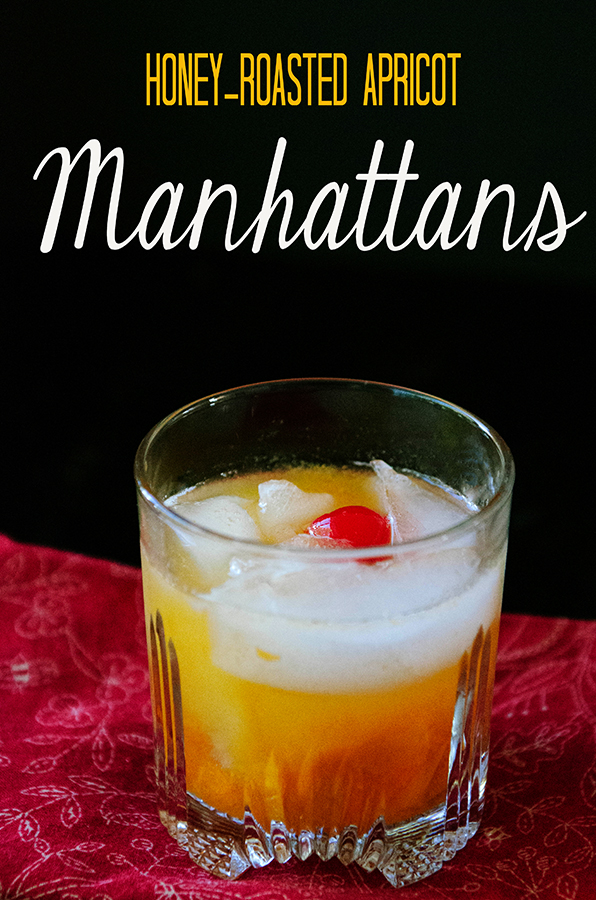 PAID ENDORSEMENT DISCLOSURE: In order for me to support my blogging activities, I may receive monetary compensation or other types of remuneration for my endorsement, recommendation, testimonial and/or link to any products or services from this blog.