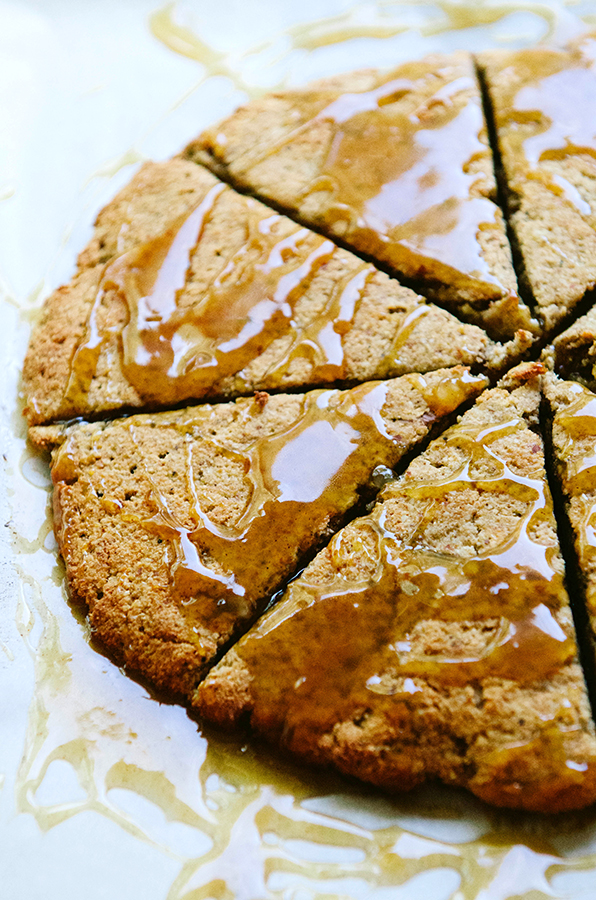 Yesterday I baked my feelings.
I turned on some Ben Folds Five, preheated my oven, and mashed bananas together with eggs.  It seemed like the only way to make the day manageable. There was also a Fiona Apple and Shepherd's Pie situation that occurred later that evening. I'm telling you, I really cooked my feelings into submission. Also, Fiona Apple brings the appropriate amount of angst to Shepherd's Pie. It makes it edgy (dare I say, Criminal? Get it? #chickrockpuns #lilithfairkitchen) I highly recommend it.
I don't know about you, but when things get hard, or my to-do list starts to span pages, I tend to drop everything and head into the kitchen. This is how I work things out. There's meditation in there. You're forced to clear your mind, focus on what's in front of you, and if all goes right, deliver a satisfying result (that you can then eat–which is a much better outcome than doing laundry — you can't eat your laundry).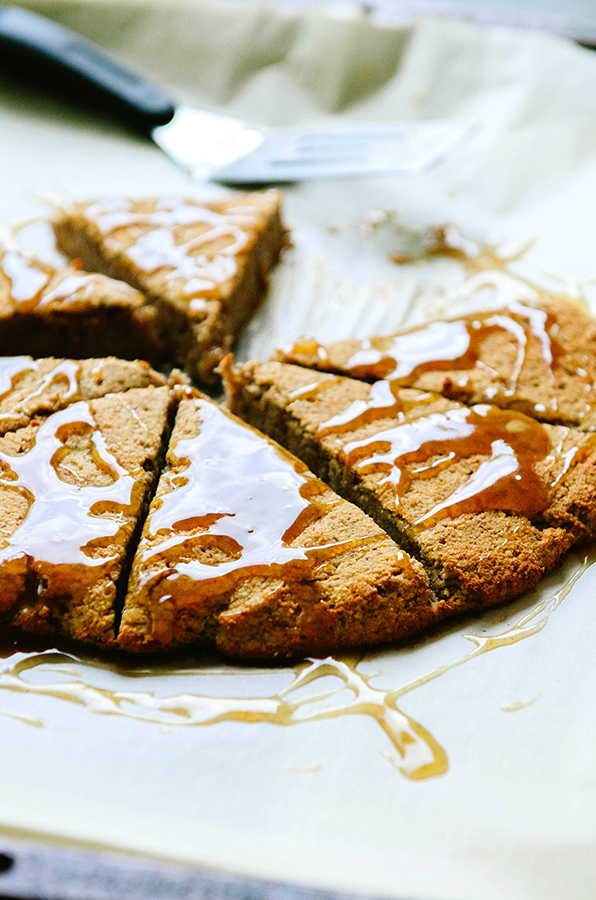 I'm also an expert at procuring and making use of the over-ripened banana. We all have our talents, this just seems to be one of mine. But, since I'm not a monster, I'll let you in on my secrets.
Tips on procuring over-ripened bananas:  allow one's significant other to purchase a bunch of bananas that you know is too large to consume within the week lest they turn into a monkey. Let the bananas sit in a hot kitchen. Watch your significant other put brown bananas to the side next to the Kitchenaid mixer as a soft suggestion.  Put one of the brown and slightly mushy bananas in your significant other's side of the bed. Wait for them to find it. Laugh a lot. Clean up mushy banana. Apologize. Only use one banana for pranks, leave at least two for baking.
Tips on using over-ripened bananas: Make a to do list. Freak out. Feel stressed. Avoid laundry. Crank moody music. Sing along. Locate bananas. Make scones. Wash. Rinse. Repeat. Don't forget to save at least one banana for pranks. This is essential.
Tips on executing banana pranks: Now, this section might not be for everyone. Perhaps you're not inherently mischievous. I understand. Or, perhaps, like me, you find pranking your significant other to be THE BEST. In that case, read on. I mentioned in "Tips on procuring over ripened bananas" a classic banana-bed prank. This is where you put a slightly mushy banana in someone's bed and allow them to lay on it. It's messy, but effective. Other uses might include putting a banana in your significant other's gym bag, car, jeans, briefcase, suitcase, bathroom bag, shower, or simply just tossing a blackened banana in their direction and telling them to "think fast". The best part about banana pranks is that it only takes ONE time to instill a sense of fear. After the first banana prank you can use this one simple sentence "Have you found the banana yet?" You're bluffing, of course. There is no hidden banana (unless there is– you're hardcore). But, it sure does keep 'em on their toes. If you do any of these things I am not responsible for the reactions. Perhaps it's just best to stick with the baking.
I'm pretty sure they should hire me over at e-how. I'd make some fool proof tutorials.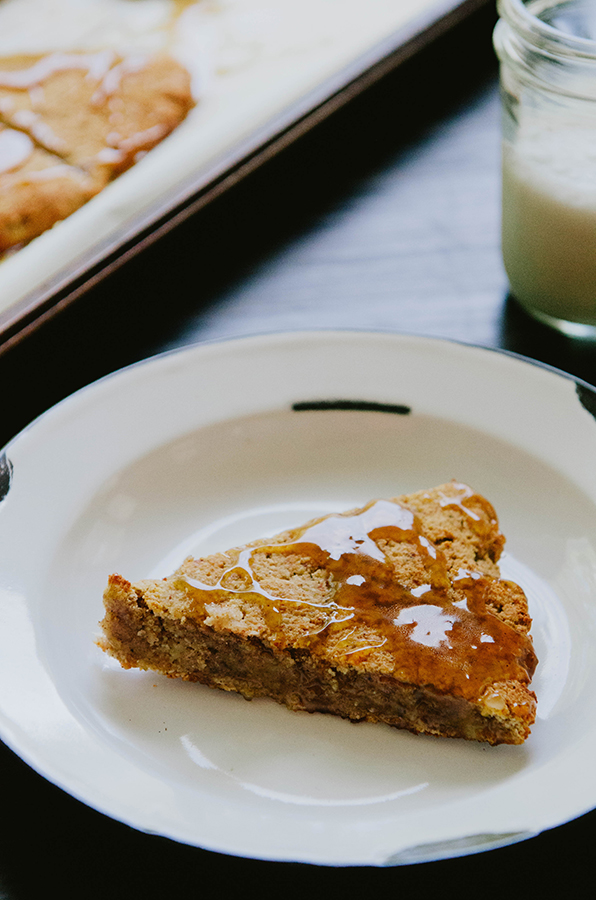 Phew. That was a lot of info without any real discussion of what these delightful scones taste like. Well, lemme tell ya. They are jam-packed with warming spices. I used cinnamon, gram masala and ginger to make them have a cozy-sweater-season-but-wait-it's-still-summer-smell. Then in the throws of banana madness, I whipped together a caramel sauce and decided it would be best drizzled poured all over our scones. It's comfort food, but sexed up. Like a shot of one of those Victoria's Secret models effortlessly making a pair of sweats with the word "Pink" on the butt look chic.
I hope you enjoy them! Perhaps they can bring you some much needed baking meditation as well. And remember, banana prank at your own risk. xox
Want more banana recipes? Check these out: 
Banana Ice Cream Cake With Carrot Cake Crust
Grain-Free Bourbon Peach Banana Bread
Grain-Free Banana Walnut Cake
Grain-Free Banana Lemon & Cranberry Breakfast Cake
Tipsy Blueberry Banana Bread
Spicy Banana Scones With Caramel Glaze
Ingredients
Scones
1

cup almond meal

1/3

cup coconut flour

1/4

cup tapioca starch

1

tsp baking powder

1

tsp cinnamon

1/2

tsp gram masala

1/2

tsp salt

2

ripe bananas, mashed

1/4

cup maple syrup

1

large egg

1

tsp vanilla

1

tsp minced ginger
Caramel Glaze
2

tbs butter

2

tbs coconut milk

1/2

tsp tapioca starch

1

tbs vanilla

2

tbs raw honey

Pinch of salt

Pinch of cinnamon
Instructions
Preheat your oven to 400 degrees. Line a baking sheet with parchment paper and set aside.
In a large mixing bowl add the almond meal, coconut flour, tapioca starch, baking powder, cinnamon, gram masala, and salt. Whisk together until there are no lumps and everything is evenly combined.
In a separate bowl mix together you wet ingredients. Make sure your bananas are well mashed. Whisk together until well combined and then pour into your dry ingredients. Mix together until it is well combined and there are no dry patches. Your mixture should look well hydrated and bit sticky.
Allow this mixture to rest for several minutes in the refrigerator. I would recommend at least five-ten minutes. This will allow the coconut flour to absorb some of the moisture.
After you've allowed your mixture to rest, scoop it out onto your baking sheet. Using clean hands pat the mixture down into a circle that is between 8-10 inches in diameter. It is still going to be sticky, so some might stick to your hands. If you wet your palms with water, it becomes slightly easier to handle. Make sure your circle is as even as possible to assure that it bakes evenly.
Bake your scones in the oven for ten minutes. Remove the circle of dough and score it into eight even slices. Usually this would be done before the scones start to bake, but since the addition of bananas makes the mixture pretty wet, it is best to wait until they have baked for a couple of minutes and firmed up.
Put your scored scones back in the oven and bake for an additional 10-12 minutes, or until your scones start to turn a lovely golden brown. Once they are done, remove from the oven and allow to cool.
Now it's time to make the caramel glaze. In a sauce pot melt down your butter. Whisk the tapioca powder into the coconut milk and then whisk the coconut milk mixture into the melted butter. Your mixture will begin to thicken. Allow to come to a slow boil for a few minutes.
Add in the vanilla, honey, salt and cinnamon and whisk. The mixture to be gently bubbling over a low heat. Allow it to cook for several minutes until it becomes thicker and looks and smells like caramel. Once it has reached your desired consistency, remove from heat and allow to cool significantly before drizzling over scones. It will continue to thicken as it cools.
Once the caramel has cooled a bit, drizzle it over the scones and serve!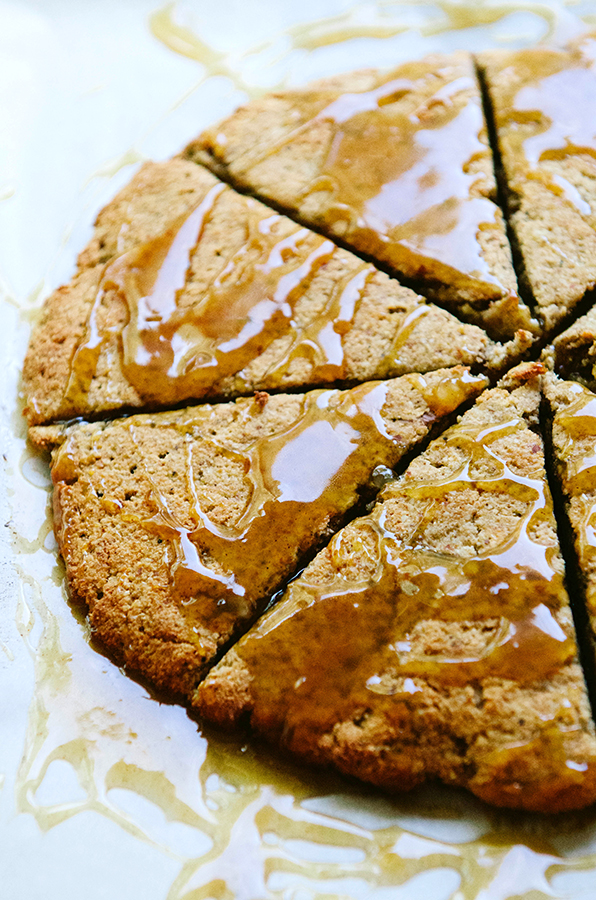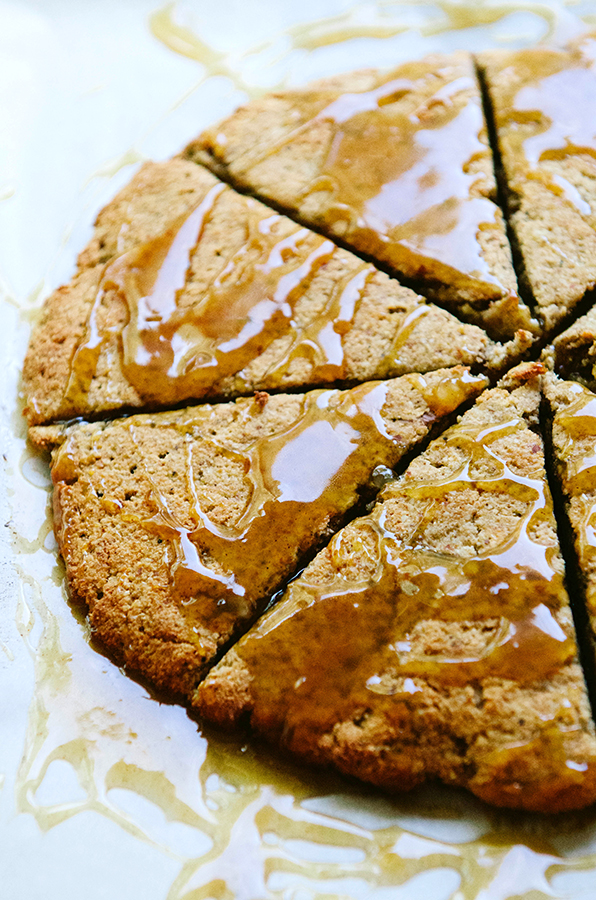 PAID ENDORSEMENT DISCLOSURE: In order for me to support my blogging activities, I may receive monetary compensation or other types of remuneration for my endorsement, recommendation, testimonial and/or link to any products or services from this blog.