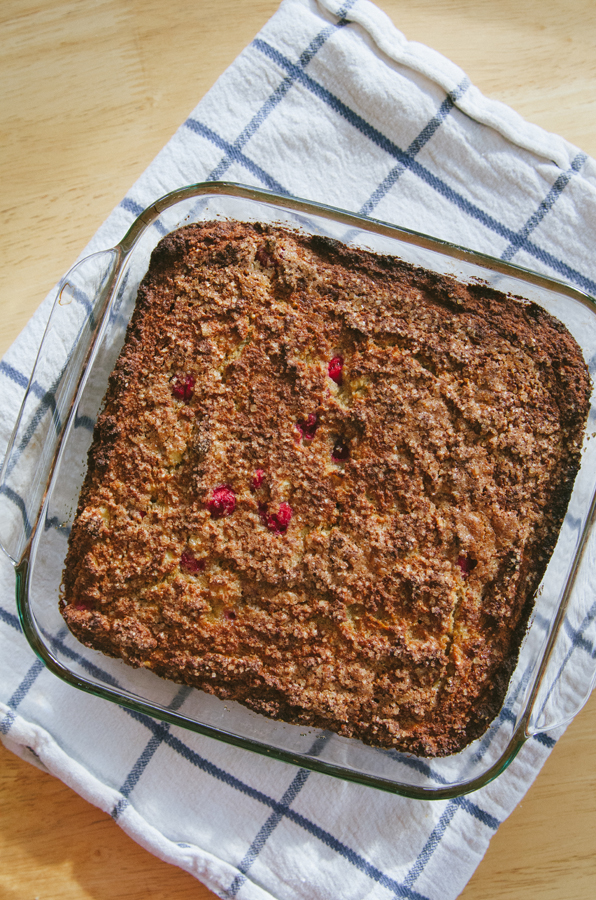 Hello. My name is Gina, and I am a banana hoarder.
Send help.
You might be wondering, how does one identify themselves as such? Sure you've watched those shows where people collect newspapers and trinkets and hundreds of cats, but banana hoarding has yet to be seen as mainstream. I get it. So, let's just say there comes a point in time when you open up your freezer in order to stash away this week's leftover banana bounty, only to realize there is legitimately no more room due to your already overwhelming collection of frozen bananas. My husband is confused. We discussed this a little bit the last time I made you banana bread. I've since stopped letting my bananas rot in the dark corners of my kitchen counters and have instead moved on to extreme hoarding behaviors. You tell me which one is better. I'm just not completely sure.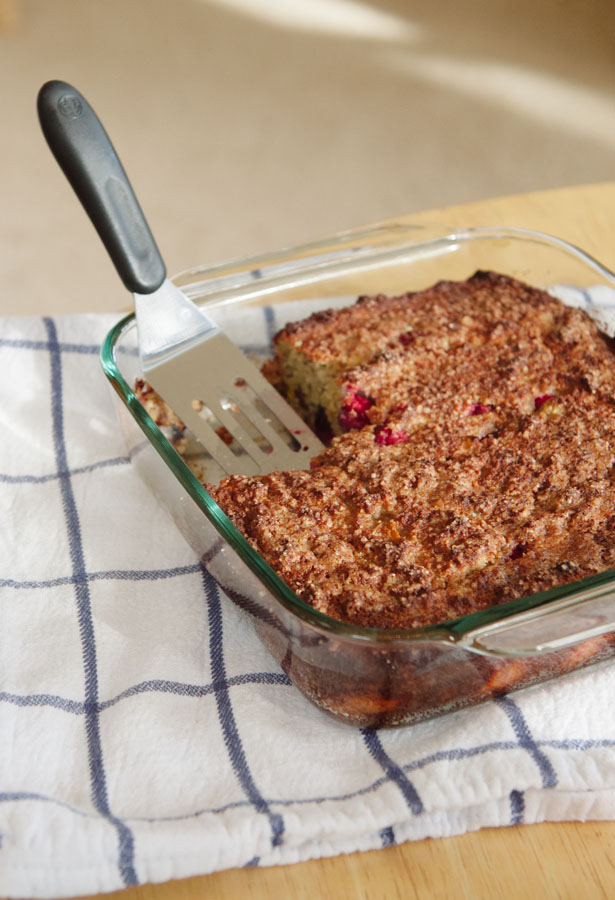 One thing I am sure about is that it's time to start putting these bananas to use! Since I couldn't get my stash and freeze on this week, I decided to make a cake! I wanted to make something that challenged the norm on the banana bread spectrum. Let's get crazy. We're already hoarding bananas. We can get crazy. It's fine. Why don't we throw in some lemon zest and some cranberries into the mix? Yes. I like this. Maybe some cinnamon? Perfect. Should I make a foam with the essence of these banana peels and serve my finished product all deconstructed in a shot glass? No. Definitely no. But, I did just give myself away as to how much Top Chef  and Chopped I allow to play in the background as I go about my day. It's a lot. Why is everyone always deconstructing everything? Grumble. These are the things that keep me up at night. Stop putting foam on things, crazy people. No matter what you say, you're not going to convince me that tomato foam on a deconstructed micro meatball sub is a good idea. And… end rant.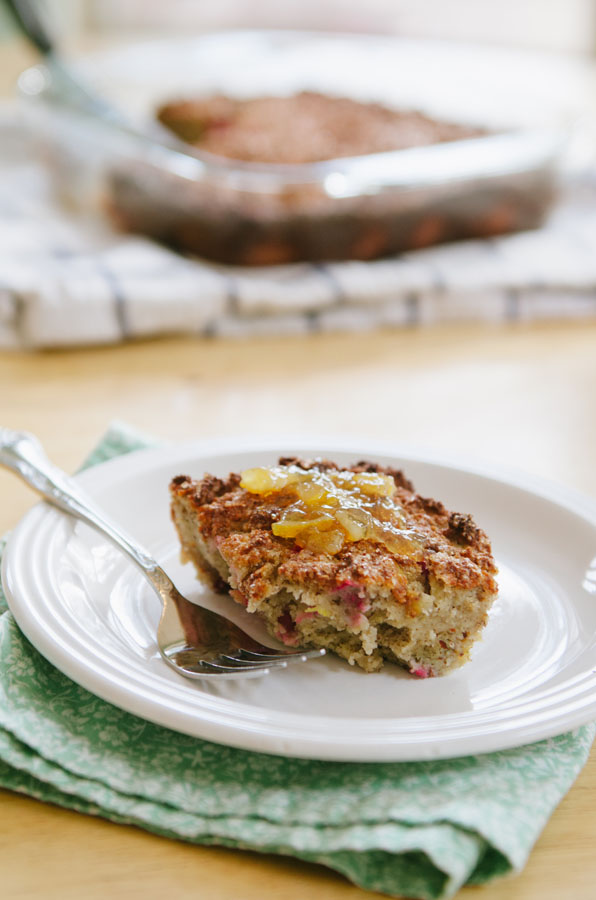 So, you ready to construct the heck out of some banana cake? Cool. We can put a little jam on top. I opted for lemon marmalade. My husband put more whipped cream on his slice than seemed legal. Then, we totally deconstructed this thing with our forks…. fancy, right?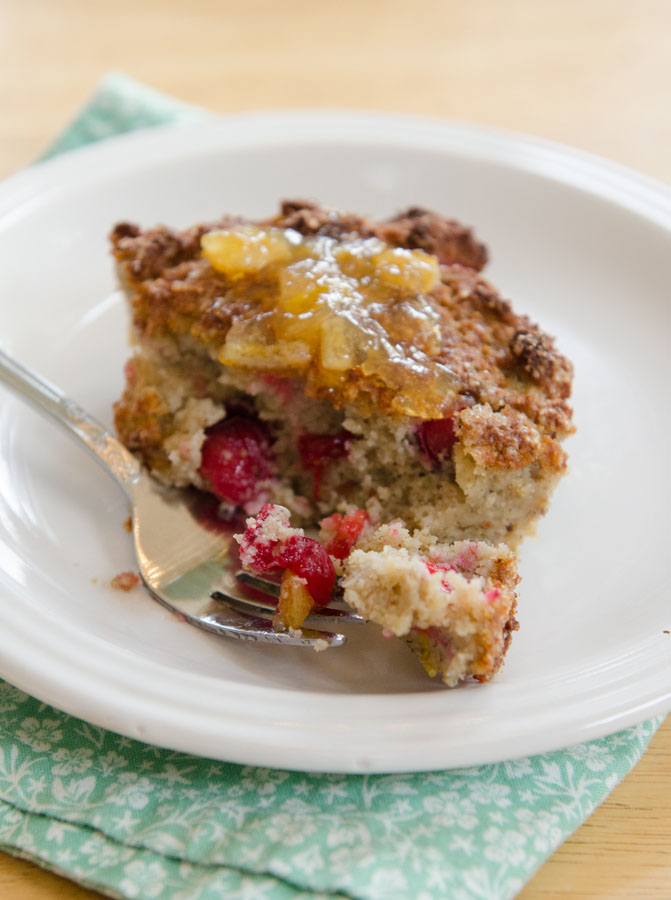 Perfect! Let them eat cake! xo
Grain-Free Banana Cranberry & Lemon Breakfast Cake
Ingredients
1/2

cup coconut flour

1/2

cup almond meal

1

cup ripe mashed bananas (approximately 2-3 bananas)

1/2

cup grass-fed butter, melted (or coconut oil)

1/2

tsp cinnamon

3/4

tsp baking soda

1/2

cup maple syrup

4

eggs

1/2

tsp vanilla extract

1/4

tsp salt

Zest of 1 Meyer lemon

1

cup fresh cranberries

Turbinado sugar to sprinkle on top (optional)
Instructions
Preheat your oven to 350 degrees and grease a 8 inch square baking dish with butter or oil of your choice. Set aside.
In a medium sized bowl mix together the coconut flour, almond flour, cinnamon, baking soda, and salt. Mix together well with a fork to decrease any clumps.
In a small bowl whisk together your eggs, vanilla and maple syrup. Once whisked well, incorporate your mashed banana into your egg mixture and whisk together until well combined.
Pour your wet ingredients into your dry ingredients and stir together until it is mixed throroughly. Once it is mixed, add your melted butter (or coconut oil) and stir once again until the batter is completely mixed together.
Fold your lemon zest and fresh cranberries into the batter. They should be evenly distributed throughout.
Spoon all of your batter into your greased baking pan and spread it out evenly. If you are going to sprinkle a bit of turbinado sugar on the top, now is the time.
Bake it for 40-45 minutes or until the top is golden brown and then center when pierced with a toothpick or a knife comes out cleanly.
Remove from the oven and let it cool for 20 minutes or so. Cut into slices and serve plain or with jam, butter or whipped cream.
Enjoy!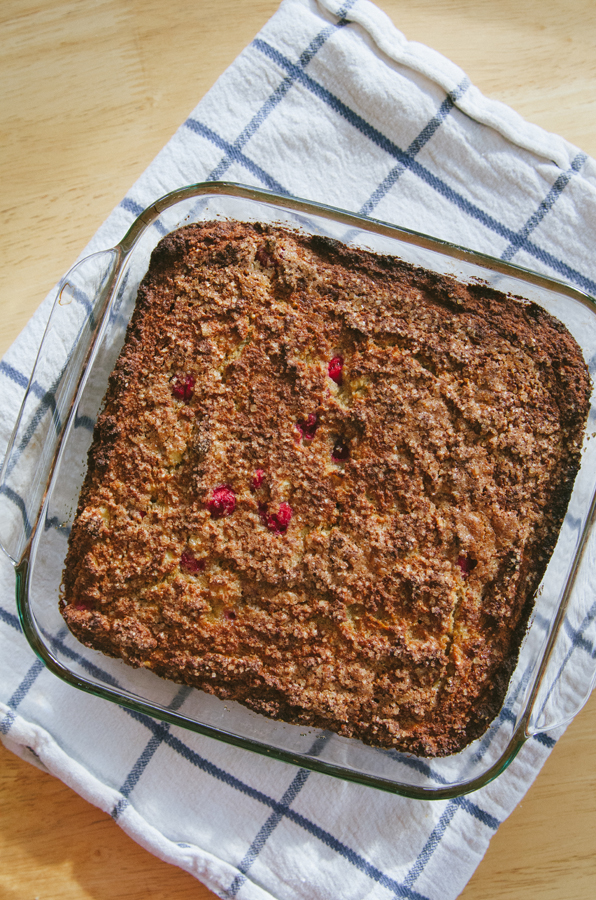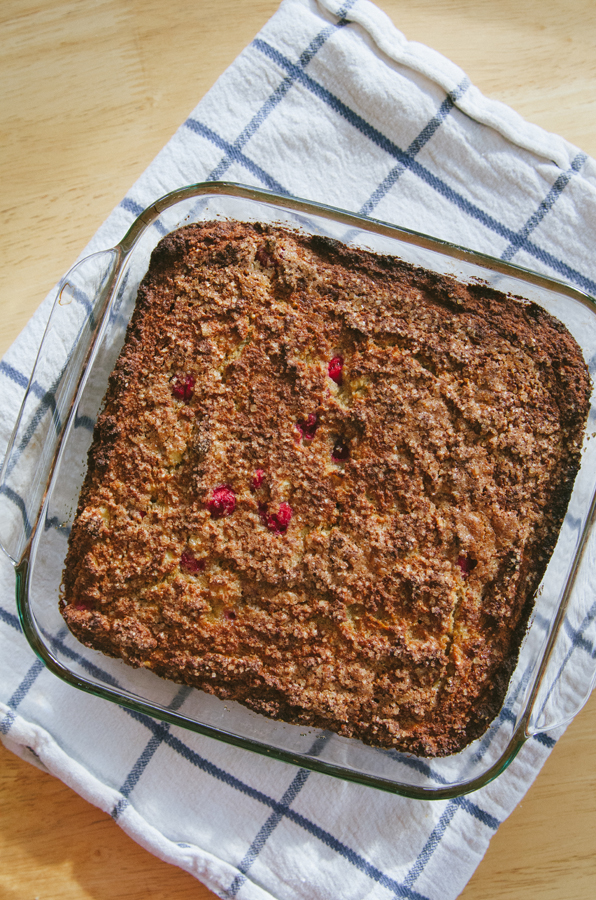 PAID ENDORSEMENT DISCLOSURE: In order for me to support my blogging activities, I may receive monetary compensation or other types of remuneration for my endorsement, recommendation, testimonial and/or link to any products or services from this blog.