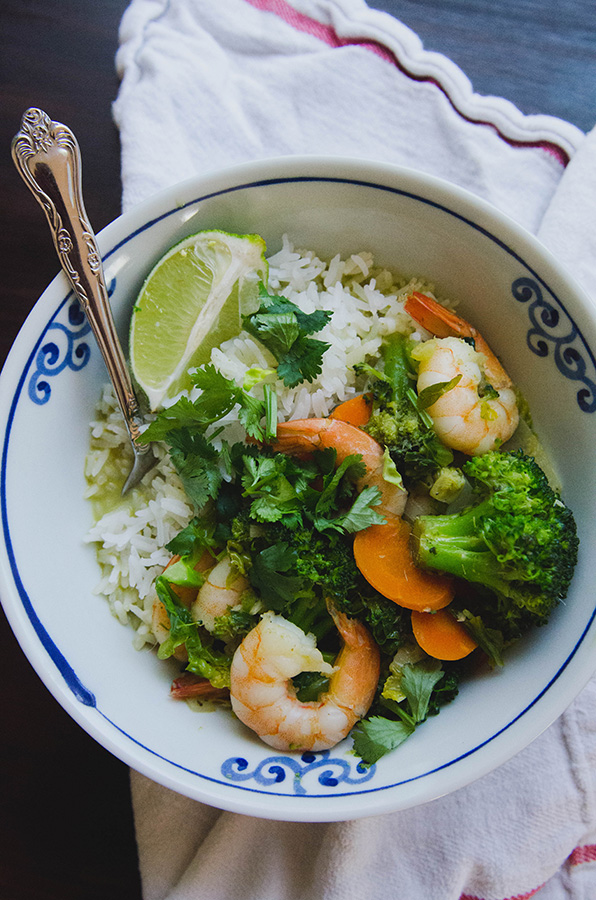 The internet has been spewing infinite amounts of Shamrock Shakes and hunks of corned beef at me all week. While those things look delicious, and I encourage you to corn all the beef you please, I felt everyone was probably covered in the traditional sense of a St. Patty's Day meal plan. Basically, I'm just trying to make you something green in avoidance of getting pinched. I really don't like getting pinched. So, I whipped up a not so traditional green curry. Irish? No. Delicious? One hundred.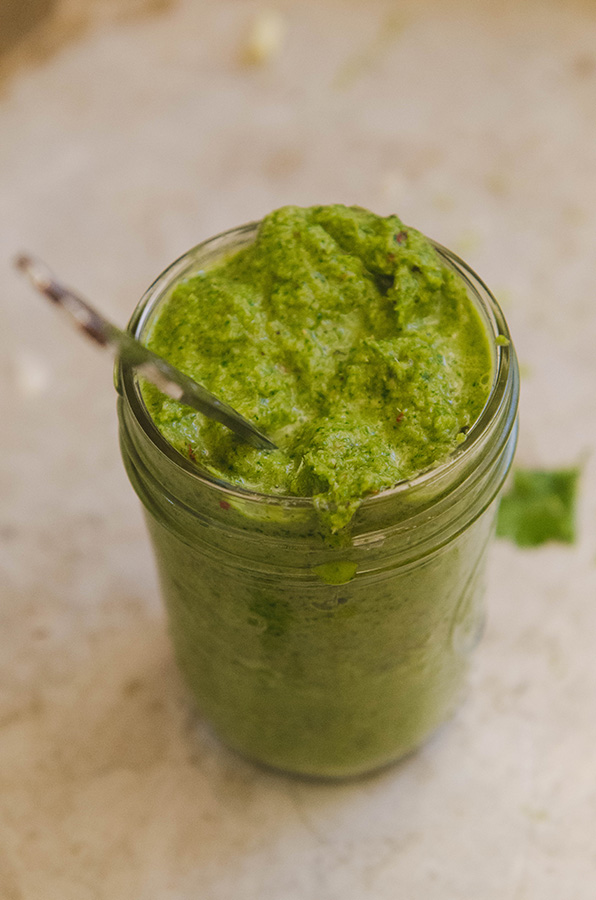 A few weeks back I was feeling pretty crummy. I was in no mood to get my butt to a grocery store or even to pick up takeout. I was basically a walking set of greasy bangs, kissed with the sweet gel of fever sweats. I created a uniform out of polar bear pajamas, and watched everything trashy there was to watch on cable. Amidst my fevering, I had a sudden and extreme hankering for green curry. This seemed random, but I didn't question it. My appetite was kicking in, and things were good.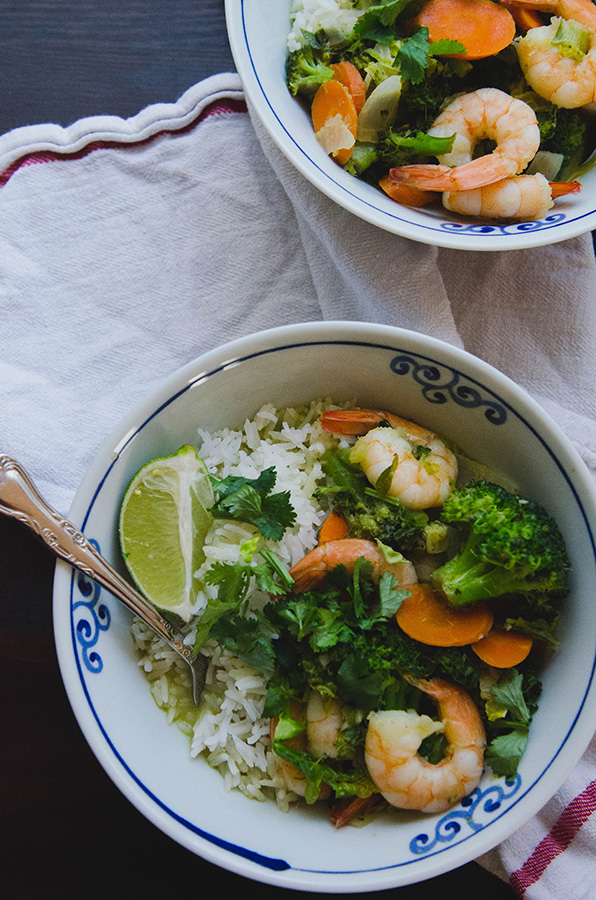 I knew I was going to have to improvise since I didn't even have the main ingredient in a traditional green curry; basil. Well, that's not entirely true. I had some, but it was stuck behind a few items in my refrigerator and had begun to turn brown and grow a fur coat. Not optimal for cooking, but fashionably very chic. I gagged a little and threw it away. Other than the lifeless basil, what I found in my fridge was promising. I had lemongrass, cilantro, ginger, and garlic.  I had frozen shrimp. I had the Beyonce tunes to get me through a cooking session. I had the will to try. All good things. So, I ventured into some improvisational curry territory, and the results were really tasty! It definitely scratched my curry itch. Side note: I hope that curry itch isn't actually a thing. It sounds very uncomfortable.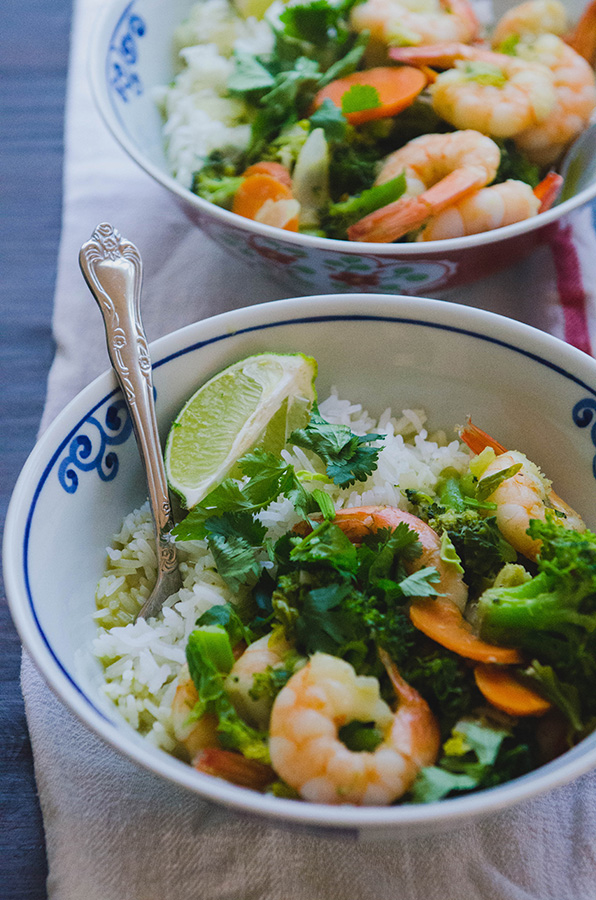 I served it all up over some jasmine rice with an extra dollop of curry paste on top. I'm not sure if that's what you're supposed to do, but it tasted way too good not to. I squeezed a fresh lime on top, and garnished everything a little bit more with some cilantro and a splash of tamari. Be still my curry loving heart. This was so full of flavor! My taste buds danced. Bollywood style. With all the arm movements and the colorful saris and romantic undertones. Maybe if you make this on St. Patty's Day you'll experience an Irish jigging of the taste bud variety. Probably not…because, curry. But, NO ONE CAN PINCH YOU IF YOU EAT THIS. I know there is always the kid who is wearing a fully green outfit and a pair of very pinch-y fingers, but you could be the person with green moving through your digestive tract. That's commitment. That's celebratory. That's probably not enough to save you from lil' pinch-y fingers. But, honestly, it never is.
Happy St. Patrick's Day, Friends.
Green Curry Shrimp Stir Fry
Ingredients
Green Curry Paste;
Stir Fry
1

Tbsp. coconut oil

1/2

medium onion, peeled and chopped

1

clove garlic, pressed

2

cups chopped bok choy

2

cups shredded green cabbage

4

cups broccoli florets

1/4

cup green curry paste

1

cup chicken broth

1

can full fat coconut milk

1

lb. peeled and deveined raw jumbo shirmp
To Garnish
Fresh cilantro

An extra dollop of curry paste

Tamari

Lime wedges
Instructions
Add all of the items listed under Green Curry Paste to a food processor or high speed blender. Blend on high until it all comes together into a paste. You don't want any large chunks in the mix.This will make more green curry than you need for this recipe. Set aside.
In a large pan, heat up coconut oil over medium-high heat. Once the coconut oil is hot, add in the onion and garlic. Saute them together until the onion is soft and translucent.
Add 8 the bok choy and the cabbage and allow them to cook down, stirring frequently. Once the greens have wilted, add in the broccoli and let it cook with the greens for a few minutes.
Add in a 1/4 cup of the curry paste, chicken broth and a a can of coconut milk. Stir together, allowing the curry paste to melt into the liquid and become part of the sauce. Allow the mixture to reduce slightly over the course of a couple minutes.
Once it has reduced a bit, add in the shrimp and cook until the shrimps are pink and cooked through.
Remove from heat and serve over white rice. It's great with an extra dollop of curry paste right on top, or with a splash of tamari over the rice. If you don't eat rice, it would be equally delicious over some cauliflower rice. Enjoy!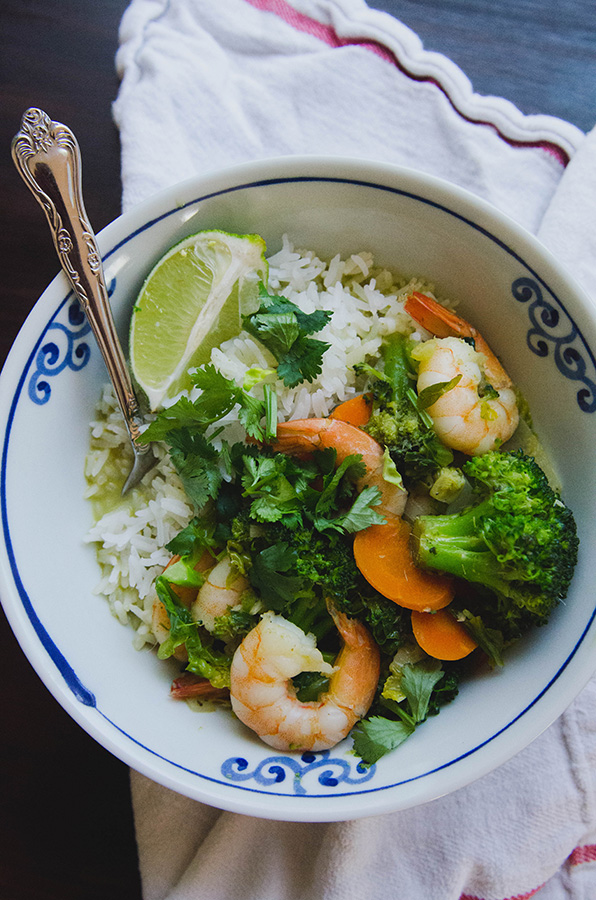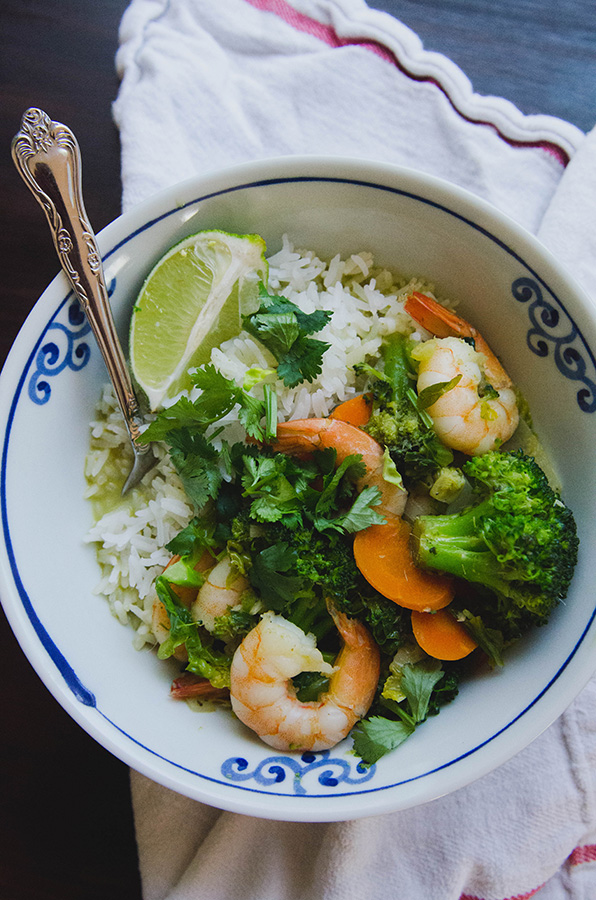 PAID ENDORSEMENT DISCLOSURE: In order for me to support my blogging activities, I may receive monetary compensation or other types of remuneration for my endorsement, recommendation, testimonial and/or link to any products or services from this blog.