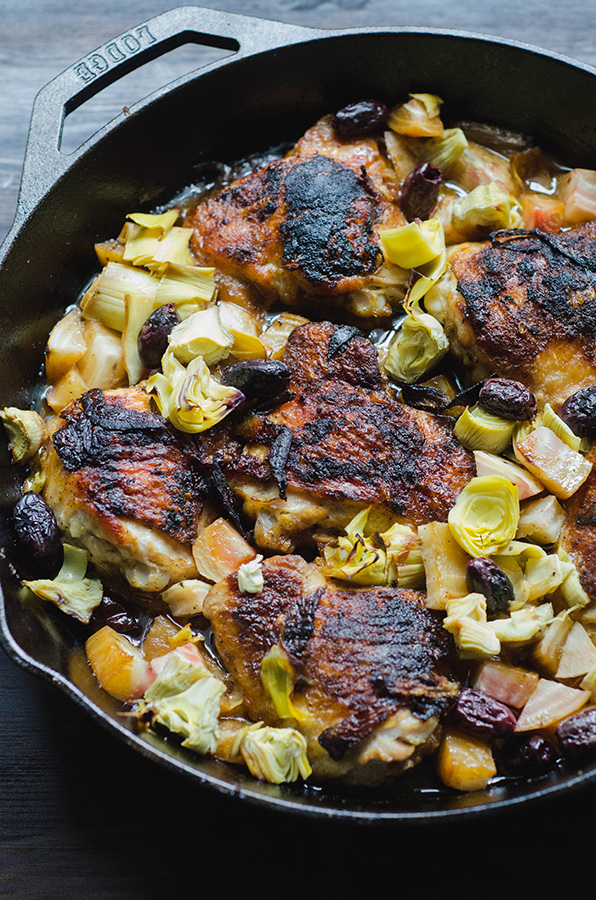 Oh, hey there. Long time no chat. Where have you guys been? Oh, wait. You're saying it's my fault we haven't talked in a while? Correct. Guilty. I'll fill you in on the gaps. I got glutened (oof!). Got better. Got the stomach flu (double oof!). Got better. Made crispy chicken in a skillet. Now, we're all caught up. That's the really quick version. The longer version involves unsavory details, profanity and drinking my weight's worth in liquids. The same pair of  large grey sweat pants adorning my hairy unkempt legs. Also, I'm totally caught up on all the trash television. So, if you wanna gossip about what's happening on The Bachelorette — I'm your girl. Don't even get me started on the guy who claimed to be an Amateur Sex Coach. The whole thing just makes me feel really weird. Also, if you're not watching Married At First Sight, I don't know what you're doing with your life. Probably living it. I should probably take off these grey sweats and join you. This chicken is a step in the right direction. Chick it out. Get it? Like, check it out… but, with chick, because chicken puns. You're welcome to throw stuff at me now. Or, if you want it to really sting, just silently yet aggressively face palm in my direction. Good. That's perfect.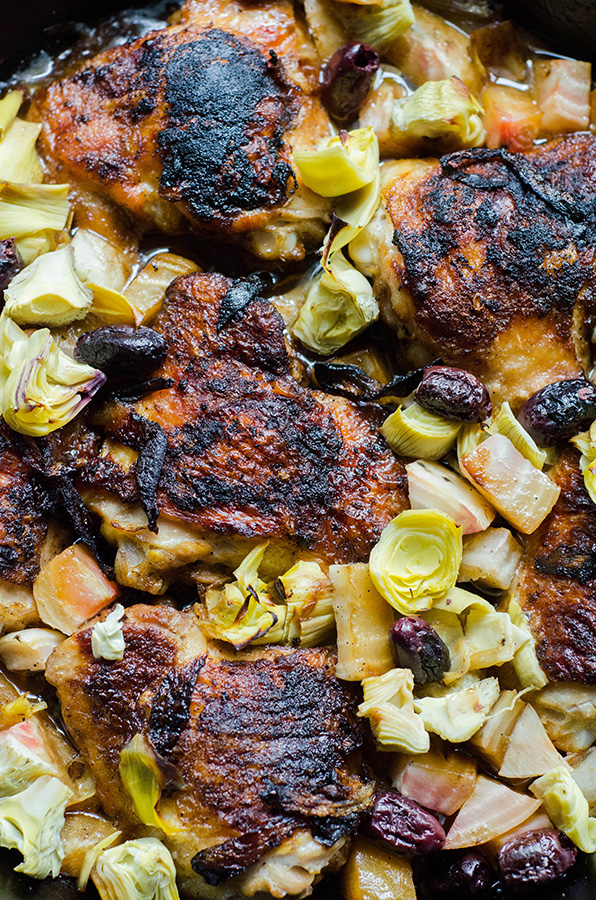 Now, I'm no stranger to trying to get as much crispy chicken skin into my pie hole as possible. We've made it with Brussels sprouts. We've made it with a coconut sauce. Crispy chicken skin all the things!!  If they sold it in bags, like chips… you best believe I'd have a permanent dusting of  charred chicken skin residue residing in my bra. Does anyone else have this problem? If I am wearing anything that is not a turtleneck, I manage to get crumbs, dinner, chocolate etc. all up between my lady lumps. Is that something people are still saying? Fergie said is was cool in 2005, so I'm guessing we're still on trend (no). Forgive me, I'm chronically uncool. This is probably why I'm considering creating a Crispy Chicken Skin Fan Club. Wanna join? I figure, if Lady Gaga gets the "Little Monsters", then I feel like Crispy Chicken should get the "Crispy Chicks". And when you've unsuccessfully compared chicken to Lady Gaga, it might be time to just STAWP. Loud and clear.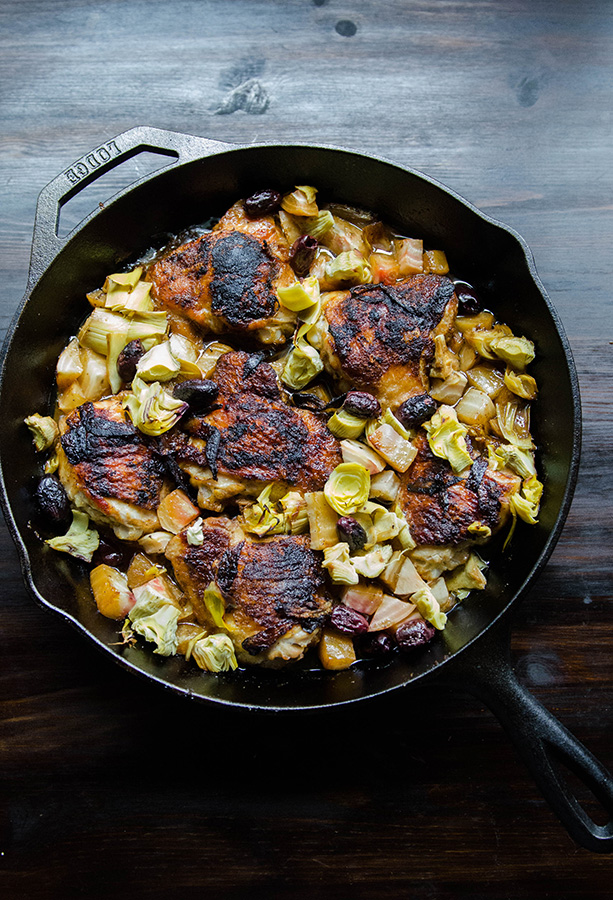 Now, if you're not living the skillet life, I don't know what to tell you other than… THE TIME IS NOW. One skillet that contains your entire dinner. This feels simple, and breezy, and like a whole lot less dishes. All of those things are a win in my book. I've never made a skillet dinner that I was mad at! This one was particularly delicious. The sweet earthy flavors of the beets marinate in the juices of the chicken, soaking up a ton more flavor. Artichoke hearts and Kalamata olives bring a Mediterranean feel to the dish. And, that lemon that we squeeze on there at the end? It's the perfect touch of acid to balance out the richness. In other words, this shizz is quality. Trust.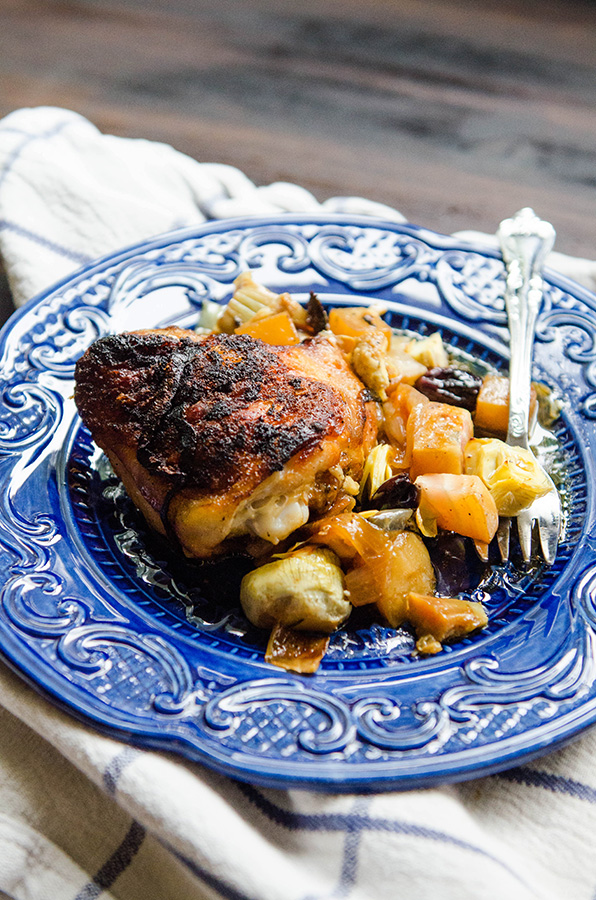 Now, put on yer bibs, fetch your trenching tool, and prepare to dig in.
Crispy Chicken Skillet With Artichokes, Beets, Lemon & Olives
Ingredients
1

Tbs lard (or other cooking fat/oil)

1

onion, chopped

7

cloves of garlic, peeled and left whole

6

bone in, skin on chicken thighs

Salt, pepper, granulated garlic (to taste-- I tend to be pretty liberal with this dish)

Zest from 1 lemon

I cup chicken stock

1

candy cane beet, peeled and chopped (if you can't find a candy cane beet, any beet will do)

6

artichoke hearts, chopped

1/3

cup pitted kalamata olives

Juice of 1 lemon
Instructions
Preheat the oven to 425 degrees.
Heat up a large cast iron skillet over medium to high heat. Melt the lard in the skillet and wait for it to get hot. Once it's heated up, add the onions and garlic to the pan. Allow them to brown a little before adding the chicken.
Season the chicken liberally with salt, pepper and granulated garlic on all sides. Place the thighs skin down into the hot skillet. Do not fuss with or move the chicken thighs for several minutes. You want a nice crispy crust to form. After about five minutes in the hot pan, check your chicken skins. If they are crispy, you can flip them. If not, continue cooking until they have a nice crispy skin.
Once the skins are crispy, and you've flipped your chicken thighs you can add the lemon zest, and the chicken stock to the skillet. Add the chopped up beets, artichoke hearts and kalamata olives to the skillet as well. Allow to simmer for a couple of minutes, and then transfer the whole skillet into the oven to bake for 30 minutes, or until the juices of the thighs run clear and the chicken is cooked through.
After the chicken is done and the veggies are tender, juice a lemon on top of the whole dish and serve!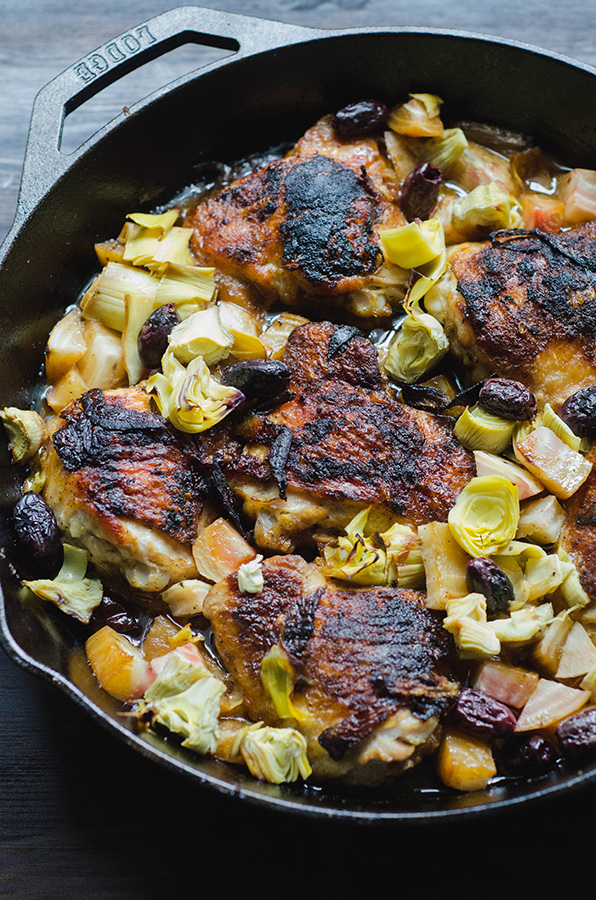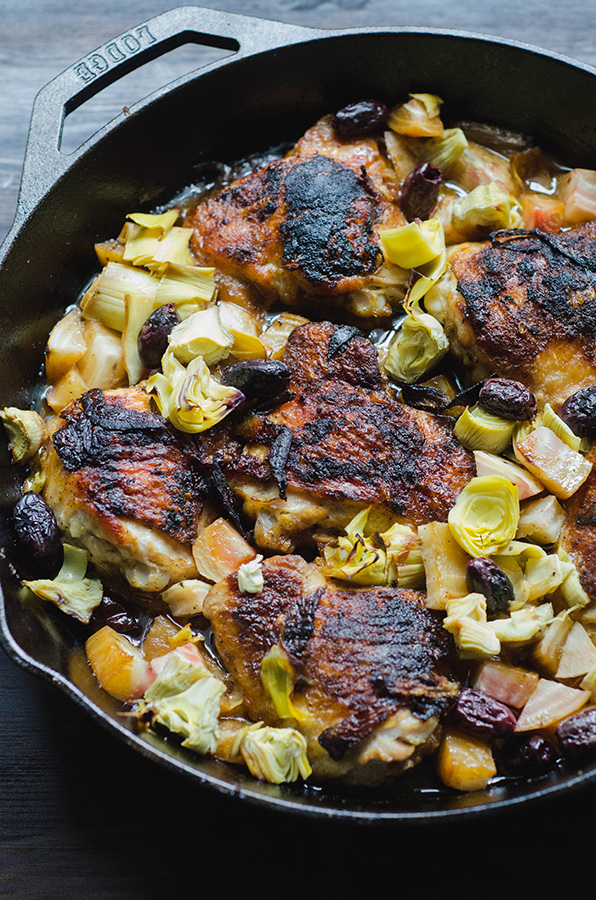 PAID ENDORSEMENT DISCLOSURE: In order for me to support my blogging activities, I may receive monetary compensation or other types of remuneration for my endorsement, recommendation, testimonial and/or link to any products or services from this blog.