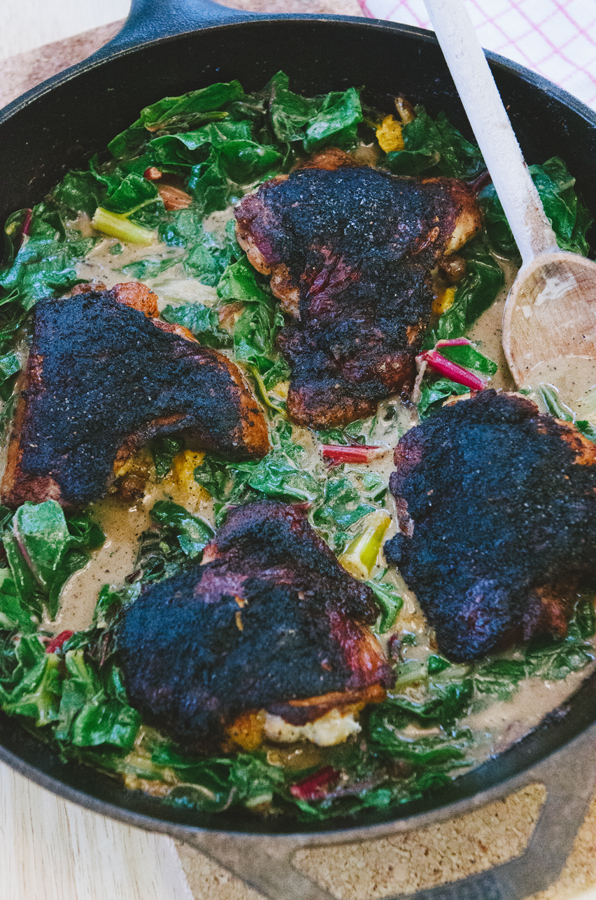 Things that I love:
Handwritten letters
Jazz
Jazz hands
Cold steak for breakfast
Laughing so hard it hurts
Polar bears
Husband
Crispy Chicken Skin
Okay… so maybe that's a very short and slightly random list, but you get the point. Crispy chicken skin is on that list. If they sold warm bits of crispy chicken skin in a bag like potato chips, I'd probably buy it. If I could eat said crispy bits while listening to jazz and petting a polar bear? Game over. I mean, really.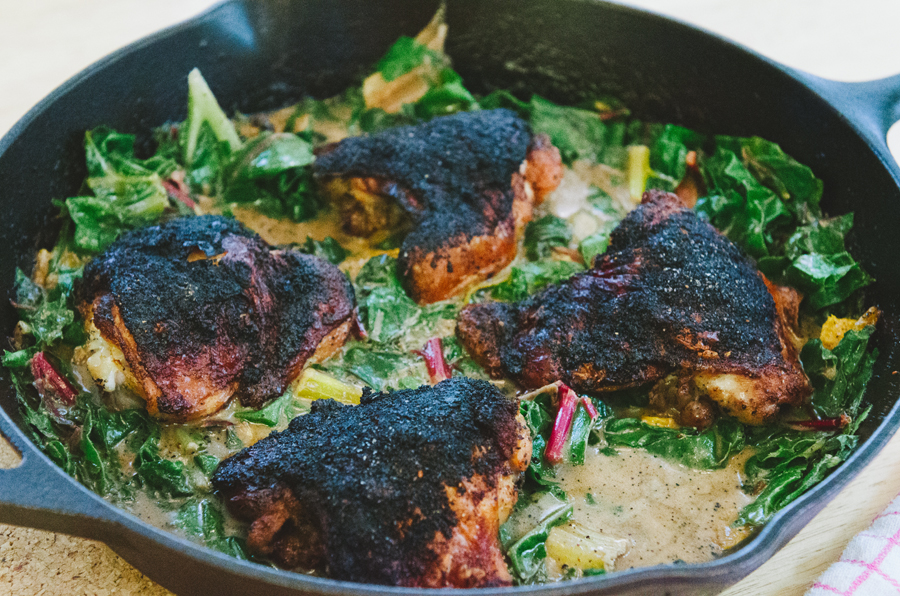 This recipe was inspired by this recipe by my friend Michelle over at The Lucky Penny. Have you guys met her yet? Her food is solid. Every time I try one of her recipes it turns out so beautifully. Okay, maybe more than solid. I might have made that recipe over and over again last winter. Sometimes two nights in a row. Hey… what's that old saying? If it ain't broke, don't fix it? Isn't there also a saying about putting crispy chicken skin in your face? No? Well… there should be. I'll work on it.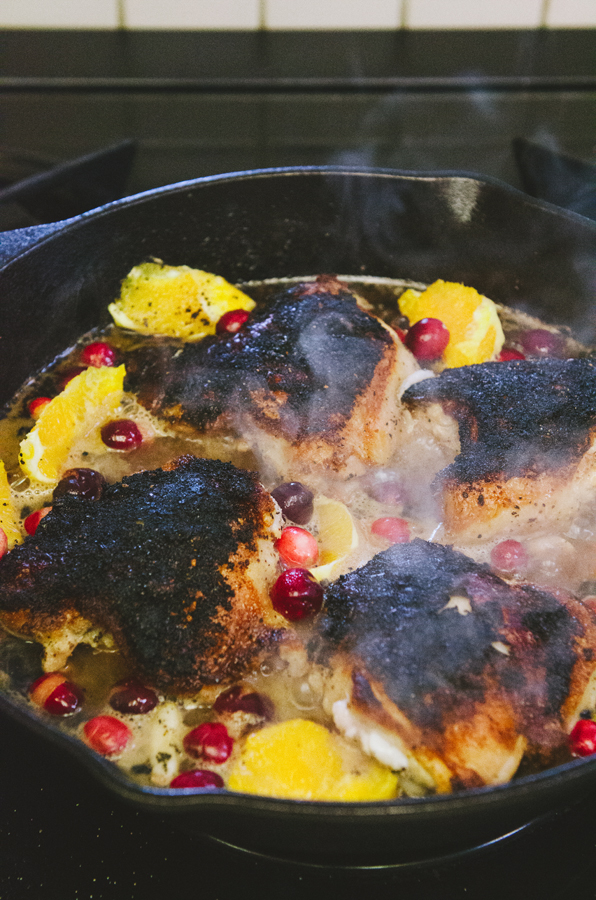 I keep on gushing about chicken skin, but honestly, that is just the crispy icing on this here chicken cake. Segmented oranges and fresh cranberries stew with chicken broth and garlic to create a sort of sauce. Oh, and did I mention this all goes down in ONE pan? Because that is happening. If you haven't figured it out, I have a thing for crispy chicken meals made in a single pan. This isn't our first rodeo.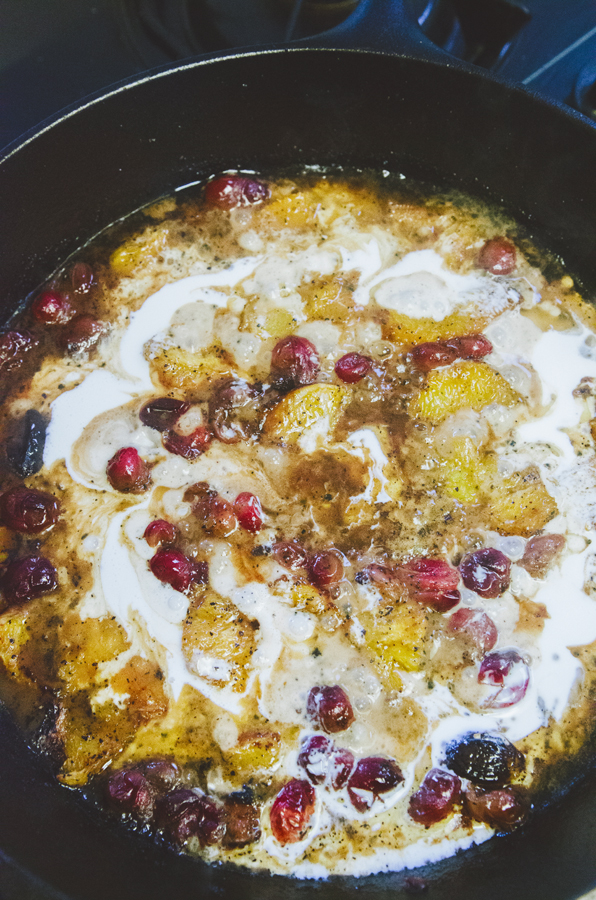 After the chicken has gotten some oven time, it is removed from the pan. We're going to make that sauce that's been forming on the bottom of your skillet even tastier. See how that fruit has caramelized itself? Yum. This is where you add coconut milk to the mix and stir it up with a fork. Those pieces of fruit are going to break down into the sauce. Is it weird that I'm a little jealous that the greens get to bathe in this? You can say yes.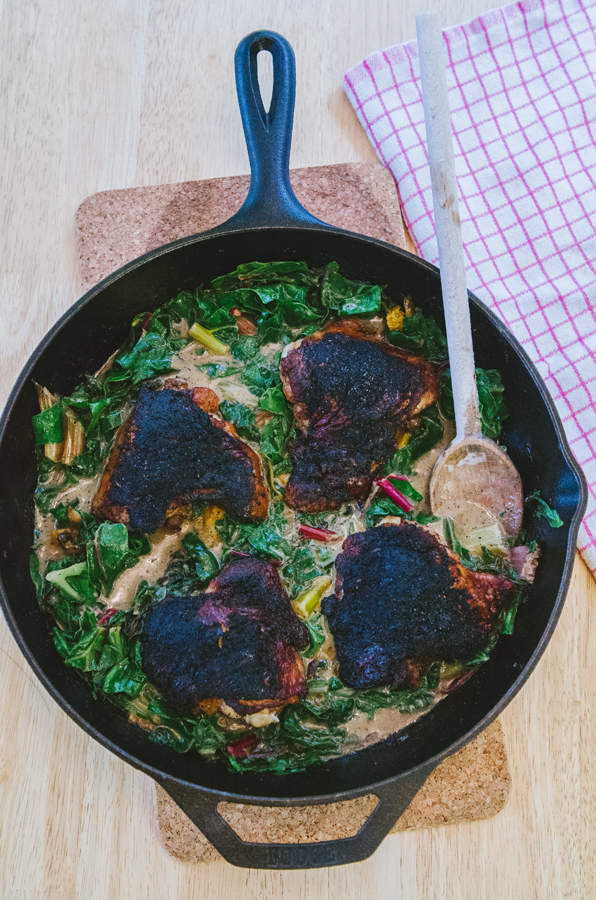 Rainbow chard wilts into the sauce, and then you top your wilted greens with your already cooked crispy chicken thighs. Oh, hey there beautiful. Come to this skillet often? It's common practice to talk to your dinner like you're trying to pick it up at a bar. Go with it.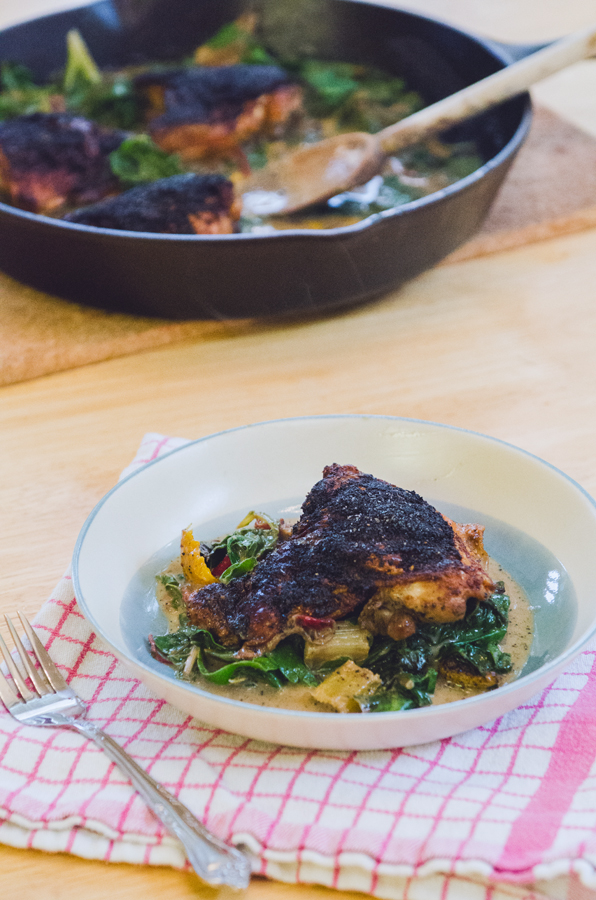 Serve it up. Get excited.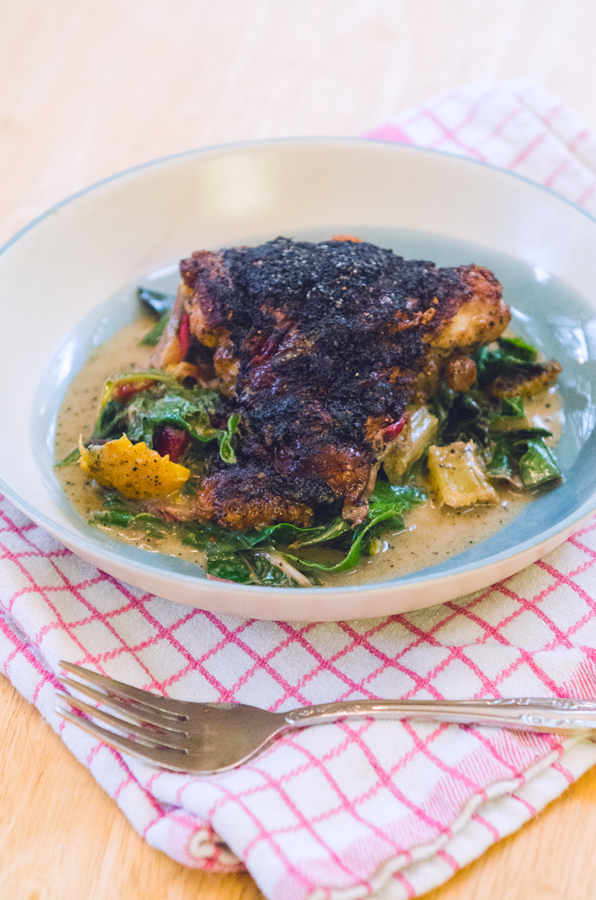 And let the chomping commence. That was easy, right? Pro tip: picking up the chicken with your fingers is extra satisfying. Don't listen to your husband if he tells you it's slightly grotesque. But, maybe use your fork for the greens. It helps keep those juices in line.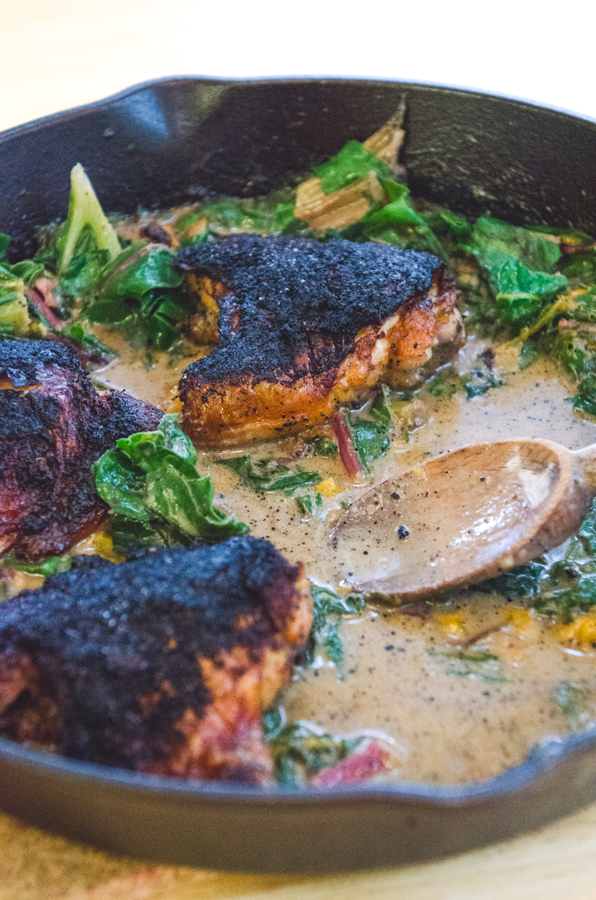 Enjoy!
Crispy Chicken Thighs With Orange & Cranberry Coconut Greens
Ingredients
4

chicken thighs (bone in, skin on)

Salt, pepper & granulated garlic, to taste

1

tbs coconut oil

4

peeled garlic cloves

1

orange, segmented

1/2

cup fresh cranberries

1 1/4

cups chicken broth

1/2

cup coconut milk (full fat)

1

bunch of rainbow chard, washed and chopped
Instructions
Preheat your oven to 400 degrees.
Set your cast iron skillet over medium heat to get good and hot. While your skillet is heating up liberally season your chicken with salt, pepper and granulated garlic. Make sure to season both sides.
Once your pan is hot, add in your coconut oil. Once your coconut oil is hot, carefully place your chicken thighs into the pan skin side down. Once you have placed them, do not move them. Add in your peeled garlic cloves and allow your chicken to cook skin side down for 7-10 minutes. This should be enough time for your skin to get nice and crispy. I like mine blackened, so I usually let it go for at least 10 minutes.
After 7-10 minutes, flip your chicken thighs over and allow them to cook for an additional couple of minutes. Add your segmented orange and fresh cranberries to the pan and stir them around to distribute them evenly.
Add in your chicken stock and move your hot pan over to the oven. Bake from 25-30 minutes, or until the juices run clear.
Once your chicken thighs have cooked through, remove the pan from the oven and put it back on the stove. Remove your chicken thighs from the pan and set them aside on a plate.
Add your coconut milk to the juices and hot pieces of fruit in your skillet. Using a fork, break up the pieces of fruit and garlic until they melt into the sauce.
Add your chopped up rainbow chard to the coconut sauce and cook over low heat until your chard has wilted down.
Once your chard has wilted, add your chicken thighs back on-top of the cooked chard and serve!
Enjoy!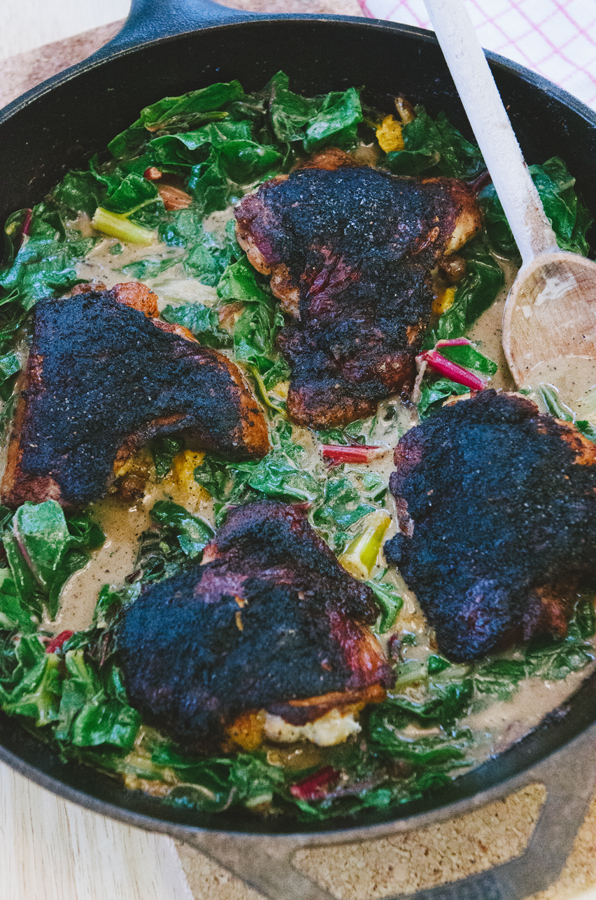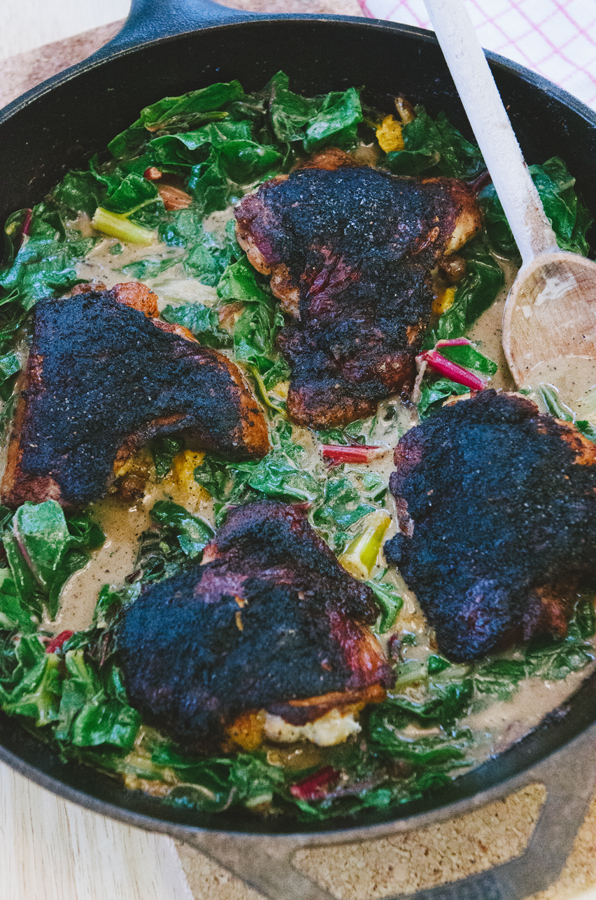 PAID ENDORSEMENT DISCLOSURE: In order for me to support my blogging activities, I may receive monetary compensation or other types of remuneration for my endorsement, recommendation, testimonial and/or link to any products or services from this blog.