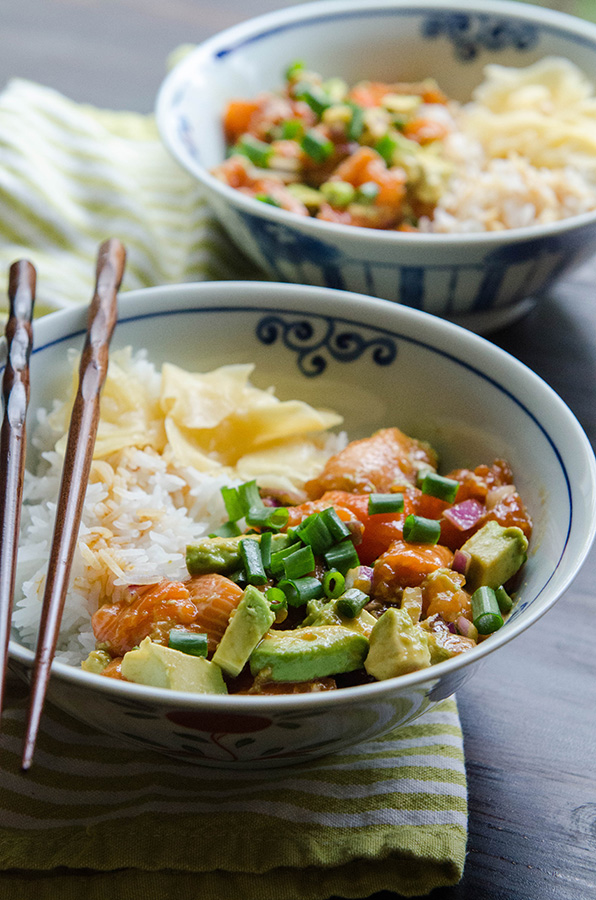 Raise your hand if you don't want to actually cook dinner tonight? I can't actually see you, but I'm pretty sure your hand is raised. Mine is. High. Way up there. Like, straight up. I must look like I have an urgent question. I'm going to put my arm down now. It's much easier to type with two hands. You're probably like "Um, Gina…why are you so mad at cooking? You write a dang food blog. Are you upset with your life choices? WHAT IS LIFE?!?!" Or, maybe this is just me having an uncomfortably public, not-so-internal existential crisis on the internet…and talking about myself in the third person, which is kind of gross and every bit regrettable. That's cool, guys. I'm fine. Let's just eat some raw fish. We're going to make this Salmon and Avocado Poke, which is full of all the good fats and will hopefully power my brain to write better sentences and not be 98% all types of embarrassing. Not likely. But, we can dream.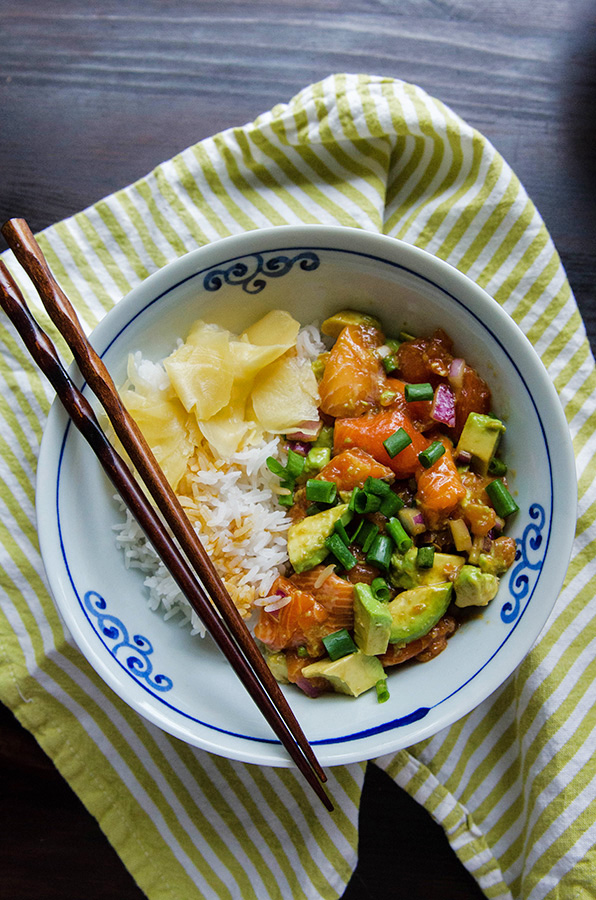 If you know me, you know that I'm ALL about raw fish. We've talked about it before at length when I made you this Spicy Ahi Tuna Poke, which is my go-to poke recipe, and the one that most closely resembles what my Hawaiian grandparents would feed me as a kid. But, like they say, variety is the spice of fish. Or, life. Or, soy sauce is the variety of spice. Or, something about life being the spice of varieties of fish? Pretty sure that's the one. Sayings are confusing. Basically, it's nice to change things up every now and then. Plus, sashimi grade salmon melts in your mouth like fish butter. You know, if "fish butter" was a thing that sounded appetizing. *How am I still talking?*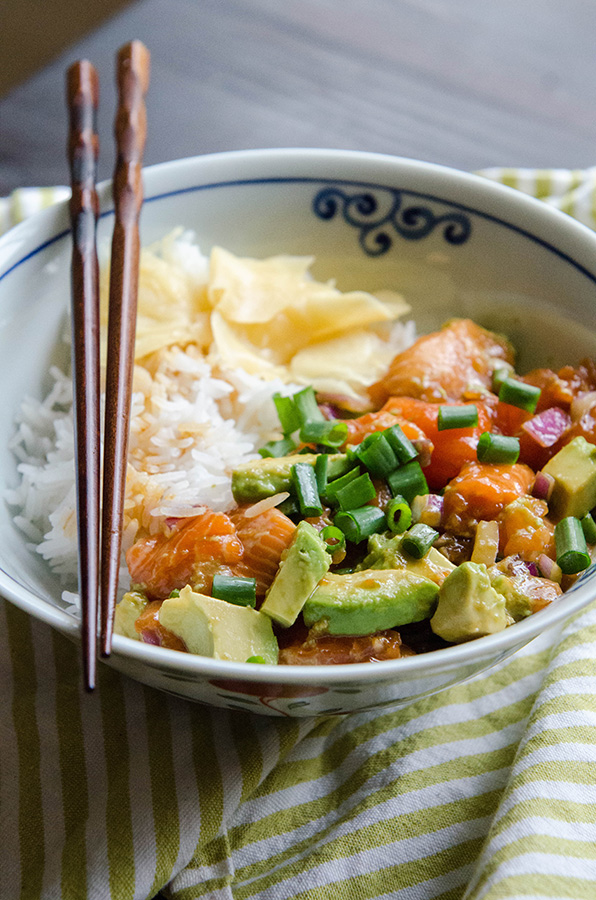 I'm going to stop saying things like fish butter, and instead explain that this poke is rich and wonderful. If it was wine, I'd be like "You guys, this $hit has a really wonderful mouthfeel. No, I'm not spitting it out in that weird wine bucket. Stop trying to make me spit it out in the bucket."  Luckily for all of us involved, this is not wine, and there is no bucket, and you can eat large bowls of this gloriously healthy poke until your heart is content. But, like really, because your heart will be stoked on all of these omega 3's.
So, in conclusion: this poke is delicious, you don't have to cook it, no one will make you spit this out into a bucket, omega 3's are the business, talking in the third person is uncomfortable, and my wordsmithery is sketchy at best on a Monday.
Imma stop talking now. Here's the recipe. Sorry for saying mouthfeel. K-bye.
Ingredients
1.5

- 2 lbs sashimi grade salmon

1/4

of a small red onion, finely chopped

1

large clove of garlic, pressed

1

tsp. minced ginger

2

Tbsp. sesame oil

1/4

cup tamari (or coconut aminos for strict paleo)

2

large ripe avocados, cut into chunks

1/4

cup chopped scallions + more to top
Instructions
Rinse the salmon fillets, and gently pat them dry with clean paper towels. Remove any skin, and cut your fish into bite size chunks using an extra sharp knife.
Add the chunks of fish into a mixing bowl with the chopped red onion, garlic, minced ginger, sesame oil and tamari. Toss everything together using a mixing spoon until the fish is well coated with the sauce.
Add the avocados and the green onions. Toss again gently. Garnish with extra green onions and serve! I like to eat mine with white rice and little pickled ginger, but feel free to make it your own! Enjoy!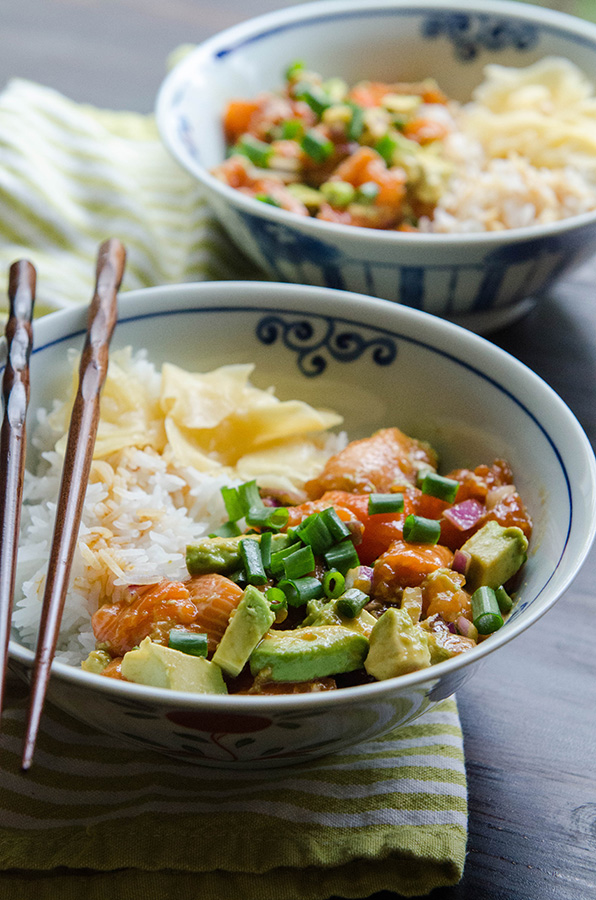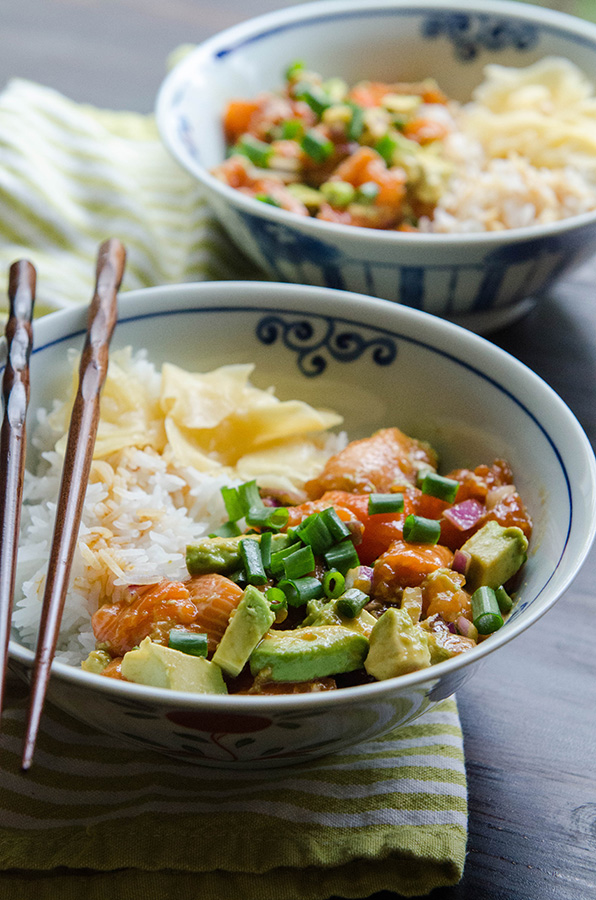 PAID ENDORSEMENT DISCLOSURE: In order for me to support my blogging activities, I may receive monetary compensation or other types of remuneration for my endorsement, recommendation, testimonial and/or link to any products or services from this blog.