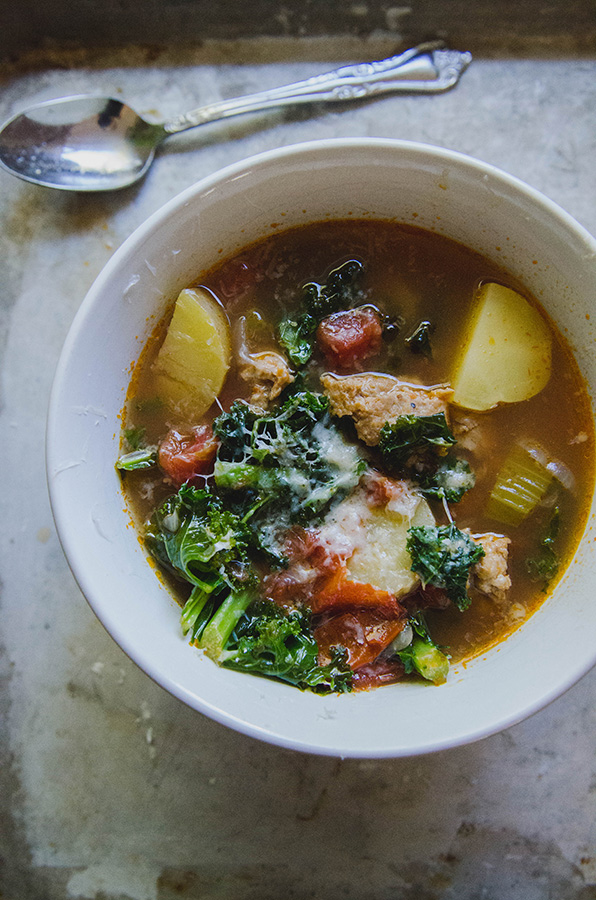 I spent eight years of my life in Los Angeles going to college, falling in love, and enacting all of the insecure "what do I want to do with my life?!" agony that a young twenty-something faces. After college I went to school for make-up artistry in Burbank, and spent lots of days in a hot room with other girls who liked lipstick. We learned how to do makeup for every occasion, and then we learned how to make realistic bullet holes and third degree burns. I worked as a photographer, taking head-shots of other insecure twenty-somethings trying to make it in Hollywood. I worked as a teacher. That was my favorite job. Kids are never boring. Ever.
For most of these years, I lived in a water-damaged, lead paint-filled apartment with a fenced-in pool and a galley kitchen. When we moved in we discovered blood splatter on the blinds, but we persevered because that's what you do if the rent is right. Our upstairs neighbors became like family, and, we were only 80% sure that the place was haunted. The landlady lived next door in an expertly-decorated version of our apartment filled to the brim with lace and tchotchkes. In the summer, you would find her tanning topless in the pool, trying to achieve a leathery shade of 1980's Hawaiian Tropic pageant girl. It got so hot in the summers that Pete and I would drag our mattress out of the bedroom and set it up under the air conditioning unit in the living room. Sometimes we'd try to cook together, but the kitchen was so narrow our butts would touch. Other nights it was just too hot, so dinner consisted of beer and popsicles. I spent almost all eight of these years complaining about how much I hated Los Angeles, and how much I missed my family.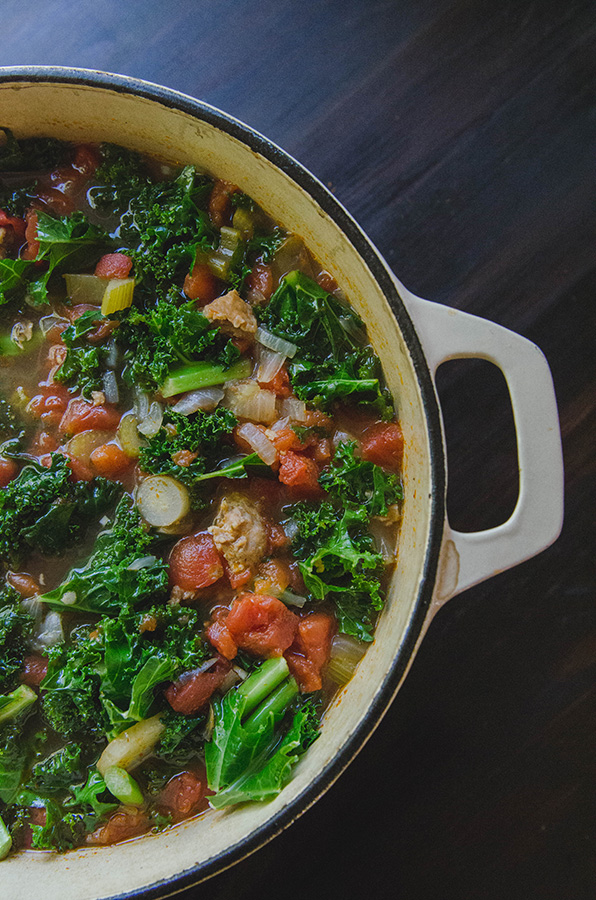 Eventually, we sold almost all of our furniture, cleaned out the closet where we had been stashing years worth of broken printers and forgotten Halloween costumes, and tried to stack and pack eight years of our lives into fifty dollars worth of boxes and packing tape. We U-hauled it up to a small town in Marin County. The town where I grew up. The town I spent years of my life complaining about because it wasn't a big city. Funny how that works. We arrived broke and tired. My parents let us move into the top part of the house I grew up in. The bottom floor was now my dad's bustling music studio. The floor vibrated with bass, but the kitchen was huge! I began cooking constantly, enthralled with the idea of counter space and a luxurious dishwasher. I would often cook just because I could. I'd make cakes and stews, and big green salads. Chicken curry that was cooked in coconut rice. My dad would often follow his nose upstairs come lunch time, and I secretly loved it. It was our bonding time together. I was basically cooking hugs. We'd sit and eat a bowl of whatever-the-heck was on the stove and laugh and chat. He'd high five me with words, telling me lunch was excellent–then he'd make his way back downstairs and the bass would continue to pulse through the floor boards.
One day, before work, I threw together a version of this soup. I left the pot on the stove just in case dad wanted lunch. I came home to find the soup pot a little lighter, and a note sitting next to it on the counter. I believe it read something like this:
"GINA! THIS RECEIPT IS DELICIOUS! THIS IS BEST THING I'VE EVER EATEN!! Love, Dad."
Sure, he confused the spelling of recipe with receipt (unless this is the French spelling and I'm simply uncultured), nobody is perfect– but, the sentiment was the best. I wish I could find that note. If I ever do, I might just frame it. My dad later told me that the food I cooked reminded him of his grandmother's house. I never met his grandma, but in every story I've ever heard about her she was cooking something. I get that. I understand the compulsive need to feed people. This is my love language.  This is why I come here and write words and try to feed you bowls of soup, or shove cookies into your mouth. It's my way of letting you know that you're welcome here and that we should sit down and chat and talk about our hopes and dreams.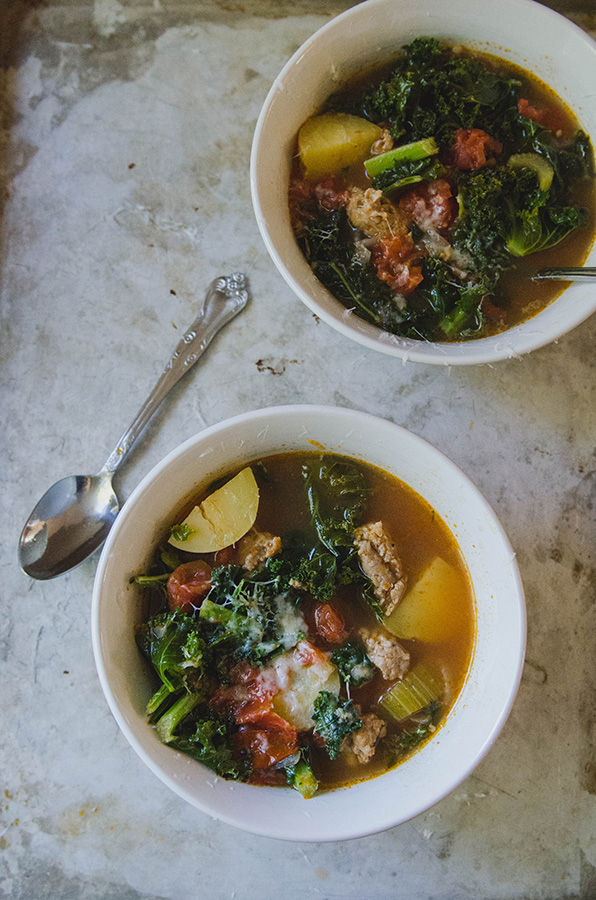 A lot has changed in the past couple years. My family ended up moving away to Los Angeles, in a twist that no one saw coming. My husband and I stayed and moved into a different house with a perpetually dirty kitchen, and a ton of house plants. I love where I live, but, like before, I miss my family. This soup is something that my dad asks for every time we are together, and I'm always happy to oblige. Its a little piece of our history. A spicy, soup-y reminder of simple times when time slowed down a bit and everyone was in the same place at once–the warm comforting feeling of home.
Dad's Favorite Spicy Sausage Soup with Kale
Ingredients
1

Tbs. olive oil

1

onion, chopped

3

cloves garlic, minced

1-2

lbs of uncooked spicy Italian sausage, casings removed (depending on how meaty you want your soup!)

6

large stalks of celery, chopped

5

medium carrots, chopped

7

Dutch baby potatoes, halved and then cut into thirds (you can also use yukon potatoes, just use less since they are larger)

1 28oz

can of diced vine ripened tomatoes in their own juices

6

cups beef broth

sea salt (I like to use this brand)

1

large head of curly leaf kale, stems removed and cut into pieces
Instructions
In a large heavy bottomed soup pot, heat up your olive oil over medium heat. Once it is hot, add in the onions and the garlic and saute them until the onions are translucent and the garlic is fragrant.
If your spicy sausage has come in a casing, remove them from the casings and add the meat into the pot with the onions and garlic. Break it up while you're cooking it as if it were ground meat. Allow the sausage to brown completely before adding in anything else.
Once the sausage is browned, add in the chopped celery, carrots, and potatoes. Salt the potatoes liberally.This is all the seasoning your soup if going to need. It will pick up a ton of flavor and spice form the spicy sausage. Stir all of the ingredients together and allow to cook for a couple of minutes before adding in the broth.
Once a few minutes have passed, add in the beef broth and stir well. Add in the entire can of tomatoes and their juices. Stir well again.
Allow the soup to come to a boil. Once boiling, turn the heat down to a simmer. Put the lid on your pot and allow it to cook and simmer together for at least 30 minutes. This will allow the flavor in the sausage to marry with the other ingredients in the pot.
Once 30 minutes have passed, taste your soup and adjust seasoning as needed. Add in your kale a couple of minutes before serving. It will wilt quickly in a boiling pot of soup.
Serve and enjoy! I love to eat this soup with some grated pecorino or parmesan on top!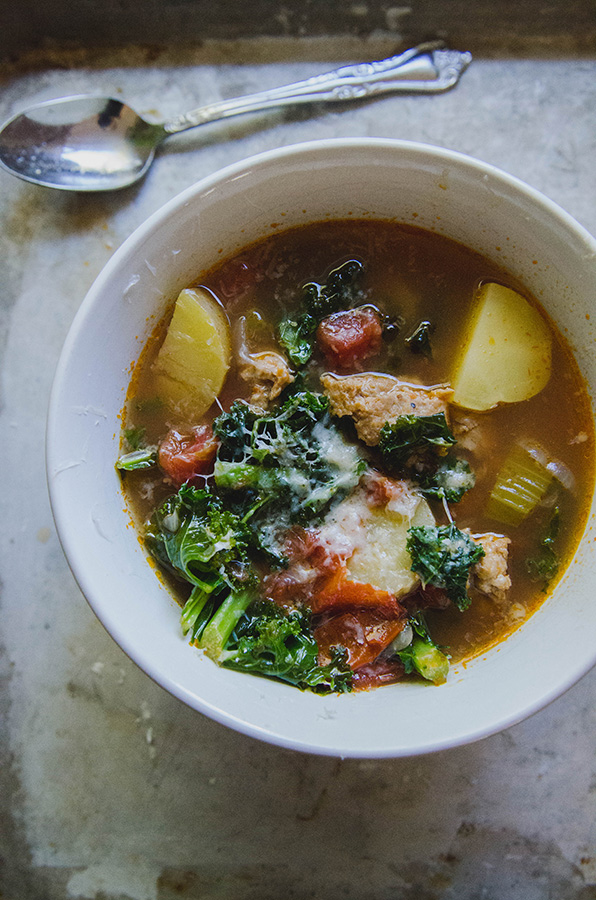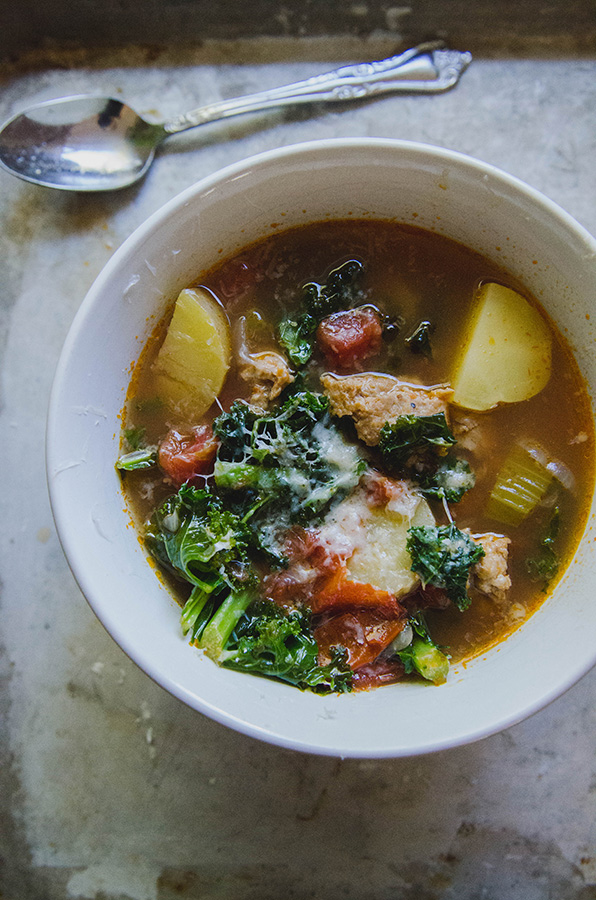 PAID ENDORSEMENT DISCLOSURE: In order for me to support my blogging activities, I may receive monetary compensation or other types of remuneration for my endorsement, recommendation, testimonial and/or link to any products or services from this blog.