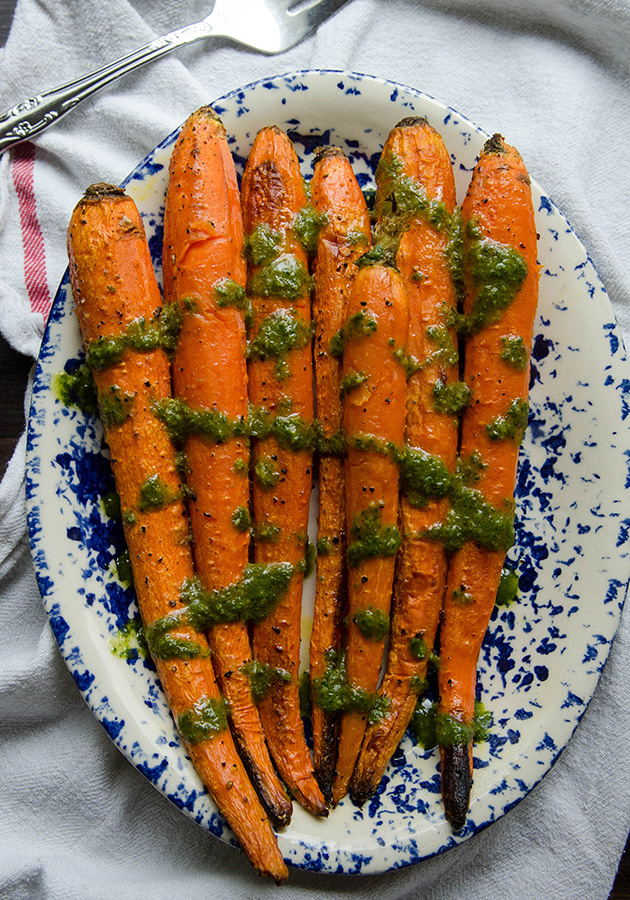 Do you remember grade school fire drills? The alarm would sound. Momentary chaos ensued as the teacher tried to collect all thirty of us students — we were wiry, strong-willed things, with no intention of being collected or corralled or told what to do. Stern words would follow. Maybe a whistle would be blown. Eventually, we would all march out to the blacktop and line up in a line, facing the school, pretending to watch it burn down in horror. Yeah, we were dramatic. The moments after the drill were usually filled with a broken yet stern sort of disappointment from our teacher. We'd be reminded that the fire could have been real. We should take things more seriously. We'd be reminded that if we were ever to catch fire, God forbid, we were to STOP. DROP. AND ROLL. These words are very firmly implanted in my brain. For as much as I dislike being told what to do, and as much as I disliked the monotony of fire drills, I'm not opposed to keeping pertinent information in my brain that might save my life if I spontaneously burst into flame. I like having basic survival skills.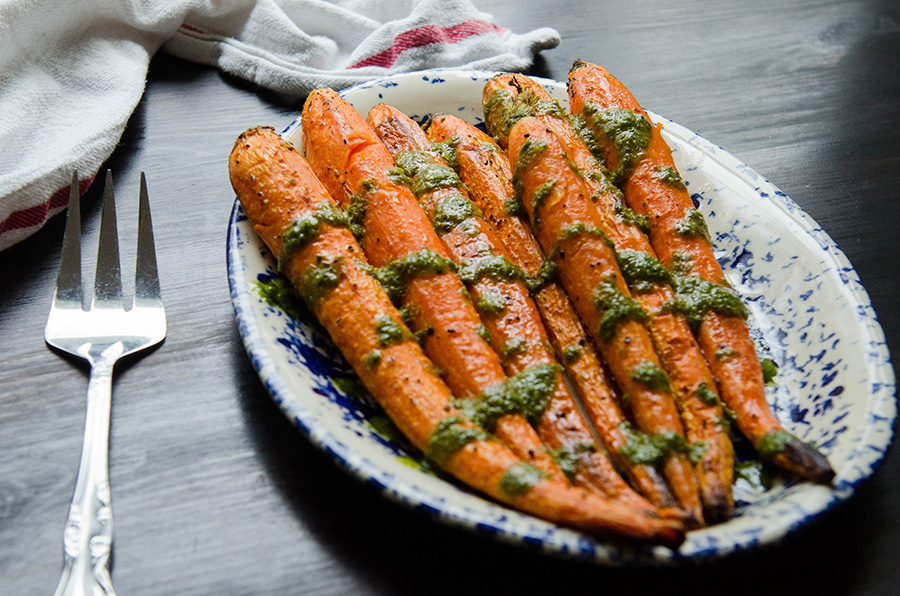 Now that I'm grown, my life is filled with different types of fire drills. Email inbox is full. Bills need to be payed. Dishes need to be washed. Work needs to get done. Deadlines need to be met. Dinner won't cook itself. These are life fires. They are usually small, but when combined, they create something hot that makes me feel sweaty and stressed and like I want to hide or run away to Mexico and drink all the tequila. So, in these moments I've found that my coping mechanism is 50% denial and Netflix (not recommended) and 50% turn on my oven and roast anything that isn't nailed down. Yes. It's a STOP. CHOP. AND ROAST. situation–and, it's maybe just as life saving. Unless, you're on fire. Do the original thing if you're on fire. Always.
I find the peeling, chopping, and roasting of things to be therapeutic. It gives my brain a minute to catch up with all the tasks at hand. It's a single point of focus to drown out all the crazy. Plus, the pay off is something healthy that you can feed your body. In this case, I roasted all the carrots. I had purchased a bag of carrots from Costco, and it was taking up valuable refrigerator real estate. Have you ever purchased a Costco-sized bag of carrots? Because I live in a house with only two humans– it seemed a little intense. I feel like those bags are only made for ginormous plural family situations as seen on Sister Wives, or for people who have like eight horses. I have neither sister wives nor horses, therefore I had all the carrots. Stop. Chop. Roast 'em down, open up shop. Because, no post on roasted vegetables would be complete without a DMX reference, right? Riiiight.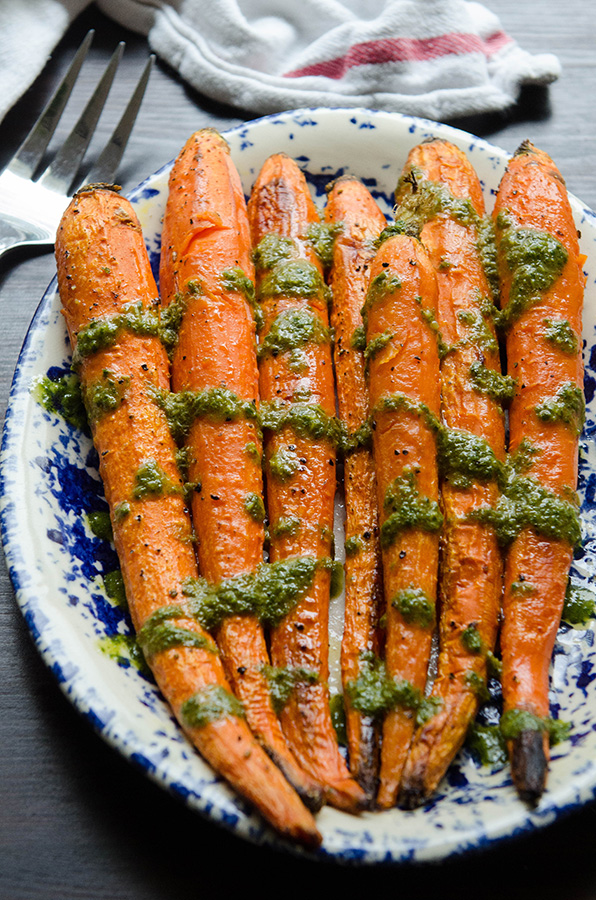 These carrots are simple in execution, but really vibrant in flavor. The ghee makes them rich and buttery, and the mint and basil brighten them up. The lemon in the sauce adds just the right amount of acid. It's good. Carrot therapy is where it's at. This, my friends, is not a drill.
Ghee Roasted Carrots With Mint Basil Sauce
serves 4
adjust servings
Ingredients
Carrots
8

large carrots, peeled

1

Tbs. ghee

salt + pepper, to taste
Sauce
3

sprigs fresh mint

1/4

bunch of basil

1/3

cup olive oil

Juice of 1 lemon

1/4

tsp. salt
Instructions
Preheat the oven to 425 degrees. Line a baking sheet with parchment paper and set aside.
Peel the carrots and toss them with the ghee, salt and pepper. They should be coated evenly. Lay the carrots out evenly onto the parchment lined baking sheet and bake for one hour, pausing to flip them at the 30 minute mark. If your carrots are smaller, they may need less time. Simply assess their doneness at the 30 minute mark and work from there.
While your carrots are baking, make your sauce. Add the mint, basil, olive oil, lemon juice and salt into a food processor and process until it is a green oil. Set aside.
After the carrots are cooked through, remove them from the oven and drizzle with the sauce. Serve warm, and enjoy!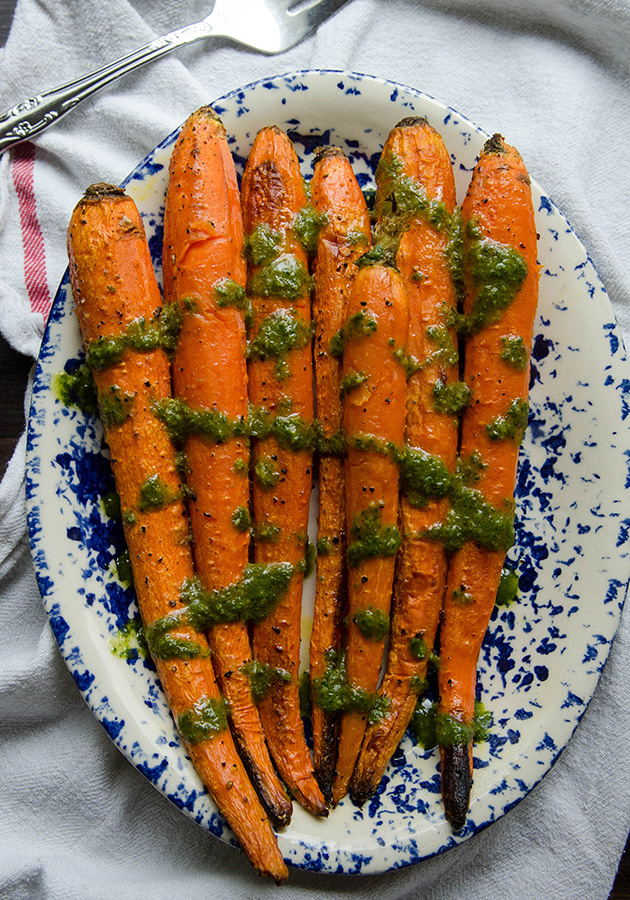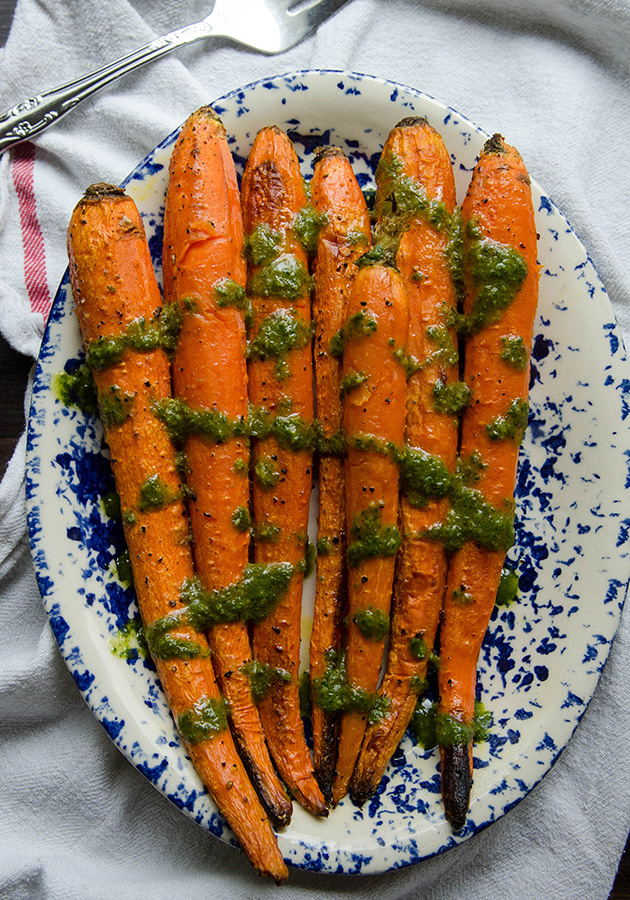 PAID ENDORSEMENT DISCLOSURE: In order for me to support my blogging activities, I may receive monetary compensation or other types of remuneration for my endorsement, recommendation, testimonial and/or link to any products or services from this blog.