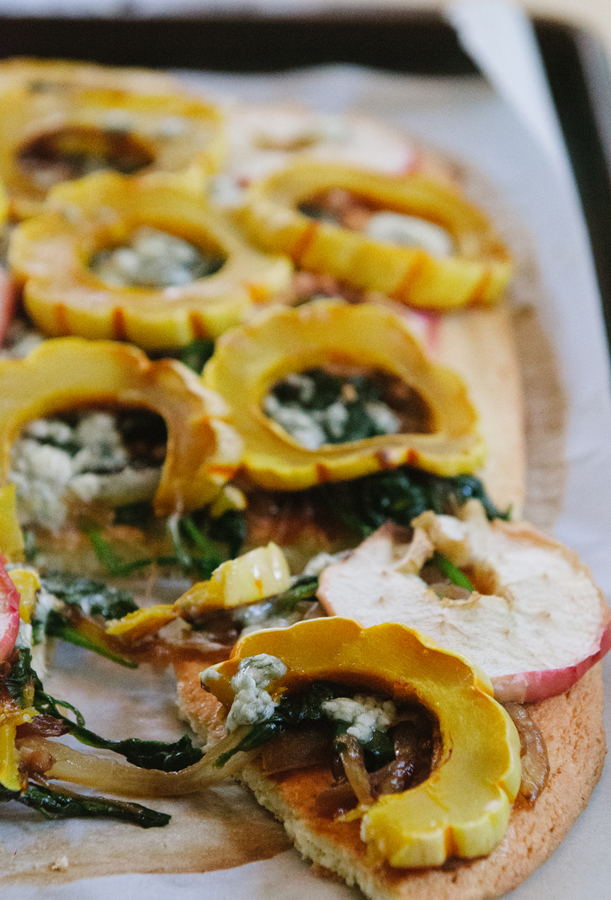 Yesterday I set out to make a pie.
This effort was thwarted once I looked over at the bowl of neglected produce on my counter. The delicata squash made eye contact with me and got real. "Hey, G… I've been sitting on your counter for TWO weeks. What-chu gonna do about it?" Jeez. Sassy squash.
Ok, ok… so, the squash didn't actually speak to me due to its lack of communicative parts and bits (i.e. I've never met a squash with lips–have you? If so, email me PUH-LEASE–I wanna hear all about it) but my own produce guilt did create a dialogue between myself and this neglected squash. I'll spare you the details, but basically, the squash got sassier and sassier until I promised to help her fulfill her delicious little squash destiny. In this process I also got bullied by a very pushy apple. She wanted in on the action. I said yes.
I took off my pie apron and put on my pizza pants. *Note: I don't have either of those things. That sentence just adds more dramatic effect and intention. In fact, if we're real, I made this pizza wearing a pair of  capri-length, black sweatpants. These hit me in a weird place on my leg since I am what some would call "short". They remind me of how Cee Lo Green wears his shorts. Long in a way that makes you feel both confused and amused. Okay, off topic. Ending note.* Let's try to stay on task…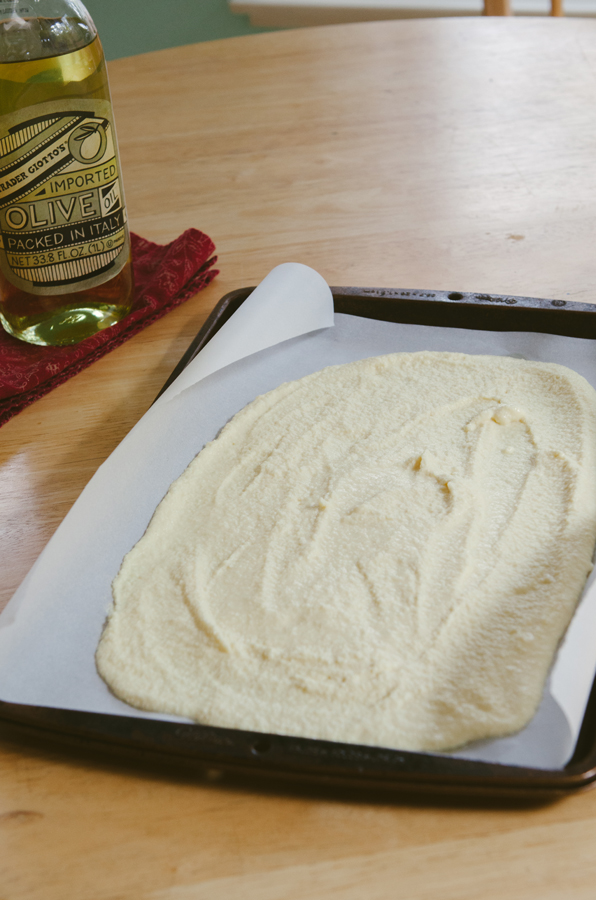 I roasted up that sassy squash and that bossy apple and set them aside. I whipped up a grain-free flatbread crust using coconut flour and coconut milk. Don't be weirded out by the consistency of the batter. It's going to be runnier than normal pizza dough, but  it will totally bake up into something bready and satisfying.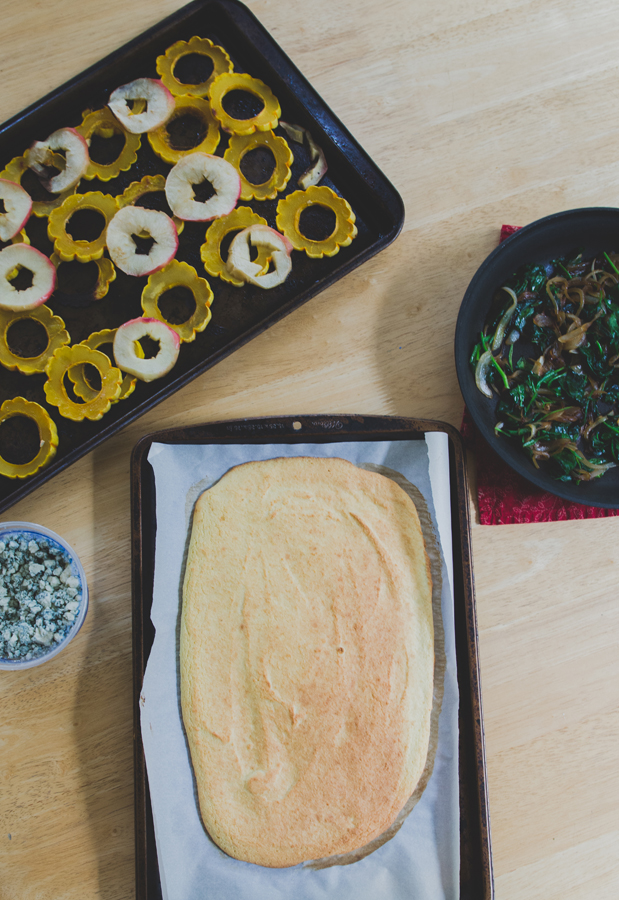 While your dough is baking, you can caramelize some onions and saute some spinach. This is going to be the base of your flatbread. It adds a savory layer to the sweetness of the squash and the apple. I love a combo of sweet and savory. It hits all of my happy flavor buttons.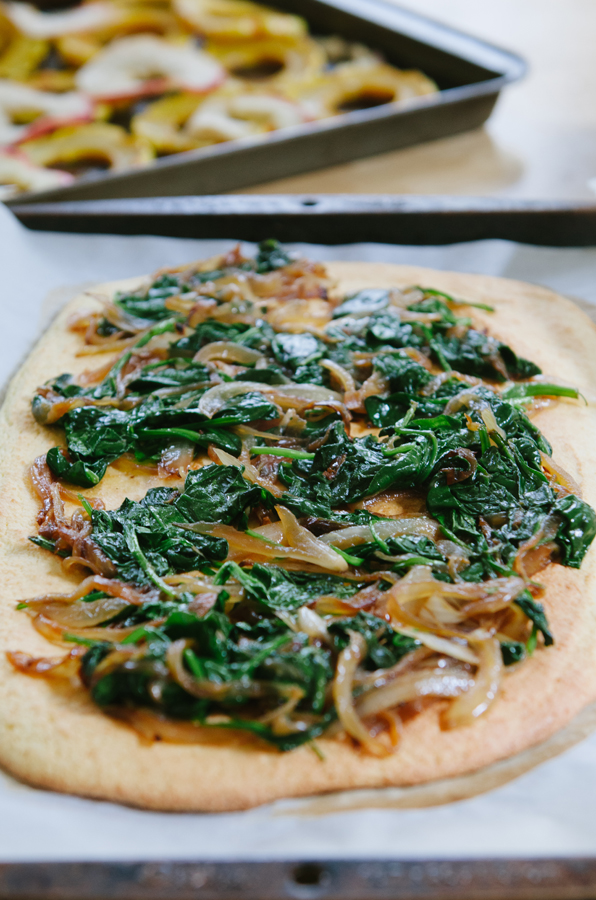 Layer your bread as follows: onions & spinach + blue cheese + squash + apple slices.  Say you're not so much into blue cheese, that's not a problem. You could swap it out with a cheese of your choosing. How about goat cheese? Maybe some feta? I bet those would work really nicely too.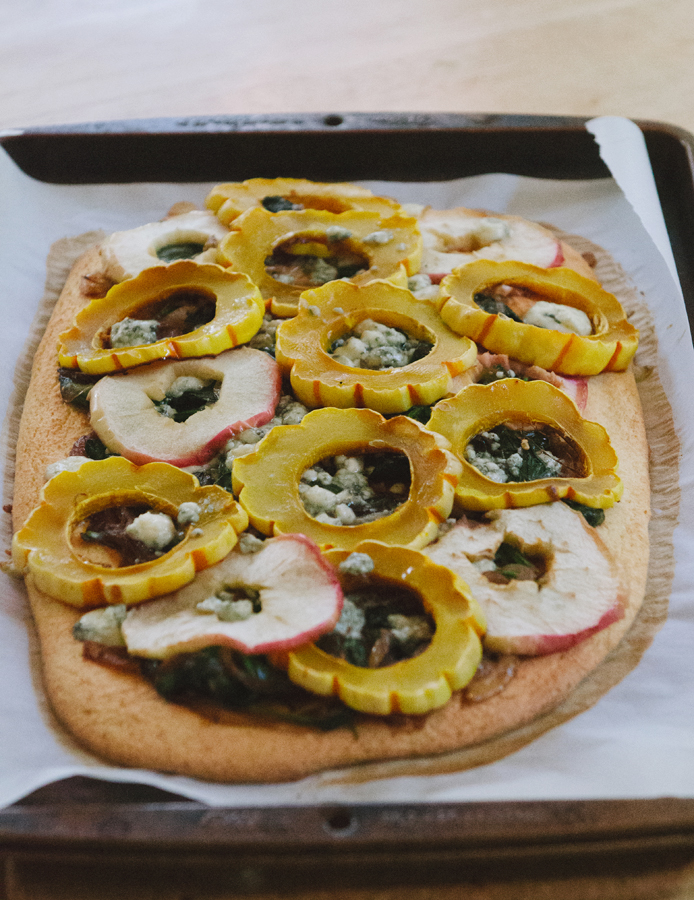 Pop it back in the oven, and allow your blue cheese to get all melty. Your squash and apple will heat up. Your house will smell like a fancy fall party. It's good.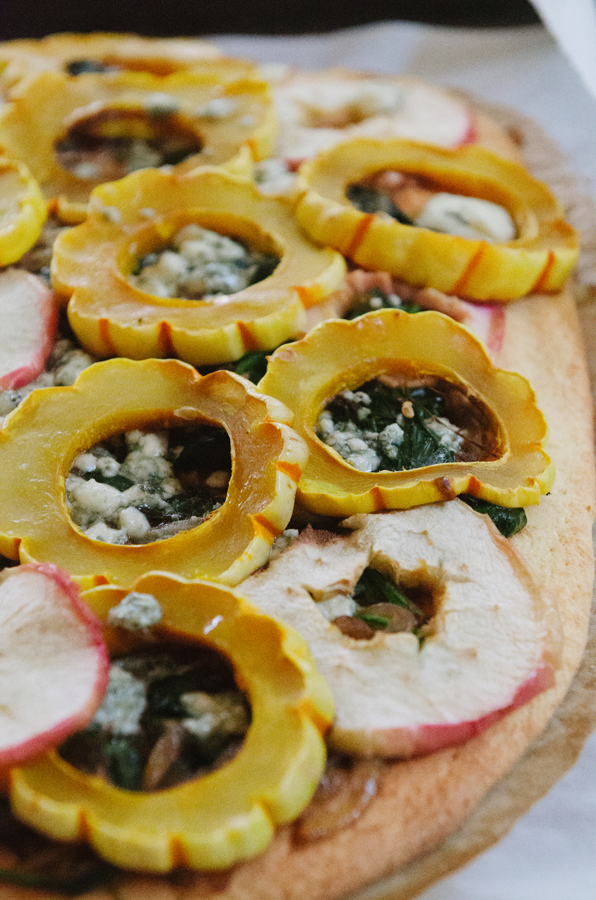 Spend a brief moment ogling your work. Good.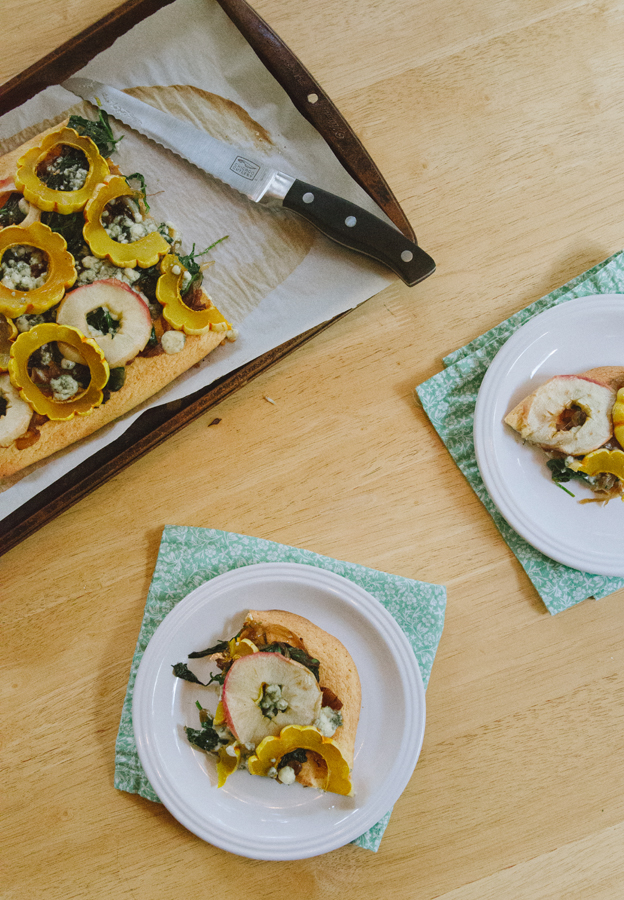 Cut it up. Consume. Watch your blue cheese skeptic of a husband eat three slices. High five yourself silently.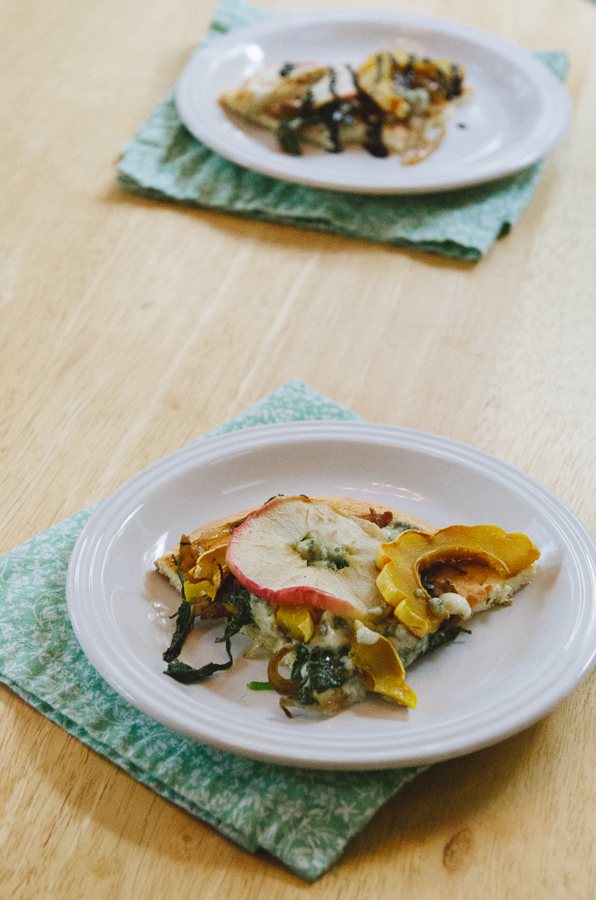 Shamelessly eat the leftovers for breakfast. I did, and it was glorious! Enjoy!
Delicata, Apple & Blue Cheese Flatbread
Ingredients
Crust
1

cup coconut flour

1/2

tsp baking powder

1/2

tsp salt

1/2

tsp granulated garlic

1

cup full fat coconut milk

3

eggs
Toppings
1

delicata squash, de-seeded and cut into circles

1

apple, cored and cute into circles

1

onion, sliced

2-3

cups spinach

1/4

cup blue cheese crumbles (don't like blue cheese? Replace it with goat cheese or any other cheese of your choosing!)

Olive oil
Instructions
Preheat your oven to 400 degrees.
Wash your delicata squash and your apple. Slice the delicata squash into little circles. Once you have sliced it up, using your fingers remove the seeds from the inside of your circles.
Core your apple and slice it into thin circles, much like your delicata squash.
Toss your delicata squash and apples with a tbs or so of olive oil. Lay flat on a baking sheet and bake for 20 minutes or until they are cooked through. You should be able to penetrate the squash easily with a fork, and the apple should have softened a bit.
Once they are done, set them aside and start on your crust. Turn your oven temp down to 375 degrees.Line a baking sheet with parchment paper and lightly grease with olive oil. Set aside.
In a large mixing bowl add your dry ingredients for your crust. This is going to be your coconut flour, baking powder, salt and granulated garlic. Whisk together until well combined.
In a smaller mixing bowl, whisk together your eggs and your coconut milk until they are thoroughly combined.
Add your wet ingredients into your dry ingredients and whisk until everything is well combined and there are no longer lumps. It should be the consistency of a thick pancake batter. If it seems too thin, you can add coconut flour one tbs at a time until you reach the desired consistency. Be careful though, coconut flour is SUPER absorbent.
Pour your batter out onto your parchment lined baking sheet. Using a baking spatula, spread your batter out evenly into a flatbread like shape. Don't spread it too thin as it could make it crumbly.
Bake for 20 minutes. It is done when the batter is set and the top is a light golden-brown color.
While your crust bakes, you can caramelize your onions. Heat some olive oil up in a skillet over medium heat. Add in your sliced onions and allow them to caramelize and become a rich brown color. Stir frequently. This will take several minutes. Once your onions caramelize, add in your spinach and cook it down until it wilts. Set aside.
Remove your finished crust from the oven and layer it will your ingredients starting with your caramelized onion and spinach mixture. Layer your blue cheese on top of this and then top with your apples and delicata squash. Bake at 375 for 5-7 minutes. Your blue cheese will get melty and your squash will start to sweat.
Remove from oven, slice and serve! Enjoy!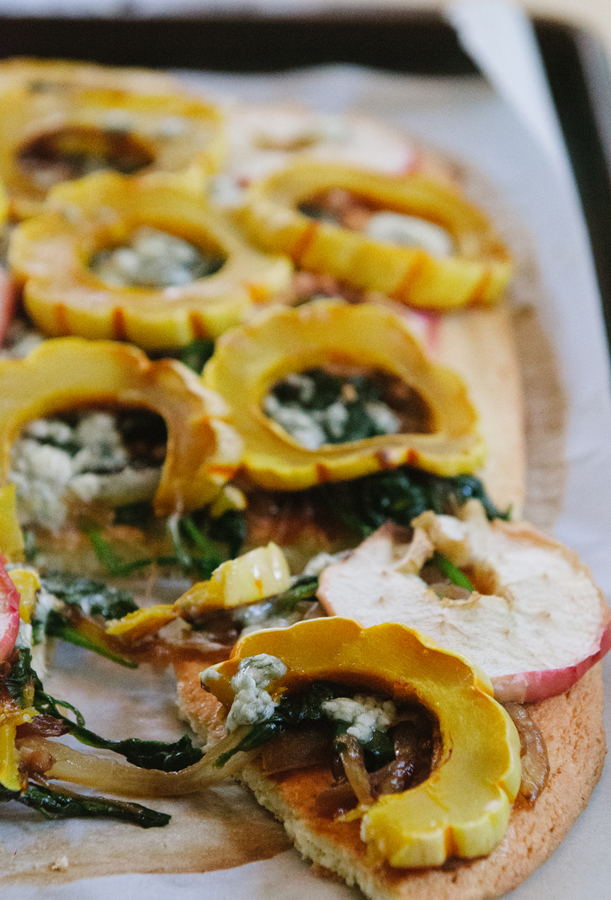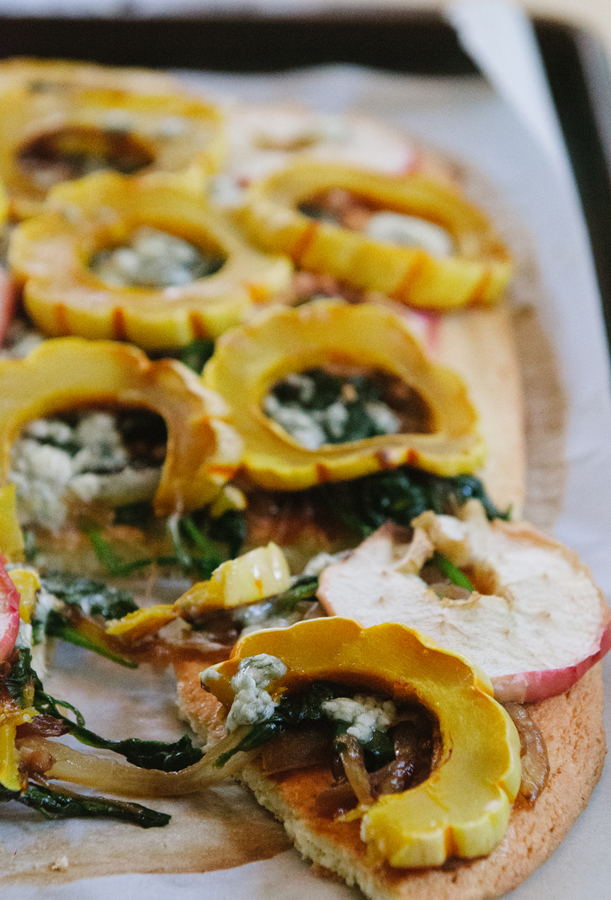 PAID ENDORSEMENT DISCLOSURE: In order for me to support my blogging activities, I may receive monetary compensation or other types of remuneration for my endorsement, recommendation, testimonial and/or link to any products or services from this blog.