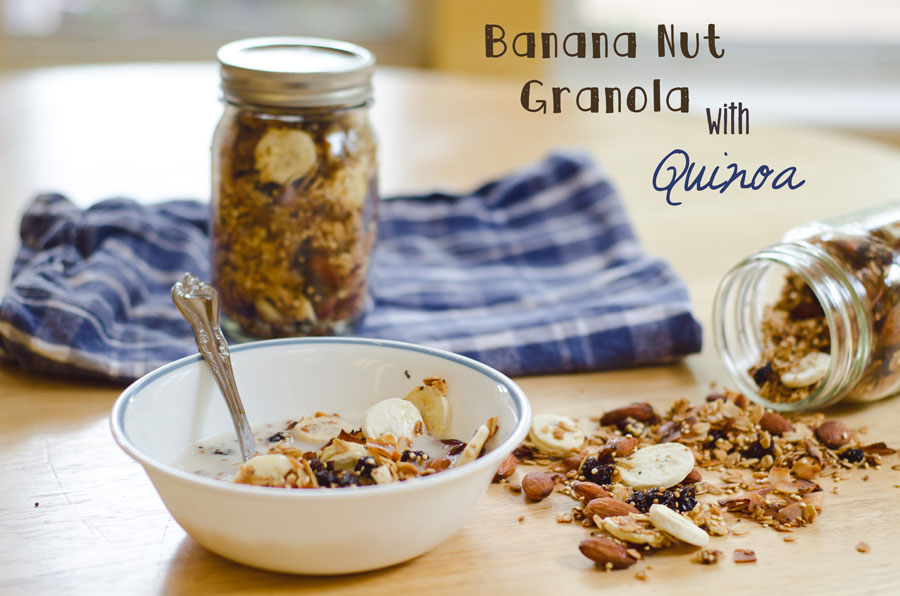 I am in the weeds, Friends. I will admit this to you wholeheartedly. I am truly behind. My kitchen has taken a backseat to life lately. Surely you understand this. I can't be the only one who gets overwhelmed by life and ends up drinking one kind of smoothie, slapping ham on toast and eating handfuls of spinach straight out of the bag. This is a thing right? Besides baking different variations of this bread to cart off to my family, I have not exactly flexed the muscles in my food brain. It's losing muscle mass. It's sitting there in a smoothie rut. Flabby. We can't have this, right? Let's tell my food brain to wake up and go for a walk.
On Tuesday morning this is exactly what I did. I sprung out of bed and decided it was time to create something that was not toast. Also, my husband had been not so subtly hinting  for a couple of weeks that he would be utterly thrilled if I would replenish the granola stash. While we were grocery shopping he decided he might get some sort of sugary cereal, I told him I didn't like his moves, he told me that if I made granola he wouldn't even be considering it. Touche. Point taken. There was also a week where the empty granola canister kept appearing on the counter magically as if to say "GRANOLA! NOW!" I am not sure how it got there. I did not put it there. I don't think the cat or the dog have the dexterity to grab the canister from out of the pantry and place it on the counter. This only leaves one human. I am not going to point fingers, but I will give you a hint…I am married to him.

So here we go. I put quinoa in your granola. Sure, I have made you granola before, but this one has a little something extra. I got this magical idea from my friend Meg's wonderful blog. If you have never had quinoa in your granola I can tell you right now it will completely blow your mind! It's wonderfully crunchy and will not get soggy if you let it sit. Say you take your bowl of granola and milk into the office and end up getting distracted by half an hour of cute internet cat videos. Your granola will survive this. I promise. Not that I would know anything about getting distracted by a half an hour worth of cute internet cat videos. That would be weird.

Besides the awesome crunchy quinoa, I have a list of other all star ingredients that are coming to bat in this breakfast. We have raw almonds for even more protein. Raisins add a layer of sweetness along with a little bit of maple syrup. Of course, I couldn't resist throwing some coconut into the mix. I am only human. There are whole roasted flax seeds and a couple of tablespoons of chia seeds. You can't get mad at either of those power houses. And in my opinion, the real show-stopper in this recipe is the addition of freeze-dried bananas! Do you remember Lucky Charms? Of course you do. Remember those tiny little marshmallows? That is what these bananas feel like. It's the healthy version of a tiny little marshmallow treat. Get on board. It's good.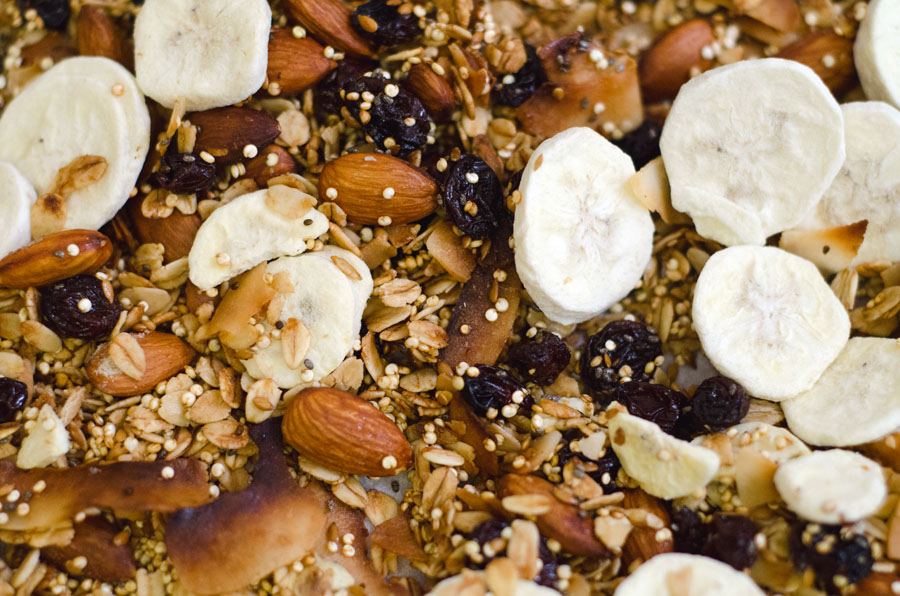 When my husband came home, he opened the pantry for a snack. You should have seen the look on his face when he saw the canister full of this tasty granola. He lit up like a glow worm. I think I even got a hug and a kiss. He really likes granola. I really like him.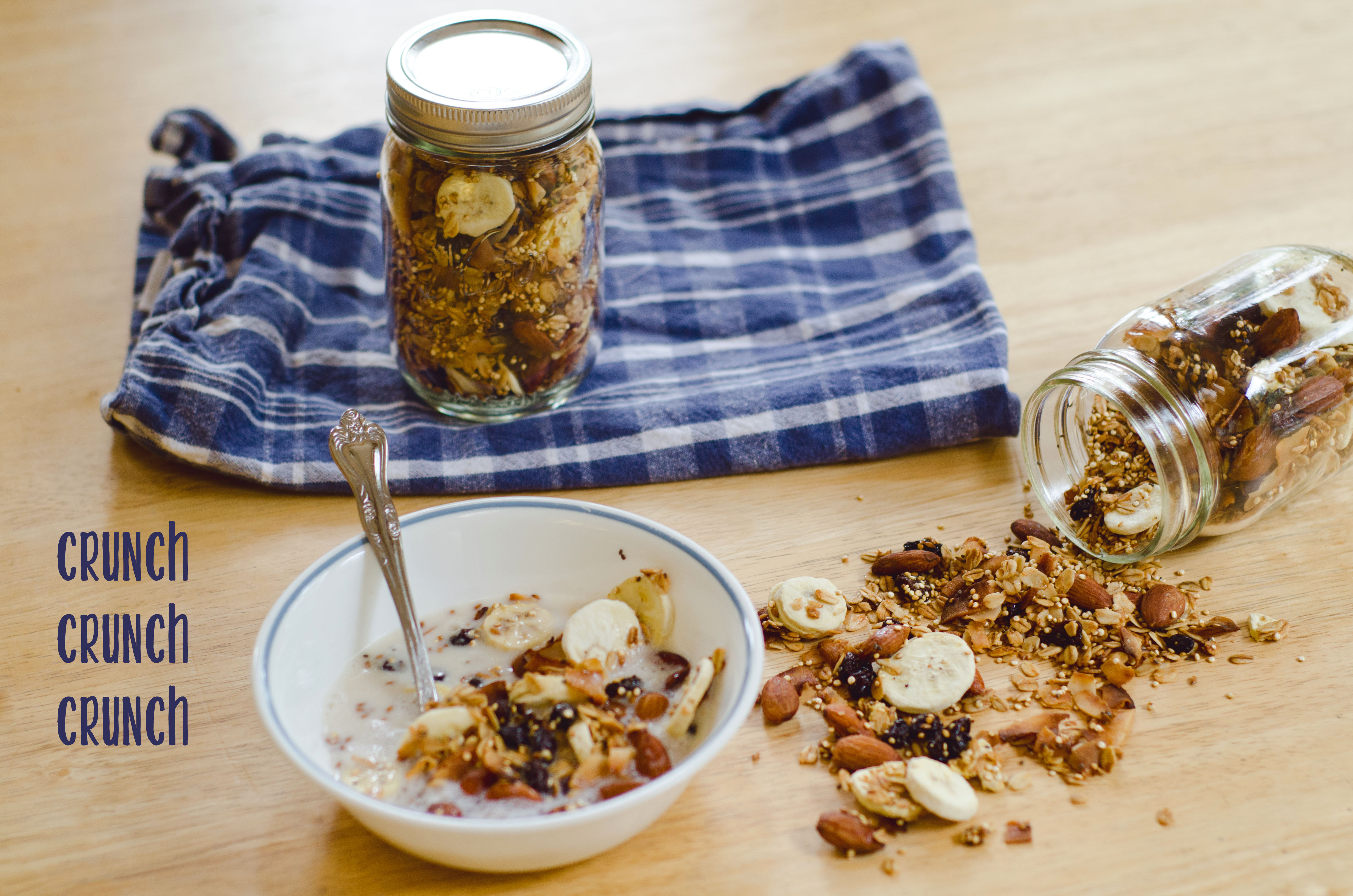 Enjoy getting your crunch on! 🙂
Banana Nut Granola With Quinoa
Ingredients
1

cup uncooked quinoa

2

cups gluten-free oats (I got mine from trader joes)

1

cup raw almonds

1/4

cup roasted whole flax seeds

1

cup large unsweetened coconut shreds

2

tbs chia seeds

1

tsp cinnamon

1

tbsp vanilla extract

1/4

cup coconut oil

1/2

cup maple syrup

2

cups freeze dried bananas

1/2

cup raisins
Instructions
Preheat your oven to 350 degrees.
Line a large baking sheet with parchment paper and set aside.
In a large mixing bowl add your quinoa, oats, nuts, seeds, and spices.
Heat up your coconut oil until it is liquid and add it into the bowl along with your maple syrup, and vanilla extract.
Stir the mixture until everything is completely combined and coated with the coconut oil and maple syrup mixture.
Spread the mixture out evenly onto your parchment lined baking sheet.
Bake for 20-30 minutes checking and stirring the mixture every 10 minutes, You need to make sure to check it and stir it up so that it does not start to burn.
You granola is done when the nuts and oats are all toasted a nice golden brown.
Add in your raisins and your freeze dried banana. Stir it into the already baked granola so it is distributed evenly throughout.
Let your granola cool for 15 minutes or so before putting into an air tight container. You can store it this way for several weeks.
Enjoy!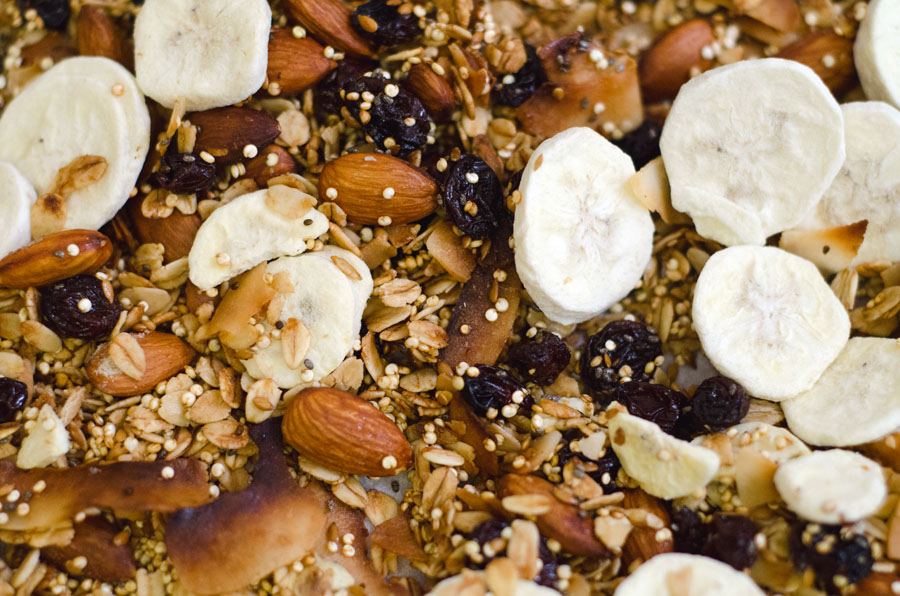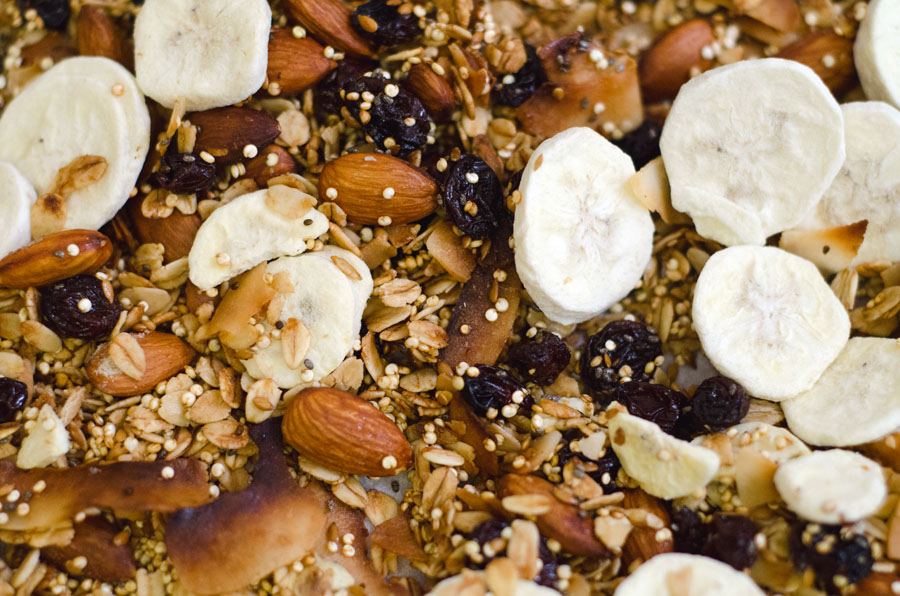 (Inspired by Beard and Bonnet)
PAID ENDORSEMENT DISCLOSURE: In order for me to support my blogging activities, I may receive monetary compensation or other types of remuneration for my endorsement, recommendation, testimonial and/or link to any products or services from this blog.