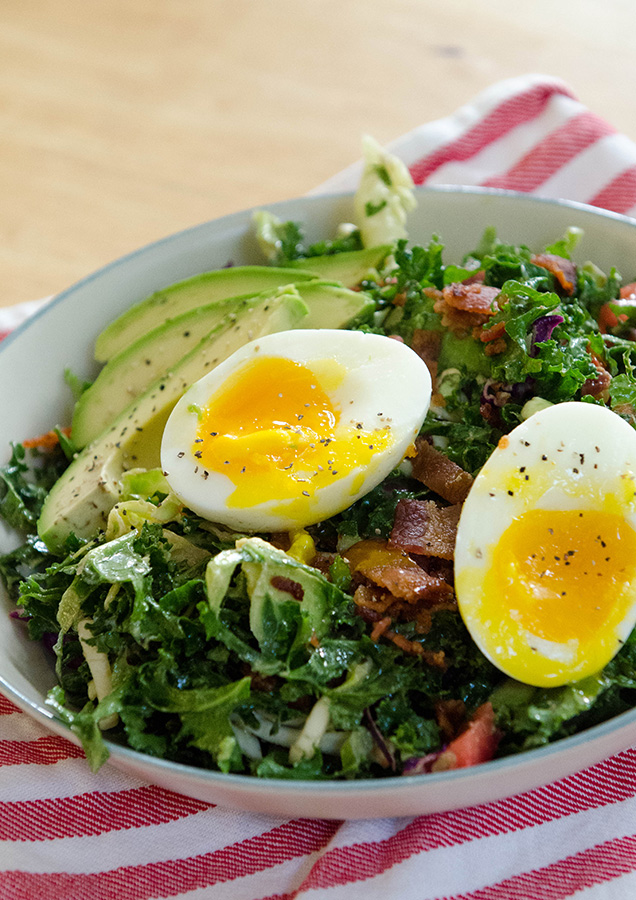 So I've been meaning to tell you…
I've been eating salad for breakfast.  It's true. I wrote an entire post with my best breakfast salad tips and tricks over here.
The truth is, I've never been a breakfast traditionalist.  It's not that I am opposed to breakfast food at all. In fact, I love it. I just don't let "breakfast rules" limit where the morning is allowed to go. I'm not going to freak out if breakfast looks a lot like lunch or dinner, ya dig? Where some people find the idea of eating last night's soup pretty gross, I find it to be pretty great. Depending on how long you've been hanging out over here, you know that I relish in the mornings where there is a leftover steak in the fridge. Yes, I will gnaw it cold and straight off the bone. No, I will not make a plate. Yes, I am an animal. Just listening to my body, one weird meal at a time. 
So, in listening to this bod of mine, I started craving big bowls of greens. My first "breakfast" salad was a giant traditional Greek salad. Go big or go home, right? I just straight up lunched the heck out of breakfast and I liked it. I liked it a lot. My sunny-side-up-pancake-loving husband, while respecting my right to lunch at 8:00 am, was not sold. So, I decided to do a little convincing. I decided to challenge social norms and make salad an envied breakfast item. Ugh, it's not really that deep. Basically, I just put bacon on it. Problem solved. We now have a gateway breakfast salad. It's topped with avocado and a runny soft boiled egg… I mean, this thing is packing some serious breakfast-y sex appeal, yes?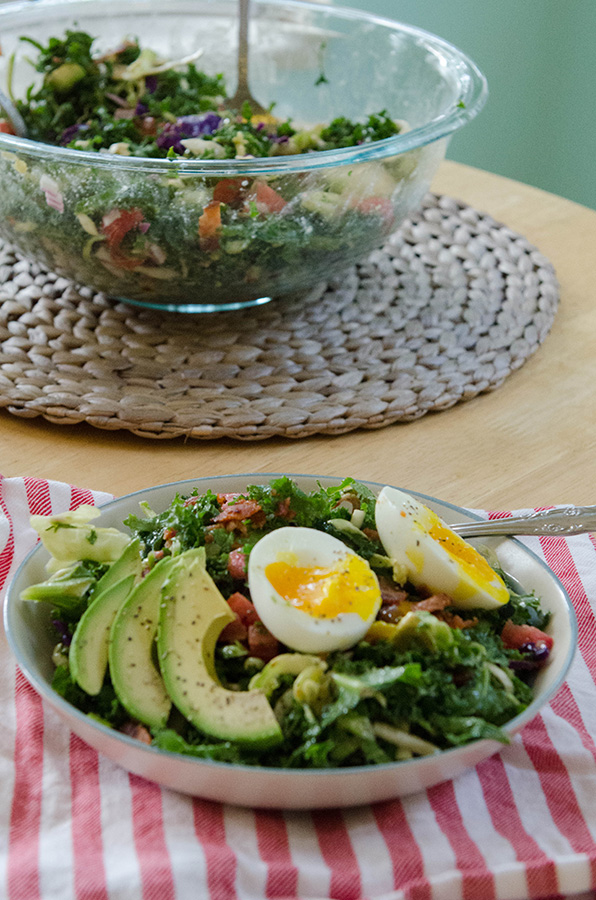 For those of you who I haven't sold, can we at least agree that this thing would make a bang-up brunch? lunch? dinner? One of those. I do promise that when ever you decide to eat it, it will be the right time. No judgments.  Now, let's go forth and salad! 🙂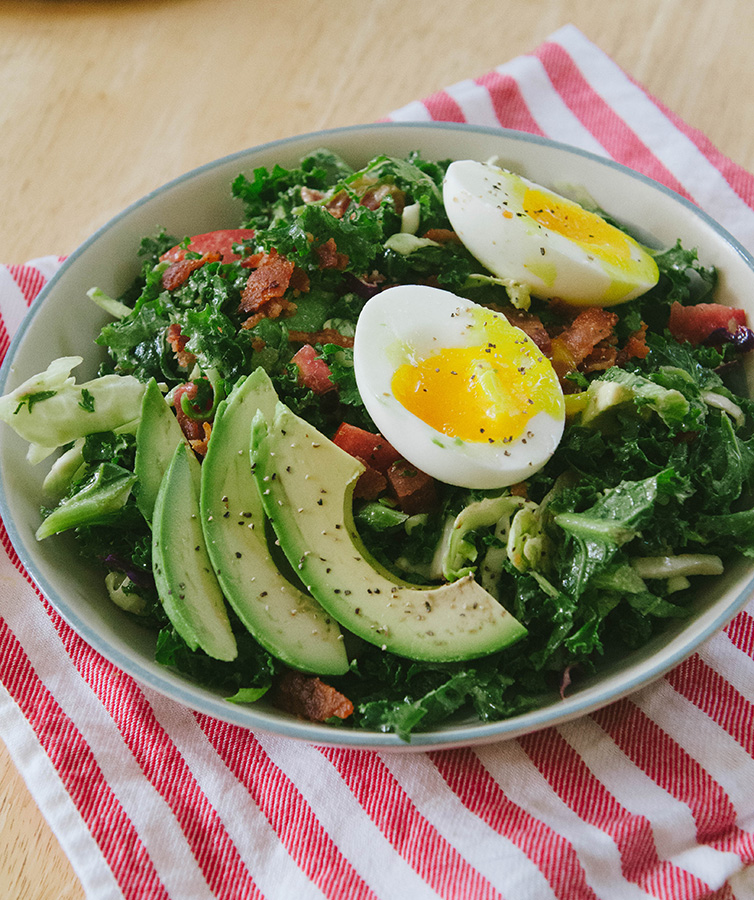 BLT Breakfast Salad With Soft Boiled Eggs & Avocado
2 generous servings
adjust servings
Ingredients
Salad
1

bag of cruciferous greens blend from Trader Joe's (you can substitute a head or two of kale chopped into ribbons if you can't find this blend.)

1/4

red onion, diced

1

large tomato, seeded and diced

1/3

cup roasted sunflower seeds

6

pieces of bacon, cooked and chopped

1

ripe avocado, thinly sliced

2

eggs, soft boiled

salt & pepper to taste
Dressing
1/4

cup olive oil

3

tbs apple cider vinegar

1

tbs dijon mustard

Juice of 1 lemon
Instructions
In a large bowl combine your cruciferous greens blend, onlon, tomato, sunflower seeds and chopped up crispy bacon. If you need help on how to cook bacon, you might find this tutorial helpful.
Place all of your salad dressing ingredients together in a mason jar. Put the lid on the jar and shake until the dressing has completely come together. Pour the dressing over your salad and work it into the leaves. Use your hands if necessary. Set the salad aside.
Soft boil your eggs. I find that six minutes in boiling water tends to be my sweet spot for the perfect soft boiled egg. Once the eggs are done, peel them, slice them open and serve them on top of your salad with some avocado slices.
Enjoy!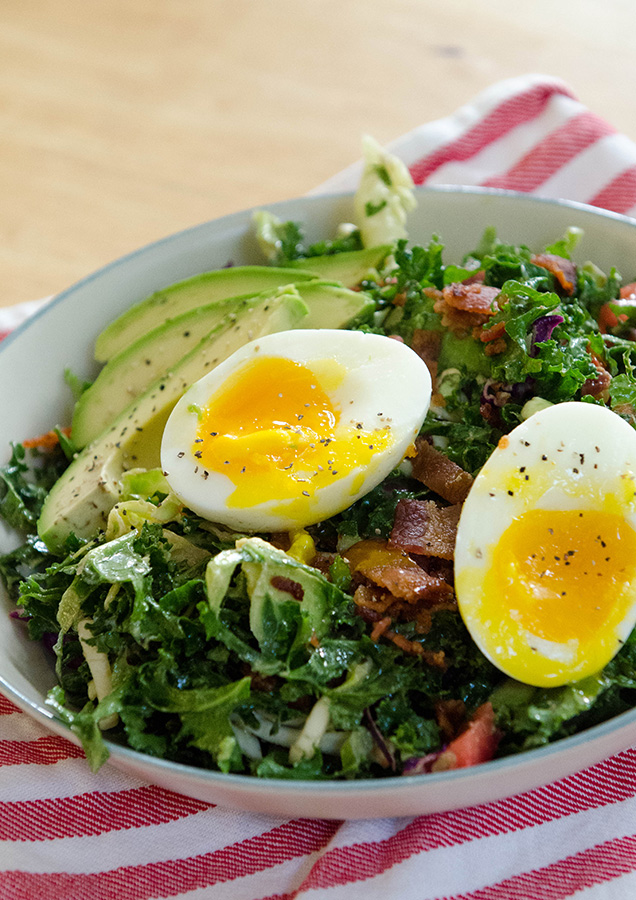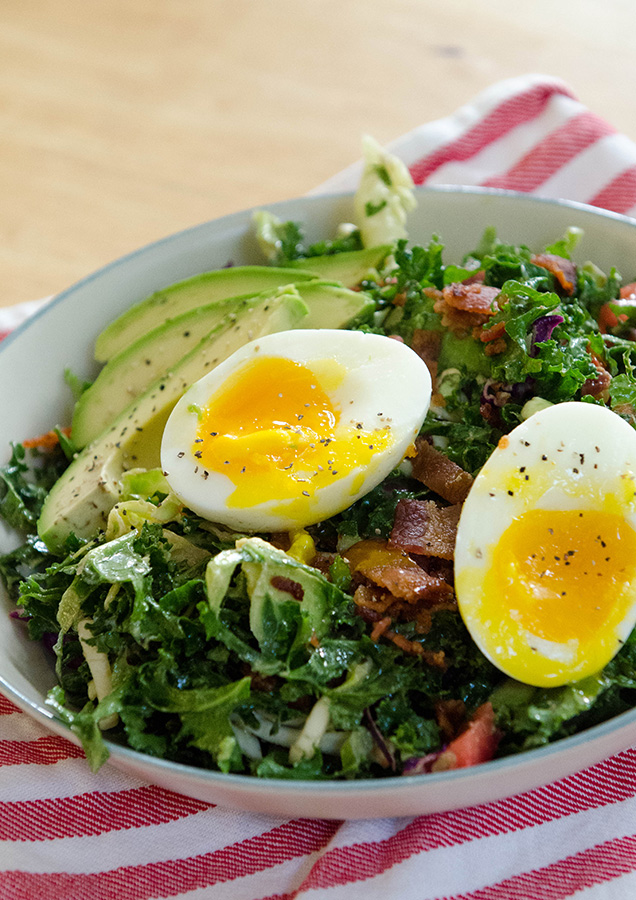 PAID ENDORSEMENT DISCLOSURE: In order for me to support my blogging activities, I may receive monetary compensation or other types of remuneration for my endorsement, recommendation, testimonial and/or link to any products or services from this blog.