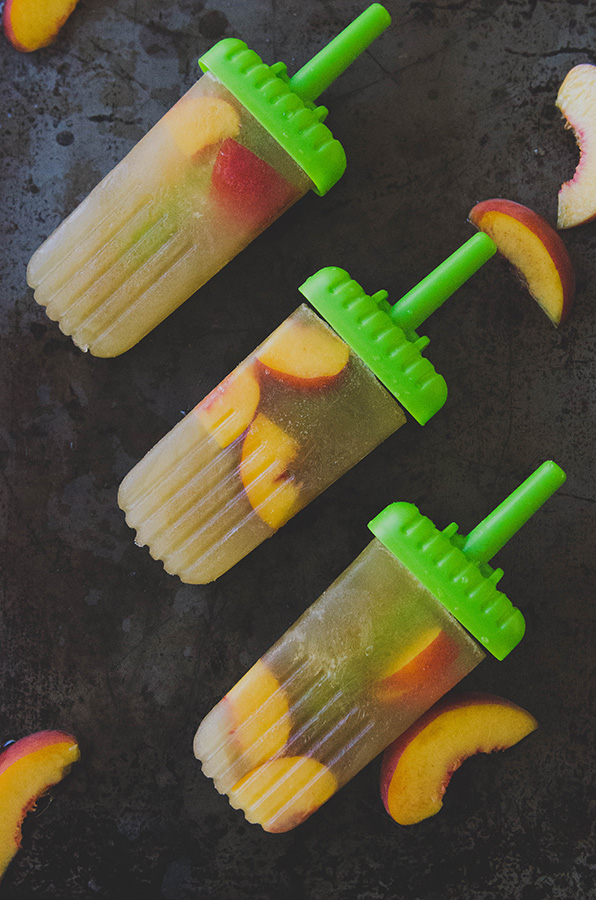 So, it's been a crazy week. Albeit, most of it good–I am just losing track of time and space.
It's been the kind of week where I thought it was definitely (had to be) Friday when in fact it was only Tuesday. This can make one feel as if they have dementia, so that's cool. I feel as if I'm a confusing fortnight short of forgetting my first name and wearing a pizza on my head. Okay, maybe that's a little overboard — but whatever the next step is after putting your car keys in the freezer or trying to open up your car door with your house keys is. That.
Earlier this week I decided to let you in on what's been going on behind the scenes at SLHO headquarters for the past six months. You can read that post here.  We talked about chronic illness and I made a lot of lemon metaphors. I took pictures of my face with my phone and then told myself it was appropriate to add those into the post. It was vulnerable and it felt terrifying and liberating all at once. The response I've gotten thus far has been overwhelming. Talk about feeling your community rallying around you. I am kind of in awe. I so appreciate all of you. Fur serious.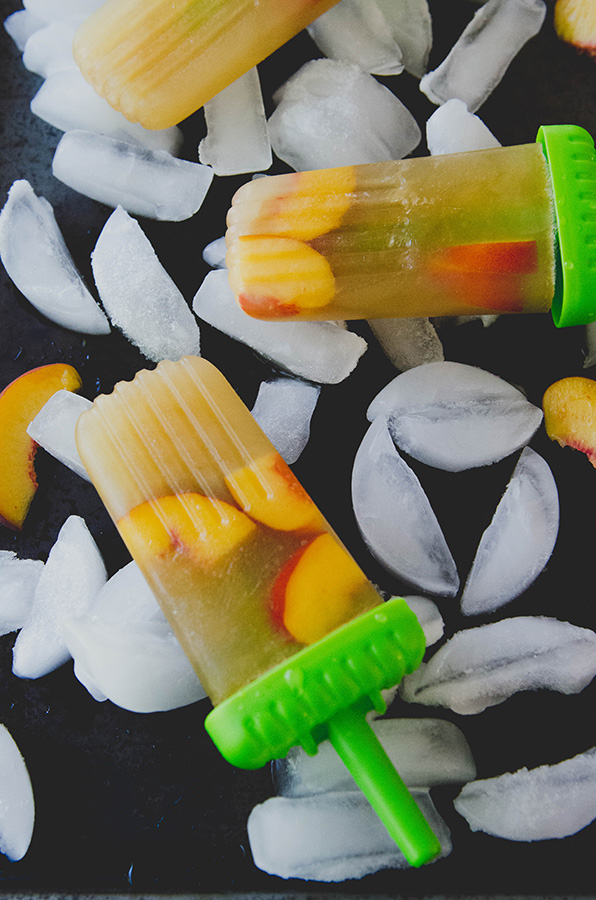 However, it turns out that when you take a gut wrenching emotional leap on a Monday, that just means that you automatically assume the next day is Friday. You wipe the sweat from your stressed out upper lip, chug a glass of water and think "Phew! Well, I'm so glad that happened. Good job, self. Time for vacation?" But, no.
So, I propose we protest this whole it's not even Friday yet when it should have been Friday on Tuesday phenomenon by making a batch of these bourbon-laced popsicles. You can take away my sense of time, but you can't take away my right to put booze in my popsicles. #Freedom #Murica #BourbonAllTheThings (I'm still waiting for WordPress to acknowledge my hashtags).
If you've been around for a while, you already know how I feel about putting bourbon in everything (very good). We've even done this bourbon + peach thing before with this banana bread. Phew, that stuff was good. Since that flavor combo is WINNING I decided to put chunks of peaches inside of a mixture of bourbon and sweet tea lemonade. I mean…
It's everything you'd hope for. It's the star spangled banner sung by Beyoncé  (I made these on the 4th of July, so I feel like they come with a sense of patriotism). I'm just going to stop talking now.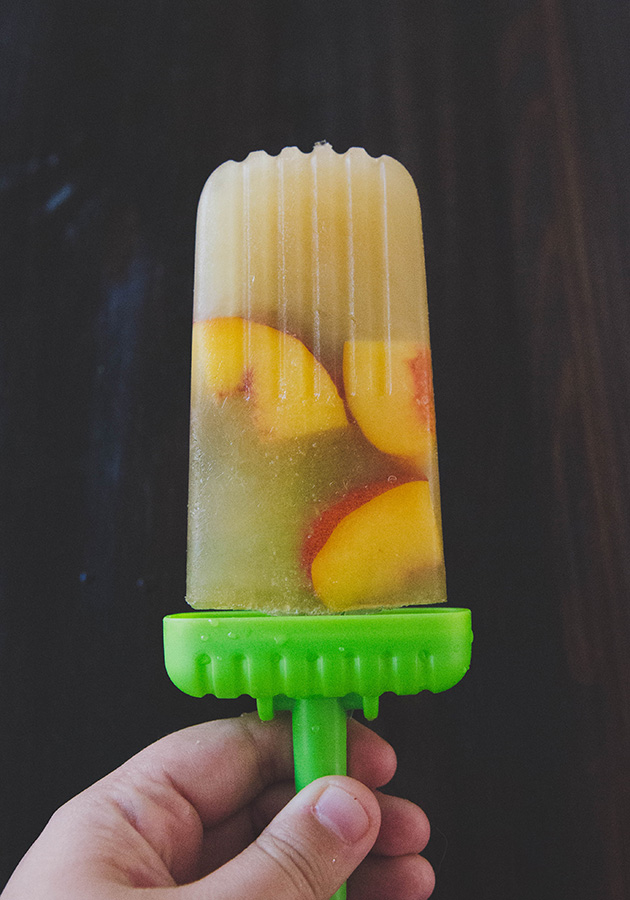 Booze + Popsicles + Almost The Weekend = Double Dream Hands.
Enjoy! xox
Bourbon Tea Lemonade Popsicles With Peaches
Ingredients
2

cups green tea lemonade (from Trader Joes-- if you can't find this tea, you can replace it with your favorite sweet tea)

3

oz. Bourbon

1

peach, wahed & sliced into chunks
Instructions
Combine your green tea lemonade (or sweet tea of your choice) and bourbon together with a whisk. Whisk well.
Add a few peach chunks to each popsicle in your popsicle mold.
Pour the bourbon and tea mixture over the peaches, add your popsicle sticks and put the entire thing in the freezer.
Freeze for six hours or up to overnight. You want to make sure your popsicles are set before you try to remove them from your mold. Once they are set, happy eating! ?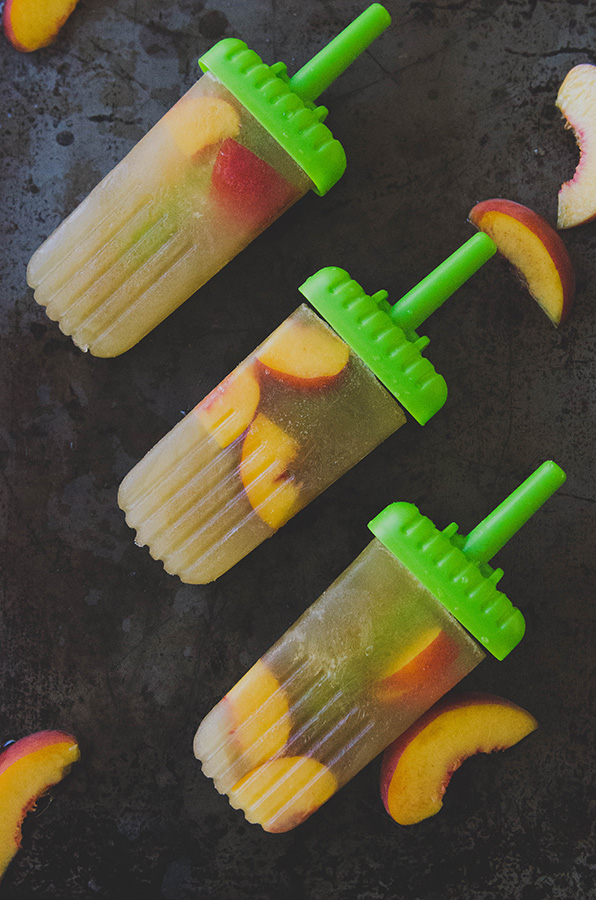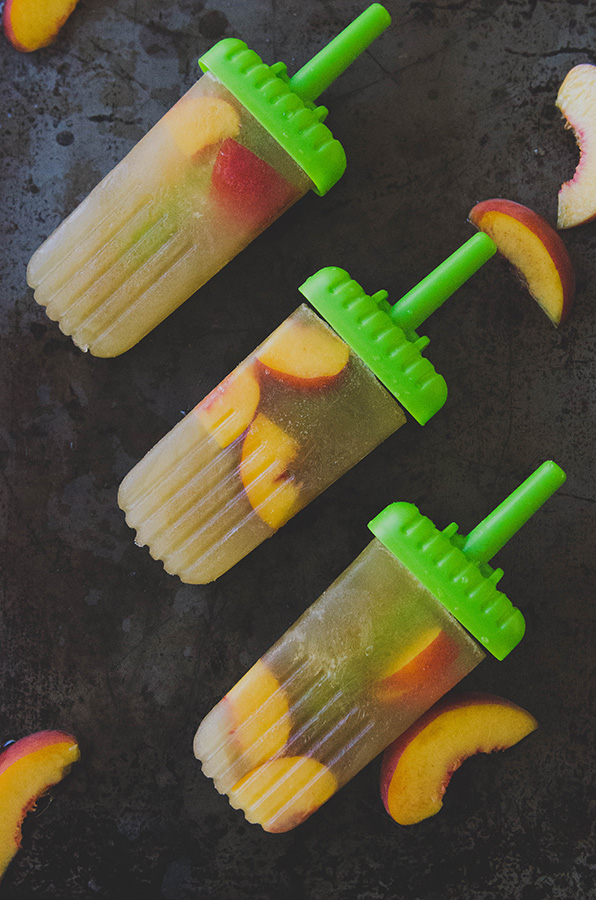 PAID ENDORSEMENT DISCLOSURE: In order for me to support my blogging activities, I may receive monetary compensation or other types of remuneration for my endorsement, recommendation, testimonial and/or link to any products or services from this blog.