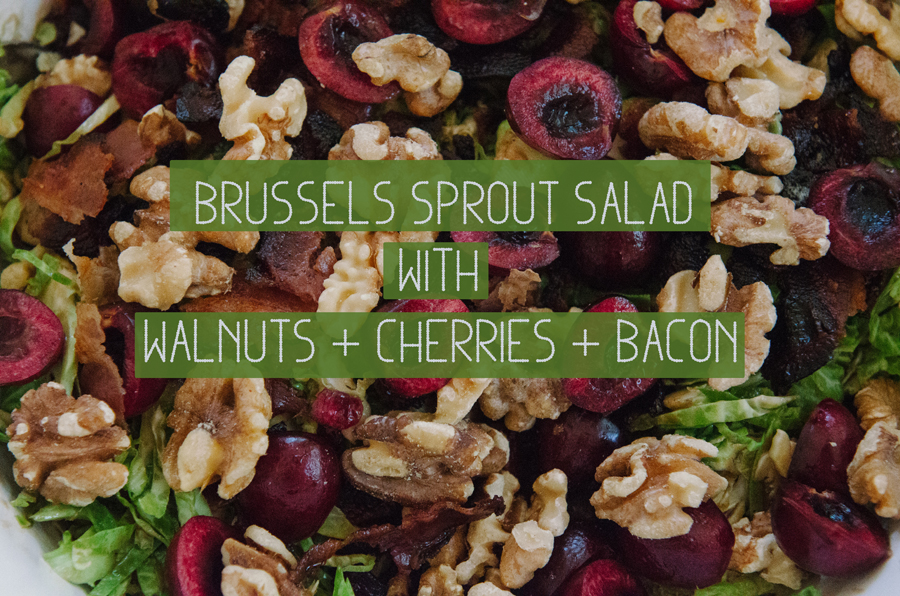 Summertime means 9pm cocktails on the deck because the sun has yet to go down. It means grilling. It means buying 4lbs of peaches at the farmer's market and existing on them for days at a time. It means questionable fashion decisions because, heck, it's hot. It means letting the dog get wet while you water your plants because she must be ever hotter in that fur suit of hers. It means let's not turn on our oven tonight. It means berry picking and cucumber pickling. It means walking to the park in the evening and feeling the warm breeze hit your skin. It means waking up with approximately six mosquito bites on your backside even though you were totally wearing pants last night on that walk. What? That's uncomfortable. Oh, well. It means you're now having an intense relationship with Calamine lotion. Excellent.
Summer totally means SALAD. You know what I'm talking about. It means the kind of salads that can pass as a whole meal. The kind of salad that your husband will ogle because it has bacon and fruit and is topped with a runny soft-boiled egg. This salad is serious and meaty and summery. It's a total win. I could actually put this in my face for breakfast. I will do it. Don't dare me. Someone get me a fork. I mean… can we just look at this pretty little thing for a minute? Ugh. Now. Gimme.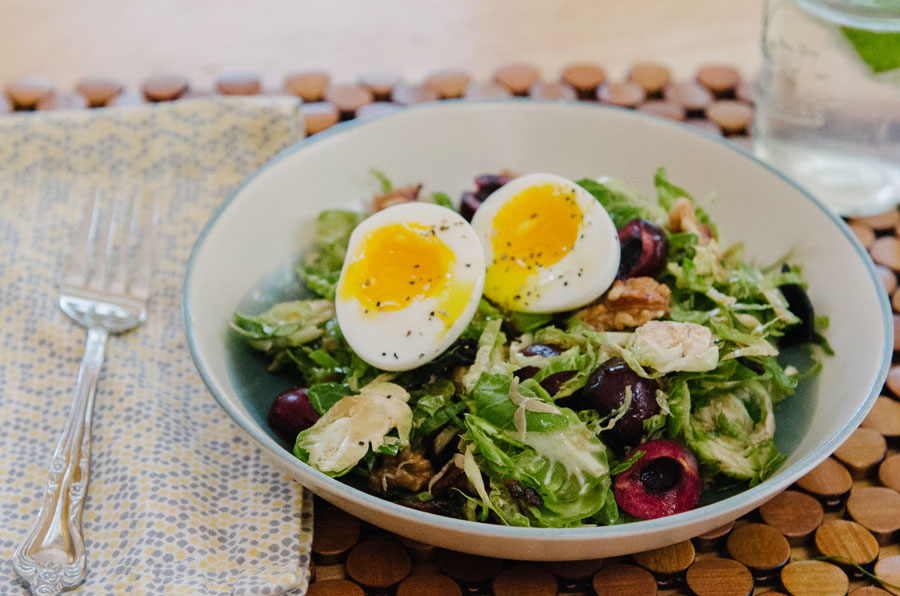 Ok, we can get to salad prepping now. I will try to contain myself.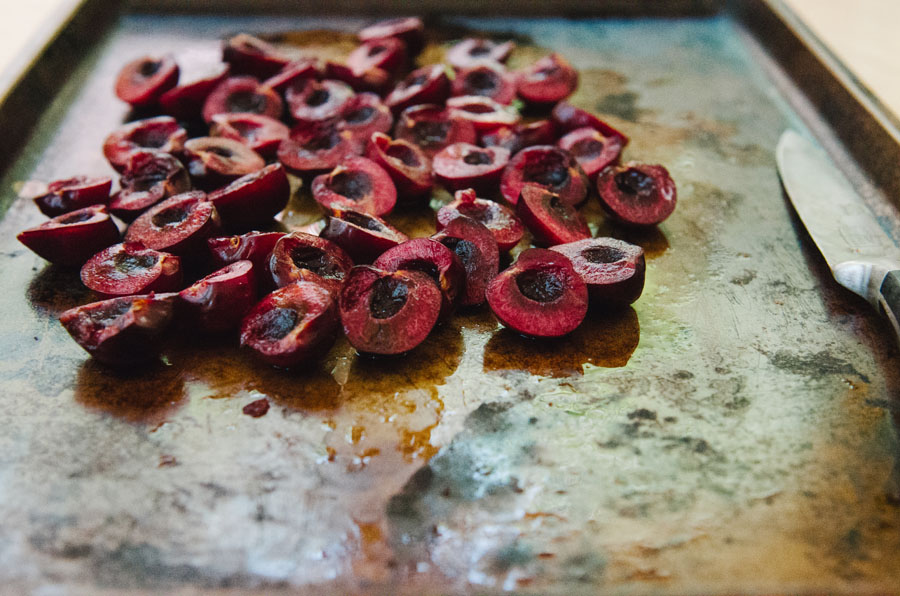 When I start seeing cherries show up in our markets, I know we're turning the corner into full-fledged summery goodness. Naturally, I like to put them in almost everything until they disappear. Do you know what happens when you put cherries and bacon together? It is a thing of sweet and savory dreams. It's worth the time it takes to sit there and remove all those cherry pits. Promise.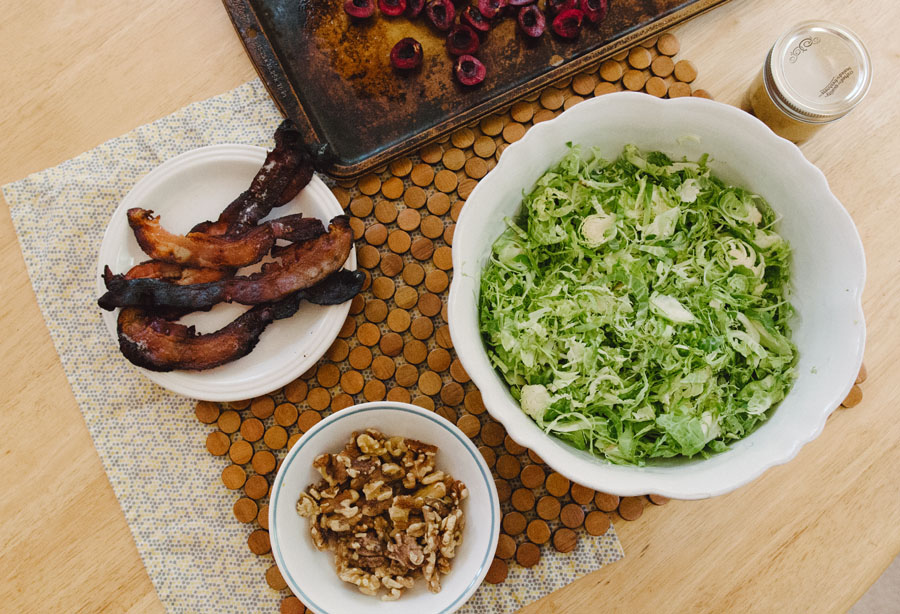 If you have a food processor you are going to want to break it out and stick on your slicing attachment. This will do all of the crazy chopping for you when it comes to your brussels sprouts. As someone who has totally sat there and sliced up sprout after sprout by hand, this little chopping vacation feels luxurious. Next, we're going to cook up some bacon. I opted to make mine in the oven. It seemed less painstaking. Walnuts are toasted in a pan and set aside. We are also going to throw all of the ingredients for a honey dijon balsamic vinaigrette into a mason jar and give it a good shake.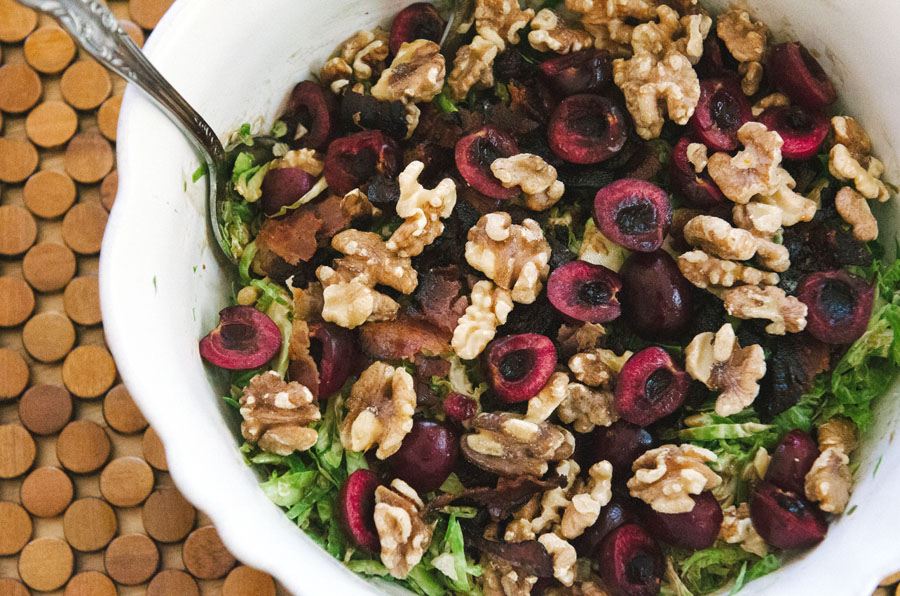 You are going to dress your sprouts and toss them really well before layering your cherries, walnuts and bacon on top. Brussels sprouts handle dressing really well. I had leftovers of this salad and Peter took it to work the next day and said it was still amazing.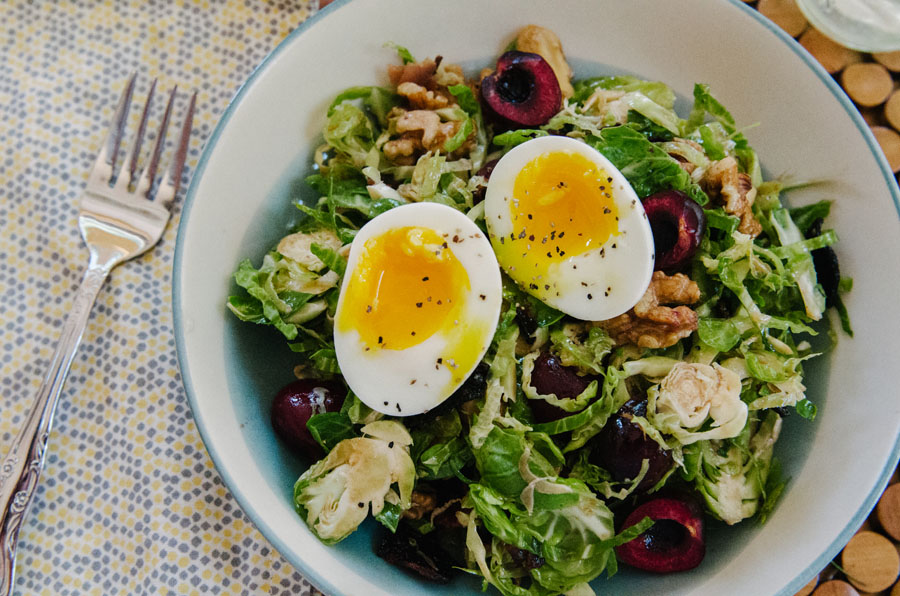 Do you have six minutes to spare and the patience to boil a pot of water? Please say yes. If you top your serving of this sweet and savory salad with a soft-boiled egg, you get something really special. Ooey-Gooey beautiful breakfast-y savory sweet sprout-y mayhem in your mouth.  Overly descriptive? Maybe. Starting a sentence with Ooey? Unorthodox. Using the term mayhem? Chaos.
Can you tell I'm blogging hungry? I need to go eat something before I refer to this salad as beautiful again (even though it really is the prettiest girl at the dance). Enjoy! xo
Brussels Sprout Salad With Walnuts, Cherries & Bacon
Ingredients
Salad
1

bag of Brussels Sprouts

1

cup of walnuts, toasted

1 1/2

cup of cherries, pitted

1/2

lb of bacon

Soft boiled eggs to top (optional)
Dressing
1/2

cup olive oil

1/4

cup balsamic vinegar

1

tbs dijon mustard

1

tbs raw honey

pinch of salt, pinch of pepper
Instructions
Preheat your oven to 375 degrees.
Line a baking sheet with aluminum foil.
Lay your bacon flat on your baking sheet making sure to leave space between your bacon strips so that they don't overlap.
Bake for 15-20 minutes. If you bacon is thick cut and produces a lot of grease, you are going to want to drain your grease half way through the cooking process.
When the smaller bubbles on your bacon give way to larger bubbles then your bacon is most likely done. If it appears to be too firm in the oven then it is probably over cooked. Bacon will firm up once it has been removed from the oven and set on a plate to rest.
Once your bacon is cooked and set aside, take out your food processor with your slicing attachment.
Run your sprouts through the food processor and set aside in a large salad bowl.
Mix all of the ingredients for your dressing together in a mason jar. Whisk lightly with a fork to break up the dijon and the honey. Put a lid on your dressing and shake vigorously until it all has come together.
Dress your sprouts and toss well.
Add your toasted walnuts and your pitted cherries over the top of your salad.
Crumble up your bacon and add that to the top of your salad.
If you are going to add a soft boiled egg to the top, which I highly recommend, boil a pot of water. Add your egg to the boiling water and allow it to boil for 6 minutes. After six minutes drain the pot and run some cold water over your egg. Peel, slice and serve immediately over a plate of your salad.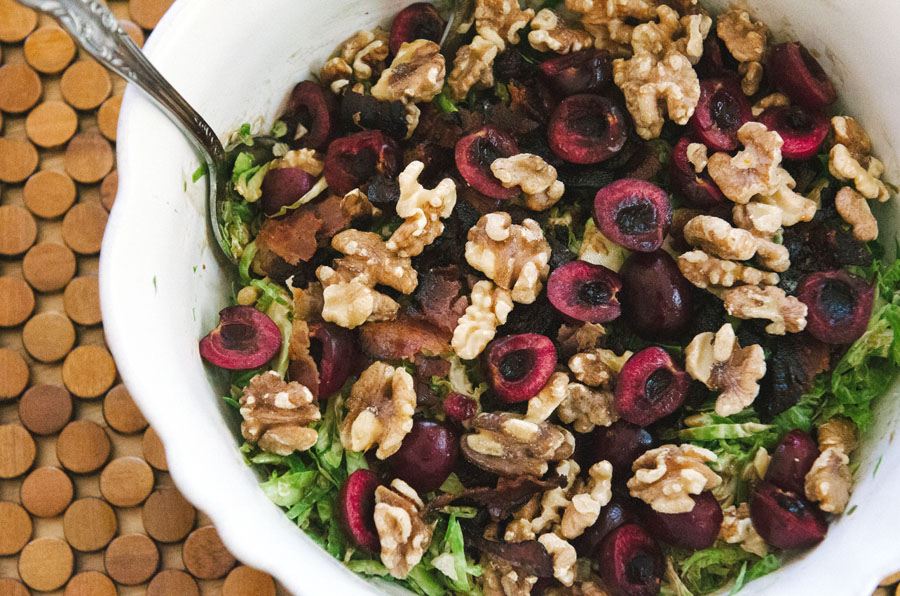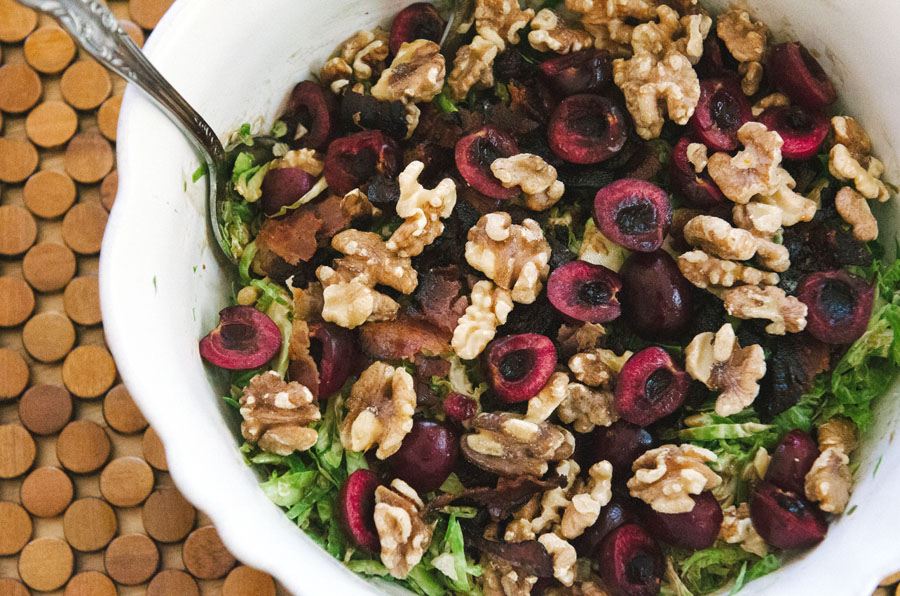 PAID ENDORSEMENT DISCLOSURE: In order for me to support my blogging activities, I may receive monetary compensation or other types of remuneration for my endorsement, recommendation, testimonial and/or link to any products or services from this blog.