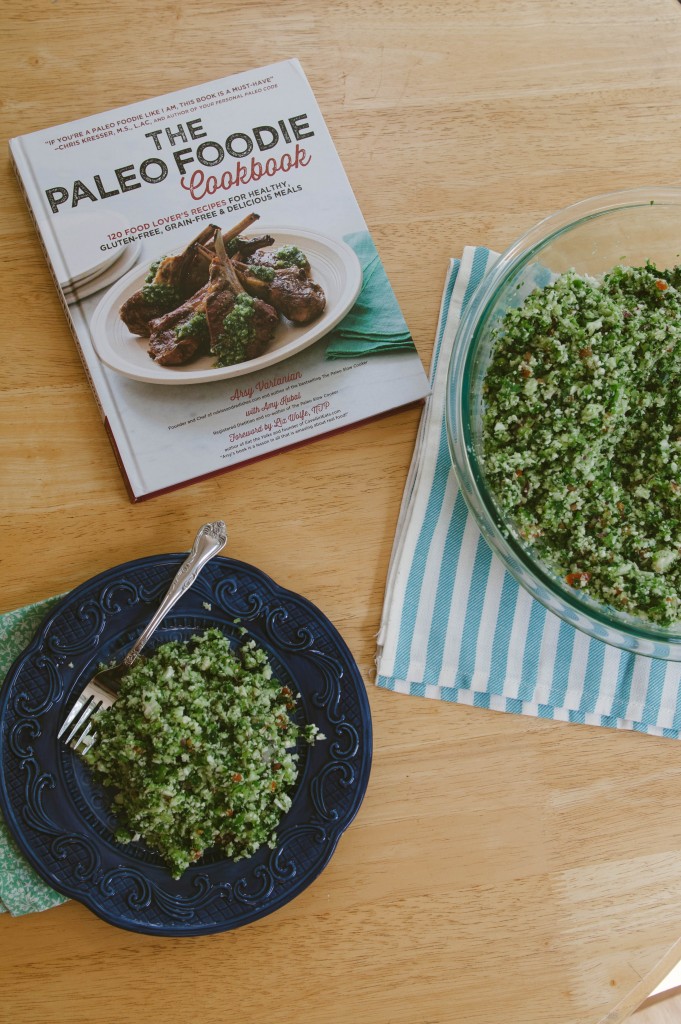 Have you guys met my friend Arsy? She writes the mouthwatering paleo food blog Rubies and Radishes. Well, girlfriend totally wrote another amazing book! Yes, I said another. Her first cookbook The Paleo Slow Cooker was a huge hit– helping all of us navigate healthy meals with ease! However, today we're talking about her brand new book, The Paleo Foodie! Oh, and no big deal…but she's letting me give away a copy to one of you lucky lil' bears!
When this book arrived in the mail it felt like Christmas…that is if Christmas showed you how to roast bone marrow or make oxtail soup! Santa, get with it. More bone marrow in stockings pleez! Um, just please wrap it up in some foil, otherwise it could get messy. Thanks. I appreciate you. I am going to totally forget that I wrote this and then find a hunk of oxtail at the bottom of my stocking come December, aren't I? This seems about right. Santa's a jokester.
Oh, well–moving on! Let's get back to this here book.
In the first part of the book, Arsy walks you through the basics of Paleo eating like a real lady. She shares her journey with you and chats about good fats and different levels of food quality. It's a real handy guide of tips and tricks! Then, oh my goodness… you flip through a few pages and commence a forty minute drool fest as you pour through the rest of it. Creamy Bacon Wrapped Dates? Yesssss. Smoked Salmon Nori Wraps With Wasabi Mayo? Uh huhhhh. Paleo Koofteh (Persian Meatballs)! Double drool. Sun-Dried Tomato and Fennel Braised Short Ribs?! I can't even. The recipes escalate in deliciousness and whip you up into a hot-sexy-drooling-foodie-frenzy. Um, don't even get me started with the Macadamia Crusted Duck Breast With Spicy "Soy" Ginger Sauce. I mean… WHAD-DA-YA-TRYIN-TA-DO-TA-ME-GURRRL? You get it. This book is paleo food porn.
Sorry that I am using the word "porn" to describe what's going on in these pages, Arsy… but, it just feels right. You can't make a Ginger Lime Butter-Sauteed Shrimp and then fault me for my sexed up foodie mouth. Don't show me photographs of Pan-Roasted Halibut With Mushrooms and Leeks and expect me not to fantasize about turning the lights down low, lighting a few candles, cranking the Boys II Men and seeing where things go.  Has this gone too far? Most likely. Definitely. But, we're not just talking about your basic paleo recipes here… we're talking recipes that any self-respecting food lover would go bonkers over.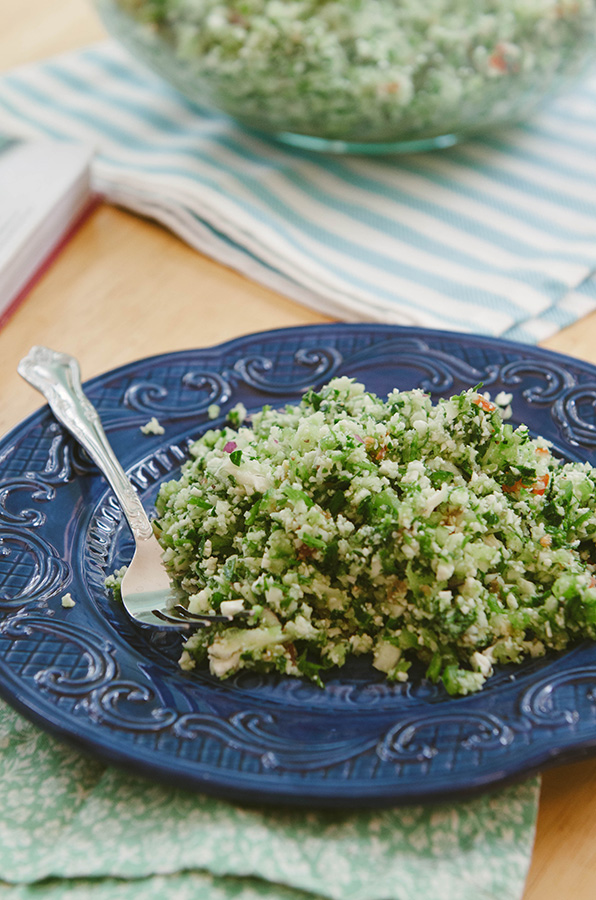 Let's cool things down. Today I'm sharing a recipe from the book! It tastes like tabbouleh, it looks like tabbouleh, it must be tabbouleh?! Wait a second… it's cauliflower? Yes. This was the exact reaction I got from my mother as she was shoveling it in her face. I made this as an easy side dish to some meatballs and it was a huge hit. The consensus was that we needed to make it again on a hot day and eat it alfresco!
I hope you enjoy the recipe! Also, don't forget to enter to win your very own copy of The Paleo Foodie! Just follow the instructions below. 'Tis easy.
1) Sign up for the So…Let's Hang Out Newsletter! You'll get special notes from me and stay up to date with what's happening around these parts!
 Sign Up For My Newsletter Here!
2) Use the Rafflecopter widget below to gain additional entries! The more you enter, the more likely you are to win! Good luck! xox
Arsy's Cauliflower Tabbouleh
8
adjust servings
Ingredients
2

cups packed parsley, chopped

1

cup green onion, chopped

1

cup tomato, seeds removed and diced

1

green bell pepper, diced

1

cup cauliflower, riced

2

tbsp extra-virgin olive oil

2

tbs fresh lemon juice

1/2

tsp sea salt

1/4

tsp pepper
Instructions
Run your cauliflower through a food processor until it resembles grains of rice. Gently combine all of your ingredients. Adjust salt, pepper and lemon juice to taste.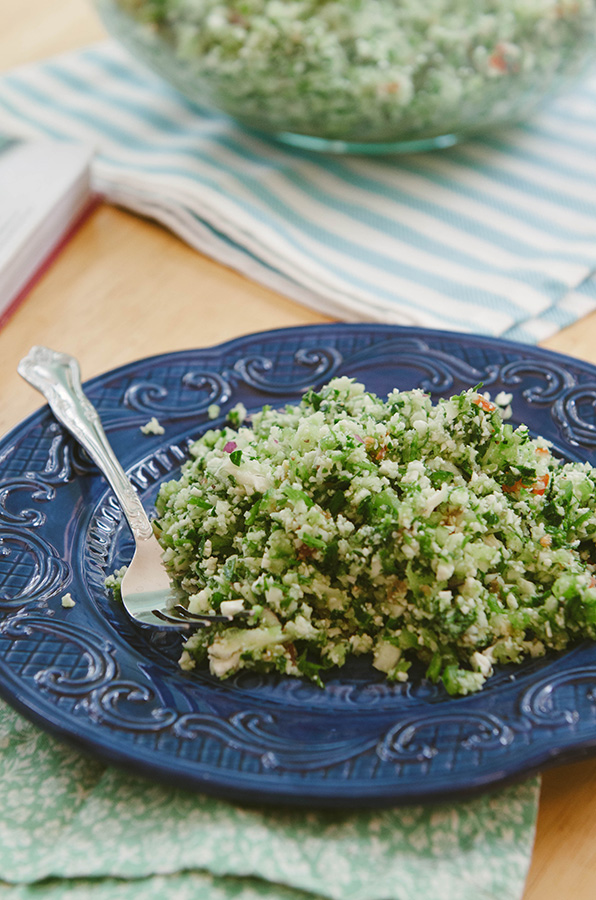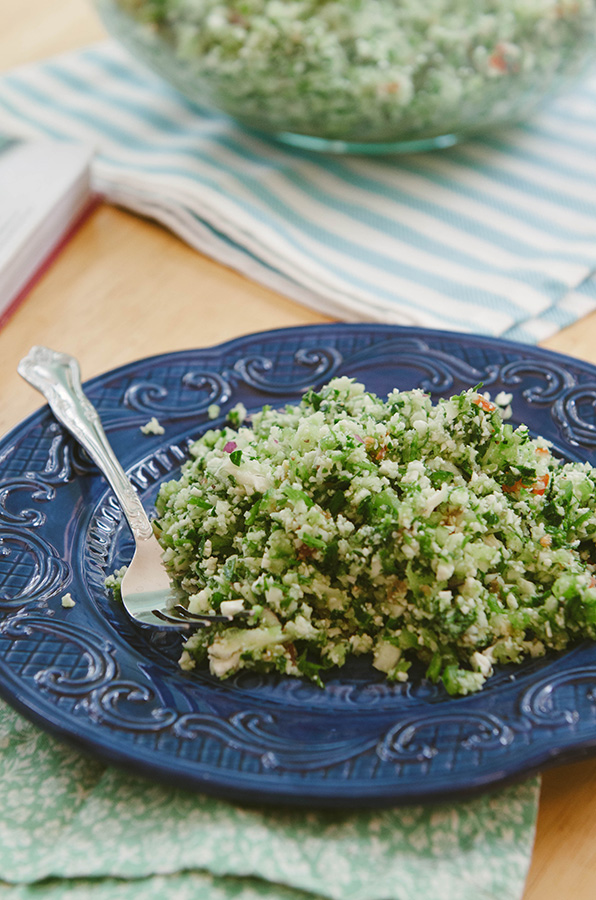 PAID ENDORSEMENT DISCLOSURE: In order for me to support my blogging activities, I may receive monetary compensation or other types of remuneration for my endorsement, recommendation, testimonial and/or link to any products or services from this blog.