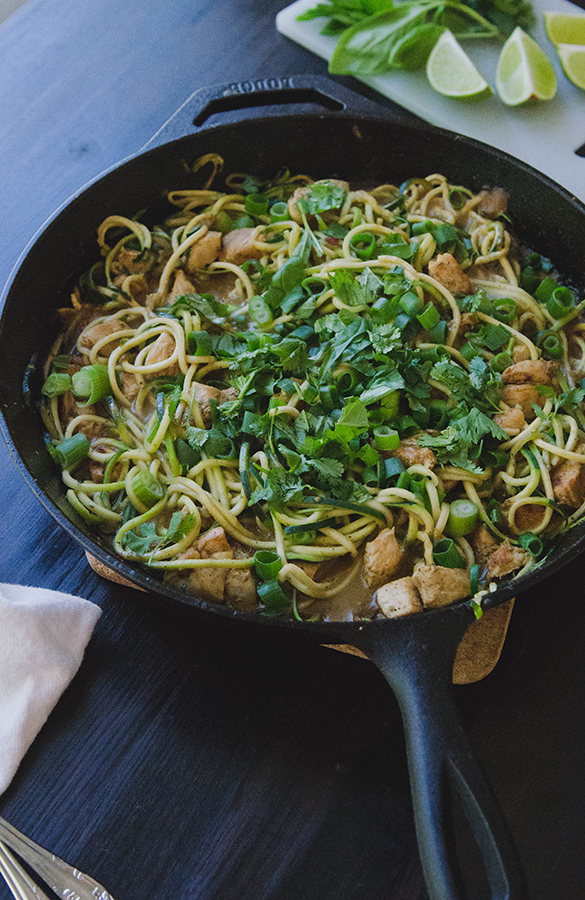 Confession: If we're going out to Thai food, I'm going to be the girl that orders the dish on the menu that heavily implies my protein will be "swimming in peanut sauce". If the menu does not use the words "swimming in" or "drenched" or "all the peanut sauce you can eat," I will then order additional peanut sauce on the side. I can't get enough. I once had a daydream that I filled up a kiddie pool with peanut sauce and sat in it with an excessive amount of chicken skewers. Dipping. Splashing. Eating. Splashing. This is probably the kind of thing I shouldn't tell people.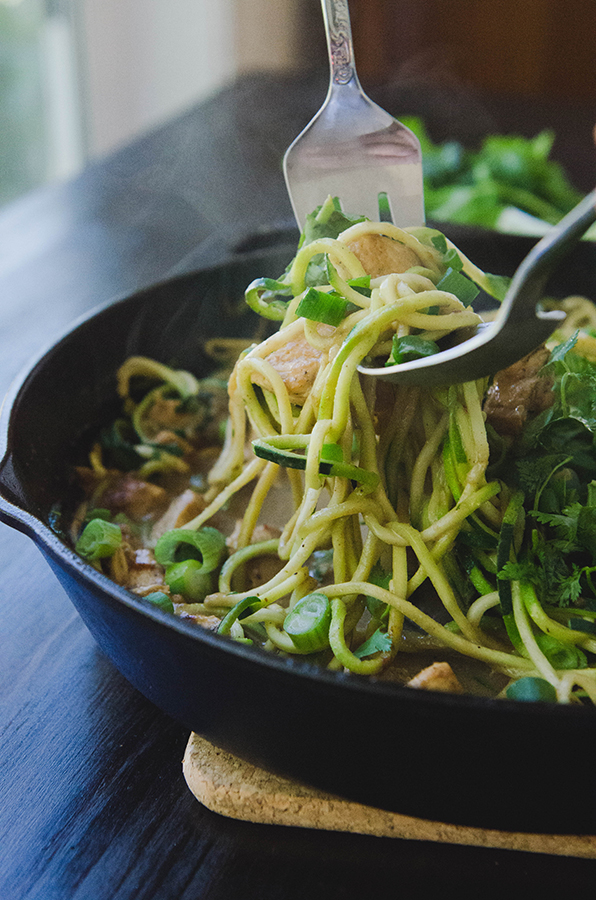 The thing is, I was late to this whole Thai food game. Growing up in a small town in the burbs of Northern California we didn't have a lot of  Thai restaurants. The options within our small town were limited to: Mexican, Mexican, Mexican, Italian, Pizza, Salad, Mexican or Burgers… but probably Mexican. Oh, and there was a concerningly cheap yet charming Chinese restaurant. The food there is delicious, but the service is even better. In high school I knew one of the waiters personally (it's a small town) due to the frequency in which I would dine there. He would try to speak Spanish to me with a thick Chinese accent. Note: I don't speak Spanish. I loved that guy. He had pizzazz.
The year I met my husband we flew back to Washington to visit his family. We went out to Thai food in Seattle. I ordered something called a Swimming Rama. It was chicken that was quite literally swimming with peanut sauce. My head was swimming with instant obsession.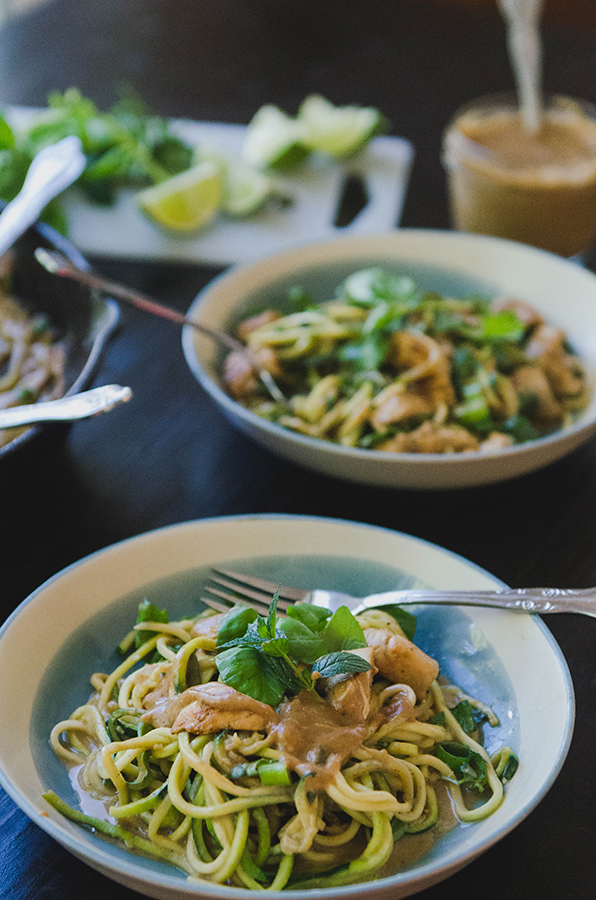 Unfortunately, as I've gotten older I've suffered from a slew of digestive woes. Gluten is not my friend. It's not as easy for me to get take out and not pay for it the next day. There can be hidden gluten or preservatives or the ever-lovely MSG. My system is sensitive. Even though Pad Thai is technically gluten-free (and flippin' delicious), I have yet to eat a bucket (because, once you start you can't stop) of it that doesn't make me feel like I'm hung over the next day. The same goes for most Thai take-out, including my beloved peanut sauce. Yes. This is disappointing.
So, what I've created is a Thai inspired skillet that won't leave you feeling heavy in the gut. I've ditched rice noodles for zucchini noodles by using this awesome spiralizer! This is a genius way of getting your family to eat a ton of veggies. I've whipped up my own quick peanut sauce and allowed the chicken and spiralized veggie noodles to swim in it. It's the only way.
If you are strictly Paleo, or have an allergy to peanuts you can still totally enjoy this skillet. Simply swap out the peanut butter  for either almond or sunbutter! See? This dish is accommodating. Get saucy with it. #SauceJokes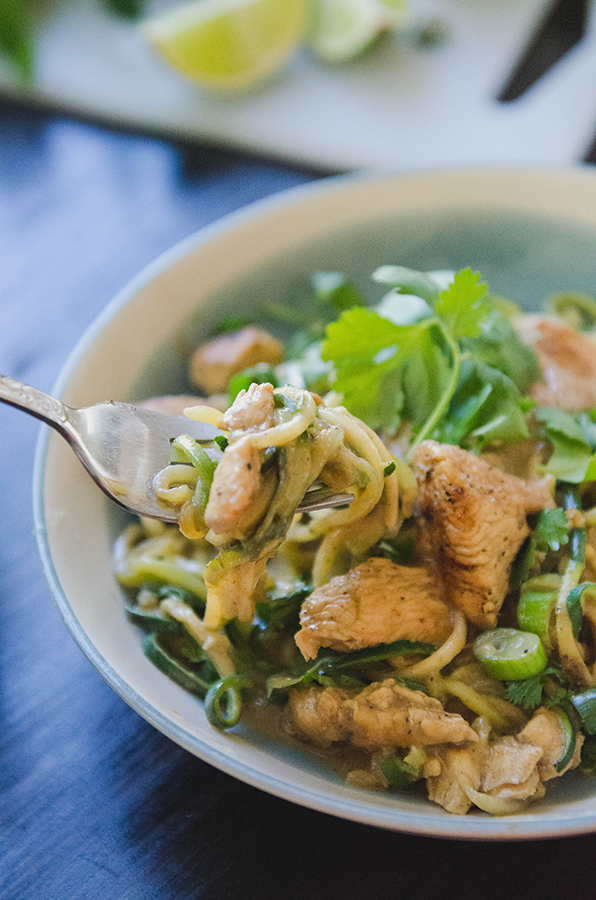 Chicken Satay Skillet With Zucchini Noodles
Ingredients
Peanut Sauce
Skillet
1

tbs coconut oil

2

large chicken breasts, cut up into bite sized pieces

Salt, pepper & granulated garlic (to taste)

1

tsp minced ginger

1

tsp coriander

4

large zucchinis, spiralized into noodles using THIS tool
To Top Skillet
Green onions, chopped

Cilantro, chopped

Mint, chopped

Basil, chopped

Peanuts (optional)

Lime wedges
Instructions
Place a medium sauce pot over medium heat. Whisk together the nut butter, coconut milk and water until the nut butter melts and it is all fully mixed together into one consistent sauce. Add in the tamari, coconut sugar, and sambal and whisk again until the sugar dissolves and the sauce is a thick yet pour-able consistency. If it is too thick, add a bit more water. If it is too thin, add a bit more nut butter.
Heat up a tablespoon on coconut oil in a cast iron skillet. Once your skillet is hot, add in your chopped up chicken pieces. Spice the chicken liberally with salt, pepper and granulated garlic to taste. Add in the minced ginger and coriander as the chicken cooks. Cook the chicken thoroughly, until it is cooked all the way through and there is no more pink. Once the chicken is cooked, throw your spiralized zucchini noodles into the pan and toss together. The zucchini noodles will soften up rather quickly. I like to cook mine for only a minute or two to maintain some crunch.
Once the noodles are cooked to your liking, add in your peanut sauce and toss again. Top your finished skilled with green onions, cilantro, mint, basil and chopped nuts. Garnish with lime wedges. Any and all toppings are optional. Feel free to make it your own! Enjoy!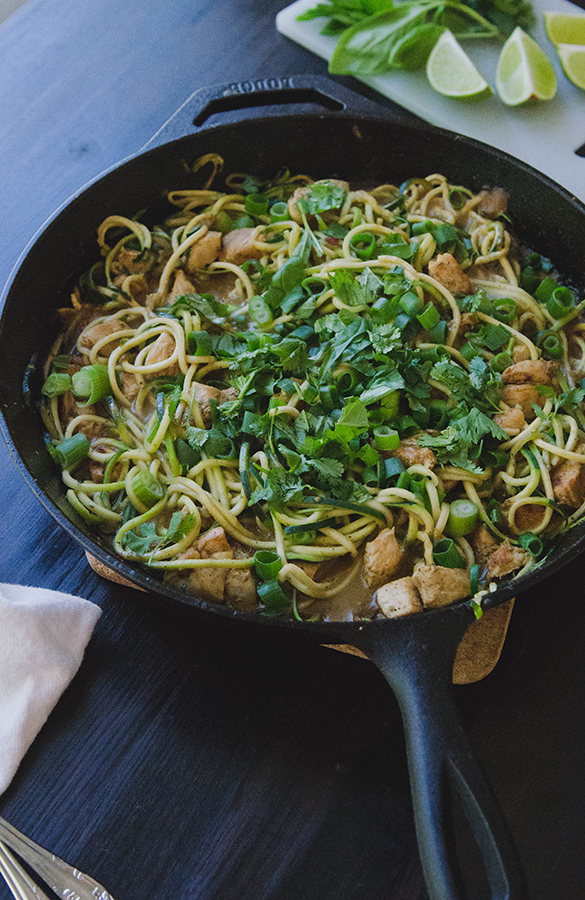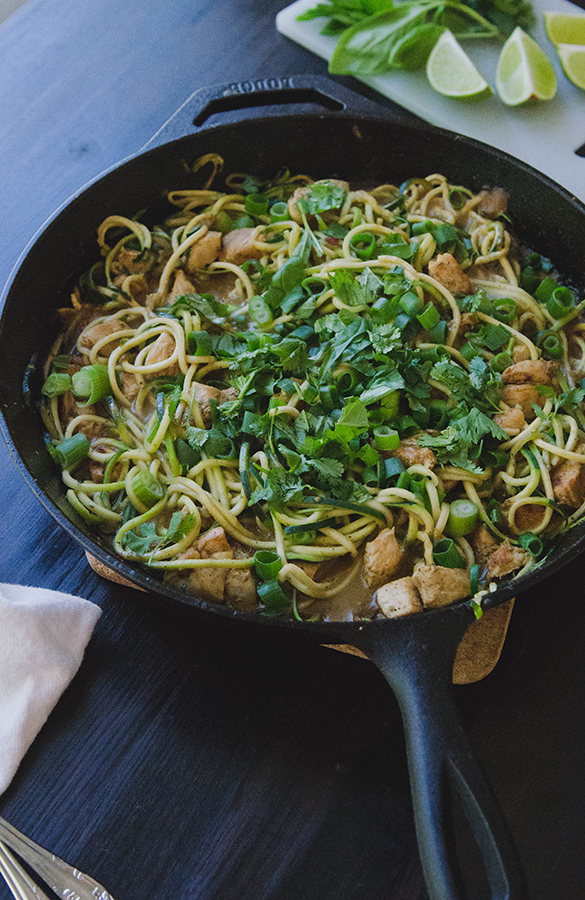 PAID ENDORSEMENT DISCLOSURE: In order for me to support my blogging activities, I may receive monetary compensation or other types of remuneration for my endorsement, recommendation, testimonial and/or link to any products or services from this blog.