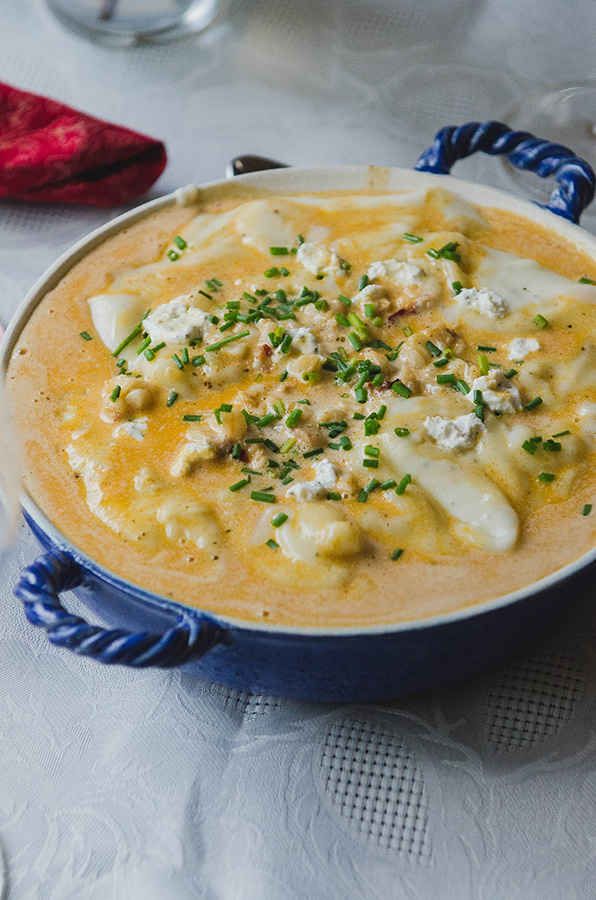 What happens when you put buttery roasted lobster into a cream sauce and then pour that cream sauce over a bed of goat cheese laced mashed potatoes? This. This is what happens. This, and also a lot of orgasmic eating noises. Loud ones. The kind that would make you uncomfortable if you accidentally video taped yourself eating. A lot of MMMMMMMMMMYYYYGAHHHHHWWWW and YES–YES YESSSSSSSSSSSS. It's food porn, and it's starting you. Whoops, we just made a lobster laced sex tape. Kinda like Paris Hilton that one time, but we're wearing all of our clothes and moaning something fierce over goat cheese.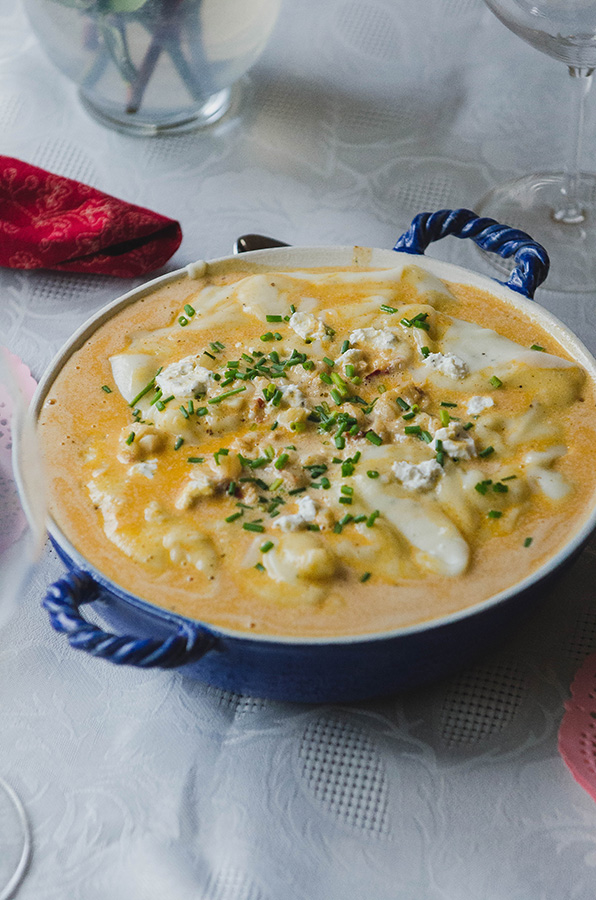 It's only appropriate that this dish makes you feel amorous. These cheesy crustacean-ed taters are coming at you just in time for Valentines Day, and will make the perfect side dish to my Perfect Pan Seared Filet Mignon! It's surf and turf without the 80's steakhouse decor, and with infinitely more pzazz.  Nothing makes an occasion feel more special than mouthing "I Love You" to your significant other with a mouth full of steak and lobster taters. Trust me. It's fool proof. Maybe have some wine. Wink at each other. Bat your eyelashes a lot. I should really turn this blog into dating advice column (thinks no one in their right mind).
Instead of going out to eat on Valentines Day, and suffering through overpriced set menus, my husband and I have a tradition where we make steak and lobster at home. Somehow, throughout the years, we've turned Valentines Day into Steak & Lobster Day! And, you guys…it's the absolute best. It turns out that steak and lobster tend to have a major sale moment around Valentines Day! Take advantage of it, and craft an expertly cooked decadent meal at home!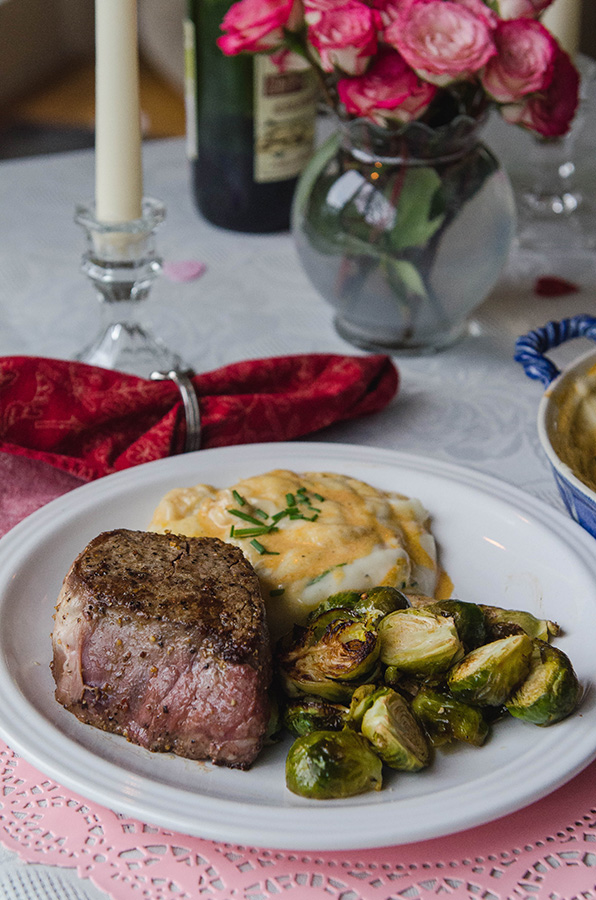 Creamy Goat Cheese & Lobster Mashed Potatoes
Ingredients
Baked Lobster Tails
2

medium lobster tails

1

Tablespoon of butter, melted

Pinch of salt
Creamy Goat Cheese & Lobster Mashed Potatoes
4

large Russet potatoes, peeled and quartered

4oz

garlic and herb goat cheese

1/2

cup milk (you can sub in non-dairy milk if you wish!)

salt, to taste

4

Tablespoons butter

4oz

pastured heavy cream

2

teaspoons Old Bay seasoning

1/2

teaspoon chili powder

Chives, to top
Instructions
Preheat the oven to 350 degrees. Line a baking sheet with aluminum foil and set aside.
Rinse the lobster thoroughly under cold water. Using kitchen scissors, carefully cut the shell down the center--from the top to the tail. Using your finger, carefully reach in and separate the lobster meat from the shell. Note, the shell might be a little sharp, so be cautious.
Once you separate the meat from the shell, remove it by pulling it through the center cut you made with your scissors. If you notice any brown or grey veiny areas, remove them from the lobster meat.
Lay the lobster meat on top of the shell, and brush with melted butter. Season each lobster tail with a pinch of sea salt. Put the lobster tails on the foil lined baking sheet. Bake in the oven for 15 minutes. The lobster is done when the meat is turned white, or when the internal temperature is 140 degrees.
Remove the cooked lobster tails from the oven and set aside.
Add the peeled and quartered potatoes to a pot of hot water. The water should be covered the potatoes by at least and inch or two. Liberally salt the hot water. Allow this pot to come to boil over high heat. Once at a boil put a lid on your pot and turn the heat down to a simmer. Let the potatoes cook for 20 minutes, or until they are fork tender and soft.
Drain the water out of the potatoes. Put the potatoes back into the pot and use an immersion blender to make them creamy. Once they are a good consistency, add in the goat cheese and use the immersion blender again to blend completely. Add the milk a 1/4 cup at a time and use the immersion blender once again to incorporate the milk. Taste the mixture and add the appropriate amount of salt for your palate. Blend again.
In a separate pan, heat up the butter and the heavy cream over medium heat. Whisk together and add in the Old Bay seasoning and the chili powder.
Roughly chop up the cooked lobster tail meat, and add it to the pan with your cream sauce. Toss together.
Put your mashed potatoes into a serving dish and top with the lobster cream sauce mixture. Garnish with chives and serve!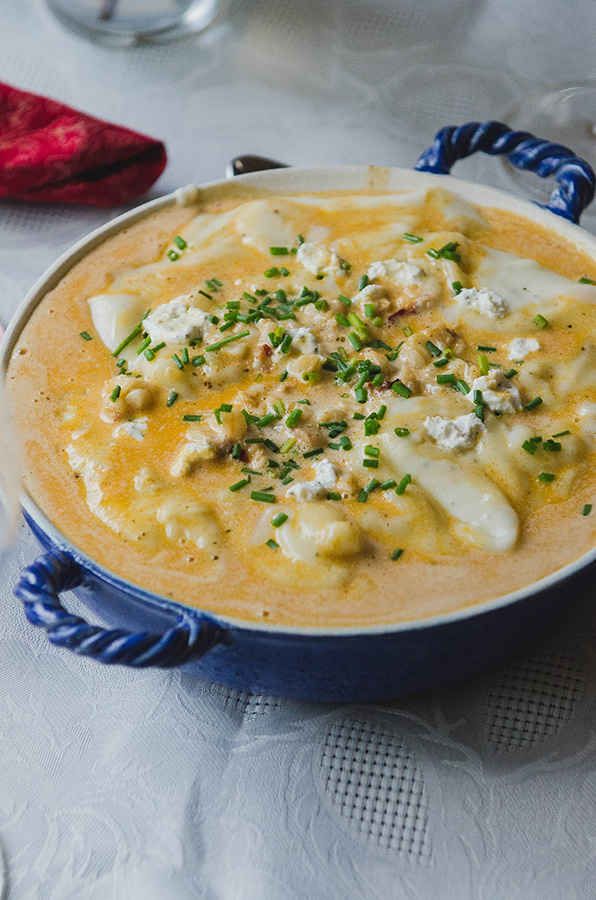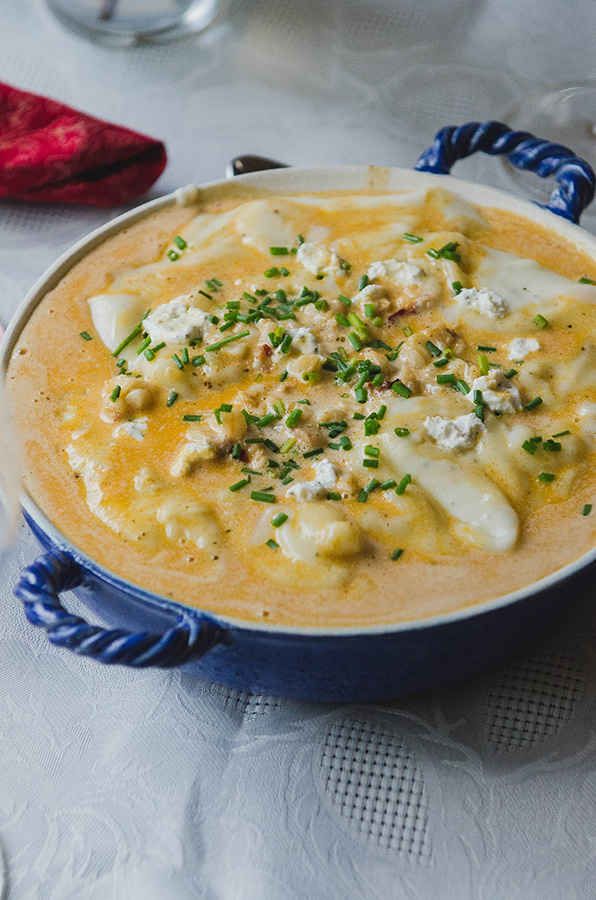 PAID ENDORSEMENT DISCLOSURE: In order for me to support my blogging activities, I may receive monetary compensation or other types of remuneration for my endorsement, recommendation, testimonial and/or link to any products or services from this blog.