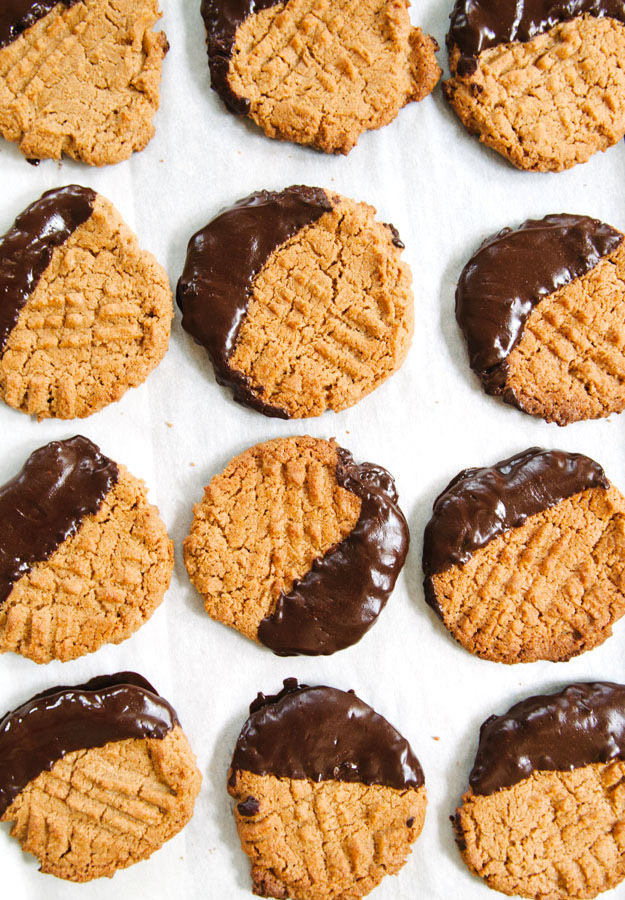 If there was ever a confectionery love story to be told on the silver screen, it is that of peanut butter and chocolate.
This cinematic romance stars Mr. Peanut Butter as the male lead. He's just a guy. Normal, but in a familiar and charming sort of way. The kind of guy that you want to slather on a piece of toast and bring home to Mom. Sure, he's not super fancy, and maybe he doesn't have GREAT fashion sense, but he's got kind, comforting eyes and old world manners. He'll totally open the door for you. He seems to have a way with people's pets, especially of the canine variety. His only real fault is that he can be too clingy… but I mean, he's Peanut Butter—so, sticky. Anyway, I can imagine that Peanut Butter is  tired of sitting at his Wonder Bread desk and working for the man. He starts taking a yoga class, as any dissatisfied-condiment-looking-to-broaden-their-horizons might do. The world stops. There she is in super tight yoga pants. Sitting cross-legged. Eyes closed. Her name is Dark Chocolate. The class gets started. She winks at him. She's smoother than he will ever be. He stutters. Stammers. Trips over his own wrist while attempting to move into a Warrior pose. She rushes over to help him adjust. Her chocolaty fingers get stuck on his peanut buttery body. They are stuck together. Somehow, they are cool with it, like it was DESTINY all along.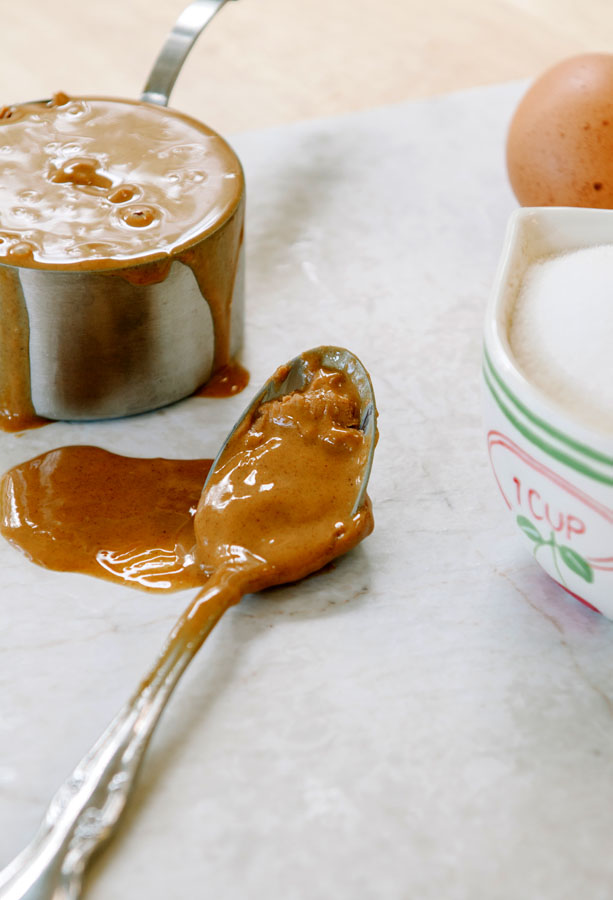 Then there are several more scenes. A total misunderstanding between Dark Chocolate and some girl named Jelly who won't leave Peanut Butter alone. It's a mess. But, ultimately, they come together in the end. They get hitched. Happy endings for all. They most likely make at least a dozen babies in the form of these cookies. Sure, that's a lot of kids… but, they really underestimated how easy it was going to be to make cookies. Like, THREE INGREDIENTS easy (plus a little chocolate sauce). Do things get overwhelming with twelve sassy cookie kids to take care of? You bet… but, that's a whole different movie. Basically, it would look something like 2003's Cheaper By The Dozen and would have a Rotten Tomatoes rating of approximately 18%. People can only watch so many movies about peanut butter doing human things. I get it.
There also comes a point in time where you should stop pitching movies starring things you find your fridge. I will acknowledge that moment is now. It was starting to turn into a sticky situation. I dunno… I just wanted to throw one more peanut butter related pun in there. Phew. Tough room.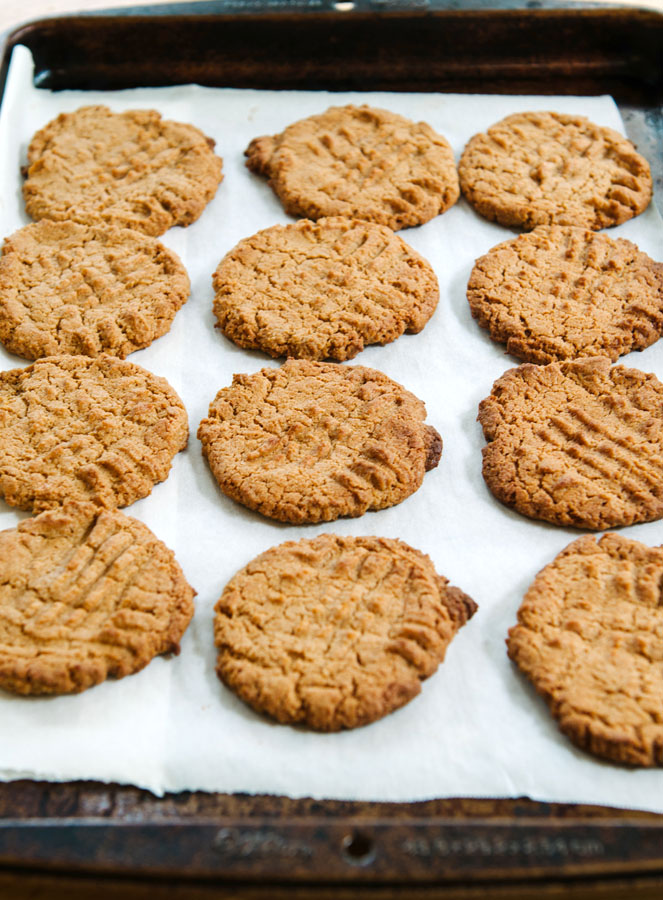 These cookies are SILLY easy to make. We're only using three ingredients to make up the cookie before we dunk it into some dark chocolate. SO easy. I can remember this recipe by heart, and that says a lot about its ease since I sometimes forget where I put my car keys and often search for my glasses while they are on my face.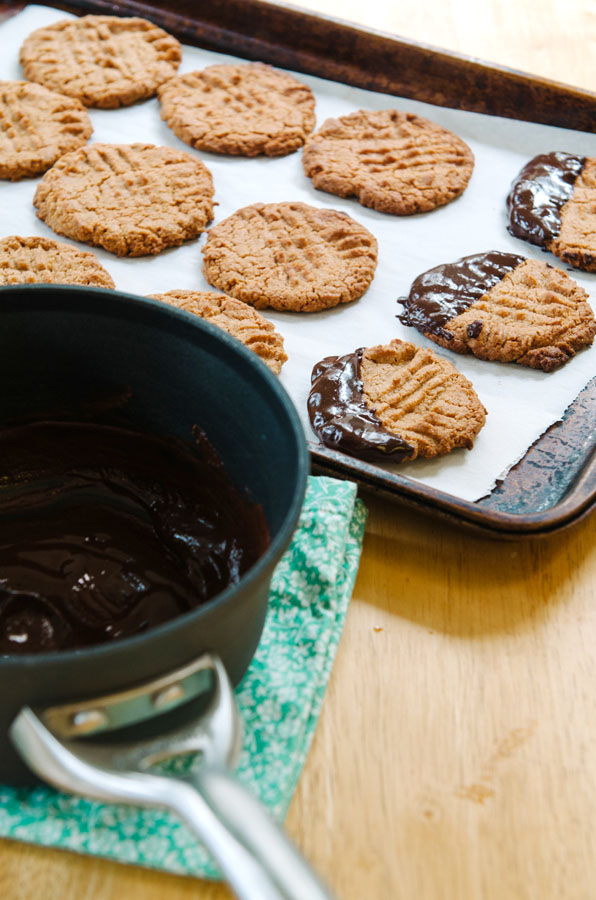 After your crazy-easy cookies are done and have cooled, it's time to give them a swift dunking in a dunk tank full of rich dark chocolate. Worse things could happen. Like, anything else.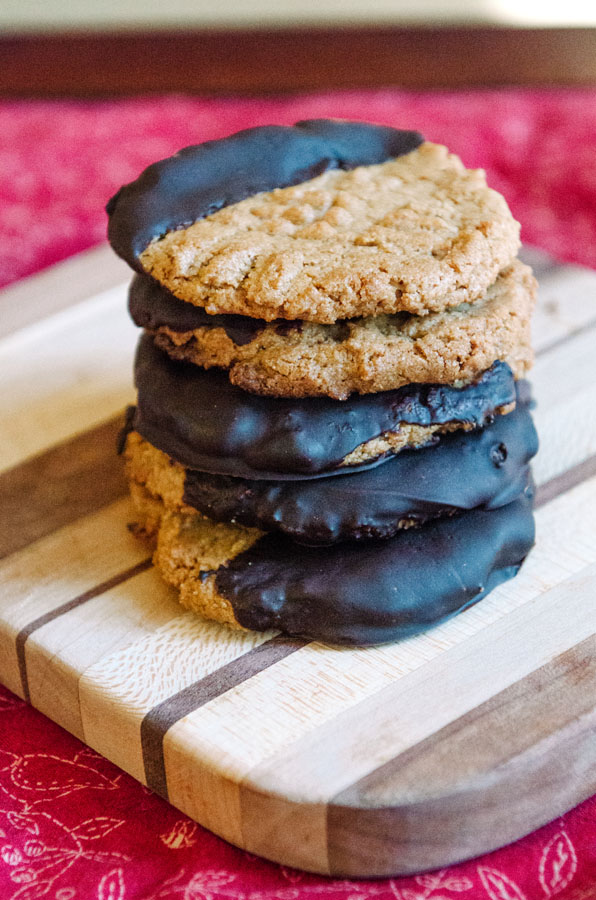 After a bit of time to cool off in the freezer they are ready for their NEXT feature film. Fortunately, this film stars you. It's just you eating a bunch of cookies and looking super happy. Yeah, it's a short film. Simple. Real. Moving. Watch out, Sundance!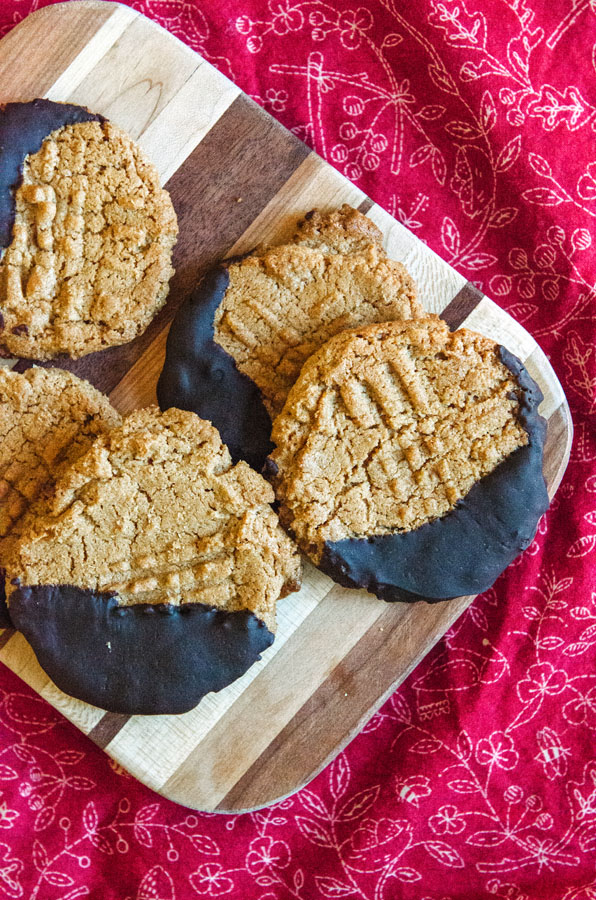 Lights, camera… ACTION! 😉
Dark Chocolate Dipped Peanut Butter Cookies
Ingredients
Cookies
1

cup natural peanut butter

1

cup granulated sugar

1

large egg
Dark Chocolate Sauce
Instructions
Preheat your oven to 350 degrees.
Line a baking sheet with parchment paper and set aside.
In a medium bowl mix together the peanut butter and sugar until they are smooth.
Add in your egg and mix together until the mixture is totally smooth and completely consistent.
Using a [cookie ballerhttp://amzn.to/1kp0BnN], or a couple of spoons (you want about a heaping tbs per cookie), portion out your cookies on the parchment paper.
Using a clean hand, gently smash down your cookies. They will not spread very far on their own in the baking process, so this is how we are going to get them to be flat and cookie shaped. After you've gently pressed them down, use a fork to make a cross hatched pattern across the top of each cookie.
Pop them in the oven and allow them to bake for 10-13 minutes. They should be golden brown in color.
While you are allowing your cookies to cool, you can make up your chocolate dipping sauce. Using a double boiler or the equivalent, melt your dark chocolate chunks completely.
When your chocolate is melted, add in your coconut oil and whisk to incorporate thoroughly.
After your cookies have cooled completely, drunk half of each of them into the dark chocolate mixture and place them back on the cookie sheet.
Place your baking sheet with the chocolate dunked cookies into the freezer for at least thirty minutes. You want your chocolate to set.
Serve! Enjoy! If you have any leftover, store them in the freezer to prevent the chocolate from melting.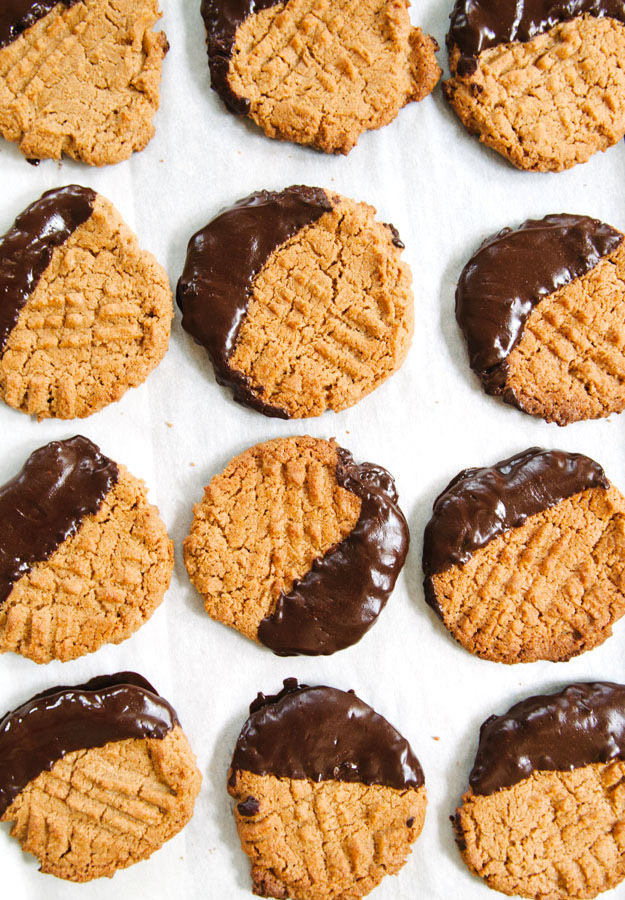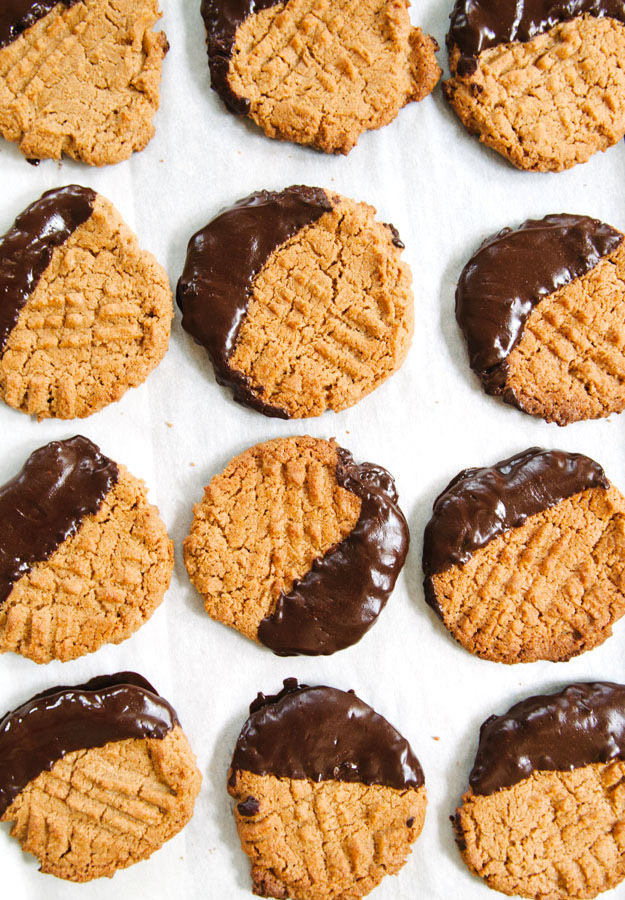 PAID ENDORSEMENT DISCLOSURE: In order for me to support my blogging activities, I may receive monetary compensation or other types of remuneration for my endorsement, recommendation, testimonial and/or link to any products or services from this blog.