Okay, fine. I'll say what we're all thinking. Um, so I'm supposed to eat a plate full of radishes? Isn't that like eating a plate full of sprouts? I've always admired the radish as a pretty garnish, but I've never really considered it to be a full on side dish. I would incorporate these cheery little roots into salads in order to add some color, but that was it. I've been treating the radish like my cheap, last minute, arm candy wedding date. She's pretty. She's available. She looks good in pink. But, that's it. She's not the hardworking, salt of the earth veggie that I'd take home to meet my Mom.
Moms like to meet the kale in your life. They wanna show all the sweet potatoes your baby photos. But, a radish? No. Stop. There's no future there. Can we also take a minute to realize that I've written myself into a tawdry same-sex relationship with a vegetable? Am I veggie-curious? Maybe. I don't like labels. I've also probably been too harsh on this vegetable. Judged a root by its pretty in pink exterior. I didn't give her a chance. Maybe she's just dressing that way to pay her way through vegetable med school? Again, I apologize for this entire paragraph. It's about as solid as my plan to start a pansexual dating site for vegetables. Ugh. It keeps getting worse with each sentence. Can someone get me out of here? No? Great.
What I've been trying and failing to say is that my impression of the radish was WRONG. It turns out if you take this crispy little root, slather her in duck fat and then roast her with some leeks, everything changes. Things get deep. Flavors develop. Feelings develop. All of the sudden you find yourself in more than just a spring fling. This might be love. The radishes become sweet with a crispy exterior. The leeks are buttery and crisp up on the edges. The entire skillet is garnished with lemon juice, parsley, and some beautifully bright preserved lemons. I don't really remember how to flirt, but If I was a single gal in a bar, and this radish sat down next to me, I'd wink at her enthusiastically and offer to pay for her Long Island Iced Tea. I'd probably be crushed when she ditched me for a buttery leek. But, what's that saying? Better to have loved and lost a radish to a leek than to have never loved a radish at all? Wise words..wise words. 
Although I firmly believe that duck fat makes the world go round, if it's not your jam, don't worry about it. Maybe you prefer lard or tallow? Maybe you're a coconut oil dude? All of those are good choices. Don't let my duck fat-loving-face keep you from enjoying a skillet of these uh–mayyyy–zinnnng veggies. But, seriously… duck fat.
Duck Fat Roasted Radishes & Leeks With Lemon & Herbs
Ingredients
2

bunches of radishes, tops cut off, washed and halved

2

Tbs. duck fat (you can sub in coconut oil for a vegan option)

1

medium leek, washed and chopped

1

tsp. course sea salt

Juice of 1 lemon

1/4

cup chopped flat leaf parsley

3

slices preserved lemons, chopped
Instructions
Preheat the oven to 450 degrees.
Add your halved radishes into a mixing bowl along with the duck fat and salt. Using clean hands, toss the radishes together with the duck fat and salt. The heat of your hands will melt the duck fat and allow it to coat the radishes.
Transfer your radishes into a cast iron skillet, or a baking dish. Place them cut side down.
Bake the radishes for ten minutes. Remove the radishes from the oven and add the chopped up leeks to the skillet. Bake for an additional 15-20 minutes. The radishes should be soft, and the leeks wilted and slightly crispy.
Remove the pan from the oven and squeeze the juice of a lemon over the top of the radishes. Garnish with parsley and preserved lemons. Serve and enjoy!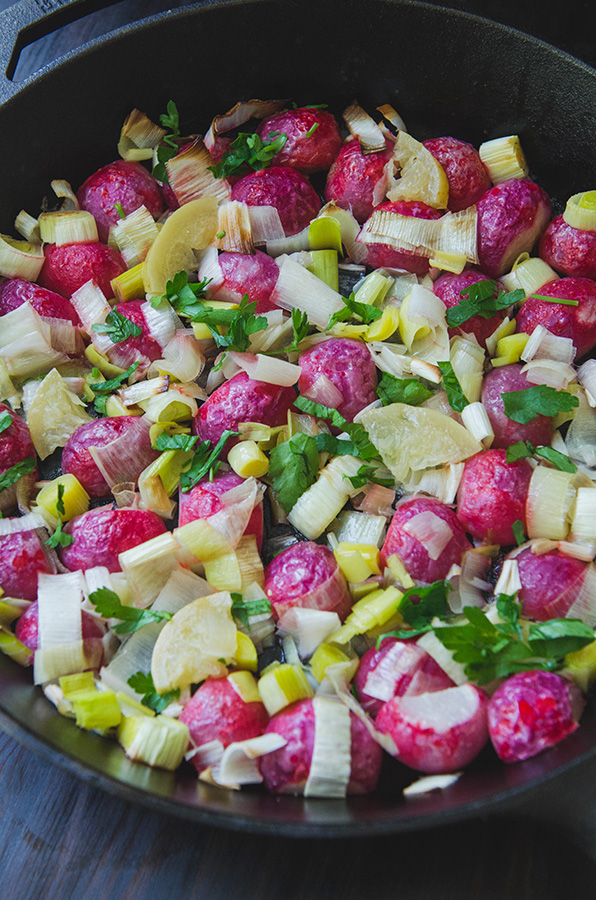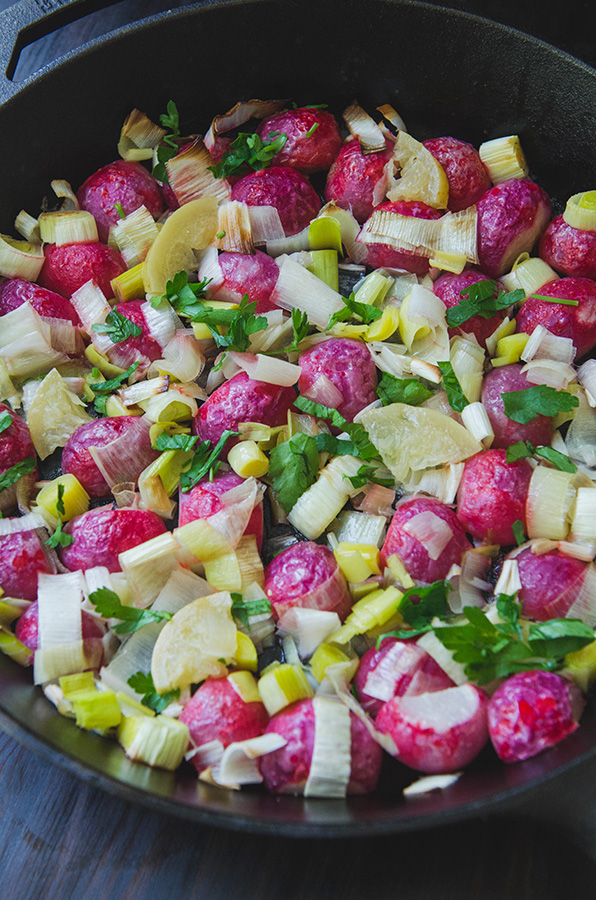 PAID ENDORSEMENT DISCLOSURE: In order for me to support my blogging activities, I may receive monetary compensation or other types of remuneration for my endorsement, recommendation, testimonial and/or link to any products or services from this blog.