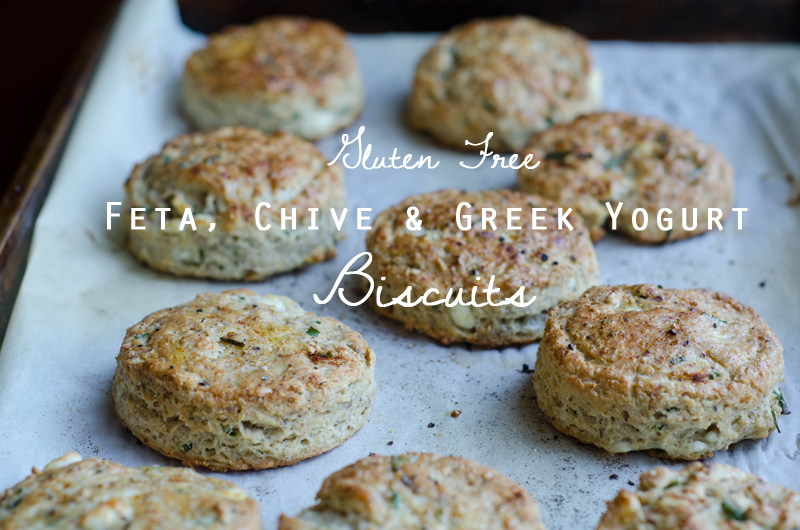 Confession:
These are the first biscuits that I have ever baked. Ever.
I wasn't raised on biscuits. In fact, we never had them in our house. We were the family with the stash of Hawaiian sweet rolls. We occasionally baked those crescent rolls that came out of a can. Does that count? Probably not. Would it make a difference if I told you that sometimes we would roll mandarin oranges up into the crescent roll dough to make them fancy? No? Ok, fine. I will stop trying to impress you with my childhood culinary prowess.  I wasn't exactly the Doogie Howser of baking, but I had dreams.
This week I found myself craving something savory and bread-y. When I found this recipe for Joy The Baker's Feta, Chive and Sour Cream Scones, it was game over. I knew I wanted to try to make them gluten free. What was the worst that could happen? Not much. Honestly, if you put enough butter and cheese into something it's usually an automatic culinary win. However, there was a chance (as there always is with gluten free baking) that my buttery biscuits would end up being buttery-rock-hard-nuggets-of-terror. (Honestly, have you ever picked up a loaf of rice bread at the store? It's heavy.Weaponry, if you will). For this reason, I added in some almond meal to keep them moist and light and then crossed my fingers.
Look at all that butter though. You can see a little chunk peeking through. That looks hopeful.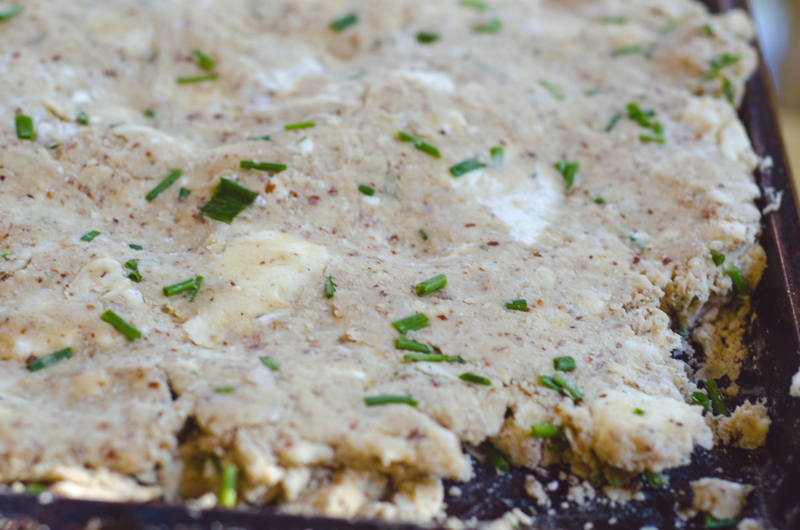 For all of you who think that my baking process is more scientific, you can imagine me doing this all very methodically in a lab coat. Imagine beakers and baking scales. Imagine a graphing calculator (why?).
Ok, now stop.
Remove the lab coat, the baking scale, the weird graphing calculator and add in a couple of measuring cups, a mixing bowl, too much butter, a little bit of know-how and whole lot of luck. Did I mention the biscuit dough on my glasses? How about the mason jar ring that I used to cut out the biscuits since I couldn't find my cookie cutters? Highly scientific. Yup.  Biscuit-Chic and totally resourceful. Girl scout-style.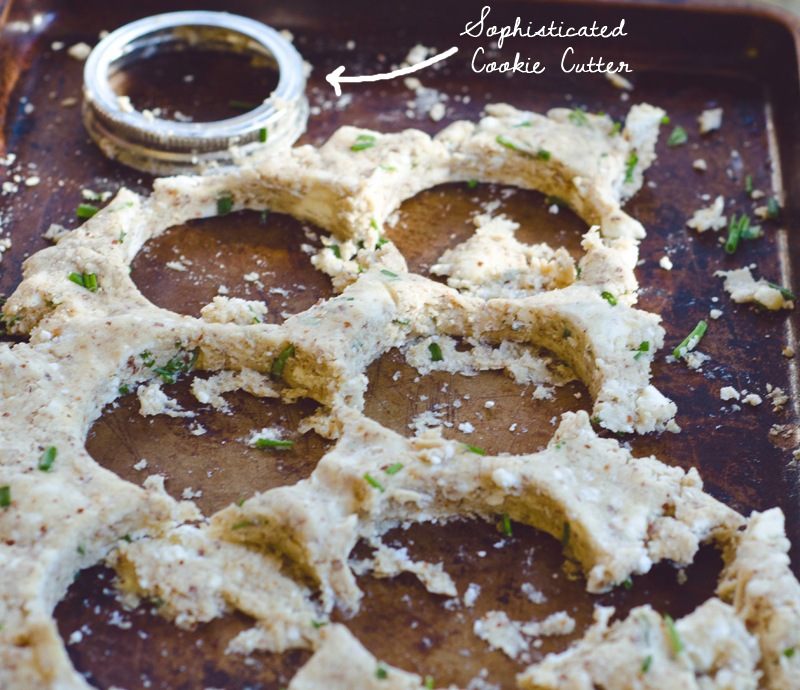 I egg-washed the tops so that they would get deliciously golden brown, and sprinkled them with a little bit of fresh cracked pepper and paprika and then in the oven they went. Fingers still crossed.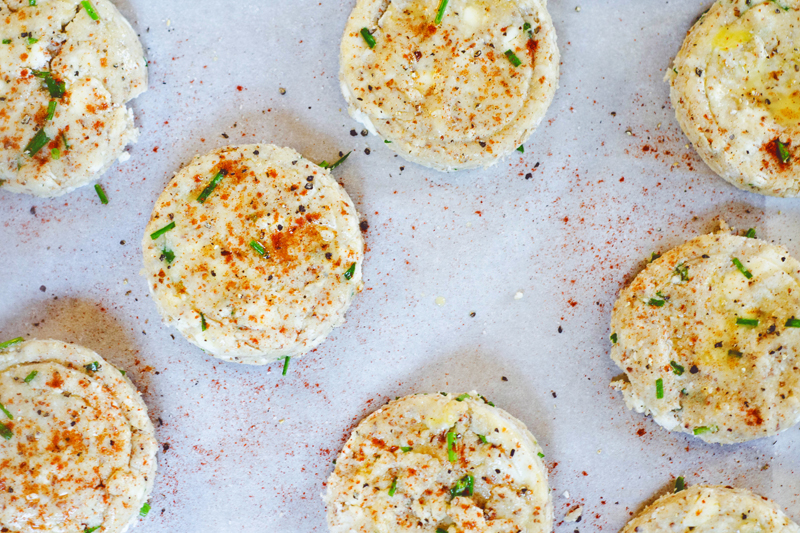 When I pulled the biscuits out of the oven the smell was intoxicating. They were golden brown and appeared to be flaky. What wizardry was this? I totally pulled off a delicious gluten-free biscuit. I broke one in half. There were chunks of warm and fragrant feta cheese running throughout. I bit into it. Buttery, a slight tang from the Greek yogurt with the herbaceous punch of the chives shining through. Heaven.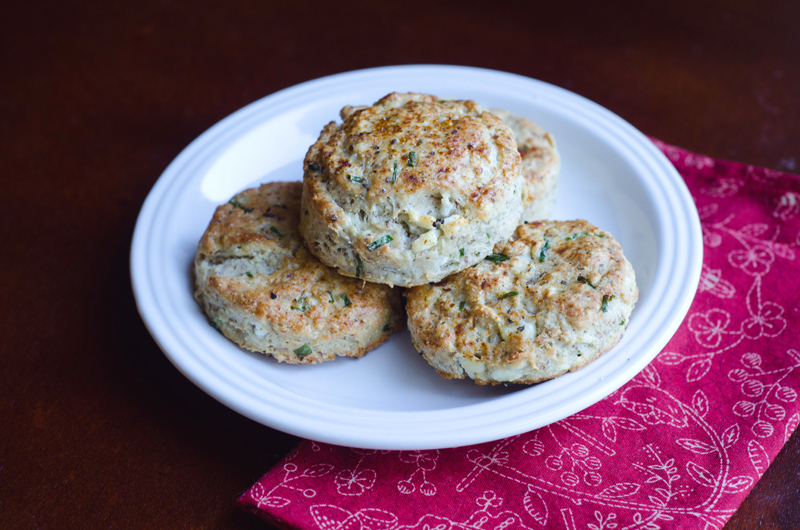 I insist that you bake these this weekend and eat a couple of them while they are warm out of the oven. This is the stuff that weekends are made for.
Ingredients:
2 1/2 cups gluten-free flour blend (I used Bob's Red Mill All Purpose Gluten-Free Flour)
1 cup almond meal
1 1/2 tsp xanthan gum
1 tbs coconut sugar (you can sub. regular sugar if you have no coconut sugar on hand)
2 1/2 tsp baking powder
1/2 tsp baking soda
1/2 tsp salt
1/2 tsp cracked black pepper
3/4 cup cold unsalted butter, cut into cubes
1 egg, beaten
3 tbs ice water
3/4 cup non-fat greek yogurt
1/2 cup chives, chopped
3/4 cup feta cheese, crumbled
1 egg beaten for the egg wash
black pepper, sea salt and paprika to top biscuits
Preheat your oven to 400 degrees and place your oven rack in the upper third of the oven.
Line two baking sheets with parchment paper and set them aside.
In a large mixing bowl, sift together your dry ingredients. Flour, almond meal, xanthan gum, sugar, baking powder, salt, baking soda and black pepper.
Using your fingers (or a pastry cutter) mix in your cold cubes of butter. Mix together until it resembles a course meal.
In another bowl, mix together your Greek yogurt, egg and water. Beat together lightly. Add this  mixture to your dry ingredients and stir until it resembles a shaggy dough mixture.
Add in your feta, and your chives. Dump your dough on a clean surface and prepare to knead. I used a baking sheet for the process and it worked out just fine. A clean counter or table would also work well.
Knead together your mixture, incorporating the chives and feta into the mixture. It should come together in about 10 to 15 kneads.
Using your hands, pat out your dough into a sheet that is approximately 1 inch thick. You could also use a rolling pin, but I found it easier to just use my hands.
Cut out your biscuits into your desired shapes. Joy recommends a 2 inch round biscuit cutter. Like I told you before, I got real un-fancy and used the ring of a mason jar. It totally worked.
Once you have cut out your biscuits, place them onto your parchment lined baking sheets.
In a separate bowl, beat an egg and brush this beaten egg onto the each biscuit. Sprinkle with sea salt, black pepper and paprika.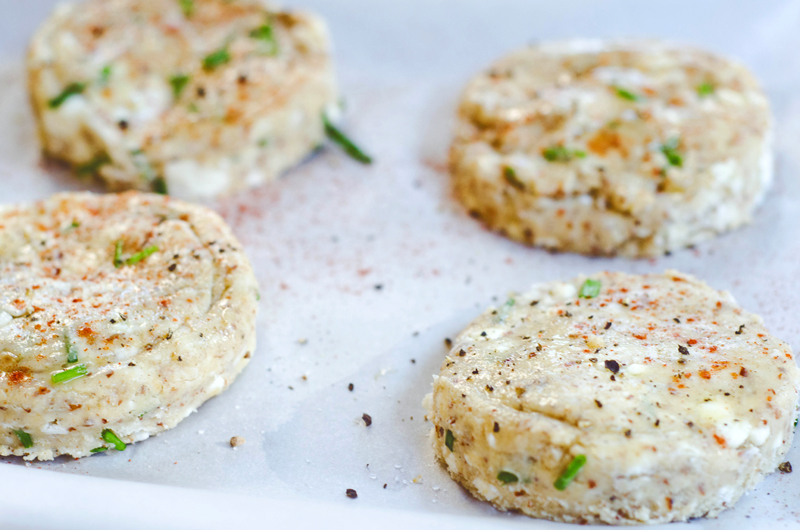 Bake for 12-15 minutes or until they are delightfully golden brown. I found mine took about 13 minutes in the oven.
They are best served warm and eaten the day they are made!  If you can't get through them all in a day (understandably), they will last for about two days after they are made 🙂
I scarfed down a few with some salad and carrot ginger juice. Delish. My husband cut one open the next morning and topped it with an egg. Super delish.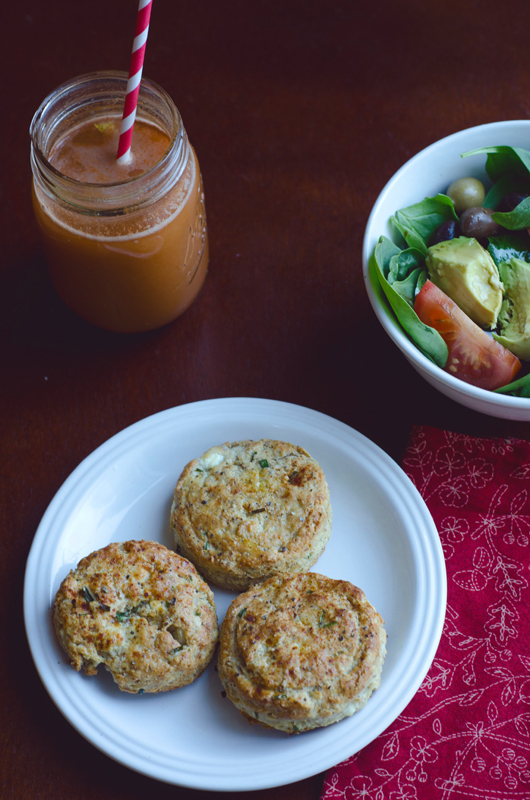 Happy biscuit baking, friends! It's totally almost the weekend. 🙂
(Adapted from Joy The Baker)
PAID ENDORSEMENT DISCLOSURE: In order for me to support my blogging activities, I may receive monetary compensation or other types of remuneration for my endorsement, recommendation, testimonial and/or link to any products or services from this blog.