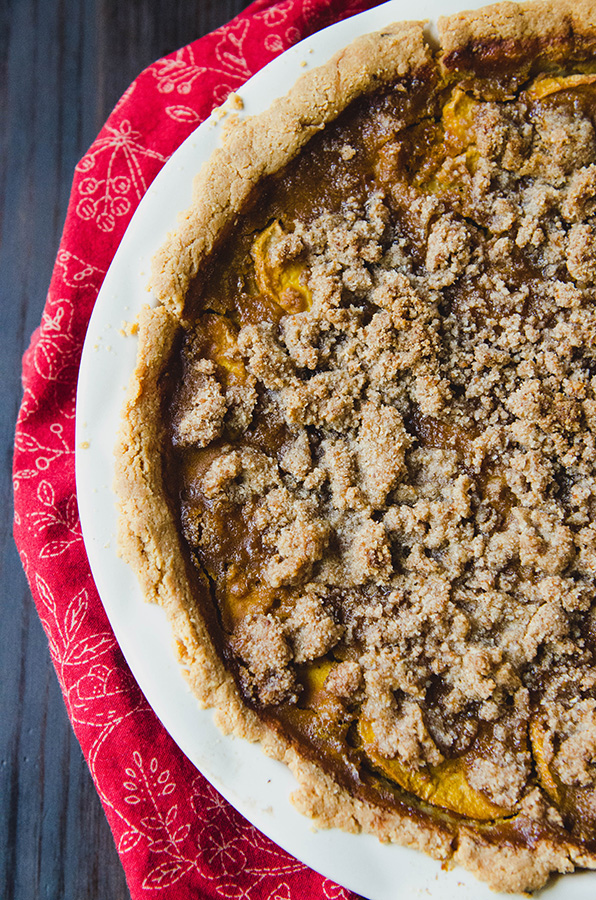 I'm going to level with you. I had a fever when I created this pie.
Not in the dramatic "I have an insatiable fever and the only cure is pie" kind of way, and not in the overtly-sexy "you give me fever" jazz-standard kind of way. But, rather the "I'm cold sweating, and this thermometer tells me I'm NOT actually cold on the inside" kind of way. Things aren't generally awesome when you're sporting a fever. Shivering happens. Clammy-face happens. Your husband might come home from work to find you laying on the couch, wearing nothing but a long sleeve shirt with an ice pack stuffed into your bra. Who needs pants when you've got long sleeves? Using fever logic, the answer to that question is NO ONE. Or, maybe it's seven. I'm not sure. Basically, things don't make sense.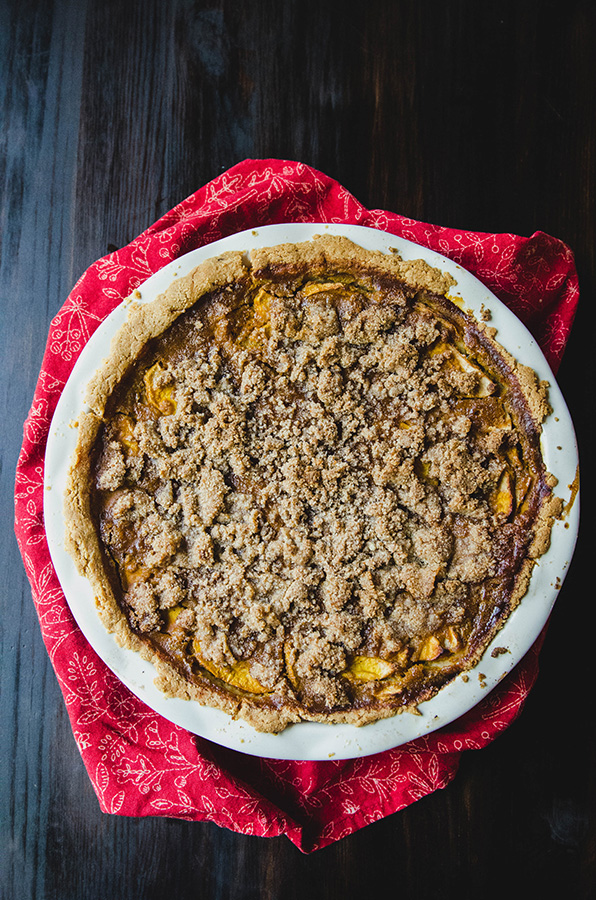 When you have a fever, logic gets spotty. You might start to think crazy thoughts. For example: What would happen if I baked two pies into one pie, but also made it a crumble? Genius!! Fever logic in its prime. Lucky for me, this halluci-bake-sesh paid off in spades. Tart apple pie mingles with creamy pumpkin pie. The crumble is excessive, but totally delicious anyway. I've essentially created you the Turducken of holiday baked goods — and just in time for the internet's #VirtualPumpkinParty. My lovely friend Sara over at Cake Over Steak is hosting this very pumpkin-y shindig and helping the internet explode with fall-flavored cheer! You should totally go check it out.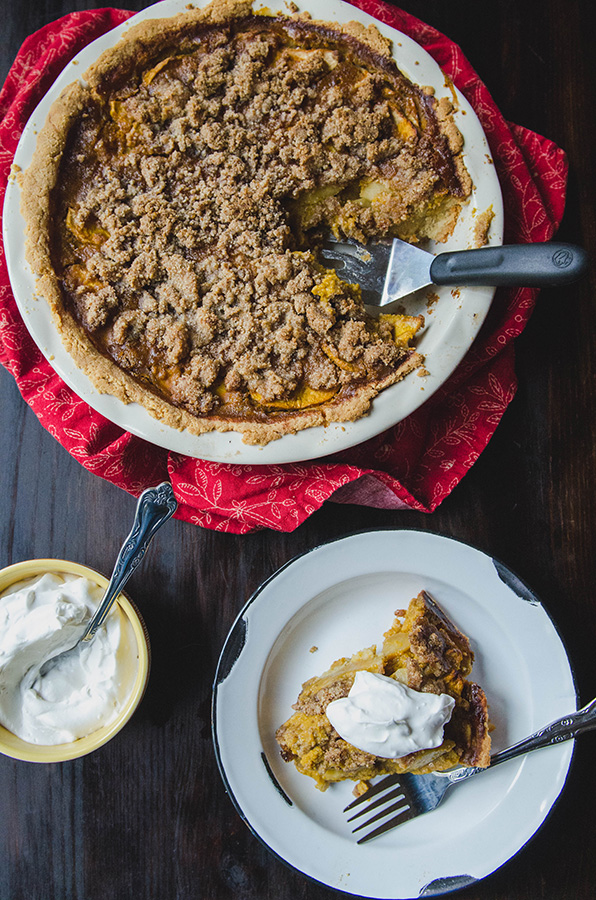 When you start baking things that might be viewed as taking a steaming dump on American classics, you need taste testers who aren't medically hindered by self-proclaimed fever-genius. Enter, my husband.  In order to ensure I did not trash-up and single-pie-handedly ruin BOTH apple pie and pumpkin pie in a single swoop, I made sure this pie was thoroughly taste-tested and pie-lover approved. He tried two pieces concurrently. He ate another two this morning. I ate another two for breakfast when my fever broke. It's official, we're in the clear. I totally didn't ruin America. Cue the Star Spangled Banner. Also, if you'd like to use the word "fever" in this post as some sort of drinking game, I'm pretty sure you'd get wasted. Did I mention I had a fever?  I'm not proud. Please don't triple-pie me in the face. Thank you.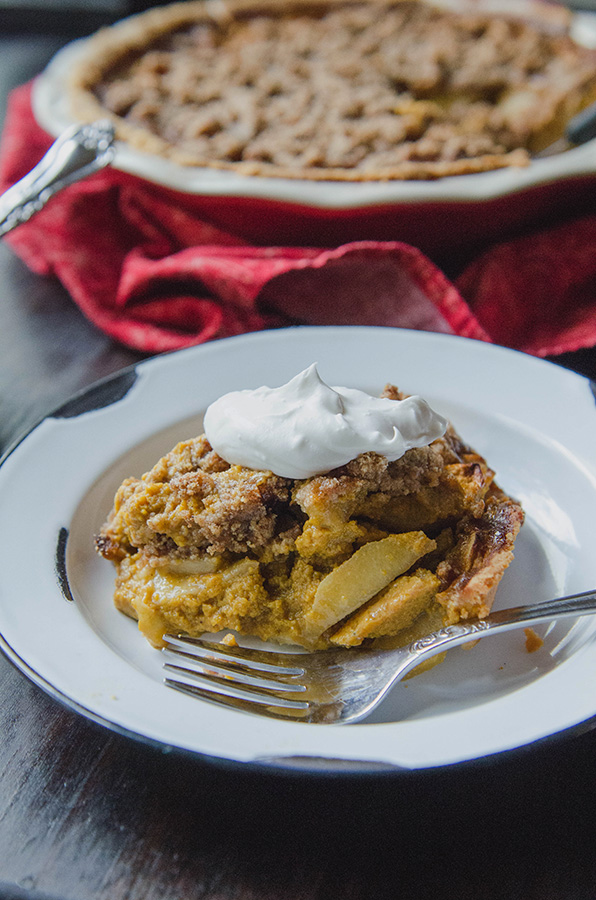 I hope you will accept and enjoy a little bit of this holiday pie insanity. I'd just like to conclude that if this were show business, this pie would be called a "Triple Threat", and probably book a ton of jobs.  I've been to acting school, so I know some things. It's important to be versatile (Hello! Is it apple, is it pumpkin? What is it?!) and not to crumble under pressure (uh, oh). But, from what I hear this little pie-baby will make your taste-buds do jazz hands. Um,  I'm pretty sure the fever is back. Let's cut this short before this post becomes a graveyard for pie puns, or this pie starts tap dancing. Aaaaaand, SCENE.
Grain-Free Apple Crumble Pumpkin Pie
Ingredients
Crust
Apples
Pumpkin Pie Filling
Crumble
Instructions
Preheat the oven to 350 degrees, placing the top oven rack into the middle slot in your oven.
Combine all of the ingredients for the crust in a food processor until the mixture turns into a ball of dough. You can either press this mixture into the pie pan with clean hands and try to make it as even as possible, or, you can roll out the dough between two sheets of parchment paper and attempt to flip the crust into the pie dish. If the crust breaks a part a bit, it's okay. Simply use your fingers to repair it. It's not fussy, and will totally taste the same.
Add the apples, lemon juice, apple pie spice and arrowroot starch into a mixing bowl and toss until everything is fully mixed. Set aside.
Clean out your food processor and wipe it dry. Now, combine all of the ingredients for the pumpkin pie filling and process it on high for a minute or so, or until the mixture is completely smooth.
To make the crumble that will top the pie, add all of the crumble ingredients to a mixing bowl. Use your fingers to break up the butter into the mixture. This should make it nice and crumbly . You don't want to overwork it, or the butter will melt too much and it will no longer be that crumble texture that you desire.
Place your crust filled pie dish on top of a baking sheet. I do this just in case any spill-over happens in the baking process. Fill the crust with the apples first, and then pour the pumpkin pie filling over the apples evenly. Once both of those fillings are inside the crust, sprinkle the crumble on top.
Place the pie on the rack in the oven that you've positioned in the center. Bake for about 60-80 minutes, checking on it in 20 minute intervals. You want the crust and the crumble to brown, and for the pumpkin pie to set just enough for that there is a slight jiggle in the center. It should be like a custard, and no longer liquid.
Remove the pie from the oven once it's baked through. Allow it to cool on the counter for about two hours before putting it into the refrigerator. You could serve the pie at room temp, but I find that it sets up really nicely if refrigerated for a couple more hours or overnight. Cover the pie loosely with tin foil and allow it to firm up in the fridge.
Once chilled through, serve as you would any other pumpkin pie. It goes great with some whipped cream, or coconut whipped cream on top! A scoop of vanilla ice cream might be even better. Enjoy!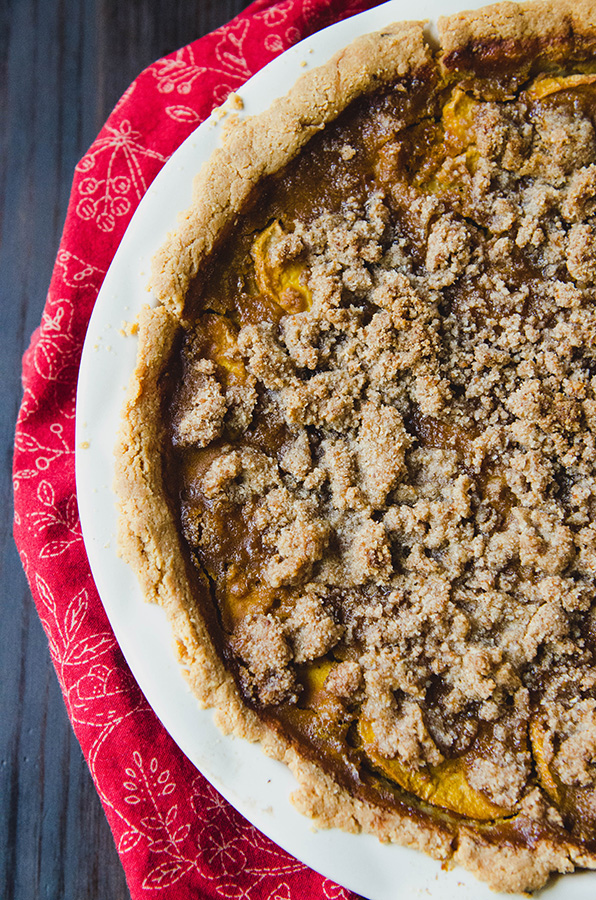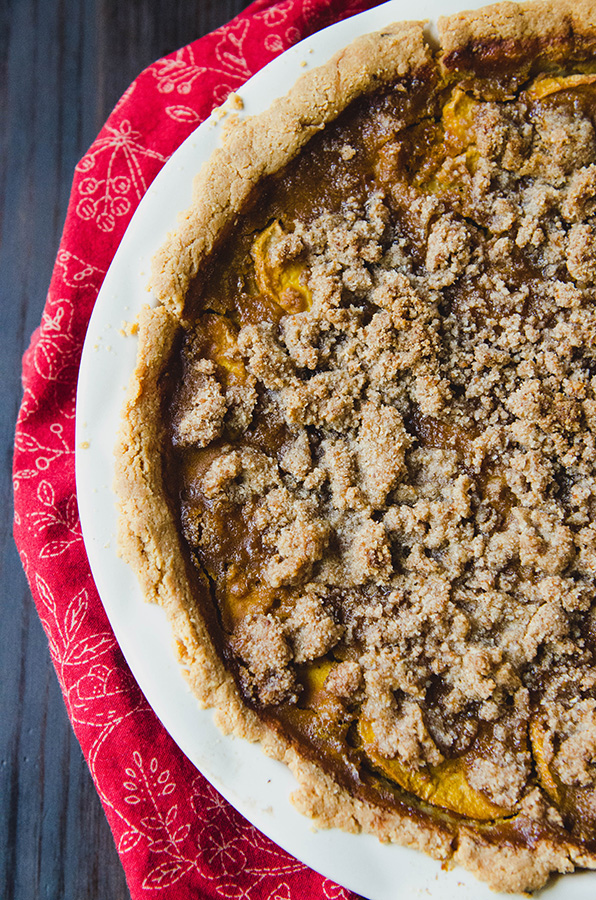 PAID ENDORSEMENT DISCLOSURE: In order for me to support my blogging activities, I may receive monetary compensation or other types of remuneration for my endorsement, recommendation, testimonial and/or link to any products or services from this blog.