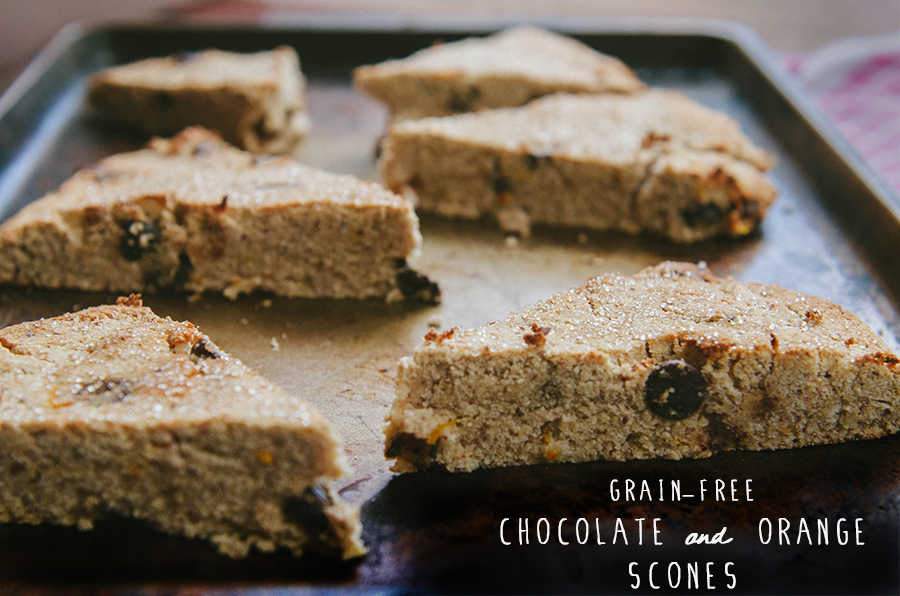 It's been unseasonably warm here in California.
I know, you're probably rolling your eyes and about to bite my head off about snow and ice and wool socks and one very real Polar Vortex. I get it. It's obnoxious that it's warm-ish here. I know I'm supposed to be all brag-a-saurus about how I've been getting away with the occasional tank-top or how there isn't a cloud in the sky today. It's sunny. Like really sunny. Like "the sun is streaming in through my window as I type this and assaulting my computer screen and giving off a terrible glare" kind of sunny. But, I'm just not that jazzed about it. The usually lush hills surrounding my home look thirsty and haggard. It's surpassed the awesomely golden shade they turn in summer. It's just dead. Everything is an even shade of brown. What's the opposite of a Polar Vortex? Because this feels like that. Dry. Drought-y. Calm. Thirsty.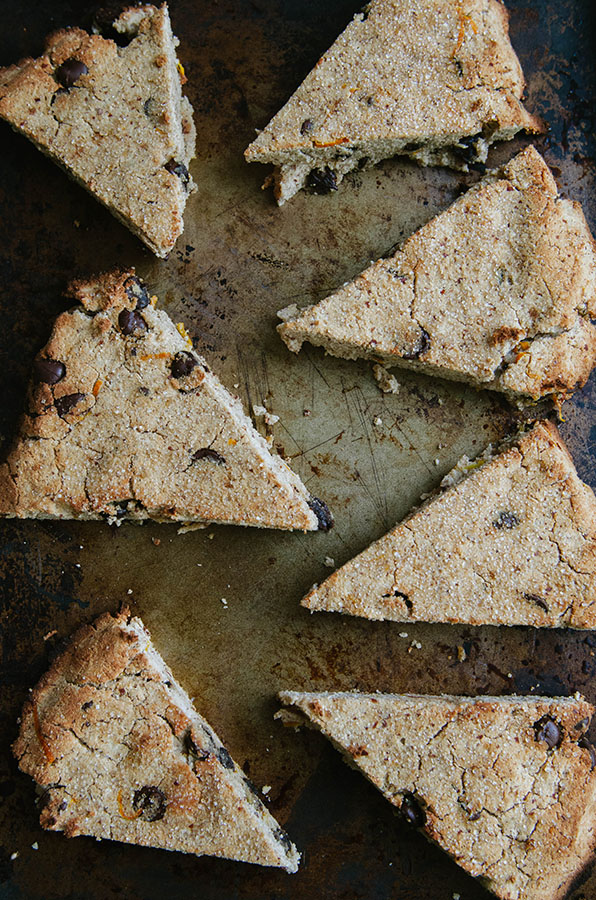 So at the first sign of rain, or what could be rain I find myself crossing my fingers and doing an inner rain dance. My insides get jumpy. It's like I'm rooting for my favorite sports team to score a touchdown. Just so you know, I'm using a sports metaphor yet I have no idea about sports. I am not qualified to use a sport-themed metaphor. I'm the girl that doesn't know what's going on but really puts in some work on that five-layer dip. That is my contribution to a sporting event. Aggressive dip consumption.  However, I am trying to cheerlead this rain to victory! Touch down. Goal. Game Point. One of those. High kick. Go team.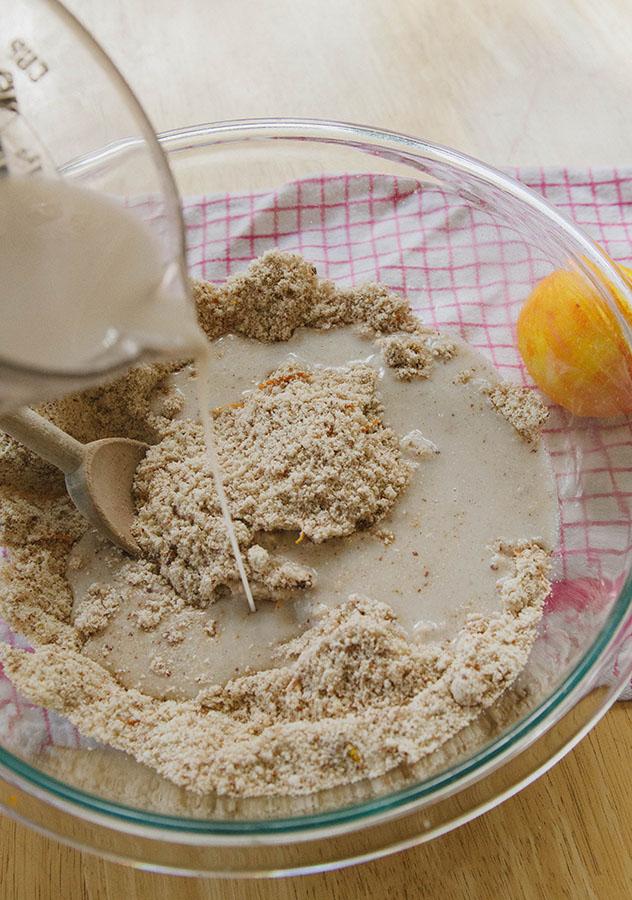 But last week something happened. The skies got grey and the air got thick. I prepared my inner rain dancer to do its job. But, just to seal the deal, why not warm the oven and bake? Baking feels like just the thing to set that rain up for victory. I used my friend Gina's recipe and made some tweaks according to what I had in my kitchen. Yes, I have a friend named Gina. I am not talking about myself in the third person. Gina wouldn't do that. That would make Gina weird. Gina totally has a friend named Gina. No, but really. She exists. Go check her out.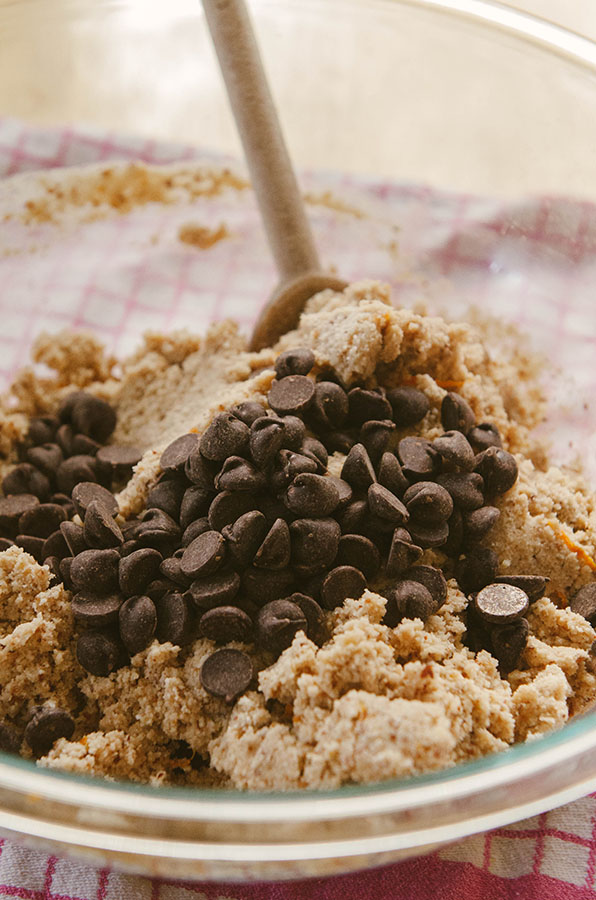 I decided to cram these scones full of chocolate chips and orange zest. So, they are going to kind of taste like those weird chocolate oranges that you get in your stocking at Christmas time… oh yeah, except not GROSS. Why are those things constantly so disappointing? Is it just me? Anyway, these scones totally trump weird chocolate orange found in stocking. Don't tell Santa. He won't get it.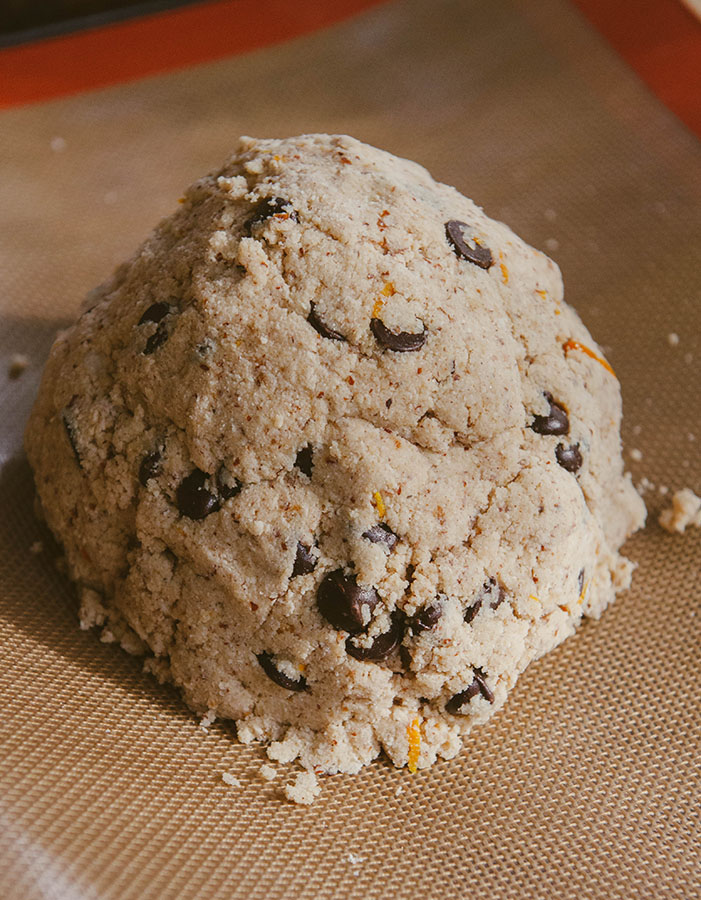 It always feels therapeutic to cram a bunch of chocolate into some dough and hope for the best, right?   The dough is formed into a ball and readies itself to be flattened and cut into little scones.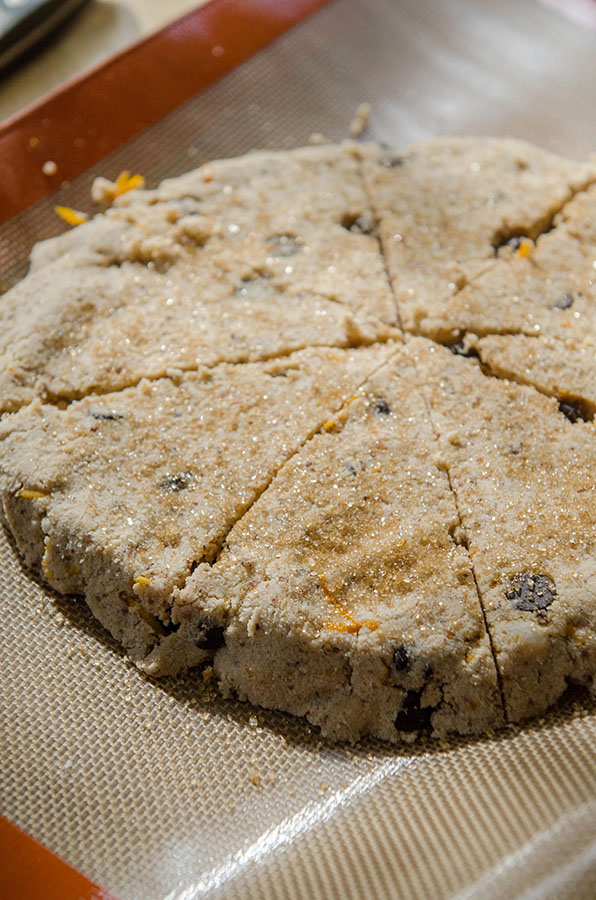 Easy. Sprinkle the top with some course sugar. That will really seal the deal. These scones are totally rainy-day worthy. Rain dance. Rain dance. Rain twerk. Too much? I'll dial it back.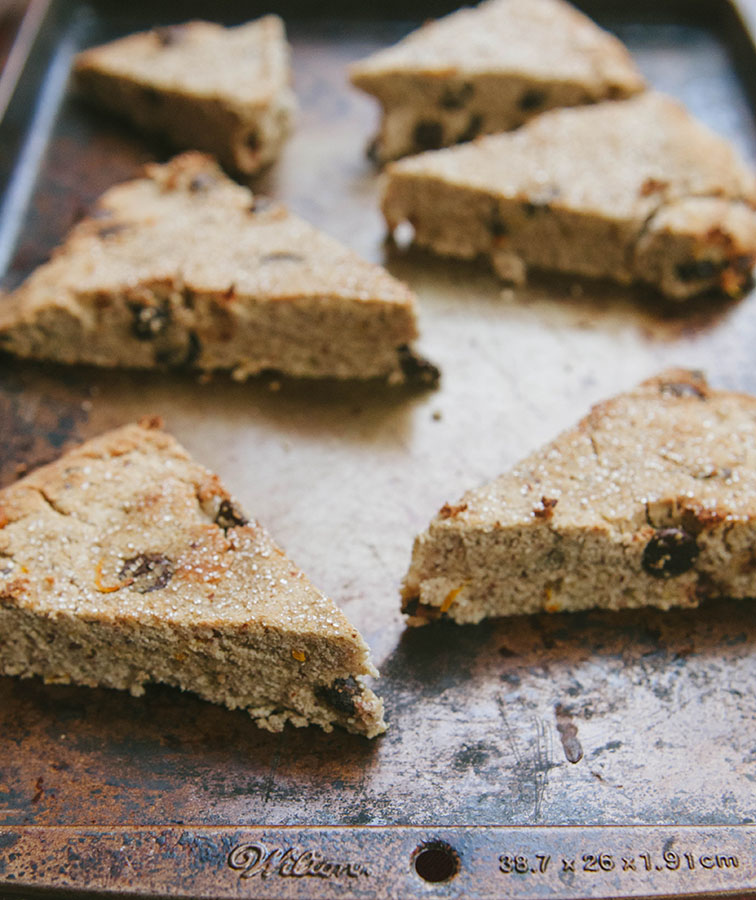 Allow them the bake and cool. Your house will smell like it's just made out with an orange. Don't fight it. Embrace it. Since we're using quite a bit of coconut flour in this recipe along with the almond meal, your scones are going to have that classic crumbly thing going on. You know, the little crumbs that float around all happy at the bottom of your tea after a good dunking? Those ones.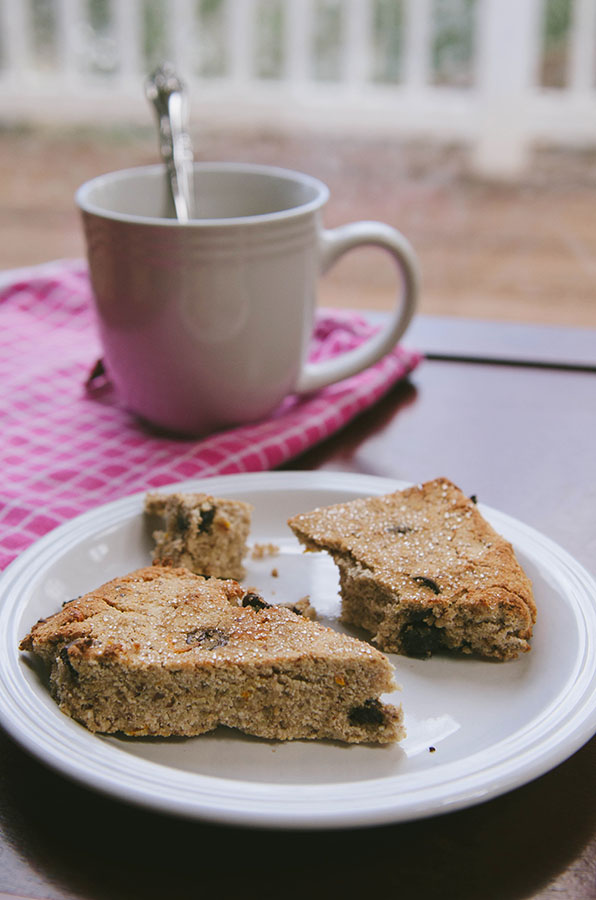 Now, eat.
I dunked the corners of my scone into some tea. Maybe that would provide a little extra bit of rain juju. Oh, and then it happened. Five solid minutes of drizzle! The earth swallowed it up in one giant gulp. Still haggard and cracked.
Oy. This drought is going to need A LOT of scones.
Grain-Free Chocolate & Orange Scones
8 scones
adjust servings
Ingredients
2

cups almond meal

1

cup coconut flour

2

tsp baking powder

1/4

tsp sea salt

1/2

tsp cardamom

1

tsp cinnamon

1

tbs coconut oil, in it's solid state

1 1/2

cups unsweetened vanilla almond milk (or other milk of choice)

1/4

cup coconut sugar

Zest of 1 orange

1/2

cup chocolate chips

Turbinado sugar, to top (optional)
Instructions
Preheat your oven to 400 degrees. Line a baking sheet with a piece of parchment paper or a silpat
Combine your almond meal, coconut flour, baking powder, salt and spices in a large mixing bowl. Mix together.
Take your 1 tbs of hardened coconut oil and work it into the mixture using clean fingers. Work it into the mix until it is crumbly.
Add in your coconut sugar and orange zest and mix into the crumbly mixture.
Add in your almond milk and stir until it is completely combined.
Finally, fold in your chocolate chips and make sure they are evenly distributed throughout the dough.
Form your dough into a ball and place it onto the center of the parchement or silpat lined baking sheet.
Press the dough down into a disk. It should be approximately 10-12 inches in diameter and have a 1 inch thickness.
Using a knife, cut your disk into eight even slices. Sprinkle the tops of the scones with a little bit of course sugar.
Bake for 18-22 minutes or until the scones have browned and become crispy on the outside and crumbly on the inside.
Remove the pan from the oven and allow them to cool on the baking pan for several minutes.
After the scones have cooled significantly, using a spatula or a knife, pull the segments apart from one another and serve.
Enjoy!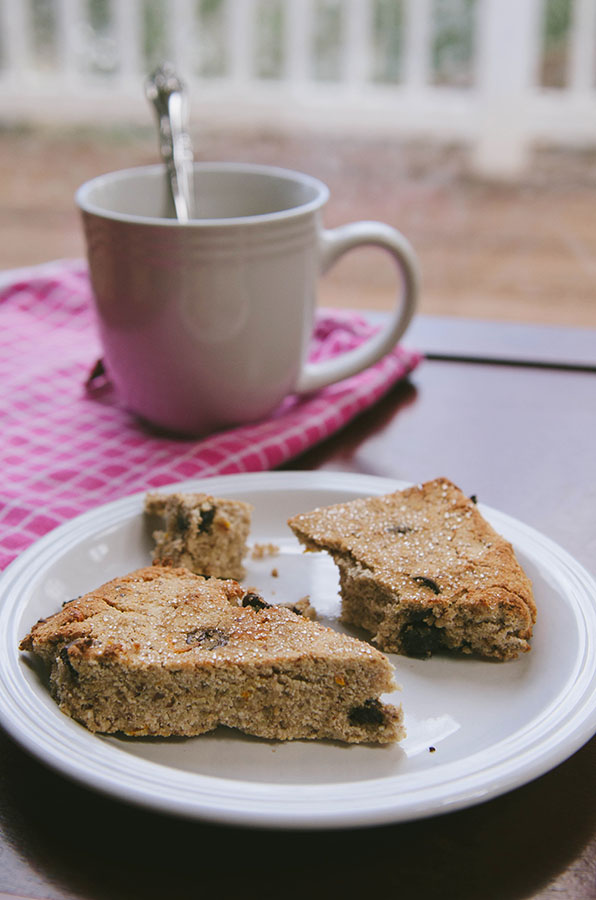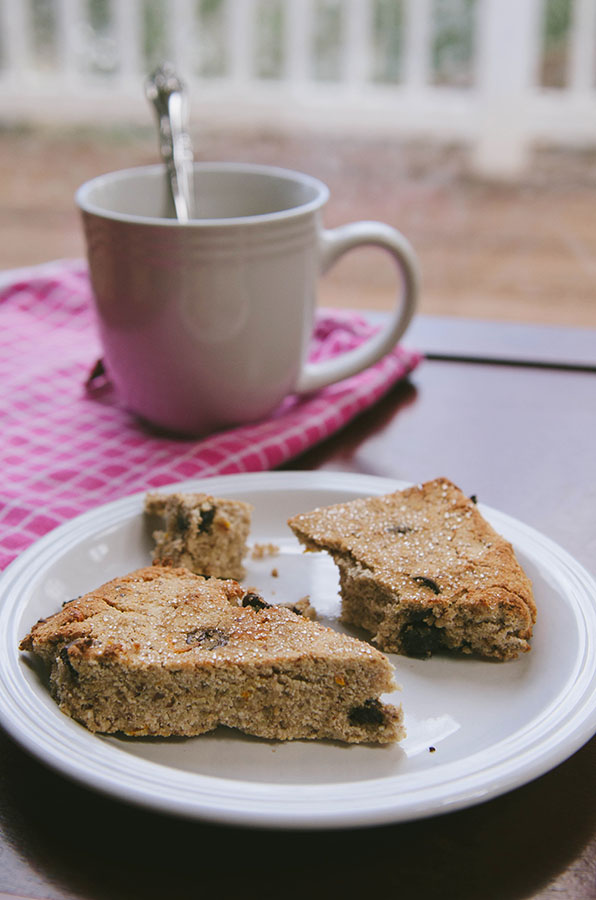 PAID ENDORSEMENT DISCLOSURE: In order for me to support my blogging activities, I may receive monetary compensation or other types of remuneration for my endorsement, recommendation, testimonial and/or link to any products or services from this blog.