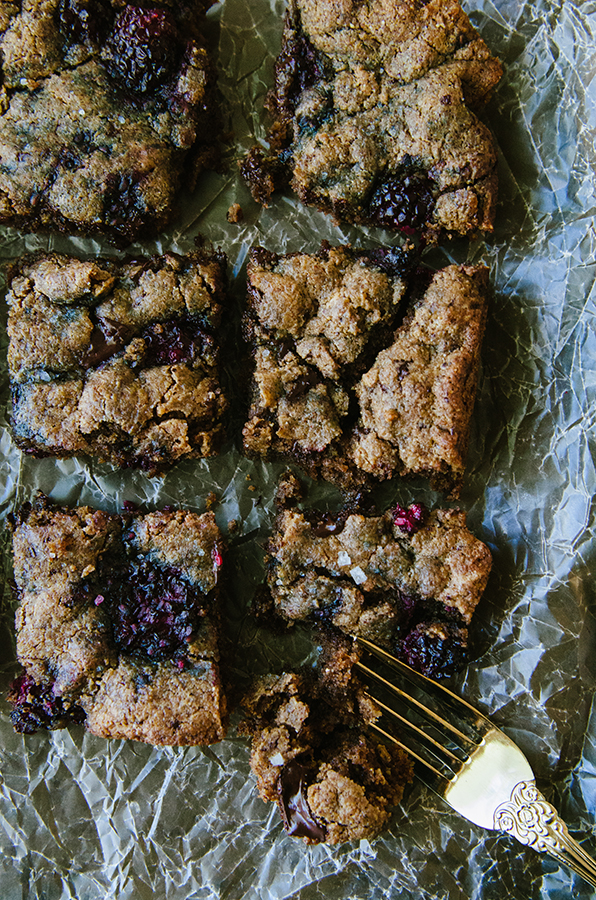 I'm not a baker. It's not my thing. I don't like to measure or follow instructions. When I'm not developing recipes, you won't find me with a measuring cup in hand or a baking scale under foot (is that not how baking scales work? Weird). It's cumbersome to have to be so meticulous. I come from a long line of people who write recipes with the precise measurements of "just put some soy sauce" or "use a few glugs of oil". I was raised inside of a wild and free kitchen culture. So, as you can imagine,  I don't like to feel the weight of science on my shoulders as we anticipate, with bated breath, to see if gluten-free brownies are going to rise. Baking is one thing, and gluten-free baking is a whole different more complicated (and sometimes frustrating) animal. You know what I'm talking about, right? Maybe you recently went gluten-free and you decided to google a recipe for bread. You are met with approximately five hundred different types of special order flours–there are many things on this list you didn't know could even be made into a flour: Chestnuts. Sorghum. Teff. Eye of Newt. Xanthan Gum. Crickets. Unicorn Shoulder. In short, it ain't always easy. I see you. I hear you. We are one.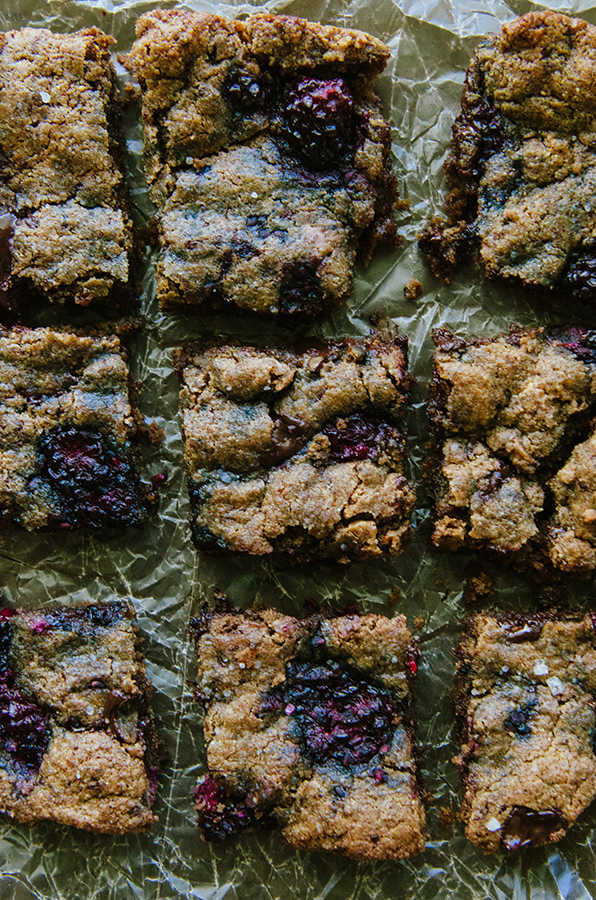 Grain-free baking tends to be a little more friendly on both my system and on my psyche. I feel a little more at home in the confines of almond flour, coconut flour, arrowroot starch, cassava flour and the like. I find it causes much less hyperventilation. If you're still reading you have probably gathered that I am no Thomas Keller and my narrow, messy, kitchen is not nicknamed Bouchon Bakery. You can trust that if I can bake something, you totally can too! We got this. Insert several strong-arm emojis here followed by a spanish dancer for flare.
These blondies are made out of almond butter. That's right, you heard me. YOU DON'T EVEN NEED TO GET NO FLOUR. Just go down to Trader Joes, pick up some almond butter with the panache and confidence of a person who doesn't have to deal with xanthan gum today. It's okay to wink at the checkout clerk. I do it all the time. It lets them know you've got this. Don't worry, you won't seem creepy. Also, never take my winking advice. Just because I'm an awkward grocery store winker doesn't mean you need to be. Save yourself.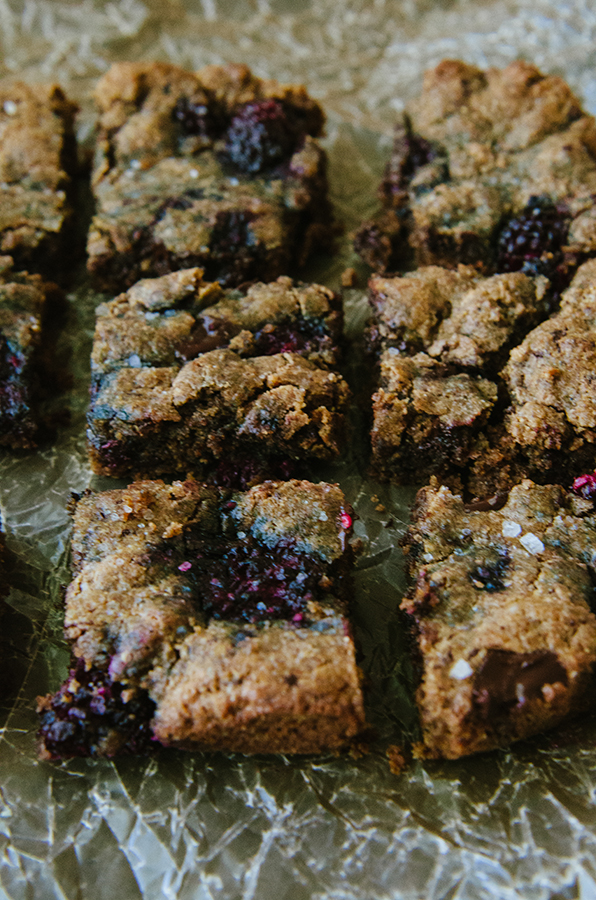 In an effort to keep my blondies less blonde, I studded these easy little babes with chunks of dark chocolate and blackberries. I don't need to tell you this was a good decision, because DUH. The dark chocolate gets all melty, the blackberries get jammy, and the tops of these blondies get sprinkled with flaky sea salt for good measure. I have a total lady boner for these here blondies (full disclosure: just texted my husband to ask him if it's cool to say the words "lady boner" on a food blog, and I haven't heard back, so I'm taking his silence as a big fat YES).
Oh? You're still here? I thought I lost you somewhere between the winks and the description of my hypothetical figurative female erection. Oh, so now you're going? Ok. Cool. But, before you leave, maybe just print out this recipe and treat yourself to an easy peasy baking experience. You deserve chocolate. You deserve everything. I deserve to stop typing.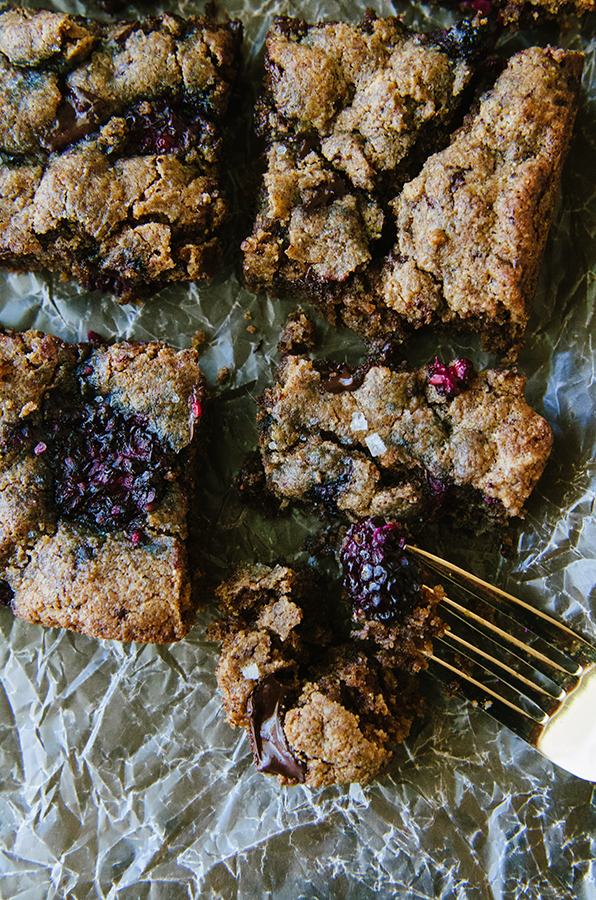 PS. I have made these blondies low-carb and keto-ish by swapping in either Swerve or Monkfruit Sugar. HOLY BANANAS! So good. You'd never ever know anything was missing.
PPS. Thanks for being here. *wink* (<—see? totally not weird).
Grain-Free Dark Chocolate Chunk and Blackberry Blondies
Instructions
Preheat the oven to 350 degrees. Line a brownie pan with parchment paper. The parchment paper should stick out over the edges of the pan creating a kind of sling that you'll be able to use to remove your blondies from the pan once they're cooked.
Add the almond butter, egg, sugar, vanilla extract, baking soda and sea salt into a large mixing bowl. Stir together until everything is evenly and throroughly combined. Fold in the chocolate chunk and the blackberries gently. If you are too harsh, the blackberries will burst and produce a more purple and jammy result.
Add all of your batter to the brownie pan lined with parchment paper. Spread out the blondies evenly in the pan. Sprinkle the top wih a couple of pinches of course sea salt. Bake in the oven for 20-25 minutes, or until the blondies are golden brown on top. The middle should be semi soft, but not liquid. The blondies will firm up slightly as they cool.
Use the parchment paper sling to remove the blondies from the hot pan. Allow the blondies to cool on the parchment paper for 30 minutes. After they have cooled, cut them into squares and serve! Enjoy!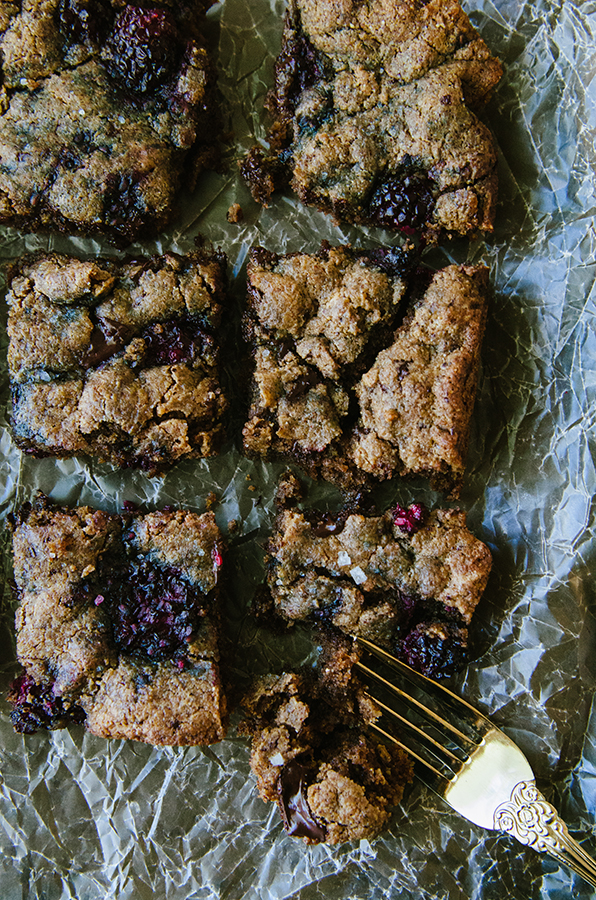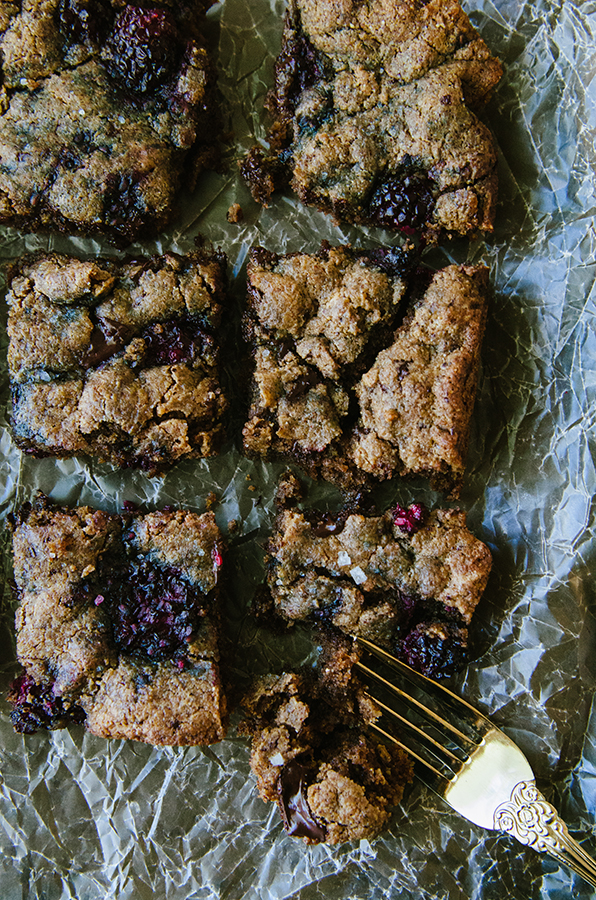 PAID ENDORSEMENT DISCLOSURE: In order for me to support my blogging activities, I may receive monetary compensation or other types of remuneration for my endorsement, recommendation, testimonial and/or link to any products or services from this blog.