Today is totally your lucky day. My dear friend Beth of Tasty Yummies is hanging out with us and sharing this bonkers looking dessert. Words cannot describe how much I love this girl or the food that she makes. Seriously. It's too big.  But, if I had to pick one emoji to help you understand, it would be the tap dancing twins. You know the one. Simpatico. Please enjoy this beautiful dessert and getting to know one of my favorite gals on the interweb!! Take it away lady-cat…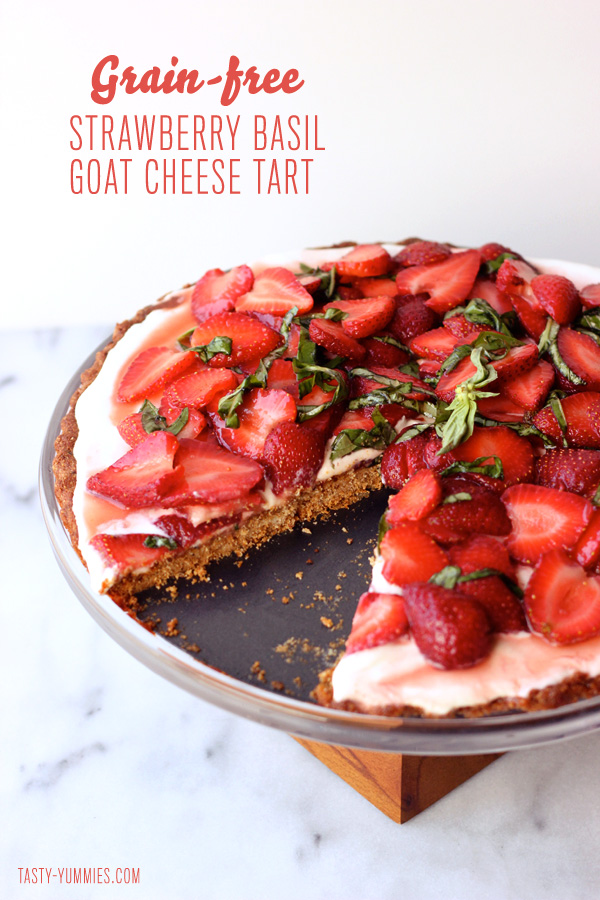 Hey everyone, it's Beth here, visiting from over in my corner of the internet, Tasty Yummies. Tasty Yummies is where I have been blogging for 4 years now, sharing my healthy gluten-free recipes – all created with the intent to nourish both your body and soul. Outside of being gluten-free, I don't have any other labels on my diet. Sure, much of what I eat is plant-based, but I am not vegan! And yes, many of my recipes are grain-free and would totally be paleo appropriate, but a cave woman, I am not! Generally, I just opt for eating fresh seasonal, whole foods that make me happy, are nutrient-dense and yummy, to boot.
I am so excited to be here for my dear friend Gina today, sharing a delicious seasonal recipe to make your taste buds sing! I first have to say, that I am so incredibly proud to call Gina a friend and to have her amazing energy in my life! Having Gina's incredible spirit and zest for life around me, even in the virtual world – is something that I have grown to cherish even in the short time of knowing her. I love that after only one time meeting in the real life, I can call Gina and we can have a talk so deep and emotional, it's like we've known each other for years. Usually by the end of one of these intense calls, with tears in our eyes – we finish by sharing our most embarrassing of stories  -things that would likely make most other people cringe. I think Gina is my spirit blogger (ya, know like a spirit animal but in blogger form) and I think this dessert is now my spirit dessert!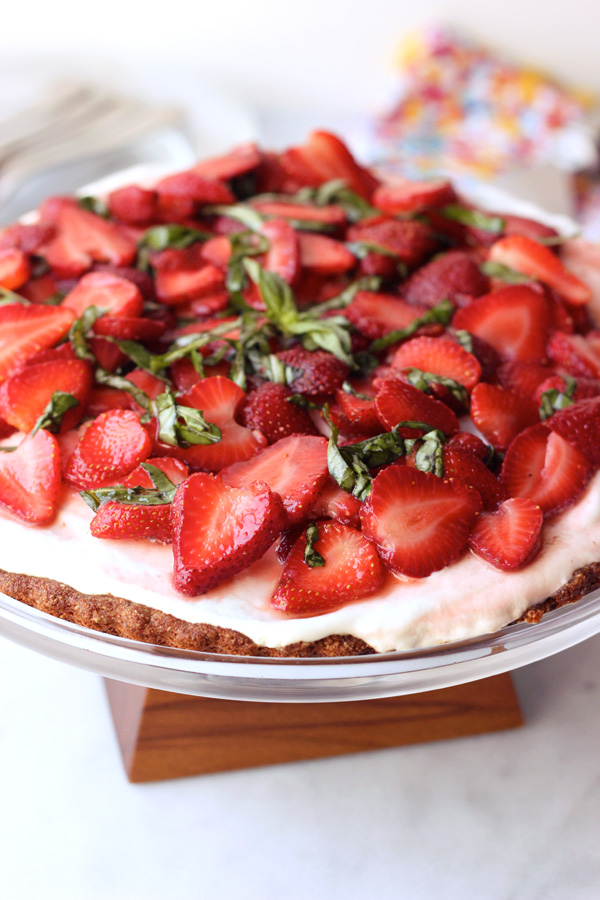 It's quite rare you'll find a recipe on my site with dairy these days, after cutting dairy out of my diet two years ago due to some digestive yuckiness. However, over the last 6 months or so, I have been enjoying, in moderation, small amounts of sheep milk and goat milk cheeses – as they always do OK for me and my sensitive gut. Both seem much easier on my little emo tummy. I am all about listening to your own body, realizing we are all very different and that there is no single diet for everyone!  It is quite freeing, actually.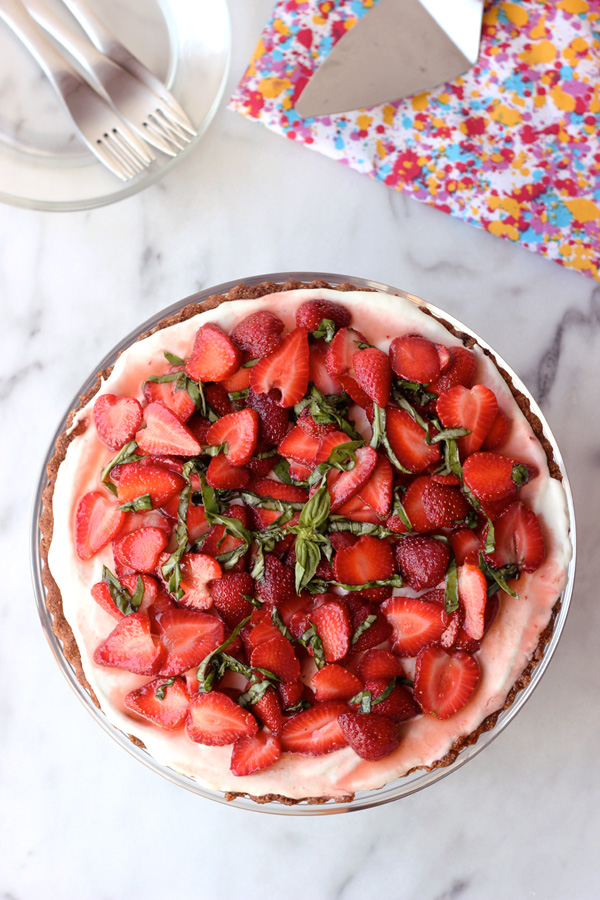 This tart is very simple to make and it is obviously great as a dessert, but it would also be a wonderful addition to a fancy schmancy brunch menu. The tart crust is totally grain-free and so simple to make. After that, no more need for the oven and you can just throw this together and be ready to serve it up in no time. Oh, and I have to say – god bless the people of the internet that have the patience to arrange strawberry slices, one-by-one, in a perfectly symmetrical pattern across the top of a tart or cake. You know the ones. We all want to be them/secretly despise their incredible attention to detail. Well, if you couldn't tell from the photos,that's not me. I am a dump and serve kinda gal, it all tastes the same anyhow, right?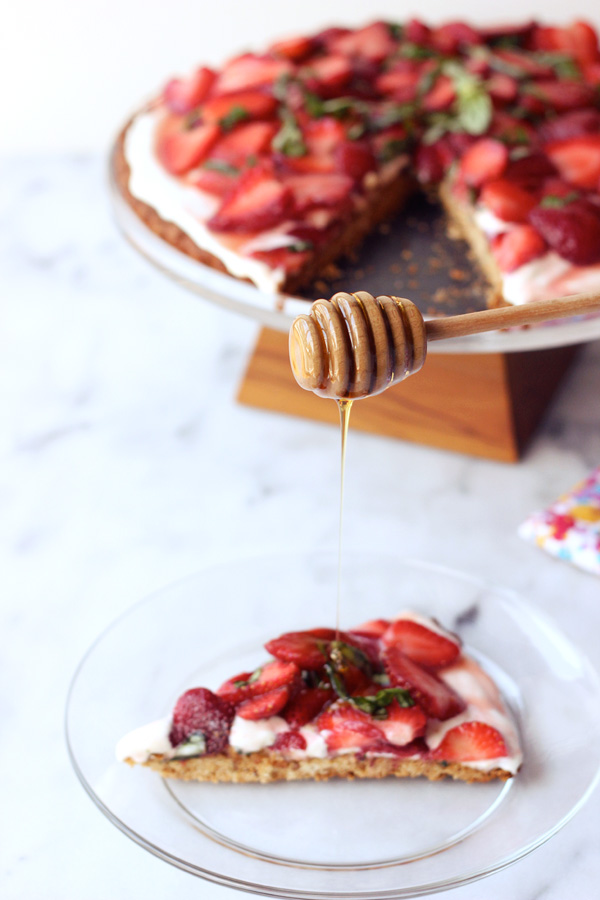 I personally love a slice of this tart with an extra drizzle of local raw honey over top and a glass of some bubbly Prosecco on the side. The flavors in this tart all just complement each other so well. The tartness from the goat cheese with the subtly sweet tartness of the fresh strawberries, all rounded out so perfectly with the sweet raw honey and finished off with the strong aromatics and the subtle earthy, peppery taste from the basil. A little sweet and a little tart, like I said – My Spirit Dessert.
Join Beth over at her site Tasty Yummies and on social media: Facebook, Twitter, Instagram and Pinterest
Grain-Free Strawberry Basil Goat Cheese Tart
Serves 8 to 10
adjust servings
Ingredients
Tart Crust
2

cups blanched almond flour (almond meal will work, too)

2

tablespoons flax seed meal

2

tablespoons maple syrup (honey will work but I find the crust browns up much quicker)

1/4

coconut oil, melted - plus more for greasing the pan

1/2

teaspoon baking soda

1/8

teaspoon sea salt
Topping
8

ounces goat cheese

1/4

cup milk of your choice (I used homemade almond milk)

1

teaspoon vanilla extract

1

pint fresh local strawberries, sliced

3

tablespoons raw honey, plus a bit more for drizzling on top when serving

1/2

cup fresh basil, chiffonade cut (into thin ribbons)
Instructions
Preheat oven to 350º F. Lightly grease an 11-inch tart pan (you can use a smaller tart pan, it will just have more heigh). In a large bowl, add all of the crust ingredients and mix very well. Add the crust mixture to the tart pan and press down firmly into the pan, going up the sides just a tad bit. Bake for 15-20 minutes until golden brown.
White the tart shell is baking, in a large bowl add the strawberries, basil and honey. Give it all a good stir and let it rest. In a food processor or high speed blender add the goat cheese, the milk and vanilla extract. Process until smooth and creamy.
Once the tart is done, allow it to fully cool. Take the whipped goat cheese and spread it evenly across the top of the tart shell. Then place into the freezer for about 15 minutes or so, to allow it to firm up a bit.
Once the goat cheese is somewhat firm, take it out of the freezer, and layer the strawberry basil mixture evenly across the top. I highly recommend not adding all of the juice, since it can make for a messy tart and will make your crust soggy. I just add a little of it - save the rest of it for a cocktail spritzer.
Serve immediately or keep covered in the refrigerator until you are ready to serve. I like adding an extra drizzle of raw honey over the top of each slice, when serving. Enjoy! This tart does best if you serve it within a day or two, as it can begin to suffer from a soggy bottom.
Recipe Notes
Dairy-free/Vegan Options: Instead of goat cheese, opt instead for a cashew cream. Soak 1 1/2 cups of raw cashews (covered in water) for at least 2 hours, preferably longer. Drain and rinse. Add the cashews, the juice from 1 fresh lemon, a pinch of sea salt and 1 teaspoon vanilla extract to your food processor and process until smooth and creamy. About 5 minutes. Use this in place of the goat cheese filling and opt for maple syrup instead of raw honey in the strawberries.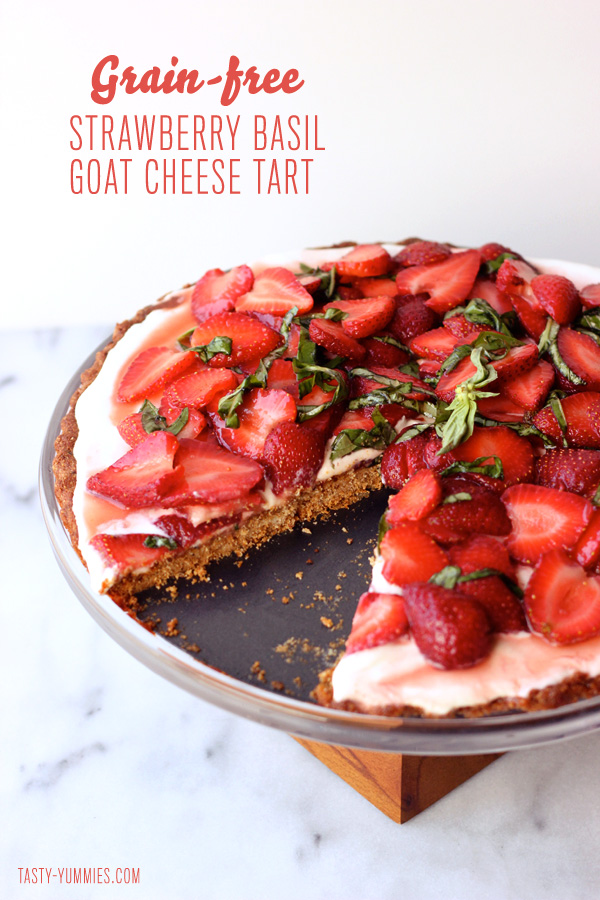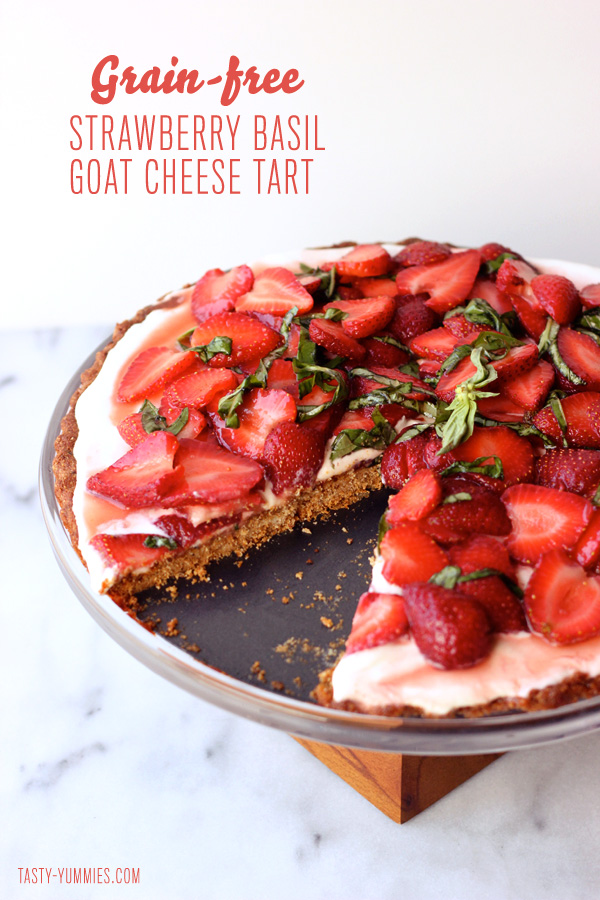 PAID ENDORSEMENT DISCLOSURE: In order for me to support my blogging activities, I may receive monetary compensation or other types of remuneration for my endorsement, recommendation, testimonial and/or link to any products or services from this blog.