Dear Friends, I want to introduce you to my amiga Meg! She writes the always beautiful and "OMG, I'M DROOLING ON MY KEYBOARD AGAIN" blog,  Beard & Bonnet! She is one of the first friends that I made in this crazy blogosphere. She wrote a post which casually mentioned her wearing a pizza costume during lunchtime with her toddler. That sealed the deal for me. I imagine us enjoying these Huevos Rancheros Enchiladas together. I'm dressed as a taco. She's dressed as pizza. We do a jig. This is where my Monday morning brain is going… Enjoy this awesome looking dish, and please stop by her neck of the woods. Tell her I sent you. Costumes are optional, but never discouraged. xox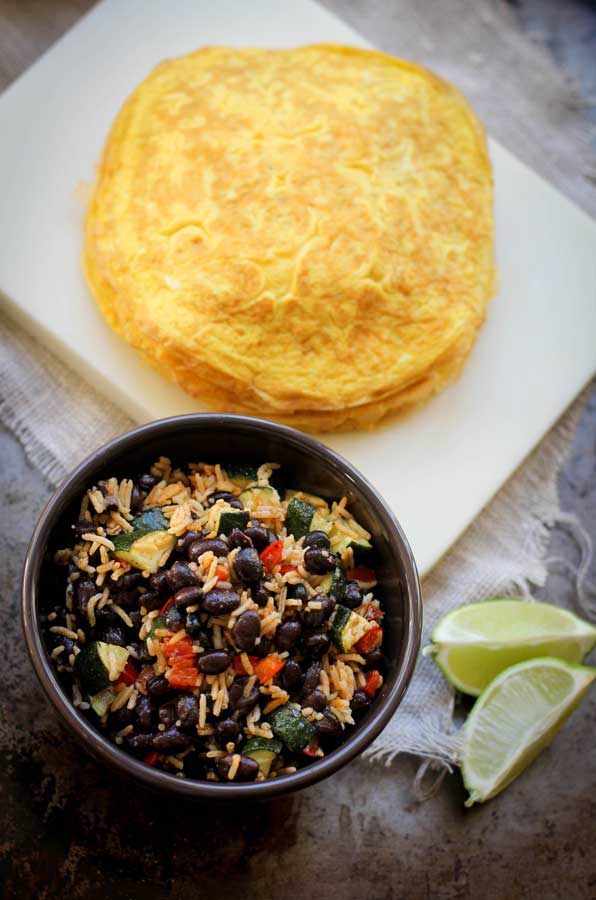 Hello So…Let's Hang Out readers, my name is Meg and I write a little gluten free, vegetarian blog called Beard and Bonnet. I am so honored that Gina asked me to share a recipe on her site today, I can't promise that my post will be nearly as humorous and entertaining as Gina's, because let's face it…she is AMAZING! I can promise it will be tasty though and that's something, right?! I have been cooking and eating vegetarian dishes for over 7 years, but it wasn't until our son was born with a gluten intolerance 2 1/2 years ago that we delved into the world of gluten free cooking in our home. My husband, Todd and I are artists and designers by trade and since we share design ideas with clients every day, sharing the food that helped to heal our family was a natural transition for us. We have learned a lot in the last year and a half of gluten free living; we learned that both my son and my husband are gluten-intolerant, that we all feel better when eating whole foods and eliminating processed junk foods, and that the blogosphere is full of really supportive amazing people like Gina who have turned into wonderful friends!
If you knew me personally or if you have read Beard and Bonnet on a regular basis than I am sure you would have noticed that my family has a thing for Mexican food. Our dinner table consists of some form of tacos at least once a week, and homemade salsa is a condiment served at practically every meal regardless of whether it is an appropriate condiment for the meal I have prepared or not. At least once every weekend we have a big breakfast; it is my favorite meal of the week. The kids are often in the kitchen with us, helping out and sharing highlights from their week, cooking in pajamas is a requirement, and my husband is always in control of the soundtrack coming from our record player. Yes, we have a record player in our kitchen instead of an iPod…weird? Anyways, last weekend as we were all rocking out to a little Black Key's circa 2002 on vinyl we put together a pretty epic breakfast enchilada that I thought I would share here with you today.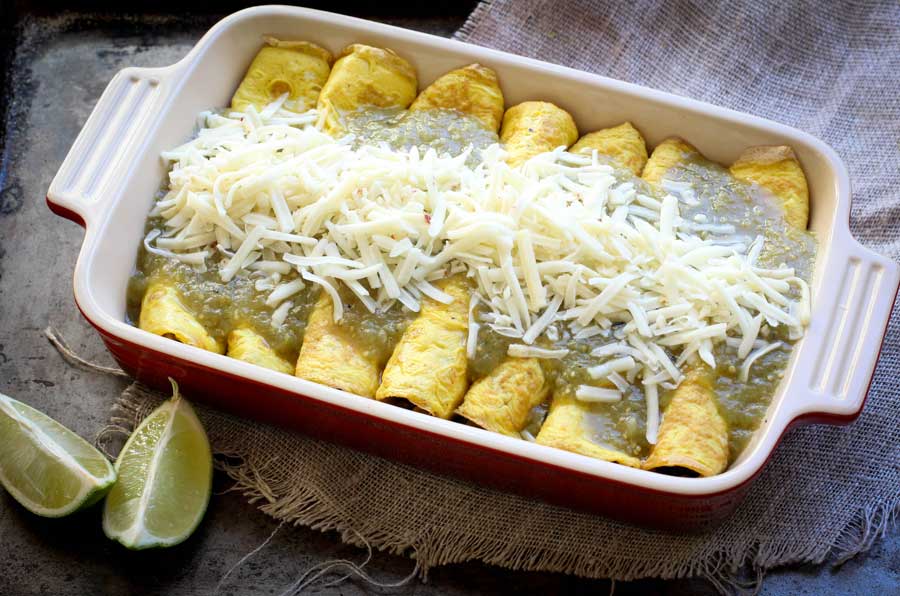 I am a frugal girl at heart and becoming a mom amplified that trait by about a hundred. I am always cautious about where we spend our money, contentious of using everything we have on hand, and I literally feel sick when I realize that we have wasted something…especially food!  This breakfast meal is the answer to my weekly dilemma of what to do with the lonely cup of black beans and rice that I always have leftover in the fridge on the weekends from our favorite weekly taco dinner.  I love creative uses for leftovers, how do you re-purpose your leftover ingredients?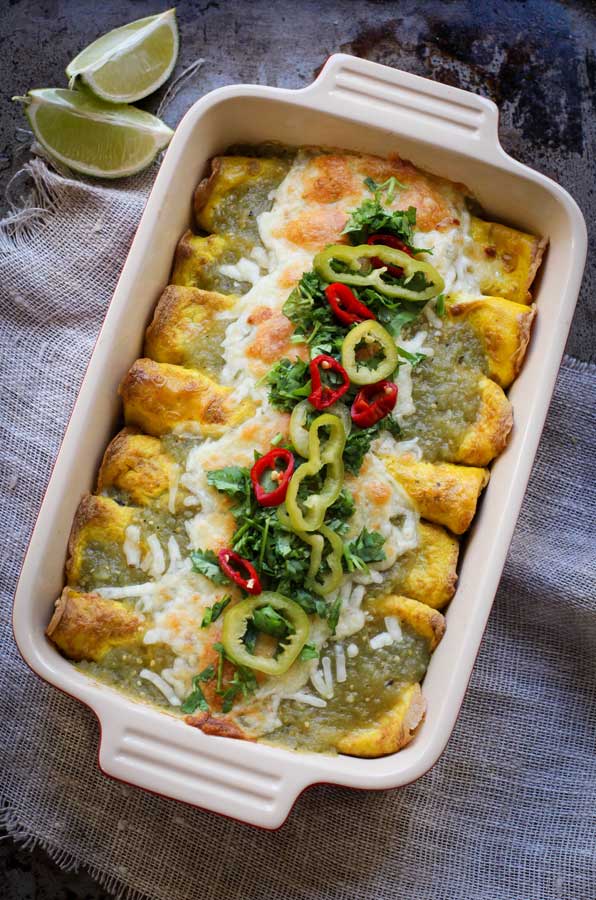 Huevos Rancheros Enchiladas
Inspired by Vegetarian Times October 2013 issue
Ingredients
olive oil

1

small zucchini, chopped (about 1 cup)

1/2

cup chopped red bell pepper

kosher salt and freshly ground pepper, to taste

8

farm fresh eggs

3

tablespoons water

1/4

teaspoon paprika

1

cup leftover smokey black beans, drained

1

cup leftover rice, any kind will work, but I use this one.

1

cup prepared salsa, we like tomatillo salsa

1/2

- 1 cup pepper jack cheese, depending on how cheesy you like it. Dairy free cheese also works great!

To garnish: fresh chopped cilantro and pickled peppers
Instructions
Preheat the oven to 450°F and line a baking sheet with unbleached parchment paper. Toss the zucchini and red bell pepper with 1 tablespoon of olive oil, and salt and pepper to taste. Roast in the oven for 15-20 minutes until almost cooked through. The zucchini should be soft with a firm bite in the center. Reduce the oven temperature to 350°F.
While the veggies are roasting whisk the eggs, water, and paprika in a bowl. Season with salt and pepper to taste if desired. Heat an 8-inch non-stick skillet coated with olive oil over medium heat. Pour a 1/4 cup of the egg mixture into the skillet, and swirl the pan to coat the bottom evenly. Much like you would if making a crepe. Cook for about 2-3 minutes until the egg is firm in the center and remove yo a paper towel lined plate. Repeat the process to make 10-12 egg crepes. *The first 2 for me are usually throwaways, AKA: doggie treats, much like pancakes around here my mojo doesn't kick in until after the first couple of tries.
When the vegetables are done roasting toss them with the leftover rice and beans along with 1/4 cup of the prepared salsa.
To assemble; roll 1/4 cup filling into each egg crepe, and place seam side down in a medium sized baking dish that has been brushed with olive oil. Repeat this step until you have used all of the filling or all of the crepes, whichever comes first.(My kids like to gobble up any unstuffed egg crepes immediately!) Pour the remaining 3/4 cup prepared salsa down the center of the enchiladas, and top with cheese. Bake in the oven at 350°F for about 15 minutes, or until the enchiladas are heated through and the cheese is melted and bubbly. *I crank the oven to broil for the last 2 minutes to make the cheese all brown and toasty.
To serve; top with chopped cilantro and pickled peppers if desired.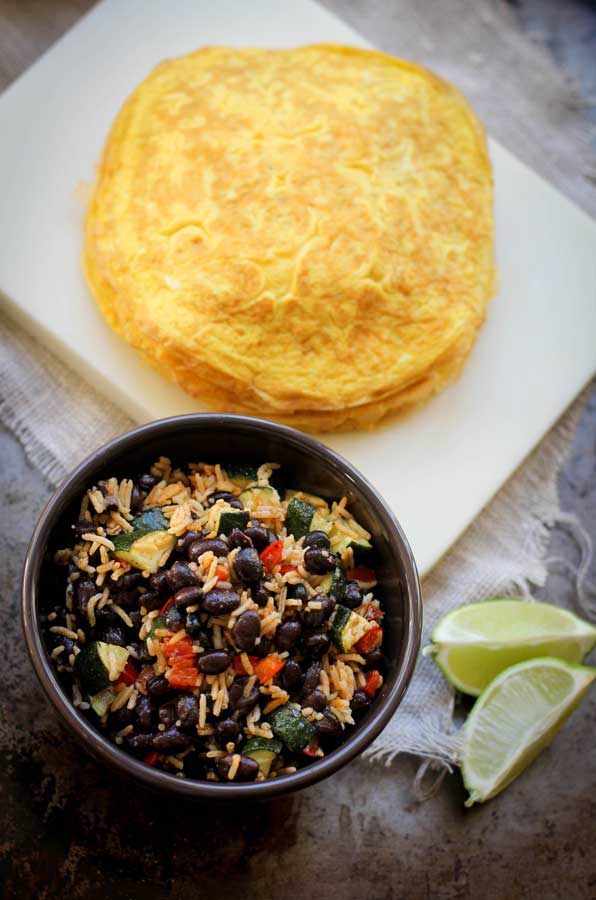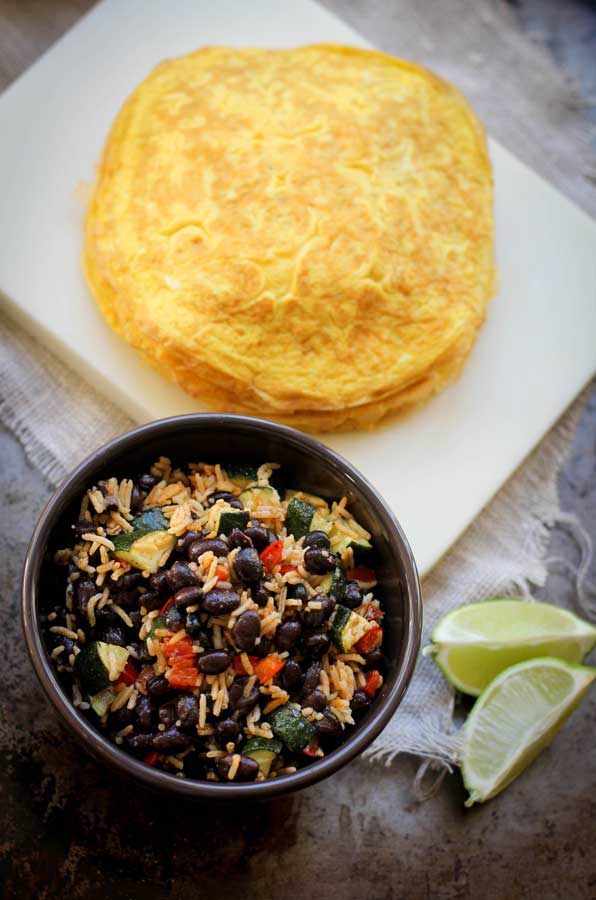 PAID ENDORSEMENT DISCLOSURE: In order for me to support my blogging activities, I may receive monetary compensation or other types of remuneration for my endorsement, recommendation, testimonial and/or link to any products or services from this blog.